Mex this can on Monday, took her for a taco on Tuesday, we were making mole on Wednesday, and on Thursday and Friday and Saturday, we chilaquiles on Sunday…
Hmm, perhaps one of our more overly ambitious opening segments, but the point remains; in Brighton, there's enough fantastic Mexican food to see you through the whole week if you were so inclined.
From hole-in-the-wall taco slingers to modern restaurants cooking Mexican food with British ingredients, the city has got you covered.
Yep, if you're wondering where to eat Mexican food in Brighton, then you've come to the right place. We've scooped the guac, sipped the mezcal and snapped the tostada to find these; the best Mexican restaurants in Brighton.
TLALOC AT THE OLD PIER
Ideal for refined Mexican fare made with the freshest British ingredients
From popular Brighton pop-up on the edge of the North Laines to fully-fledged restaurant overlooking the sea in just three years, it's been quite the journey for Tlaloc since they made the city their home in 2018.
Now in residency at the Selina Hotel on King's Road (at the foot of Preston Street), Tlaloc makes modern Mexican food using locally sourced ingredients, with the menu full of intrigue and excitement.
This means there's plenty of fish and seafood caught just off the Sussex coast on the menu. The octopus tacos with pineapple butter were a mainstay at Tlaloc's previous incarnation as a pop-up, and the dish remains a must-order here. Even better is the raw monkfish aguachile; refreshing and piquant, but also refined enough to let the fish sing.
It would be remiss of us to move on without mentioning the cocktails; the hibiscus margarita, in particular, is a thing of beauty and one of the finest drinks in the whole city.
All in all, if you're looking for the best Mexican restaurant in Brighton, with excellent food and a grown-up atmosphere stipped of the tedious cliches of Lucha libre, sombreros and the rest, then Tlaloc is your guy. Or rather, your god…
Website: tlalocbrighton.co.uk
Address: 136 Kings Rd, Brighton BN1 2HX
TAQUITOS CASA AZUL IN BRIGHTON OPEN MARKET
Ideal a warm Mexican welcome and a traditional taco experience
Brighton's Open Market, tucked away off London Road and close to popular Brighton park and meeting point The Level, is one of the city's most underrated spaces. In this humble market, you'll find purveyors of fresh local produce and a handful of excellent street food operations, patisseries and cafes.
Whilst we adore the delicate tarts and vibrantly coloured macarons from Real Patissiere, and can't resist a Bangladeshi snack or two when passing the Spice of Life, our favourite spot here is most definitely Taquitos Casa Azul, a family-run, all Mexican joint serving the most authentic tacos in town.
A visit here is a must if you're in the area, for their simple, stripped back menu. There's no Tex Mex, 'fully loaded' stuff here, just four types of meat taco – a chicken tinga, a chicken mole, a shredded beef chile colorado and a shredded pork cochinita – and a vegetarian equivalent of each. The corn tortillas are made daily, of course, and the whole thing is just delicious. Pull up a pew at their sole table outside the shopfront and get stuck in.
What's more, head honcho Gabriel Gutierrez is a fabulous host, offering a warm welcome and a sampling of Casa Azul's selection of homemade salsas and hot sauces (available to buy by the jar) as you wait to pay the bill. He knows what he's doing; once you've tried the Salsa Chipotle – heady with hibiscus and dried apricot – you'll be hooked. We add it to everything now; it's incredible.
Website: casazul.co.uk
Address: Unit 21 Marshalls Row, Brighton BN1 4JG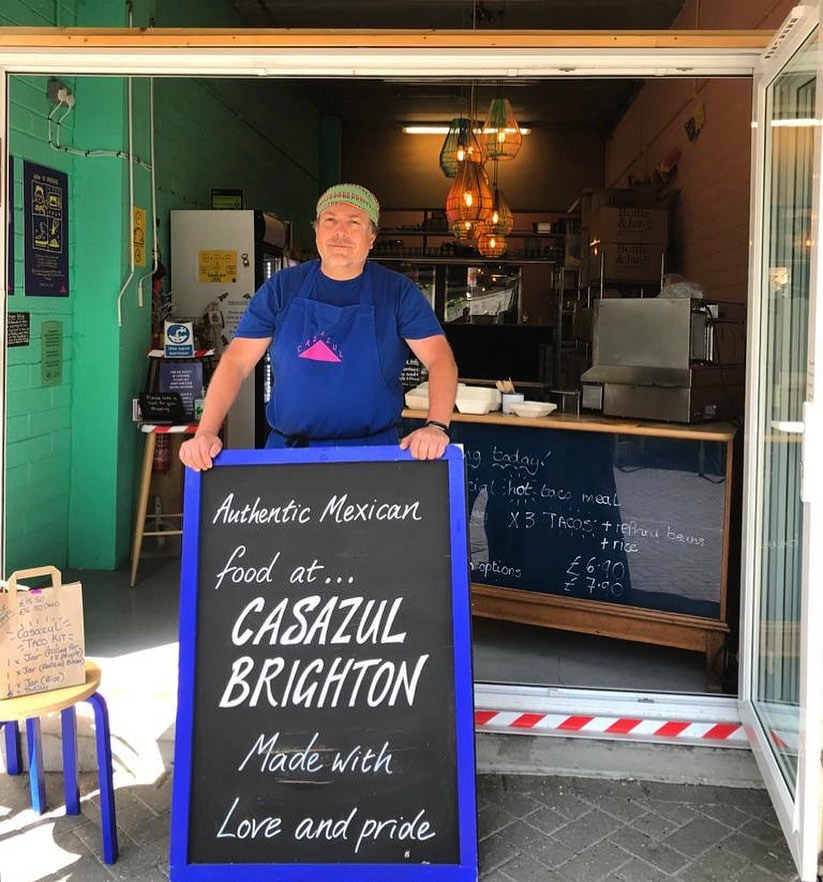 WAHACA
Ideal for vegetarians and vegans in search of deliciousness
Masterchef 2005 winner Thomasina Miers' restaurant Wahaca has become one of the more famous purveyors of fine Mexican food in the UK, with branches across London, as well as one in Cardiff and one in Edinburgh.
Brighton's outpost of the Mexican market food restaurant (the only one in England outside of London) is a bright, buzzy room with a menu to please everyone. Having won the UK's most sustainable restaurant four times, and being the first restaurant group to be named carbon neutral, there's a commendable focus on green practices here, and this extends to the wealth of vegetarian options taking pride of place on the expansive menu.
The sustainable Wahacamole, made from organic broad beans, nuts and seeds is a hit; piquant, creamy and, most importantly, doesn't leave you missing avocado. Grilled halloumi 'al pastor' ticks the right boxes, too, with the marriage of cheese and pineapple salsa delivering a delicious interplay between salty and sweet (the much feared 'squeak' nullified by the cheese being grilled).
And the good news for plant-based diners keeps on coming; Wahaca are set to celebrate the Christmas season in style this year, with a festive menu running through December featuring some gorgeous vegetarian and vegan options. A seasonal special of rice stuffed sweet romano pepper is elevated by a cashew nut mole that's simultaneously complex and soothing, and for dessert, mince pie empanadas replace the traditional brandy with a good soaking of mezcal; just delicious. One more for the road? It would be rude not to…
Website: wahaca.co.uk
Address: 160-161 North Street, Brighton, BN1 1EZ
LA CHOZA
Ideal for crowd pleasing plates
In the North Laine's quirky tangle of narrow streets and independent shops you'll find La Choza. Really, you'll find it; the restaurant is rendered in vital shades of pink and yellow that you just can't miss, with a clutch of tables outside continuing the eye-catching theme via garish floral tablecloths.
That's not to say the food is brash or distasteful, here. Quite the opposite, in fact; since 2012 La Choza has been producing some of the finest Mexican food in Brighton, with the restaurant gaining national critical acclaim in the form of a glowing review from Tom Parker Bowles in which he wrote that ''in this tiny Brighton backstreet, there's true Mexican magic''.
Where Casa Azul keeps the menu options narrow and Tlaloc goes for a polished take on traditional Mexican cuisine, La Choza is perhaps a more crowd pleasing offering due to the menu's DIY format.
That menu is split into three sections – choose your base, choose your filling, choose your salsa – allowing for a fine-tuned feast. We just love the XXtra Hot Naga Salsa, which is mellowed by the addition of mango and will brighten up your order whichever direction you choose to take things.
The restaurant is a no reservations affair; just rock up and enjoy.
Website: lachoza.co.uk
Address: 36 Gloucester Rd, Brighton BN1 4AQ
HALISCO
Ideal for no frills Mexican drinking snacks
Finally, we're heading to Halisco, on Brighton's beloved 'restaurant street', Preston Street. Here, the menu is a little more expansive, with a selection of around 12 mostly vegan small plates and 8 or so mostly meaty taco options…perfect for parties, we think.
Though their HQ restaurant on Preston Street is what an estate agent might term 'cosy', you'll find Halisco in three pubs across the city, too, at The Eagle, Hare and Hounds and our favourite, Temple Bar, meaning there's plenty of elbow room to try their no frills fare.
At the latter, the focus falls on Tex Mex bar snacks which pack plenty of punch chilli wise – think buffalo wings, pulled beef nachos, and deep fried, stuffed jalapenos…all damn near perfect with an ice cold beer.
Salud!
Address: 64 Preston St, Brighton BN1 2HE

If a taco craving hits but you're in London rather than London-by-the-Sea, then fear not; here are 6 IDEAL places to eat great Mexican food in London.