East London's Hackney Wick is an area that's leaning into its industrial history to help shape its future. Even as recently as the start of the century, Hackney Wick was largely defined by abandoned industrial warehouses, barges, and canal boats, with the commercial potential of the neighbourhood yet untapped.
Now, some of these abandoned spaces have been given new life, transforming Hackney Wick into a world-class creative quarter, filled with over 250 artist studios and 100 businesses within the creative sector, with Hackney council citing the positive influence on the 2012 Olympics as a major factor in the area's development.
Opinion is divided on whether this development is entirely a good thing, with many accusing developers of pricing out the working class from living here, the artistic side of the area also at loggerheads with property developers keen to build flats rather than cultivate a creative community.
In addition to both those art studios and unwelcome residential developments, however, the once-neglected spaces of commercial Hackney Wick have also been turned into some of London's most exciting places to eat and drink. In this area, you're spoilt for choice regardless of what you're craving, with many of the best restaurants and bars housed within the famous Hackney Wick horseshoe, an eclectic medley of curiosities that curls around Hackney Wick Station.
Slowly but surely, Hackney Wick is building itself brick by brick into one of London's grooviest neighbourhoods, continuing to resist gentrification via important community trusts such as Wick CDT, and generating buzz thanks to its bohemian art, a counter-culture nightlife scene, and, of course, fantastic dining spaces.
If you're ever in the area taking in some of the great street art and brutalist architecture and find yourself getting peckish, here are some of the best places to grab a bite.
Barge East
Ideal for casual fine-dining aboard a floating barge…
As Hackney Wick is crisscrossed with various canals and waterways, historically used to transport produce and steel across the city and beyond, it makes perfect sense for restaurants to hone in on this unique landscape to help define what they do.
Barge East is a charming, floating venue housed within a 118-year-old Dutch barge that gently bobs off the calm canal waters. Tastefully renovated and updated over the years, the barge is easy to spot thanks to its olive green hull and bright white cabin area where diners eat.
Barge East isn't the only floating restaurant in London, sure, but not many have the accolades that Barge East possesses, with it having won multiple awards over the years, including the Taste of London award in 2022 and recently a prestigious two AA Rosettes in the 2023 batch of the Automobile Association's restaurant accolade announcement.
The food on board Barge East is the brainchild of Stefano Camplone, who channels his Italian heritage to create delightful dishes made with local, seasonal produce. Highlights include braised ox cheek, rich and succulent, served with a unique coffee-salt baked celeriac to build a plateful that interplays between the bitter and the sweet brilliantly.
Or, go for the restaurant's ever-changing market fish of the day, sourced from Billingsgate Market and grilled simply, served with potatoes, seaweed dumplings, and a perfectly pitched seaweed beurre blanc.
Barge East's interior evokes Hackney Wick's ethos: repurposing something old and derelict into something new and exciting. There's a lot of rustic wood for the dining and bar area, with gigantic slabs serving as make-do tables. It all feels succinct in a deliberately rugged kind of way.
If you haven't yet got your sea legs and prefer to be on solid ground while you eat, Barge East also own a nearby garden area that's one of the largest in London, filled with upcycled materials and herb gardens that they regularly pick to help keep things sustainable. It's a great location to sip a drink or too, including an excellent Petalo, an off-dry white from Spain with loads of stewed-apple flavour. You can also enjoy a 90 minutes of bottomless brunch here every weekend. Go on; you know you want to.
Address: River Lee, Sweetwater Mooring, White Post Ln, London E9 5EN
Website: bargeeast.com
---
Silo
Ideal for inventive food that doesn't sacrifice on flavour from London's leading zero waste restaurant…
Silo is a beacon of sustainable counter-culture which leads the way for waste-free fine dining in London and beyond.
The whole design of Silo has been considered with waste at its forefront and has leaned into both ancient and modern techniques to ensure that they're waste free. This approach has influenced their menu, too, with fermenting, pickling, smoking, and preserving all featured to great effect, often with the bits you'd usually throw away defining the dishes.
Some of the most striking flavours here are from when Silo takes the process of preserving and runs with it; a garum of cuttlefish offcuts that's served as a dressing for the blackened outer sheets of a leek is as rich, deep and funky as the Mariana Trench. Similarly, a kombucha made with used coffee grounds pairs thoughtfully with creme fraiche as an accompaniment to crisp Charlotte potatoes. This is creative, often experimental cooking, make no mistake, but it never sacrifices on flavour.
Anyway, back to the waste, which from these meals is composted, closing the loop, with Silo keeping its excess down by using reusable delivery vessels. Menus aren't printed, but projected onto the white-washed walls, and even their dishes and plates have been recycled, with them being forged from old plastic bags and food packaging, and, more recently, from the empty wine bottles left by customers, the glass broken down and reconstituted into crockery. Cool!
Like many other venues in Hackney Wick, the restaurant has an industrial and cold look that is hard to avoid, with the bar using corrugated steel sheets. However, they soften it with pastel furnishings such as faux-fur pillows and cosy, up-cycled tables and wooden counters.
Inspired by the work of Australian artist Joost Bakker, who proposed the simple soundbite that restaurants shouldn't need a bin if they were truly serious about being sustainable, Silo began life in Brighton under the stewardship of chef Douglas McMaster before he moved the project to London to find a following in a larger audience. It worked, with the restaurant earning positive reviews from critics and locals alike. With the marriage of truly delicious food and a commendable, sustainable ethos, long may its success continue.
Read: 10 IDEAL hacks to turn your food waste into something delicious
Address: Unit 7, The white building, 1st Floor,c/o CRATE Bar, Unit 7 Queen's Yard, London E9 5EN
Website: silolondon.com
---
Kottu House
Ideal for Sri Lankan streetfood classics with a twist…
The eponymous dish that gives the Sri Lankan restaurant (nope, we're not going to be talking about Hoppers here) Kottu House its name is actually just one part of the menu at this new addition to Hackney Wick's ever burgeoning culinary scene.
Though the chopped, stir fried roti dish – available with chicken, mock chicken or mutton coconut milk curry, as well as paneer cooked in tomato sauce – is undoubtedly the headliner, there are plenty of other Sri Lankan streetfood classics to enjoy here, from the crisp, funky mutton rolls to the devilled wings coated in a spicy pineapple sauce.
Those dishes largely follow traditional preparations, sure, but Kottu House is just as enjoyable when the chefs go a little off piste; the double smashed burger topped with seeni sambol is a real treat, and has admittedly become our hungover go-to order of choice.
Yep, these guys are on Deliveroo for those Saturday duvet days after one too many Albas at Nightjar.
Address: Unit 9A, Queen's Yard, White Post Ln, London E9 5EN
Website: kottuhouse.co.uk
---
Cornerstone
Ideal for superb seafood and possibly the best crumpet you'll ever eat…
Cornerstone is a Michelin-star restaurant focused on shining a light on some of the UK's best seafood, making its position near the east-end canals apt, that once would have been used to transport goods such as fish and seafood deeper into the capital.
Named after the Arctic Monkeys song that the chef-patron so adores, and boasting a tattoo'd, muscular aesthetic, Cornerstone is built around exciting, fish-focused dishes that are sure to surprise and delight.
Winning its – and Hackney Wick's – maiden Michelin star in 2021, the restaurant was founded by Tom Brown, a chef you may recognise from This Morning and the Great British Menu. A protege of the acclaimed fish maestro Nathan Outlaw and having also done time at the Rick Stein Seafood bar, Brown brings a measured but youthful energy to these bold plates of sublime fish cookery.
Though Cornerstone is a celebration of British seafood first and foremost, the restaurant isn't afraid to channel global influences in its dishes, with the pick of the bunch arguably a sea bream tartare that boasts a clean, meaty flavour, an oozing egg yolk and soy sauce bringing richness and umami.
Speaking of ooze, the hake Kyiv, filled with Cafe de Paris butter, has become an iconic piece of work, and remains a menu ever-present, its accompaniments and accoutrements changing with the seasons. On a reason visit, a Jerusalem artichoke puree paired perfectly.
Of the larger plates here, a roasted monkfish tail served on the bone and retaining all of its natural juices is anchored by a curry emulsion that has something of both the chip shop and satay sauce about it.
This paired back simplicity extends to the decor, too; a relaxed and airy space with a monochrome colour scheme. The room orbits around a jet bar counter and small open kitchen area, speaking of the chefs' assured confidence in their cooking. The occasionally bracing soundtrack – a mix of UK garage, mid noughties Brit rock and old school hip hop – only serves to enhance the sense of an energetic kitchen firing on all cylinders.
Address: 3 Prince Edward Rd, London E9 5NP
Website: cornerstonehackney.com
---
Randy's Wing Bar
Ideal for chicken wings that perfectly fuse American flavours with a certain British sensibility…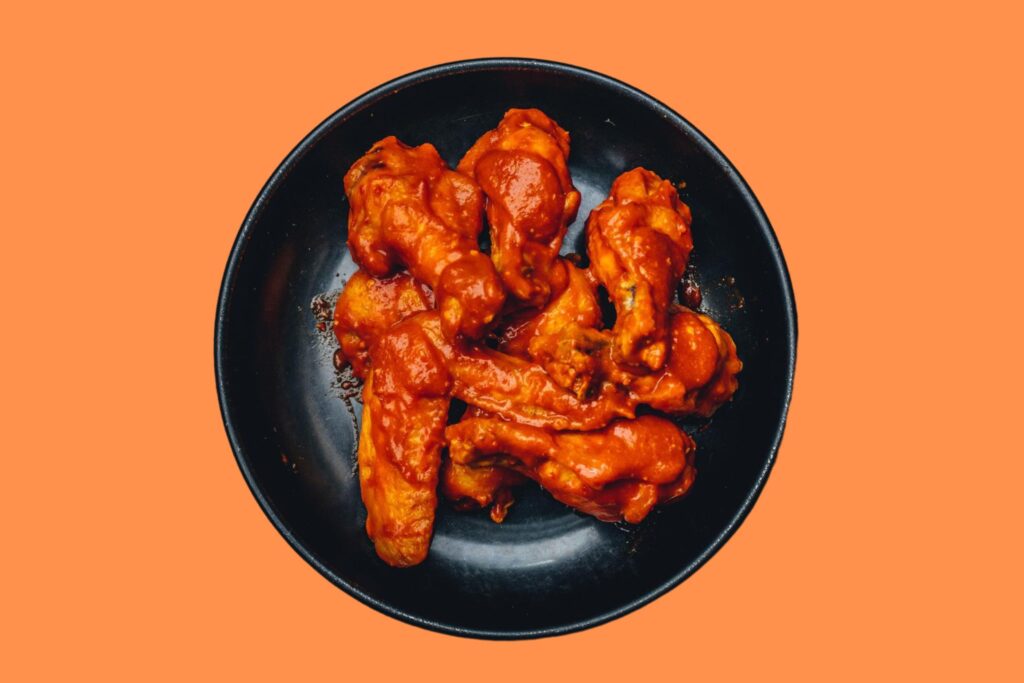 Randy's Wing Bar is perfect for those who like to get their hands dirty and white T-shirt written off while sampling some of the best chicken wings in London. The venue has maintained a cult following among locals and has taken this recognition in its stride, innovating to create sought-after drinking food.
Randy's wings perfectly fuse American flavours with British sensibilities, and nothing demonstrates this more succinctly than their tongue-in-cheek afternoon tea chicken platter. Here, instead of having a tiered stand filled with scones and tiny, tasty treats, the platter is instead layered with fried chicken bathed in a variety of sauces, creating an eating experience that, admittedly, is more Instagram-able than manageable in the flesh.
Beyond the tea stands, there's nothing fancy about Randy's Wing Bar, with the interior instead using wooden tables and worn communal benches that, alongside the exposed ceiling and air vents, give it a bare, open feel, which allows for the wings to take centre stage.
There's plenty of choice and customisation available at Randy's Wing Bar, with grilled chicken on offer for those afraid of the fryer, as well as vegan-friendly cauliflower wings for the plant-based eaters in the crew.
From here, you can dose up your wings with a medley of delicious sauces that give the wings life, such as Great Taste Award winning Korean BBQ sauce that's sticky and sweet and served with a coating of roasted peanuts. Alternatively, Randy's smokey Kansas BBQ sauce is a great match for the restaurant's grilled wings – add a little chipotle mayo to the mix for extra luxury.
If you're not feeling wings, fear not; a signature chicken burger is to hand; a butterflied piece of chicken thigh that's been marinated in tenderising buttermilk and served with special burger mayo, chipotle cheese, and southwestern sauce. This spicy sauce fuses the Californian and Mexican flavours of sour cream, paprika, and dijon mustard to leave a warm tingle on your lips that lingers long after you've paid the bill.
You can also take some of the fun home with you, as they sell bottles of their award-winning sauces. If you're looking for the best time to visit Randy's Wing Bar, try and clear your calendar on Monday, as on these days the wings are all-you-can-eat.
Address: 3 Prince Edward Rd, London E9 5NP
Website: randyswingbar.co.uk
---
No. 90
Ideal for burgers & bbq ribs alongside vegan food and good vibes…
No. 90 is more than a restaurant; it's grown into a major focal point of Hackney Wick culture and community. The restaurant, housed in an expressive urban warehouse adorned in murals and street art, has become a major hang-out in the area for those with a creative spirit.
The venue hosts a rich tapestry of artistic articulation, ranging from DJ sets and raves to poetry sessions, expert talks and life drawing; it even has its own in-house art exhibition showcasing established and up-and-coming artists from the area. With fingers in so many proverbial pies, you'd be forgiven for thinking the actual food might be something of an afterthought.
It isn't. Instead, fortifying, filling burgers take centre stage, with the signature here the 90s burger, which sees beef patties topped with two types of cheese – smoky cheddar and Monterey jack – alongside thick slices of smoked, streaky bacon and sriracha mayo sauce. Yep, this one's an umami bomb and a half, and it fills a certain hole with aplomb.
Though you'll certainly be well fed here, you're not likely to be leaving with a spring in your step; 'small' plates are equally hefty, whether that's a rack of BBQ baby pork ribs or surprisingly punchy, funky mushroom and truffle arancini with garlic mayo. They also do a pretty decent roast on Sunday's.
Though No. 90 pays lip service to the warehouse energy of its surroundings with repurposed pieces of art and furniture, the dining room here – vast and spacious – is defined by a giant disco ball overhead, twinkling over the room and adding some much-needed frivolity.
When night falls, you'll catch the disco lights twinkling off the canal, the bright lights of metropolitan London in the distance. Although some will end their evening here (No. 90 closes at 1am at the weekend), if you're keen to keep the night going then local legend the Colour Factory is just a moment's stroll away.
Address: 90 Wallis Rd, London E9 5LN
Website: number90bar.co.uk
Just a little further east, and if you're looking for tips a good feed before watching West Ham play, immersing youself in ABBA Voyage, or simply doing some shopping in Westfield, then check out our take on where to eat in Stratford. We'll see you down the front for Dancing Queen?