When the bard William Shakespeare wrote, "If music be the food of love, play on," he may not have been referring to Stratford-Upon-Avon's dining scene, yet his words resonate perfectly with the town's current culinary landscape.
This picturesque medieval market town, set in the heart of England's Shires, has long welcomed tourists keen to immerse themselves in the history of the world's most famous playwright, and with such footfall, fine food naturally follows.
From quaint country pubs and cosy tea rooms all the way to Michelin-starred restaurants, each establishment narrates a poetic tale of taste and texture.
Shakespeare himself said that "Good company, good wine, good welcome, can make good people", and in Stratford-Upon-Avon, you can expect to find all this and much more.
With that in mind, here's where to eat in Stratford-upon-Avon.
Woodsman
You could argue that the Woodsman is the restaurant that most embodies the spirit of Stratford-upon-Avon's historical roots, all while offering a contemporary dining experience. It's quite the proposition.
Sitting pretty on Windsor Street, the restaurant is reminiscent of the character Nick Chopper from the play The Woodsman. This character, a mortal woodsman cursed by the Wicked Witch of the East, is a symbol of resilience and determination, much like the building which houses the restaurant, which is Grade III listed and has been standing in this spot since 1500.
The mind behind the menu here is chef and restaurateur Mike Robinson, whose work with wild British game and fish has earned him a string of accolades at the Harwood Arms in London and the Elder in Bath. That's some serious pedigree, and the premise is similarly straightforward here; sustainably sourced produce cooked with an almost prosaic precision.
Right now, with game season in full swing, the Woodsman is on song. Fallow deer sourced from the prestigious Bathurst Estate, is cooked until blushing, and served with a sticky, sumptuous faggot of the brilliant beast's liver and heart. An attitude of no-waste, nose-to-tail permeates the menu, with a tartare of that same deer an option on the starters. Paired with a spiced peach ketchup, it's a one-two punch of deer-based deliciousness that feels like a must-order.
Perhaps unsurprisingly for a restaurant in thrall to protein, the Sunday roasts here are excellent and quite possibly the best in Stratford-upon-Avon. They're excellent value, too, with starters (that tartare is currently an option), the main event – a choice of rare Hereford beef rump, roast Bantham chicken or slow roast Berkshire pork belly, plus all the trimmings – and dessert clocking in at just £42.50 per head. If the apple and blackberry crumble is on, do not miss it!
Website: thewoodsmanrestaurant.co.uk
Address: 4 Chapel St, Stratford-upon-Avon CV37 6HA
---
Loxley's Restaurant & Wine Bar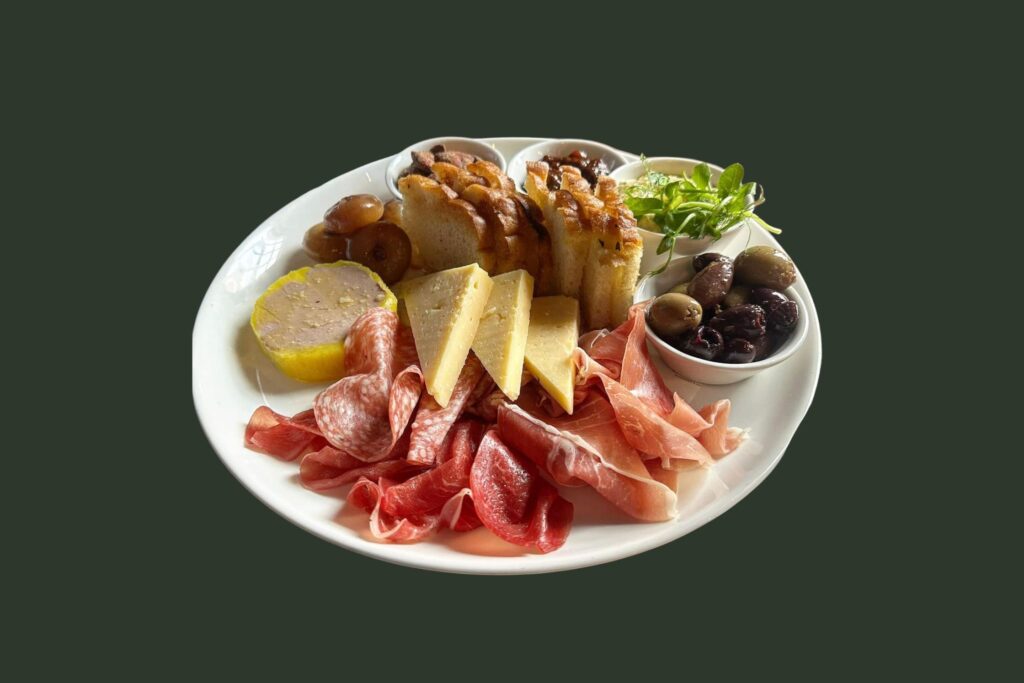 A local favourite that always pulls in the day trippers too, Loxley's offers a mix of British and European gastropub-adjacent cuisine that's got enough variety to satisfy all members of the squad.
Last year named in Open Table's Top 100 UK Restaurants, the restaurant's interiors are as eclectic as the menu, with plenty of foliage and flora (both painted and real!) defining the dining room.
On the plate, the eclecticism is there again, though committed with good taste and refinement; Welsh rarebit rubs shoulders with tempura prawn tacos on a menu of appealingly light, vibrant dishes. For something even more laid back, the lunch menu takes the form of a relaxed bistro, with moules frite, steak burgers and caesar salad all served Mondays to Saturdays, 12 to 4pm.
If you are settling in for the evening, however, Loxley's wine bar adds a sophisticated touch, making it an ideal spot for a romantic dinner or sophisticated debrief with friends over the restaurant's popular Mediterranean sharing board.
Website: loxleysrestaurant.co.uk
Address: 3 Sheep St, Stratford-upon-Avon CV37 6EF
---
Salt
This stylish, compact Michelin star spot – the only one in the town – is arguably Stratford-upon-Avon's crowning dining destination. Chef Paul Foster's commitment to seasonal, local, and sustainable ingredients has yielded a thrilling menu that's as delightful to the palate as it is to the eyes, all tight, intricate plates that celebrate just a couple of ingredients a time to their full potential. It's magic.
Launched in 2017, the restaurant quickly became a sensation this side of London, with Salt fast earning plaudits. Not that Foster is new to awards; he has picked up both the Observer Food Monthly 'Young Chef of the Year' and The Good Food Guide 'Best Up and Coming Chef' award in his time.
He continues to evolve his cooking style at Salt, while his wife Rhiain expertly manages the business side of things. Together, they have created a dining experience that is both relaxed and refined, a rare combination that sets the restaurant apart from its peers in town.
Though the full evening tasting menu is certainly at the premium end of the market, clocking in at £115 per person, Salt are currently offering a four course set autumn menu for just £65, which, when considering the quality of the cooking here, is a real steal. And, in fact, the real deal…
Look out, too, for chef Foster's latest project, a new London restaurant named Grass Fed. Open now in Camden's Hawley Wharf, here you'll find a celebration of British beef. We can't wait to try it.
Website: salt-restaurant.co.uk
Address: 8 Church St, Stratford-upon-Avon CV37 6HB
---
Lambs Restaurant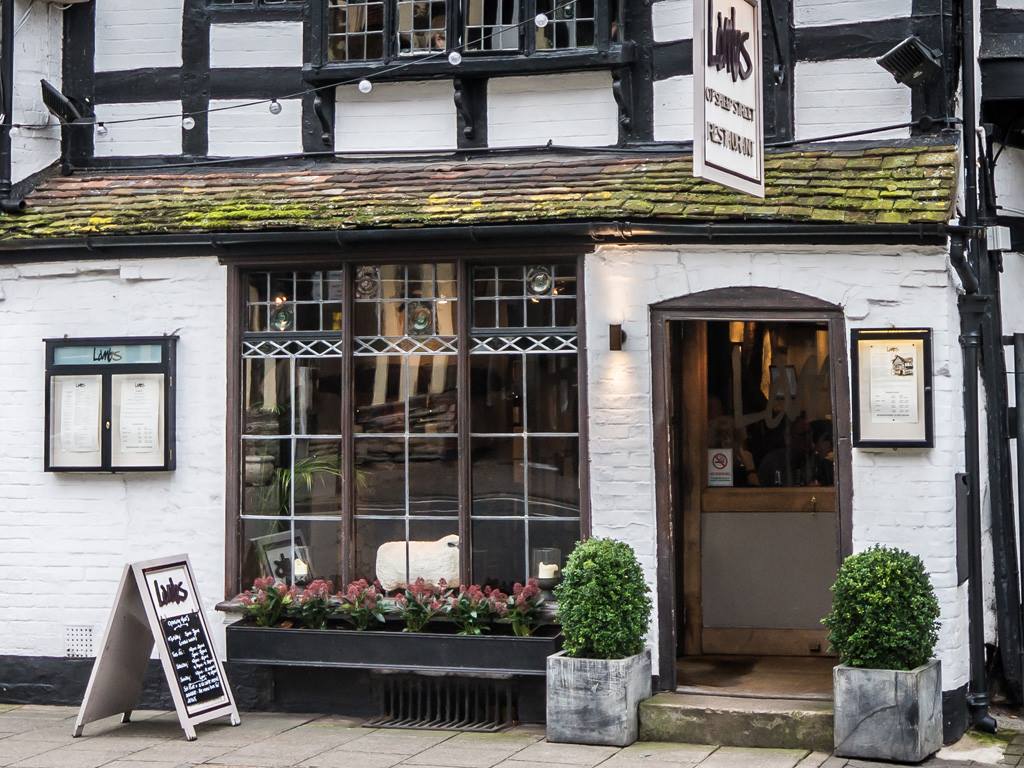 Sitting pretty in the heart of Stratford-Upon-Avon on historic Sheep Street, and housed in one of the town's oldest buildings dating back to the early sixteenth century, possibly during the reign of Henry VIII, Lambs Restaurant is something of a Stratford institution.
Boasting original features and open beams, it's a lovely dining room to settle into, and that's before the fresh, broadly southern Mediterranean fare hits your table. Go for the salt cod fritters with saffron aioli to start, providing a saline, rusty kick that pairs beautifully with a glass of white Alvarinho. Follow with a herb crusted rack of lamb, served blushing, and adorned with a glossy rosemary jus, and you've got yourself a gorgeous meal.
Lambs is a great place to take the kids, with a children's menu of affordable, satisfying options (the sausage and mash is a crowd pleaser), and attentive staff who can deal with a boisterous dining room with grace. One of Stratford-upon-Avon's most treasured restaurants, make no mistake.
Website: lambsrestaurant.co.uk
Address: 12 Sheep St, Stratford-upon-Avon CV37 6EF
---
Corte Campana
The best pizza in Stratford-upon-Avon is without doubt found over at Corte Campana. Only open for a year, the restaurant has already established itself as a firm local favourite due to their authentic Neapolitan pizzas, the work of restaurateur Christian Porzio, from Naples, and his two esteemed pizzaiolo, Vincenzo Crudele and Sergio Boschetto, hailing from Bari and Naples respectively.
Available by-the-slice (only when ordering Margherita, Marinara, Diavola or Bianca), as a proper pizza, or as a ½ or full metre affair, toppings are restrained and elegant, with the Bufalina perhaps our favourite order. With a puffed, airy crust and gently sloppy base, it's a delight.
Website: cortecampana.co.uk
Address: Unit R7, Stratford-upon-Avon CV37 6EX
---
Sorrento
We're sticking around in Stratford's very own Little Italy for a fully blown Italian meal next, just a minute's walk from Corte Campana, at Sorrento. This family-run restaurant is well known locally for its regional Italian dishes, friendly service, and cosy atmosphere. The pasta, in particular, is ace.
Established in 1984 on Ely Street, Sorrento is just a short four-minute stroll from the renowned Royal Shakespeare Theatre, making it the ideal spot for a pre-theatre bite. At the helm of Sorrento's kitchen is father and son duo, Antonino and Adriano De Angelis. The pair take immense pride in crafting fresh, ingredient-led dishes, exemplified by the excellent salads and antipasti served here.
Particularly good is the house bresaola, aged for 3 months especially for the restaurant in the Italian village of Valtellina, and topped simply with rocket, sun dried tomatoes and generous shavings of top-quality parmesan. It would be rude not to follow with some pasta, and the line-up here is reassuringly compact and confident. During summer, there are fewer better dishes in town than Sorrento's spaghetti alle vongole; a briny, slippery delight of a bowl. All you need alongside is a glass of the house Pinot gris and a seat on the patio, and there are fewer more pleasant places to be on the planet.
Well, perhaps that's going a little far…
Website: sorrentorestaurant.co.uk
Address: 8 Ely St, Stratford-upon-Avon CV37 6LW
---
The Opposition
When a neighbourhood bistro has garnered a ubiquitous pet name, you know it's a place that will welcome you in with open arms and feed you capably. And so it is at The Opposition, known locally – affectionately – as the Oppo.
From the same team that gave us Lambs from just a few paragraphs earlier, and found on the same Ship Street, there's no sense of rivalry between the restaurants. In fact, the Oppo's menu is a little more homely and comforting, with the cakey, sliceable lasagna a hit with just about everyone who tries it. The double-carb completer of a side of garlic focaccia certainly does no harm before a cheeky finisher of sticky toffee pudding truly finishes you off.
With mains rarely topping £20 and a set-lunch and pre-theatre menu of three courses clocking in at just £26.50, the Oppo is an inclusive place to dine, which is exactly what you want from your cherished neighbourhood restaurant. Just don't make us choose between here and Lambs!
Website: theoppo.co.uk
Address: 13 Sheep St, Stratford-upon-Avon CV37 6EF
---
El Greco
Whilst Stratford-upon-Avon is undeniably picturesque, it's always nice to be transported to the Mediterranean once in a while, and that's the proposition over at El Greco on Rother Street.
This Greek restaurant, nestled in one of the town's most beautiful historic buildings, offers delightful views over the Market Square and Minories. A family-affair, chef Patron Dimitrios is at the stoves here, with his wife running the dining room and son also currently learning the trade, peeling spuds and washing glasses.
The move here is so obvious that dining in El Greco is an effortless, decision free experience; for just short of £30, the restaurant's 22 course signature menu, of mezze, moussaka, souvlaki and so much more, is a table-filling dream. You'll need a dining companion, as this one's available for two people at a minimum, but let's be honest; who's tucking into a feast this expansive solo, anyway?
Website: el-greco.co.uk
Address: 27 Rother St, Stratford-upon-Avon CV37 6NE
---
Plantarium Cafe
After all that feasting, we end somewhere a little more wholesome – dietarily speaking, at least. Centrally located right next to Shakespeare's Birthplace, the Plantarium Cafe is a great place to refuel after exploring the town (or eating your way through Stratford-upon-Avon's best restaurants, as we just have!).
It's all plant-based here, food and milk-wise, with a selection of filling sandwiches defining the menu. The caramelised onion and stringy vegan cheese toastie is a favourite. The made-fresh-daily cake selection is great, too.
And it's on that rather nourishing note that we will bid you farewell; we're in need of a lie down!
Website: plantariumcafe.co.uk
Address: The Minories, Henley St, Stratford-upon-Avon CV37 6NF
Whether you're a Shakespeare enthusiast or a foodie, Stratford-upon-Avon has something for everyone. That said, if you came here looking for where to eat in London's Stratford, then we've got you covered for that, too.