Sprawling over a sometimes sparse section of East London, Stratford has transformed remarkably over the past decade. Once overshadowed by the pull of neighbouring boroughs, the area has undergone a significant metamorphosis of late, emerging as a location increasingly convinced by its own culinary conviction and cultural identity, with events including the much lauded ABBA Voyage and West Ham's run to the UEFA Europa Conference League win both happening here.
The catalyst for Stratford's change was undeniably the 2012 Olympics. The games not only presented London on a global stage, but also breathed new life into Stratford in particular. The Olympic legacy left an indelible mark on the district, sparking a dynamic period of investment, construction, and development.
Post-Olympics, Stratford is now proud to have Westfield Stratford, one of Europe's largest shopping and leisure destinations, and the Queen Elizabeth Olympic Park, a clutch of world-class sporting venues that includes West Ham's London Stadium, right in its backyard. Just last year, the groundbreaking ABBA Voyage opened here, and is still going strong as 2023 begins to wind down. All of this has led to Stratford train station being named the 5th busiest in London, a sign of its growing influence as an area.
As a pleasing byproduct of this rising footfall, the area's restaurant scene has begun getting noticed, with shiny new openings and old Stratford stalwarts both receiving increased attention.
Whether you're here to retread scenes from Top Boy, blow some Bubbles, go on a virtual voyage with ABBA, or just do a little shopping in Westfield, you'll no doubt be looking for a decent feed in this corner of London.
We're here to help with that; here's where to eat in Stratford, London, and the best restaurants near Westfield, the ABBA Voyage Experience and the London Stadium.
Allegra
Ideal for food rooted in seasonality, simplicity and flavour…
Allegra's opening in the autumn of 2019 certainly felt ambitious, the raising of a destination restaurant on the 7th floor of a glass-fronted luxury hotel in a rather distant corner of London a bold move, even before the bad times of the preceding years.
The fact that, four years on, Allegra has become one of London's most talked about, consistently excellent restaurants, is testament to the vision of developer Harry Handelsman and the precise, intense cooking of acclaimed chef Patrick Powell.
It shouldn't be a surprise; Handelsman has previous as the brains behind the Chiltern Firehouse, Powell a wealth of experience from his time at Dublin's Michelin-star L'Ecrivain, Wild Honey with Anthony Demetre, and a four-year stint at Chiltern Firehouse under Nuno Mendes.
Powell's culinary philosophy is rooted in three core principles: seasonality, simplicity, and flavour, and it's his training in classical French cooking that really shines through in a menu that is both inventive and deeply satisfying.
Split into several areas, the bar, terrace and roof garden are reserved for a more casual eating experience that sees fried chicken sandwiches, duck leg koftas and an English cheeseboard all served.
It's in the former space where the magic happens. The (by London standards) genuinely good-value tasting menu, served Wednesday to Saturday and costing £58, is an impressively expansive affair, with the delicate snacks setting the tone for a surprisingly exciting meal here. The late season tomato and lightly cured mackerel tart is particularly good, fresh and fatty in all the right places.
In fact, Powell has a wicked way with seafood; several courses later on the current tasting menu, a barbecued half-tail of monkfish is served dressed in an aerated shellfish sauce that's anchored with cubes of guanciale and offset by the sweetness of a carrot and ginger puree. It's a joy.
Desserts are arguably Allegra's strongest suit, all intricate pastry work and a celebration of the season's finest fruit. There's always an ice cream sandwich on, and the current blackberry and creme fraiche number is a masterpiece of design.
Speaking of design, Allegra's is the work of SOM, the architects behind the Burj Khalifa and One World Trade Centre, and Space Copenhagen, known for their work on NOMA and 11 Howard in New York.
It's a gorgeous space to spend time, both bright and breezy, and opulent and intimate, depending on the time of day you visit. When you do, grab yourself a drink from the concise but expertly curated cocktail menu; the Radiant Sunset, built around mezcal, sherry, and clementine, feels so apropos as you look out across London from on high. Cheers!
Website: allegra-restaurant.com
Address: The Stratford, 20 International Wy, London E20 1FD
---
Mr Ribs Restaurant
Ideal for generous portions of Brazilian home cooking…
Back on ground level and onwards to a more humble – but no less delicious – eating experience…
At Mr Ribs, just a short walk from Stratford Underground Station and standing proud long before the Olympics came to town, the proposition is straightforward; nourishing, generous portions of Brazilian home cooking with an emphasis on the country's cherished meat dishes – the restaurant is attached to a butchers of the same name next door.
Visit at lunch, as the more popular dishes here, such as the carne de panela and bife acebolado, sell out fast. We're especially enamoured with the feijoada – Brazil's beloved stew of black beans and various pork bits – here, the smoked sausage supercharging the thing with umami, the namesake pork ribs as giving and generous as the restaurant itself.
Before you satiate yourself with that stew and your appetite is done until dinner, don't miss out on a couple of the fried-to-order coxinha. These little croquette-like numbers are filled with an enthusiastically seasoned mixture of chicken and stretchy, sticky cheese, and pair perfectly with a guava juice. Delicious.
Finish it all with a smooth, but bracing Bica, the Brazilian version of espresso – Mr Ribs' version is excellent – and you're good to go.
Address: 70-73 The Mall, London E15 1XQ
---
Tonkotsu Stratford
Ideal for reliably good ramen…
Tonkotsu has become one of the UK's most ubiquitous Japanese restaurant brands in recent years, with more than a dozen outposts of the premier ramen slingers now operating in London alone, with more in Birmingham and Brighton for good measure.
The Stratford branch, which opened its doors in the newly developed International Quarter at the end of July 2018, is the largest site of the Tonkotsu chain to date.
Conveniently located just outside Westfield Stratford (and the closest restaurant on our list to ABBA Voyage, incidentally), if you're braving the enormous shopping centre then a bowl of ramen here is the perfect precursor – after wolfing one down you'll be in enough of a groaning fog to largely ignore the crowds.
Though the word 'tonkotsu' translates to 'pig bone' in Japanese – and the milky rich broth is without doubt the headlining act – you don't have to pray purely at the altar of porcine to enjoy a meal here. The katsu curries, gyoza, and pickles are fantastic, too, for those seeking a lighter meal.
That ramen, though; it's one that promises sensory overload, of properly lip-smacking umami flavour, alkaline noodles with just the right bite, fatty slices of pork belly, jammy eggs… the works. Add a 'shot' of scotch bonnet paste if you really want to feel something.
A word on those noodles. Handmade every day (the restaurant's strapline reads "If you don't make your own noodles, you're just a soup shop"), and boiled for a precise 32 seconds, they're meticulously formed, holding up confidently to the dialled-up-to-eleven broth. It's the only way it should be.
Keep an eye out for the restaurant's guest chef collaborations, usually released to celebrate Tonkotsu's birthday in the capital. Recent highlights have included chef John Chantarasak's ramen/khao soi mash-up, Kricket's Southern Indian-inspired bowl and Jose Pizzaro's Iberico pork ramen with piquillo peppers, served with a shot of sherry.
Website: tonkotsu.co.uk
Address: International Quarter, 1 Endeavour Square, London E20 1JN
---
Santi
Ideal for decent Neapolitan-adjacent pizzas…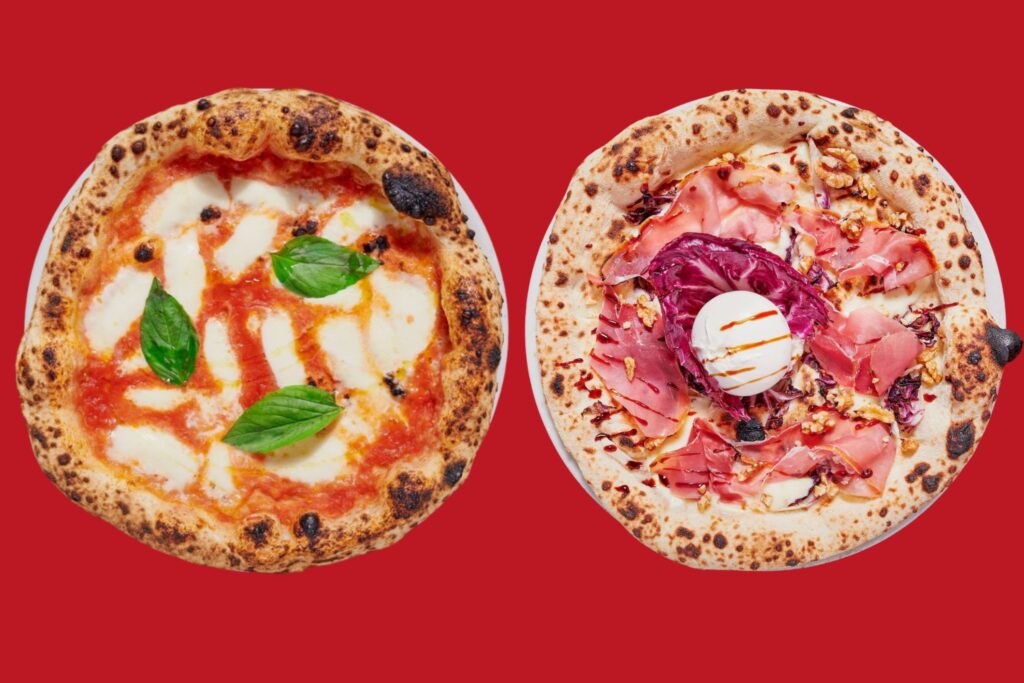 Located in the heart of the burgeoning/bland East Village, Santi has been serving up self-proclaimed simplicity since the summer of 2016, when the Olympian focus had long left London in search of sunnier climes, but the folk of Stratford still needed a decent feed.
Another gaff just a short hop from Westfield Shopping Centre, Stratford Station and other central sites, Santi fills the brief for a swift, serviceable bite before the football or ABBA Voyage, with the central pizza oven churning out capable Neapolitan-adjacent pizza and calzone quickly and efficiently.
Whilst these aren't quite the best pizzas in London, Santi is the ideal Stratford pit stop if your show is starting soon.
Website: santirestaurant.com
Address: 42-45 Victory Parade, East Village, London E20 1FS
---
Sichuan Grand
Ideal for some of the best Sichuan hotpot in the city…
London's love affair with the numbing complexity of Sichuan food shows no signs of abating, and Stratford's Sichuan Grand, part of the strangely scant-feeling Gerry Raffles Square and sitting opposite the Theatre Royal Stratford East, is one of East London's most enjoyable purveyors of the good stuff.
In a vast, grandiose dining room defined by carved wooden screens and lighting that's reminiscent of when the first sun peeks through the curtains at the afters, the name of the game here is bubbling, chilli oil slicked hotpot.
It arrives with accompanying solo induction, already spitting out white-shirt endangering broth and far, far too hot to slurp hastily (a burnt tongue tells the tale). Exercise patience and restraint, if you can, and you'll be resoundingly rewarded.
Go for the tripe, its honeycomb-crevices clinging on to the increasingly rich and assertive broth and delivering a chewiness that rewards perseverance. Slide in a few slabs of silken tofu as the bubbling mellows, another nourishing, sauce-soaking vehicle that is pretty much obligatory in a Sichuan hotpot.
As the broth condenses, we love to plunge in a bitesize piece of the restaurant's prawn mash – essentially the filling for a prawn toast. Only needing a moment submerged in the chilli-forward soup, it's bouncy and supple within seconds, and an absolute treat. A pot of jasmine tea is all you need to send this one on its way.
Website: sichuangrand.com
Address: Unit 1 Gerry Raffles Square, London E15 1BG
---
Sawmill Café and Bakery
Ideal for a wholesome brunch…
For a delightful breakfast or brunch in this part of town, Stratford's Sawmill Café, on West Ham Lane, is the place to go. This quaint café prides itself on freshly baked bread, homemade pastries, and locally sourced ingredients. The eggs Benedict with smoked salmon is a must-try, as is their selection of artisanal sourdough bread.
A winner of the Time Out Love London award five years in a row, there are plenty of gluten free options here to enjoy in or take away. If you're doing the latter, then Stratford Park is just a minute's walk away and ideal for a picnic. The freshly squeezed juices here are not to be missed!
Website: sawmillcafe.co.uk
Address: 51-53 W Ham Ln, London E15 4PH
---
Rhythm Kitchen
We end, somewhat resignedly, inside Westfield Shopping Centre and in the massive mall's World Food Court. In our humble opinion, the best place to eat here is Rhythm Kitchen, whose traditional jerk dishes, curry goat, and a variety of sides never fail to hit the spot.
Run by the self-styled 'Jerkfather', the quarter jerk chicken served over rice and peas and fried plantain is a snip at £12.50, the chuck blistered and burnished in all the right places, its piquant marinade having caught the flames and caramelised just right.
If you're in a hurry, the jerk chicken and roti wrap is a hugely popular lunch time order – the house rum punch an almost-mandatory chaser. Cheers!
Website: rhythymkitchen.co
Address: 1st Floor World Food Court, Westfield Stratford City, Montfichet Rd, London E20 1ES