Arguably South London's most famous borough – and one which gave us Giggs, Only Fools & Horses, Isla Bevan, Rio Ferdinand, John Boyega and so many more – on any given day Peckham's streets are a hive of activity; a cornucopia of cultures and cuisines, as African-Caribbean grills and bakeries mix with minimalist coffee houses and 'Modern European' bistros to give the high street an unmistakably eclectic vibe.
It's a vibe that's been seeing seismic change recently, for better or for worse. Amidst this backdrop of change, Peckham's restaurant scene has burgeoned, offering a diverse array of dining options that cater to both new and old residents, with the area's more established food purveyors adapting to shifting times with admirable nimbleness.
For many, the culinary landscape of Peckham thrives when managing to reflect the area's multicultural heritage and evolving identity, and today we're stepping out of the borough's busiest train station, Peckham Rye, in search of something to eat.
Join us as we explore the restaurants, both new and old, that make Peckham's dining scene truly one-of-a-kind. Here's where to eat near Peckham Rye Station, featuring some of the best restaurants in Peckham.
Levan
Just a minute's walk from Peckham Rye Station, Levan, a contemporary European bistro, takes its name from the legendary DJ Larry Levan, and pays homage to the spirit of inclusivity and creativity that he embodied.
Chef-owner Nicholas Balfe, previously of Salon in Brixton (RIP) and an alumnus of the city's Young Turk supper-club collective, leads the kitchen team in crafting seasonal sharing plates that showcase the best of modern European cooking, inspired by Paris' 'bistronomy' movement, which aims to fuse fine dining with a more casual atmosphere and eclectic wine lists.
Start with the now iconic Comté fries with saffron aioli; a decadent twist on the classic French chip blanketed under whispers of delicate grated cheese, showcasing Balfe's ability to elevate humble ingredients to new heights. Follow that with a couple of sharing plates; the pork chop (cooked just pink) with smoked aubergine puree and anchovy jus that's currently on the Chef's Menu is a knockout.
That said, it's the restaurant's fantastic wine list that takes centre stage, with a firm focus falling on low-intervention, bio-dynamic wines from small producers across Europe, reflecting the restaurant's commitment to sustainability and quality.
Accordingly, one of the most notable achievements for Levan has been winning the Special Jury Prize in The Buyer's 2022 Star Wine List of the Year UK. This prestigious award highlights the restaurant's dedication to championing wines from the Jura region in France (the owners here nearly called the restaurant 'Jura' in its honour), an area often underrepresented and challenging to source.
Levan's wine list features an impressive range of producers and styles from this region, showcasing a refreshing, unique, and distinctive personality that sets it apart from other neighbourhood restaurants in Peckham.
Levan has also earned a coveted entry in the Michelin Guide.
Address: 12-16 Blenheim Grove, London SE15 4QL, UK
Website: levanlondon.co.uk
---
JB's Soulfood
If you're stepping off the train seeking the sweet, spicy smell of jerk chicken on the grill, then don't look for smoke signals as soon as you alight. Instead, head north out of Peckham Rye Station and up Rye Lane, making for JB's Soulfood, arguably the best known jerk in the area (except, perhaps, Gregg Wallace).
Serving the good folk of Peckham High Street since 2014, Bill and Jennifer, the much-loved dynamic duo behind the South London institution, have transformed a compact unit into a bustling hub of authentic Caribbean cuisine and community. Bill, a former welder, convinced Jennifer to bring her culinary skills to the forefront, and together they created a soul food haven.
Though you can squeeze in around one of the restaurant's clutch of sparsely appointed wooden tables, owing to its size JB's is better suited to takeaway, and that's fine by us; there's nothing better than pitching up on the pavement outside and getting acquainted with the signature drum-smoked jerk chicken, which is also one of the area's best value meals, clocking in at under a fiver when served over rice. A plastic cup of JB's Guinness punch will send you merrily on your way…
… But not before you pick up a side of silky macaroni cheese and, because you're here, you're hungry and it's delicious, some heavily, headily-spiced curry goat.
Lunchtime deals and student specials run every lunchtime from Monday to Friday.
Address: 27A Peckham High St, London SE15 5EB, United Kingdom
Website: JB's Soulfood Ltd | London | Facebook
---
Larry's *now permanently closed*
Another from the team behind Levan next door, (and again named after the legendary DJ Larry Levan), co-owner Mark Gurney describes Larry's as Levan's "naughty little brother: relaxed and informal", a place where you're just as welcome to enjoy a quick cup of coffee and Japanese-marinated boiled egg in the morning as you are a full-blown sit down meal in the evening.
The New York deli/diner-style eatery is housed in a unique building that was once home to Macs Pie and Mash shop, a local institution that closed its doors in the late 20th century. The building, constructed between 1935 and 1936, features distinctive Art Deco architecture and has been carefully restored to preserve its historic charm.
The interiors of Larry's are designed to reflect the vibrant atmosphere of its namesake's NYC clubbing era, featuring orange laminate tables, reclaimed green Eames chairs, and a lively playlist that pays homage to Levan's musical legacy.
Larry's menu is inspired by the diverse mix of cultures found in New York City. Drawing from Italian-American, Jewish, Asian, and Eastern European cuisines, the dishes here are as eclectic as they are delicious. From a simple plate of pickles with house hash browns and fermented chill mayo on their brunch menu all the way to a big ol' bowl of steamed mussels and braised leeks for dinner, there's something for everyone at this Peckham gem.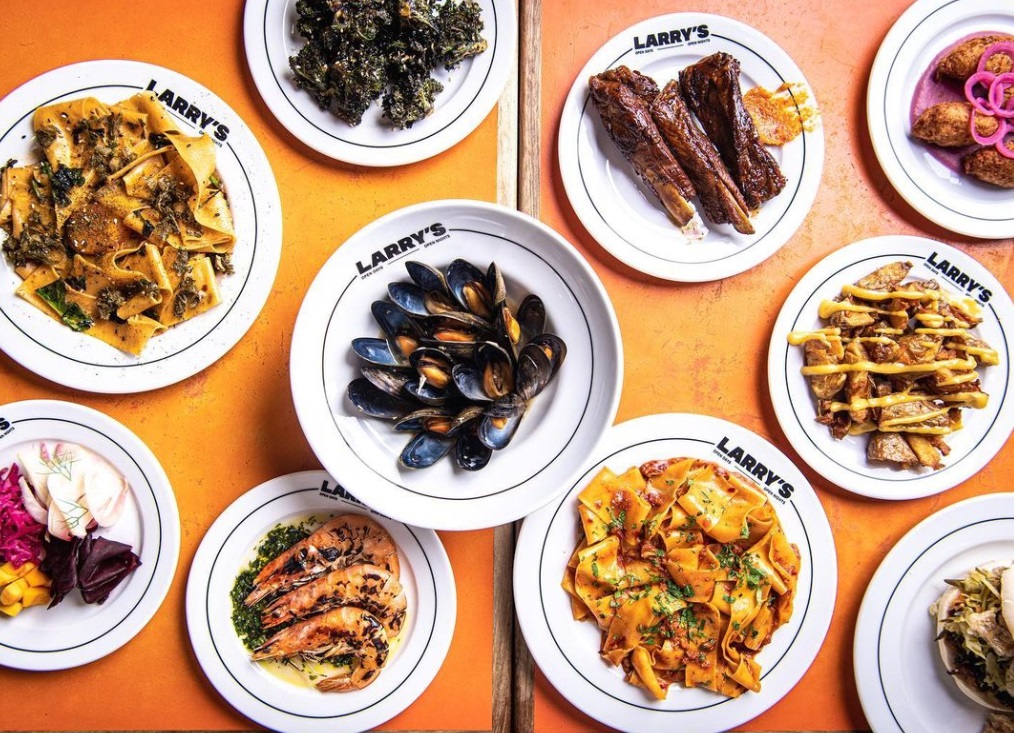 If it's on, Larry's fresh pappardelle served with a rich chicken liver and 'nduja ragu is a must-order if ever there was one; a touch funky, a lot spicy… It's a real treat. Similarly, the meatball sub here is one of London's finest sandwiches. Don't miss out if you see it adorning the restaurant's whiteboard-and-marker pen menu.
Larry's also follows Levan's approach to wine, sourcing their bottles from a whole host of interesting, low-intervention winemakers from the continent. All wines are available by the glass, carafe, or bottle, ensuring things remain inclusive, price-wise. What's not to love?
*Sadly, as of August 2023 and due to increasingly volatile times, it has been announced that Larry's will permanently close.*
Address: Unit 5, 12-16 Blenheim Grove, London SE15 4QL, United Kingdom
Website: larryspeckham.co.uk
---
Beef Suya at Tiwa 'n' Tiwa, Peckham
A joyful weekend spent eating through Eater London's recommendations on where to eat in Peckham (for pleasure, not business) ended in the conclusion that the beef suya at Tiwa 'n' Tiwa is one of the most moreish plates of food in all of the city. It's also one of the spiciest.
As Jonathan Nunn (editor of the superb food newsletter Vittles) writes, the easiest way to find Tiwa 'n' Tiwa is to head to the huge, glass fronted Burger King on Peckham High Street, turn around, and ''look for the smoke''.
Follow your nose, and you'll find barbecued beef suya that's been rolled in the effervescent Nigerian suya spice blend yaji, usually made from several different strains of dried chilli alongside onion, garlic and ginger powders, white and black pepper and several other heady ground spices.
The chilli-hit here is of the rasping variety, teasing and taunting the back of the palate rather than the tip of the tongue, as fresh chilli seems to. Its analeptic quality invigorates, and despite the hot fluster it puts us in, it's impossible not to order another plate.
Address: 34A Peckham High St, London SE15 5DP, United Kingdom
---
Peckham Arches
Perhaps the smell of the wood fired oven will lure you in as you step off the train, perched on tip toes and gliding down the station concourse like you're on a cartoon and you've just smelt a freshly baked apple pie. Or, maybe the pumping soundtrack will have you irresistibly bopping towards the hallowed vaults. Either way, there's something enticing about Peckham Arches, the recently opened alfresco dining spot that's all about big flavours and even bigger vibes.
Until recently, the restaurant was nominally a Middle Eastern-inspired barbecue joint, though on our visit the menu was actually a little more globetrotting than that, with plenty of influence drawn from Peckham's Caribbean community, the jerk chicken with plantain fries a case in point. Also excellent was the charred whole sea bream with a lemony chermoula dressing, fresh and piquant, and anchored by the earthy hum of cumin.
All that said, since our visit in July the vibe has changed somewhat under the arches, with the restaurant now slinging pizzas to the hungry throngs. Open 'till midnight on Thursdays, Fridays and Saturdays, and accommodating of six hundred punters, a menu of wood-fired, quick-to-produce pies certainly makes sense.
Address: Blenheim Grove, London SE15 4QN
Website: peckhamarches.com
---
Mambow
Mambow is a modern Malaysian restaurant housed in the newly built Market Peckham, an 1908 Edwardian building opposite Peckham Rye Station that has been redeveloped to become a home to small businesses.
Admittedly, the development a pretty soulless place – more Wework than woah there! – but Mambow stands out as being one of the very best of a slew of exciting Malaysian openings in the capital in recent years, injecting some much-needed soul and warmth into this most gentrifying of spaces.
Founded by the talented Abby Lee, Mambow offers an array of dishes that showcase the complex flavours and diverse influences of Malaysian cuisine alongside chef Lee's Peranakan heritage.
The chef's initial venture in Shoreditch was unfortunately cut short by the COVID-19, but this setback only fuelled her determination to bring her passion for Malaysian cuisine to London life, and in June of last year she found a new home in Peckham.
With a renewed focus on bringing traditional Nyonya dishes to this corner of of the capital, Abby Lee has successfully forged a menu that is both authentic and innovative – see her excellent Hainanese chicken sando, a creation as far removed from the Tesco Meal Deal as you could hope for.
The menu, which consists of around seven small plates, is best enjoyed with a group of friends or family, allowing everyone to sample the diverse flavours on offer. One of Mambow's signature dishes is the ikan assam pedas, a tamarind-sour and earthy fish curry that perfectly encapsulates the essence of Lee's cooking; it's flavour forward and pulls no punches. Perhaps this one isn't to be enjoyed in your whitest of shirts though – it's an irresistibly messy affair.
Don't miss the lor bak here either; these crispy five spice pork and prawn bean curd rolls served with a sticky deep, and dark chilli vinegar jam, are simply irresistible.
Mambow also boasts an impressive natural wine list, curated by renowned importer Les Caves de Pyrenen. The selection focuses on zesty, juicy, and sometimes rich flavour profiles that perfectly complement the bold and vibrant flavours on the plate. We love this showcasing of modern Malaysian cookery, and we can't wait to see where Lee takes it next.
Address: Stall 11, Market, 133a Rye Ln, London SE15 4BQ, United Kingdom
Website: mambow.co.uk
---
Artusi
Artusi, named after the famous Italian gastronome Pellegrino Artusi, is the Italian neighbourhood restaurant every borough dreams of; it's no frills in every sense of the word, and all the better for it.
A chalkboard menu details the ever-changing offerings of the day; always expect two or three freshly made pasta dishes (on one of our many, many visits a wild garlic spaghetti with a ricotta salata was bloody lovely), a strong vegetable showing and a couple of meat and fish dishes. The cod, pancetta and braised coco beans currently on the menu is a salty delight.
Though simplicity and respect for ingredients lies at the heart of the operation, everything is executed with confidence and care – what we would expect from a former Clove Club chef, Jack Beer.
Whisper it, but the Sunday set menu deal, from 12pm to 8pm, is probably the best of its kind in the city – you can enjoy 3 courses for just 25 quid. Yes, 25. For more of a blowout, the £40 per person sharing menu for eight or more people, housed in the airy lower floor right next to the kitchen, is another great deal.
The restaurant boasts an all-Italian wine list, with a focus on small producers and natural wines, as is the way in a modern London neighbourhood restaurant. The 2020 Ciello Baglio Antico Catarratto – an orange wine bursting with vivacity and freshness – is a steal at £8 a glass.
Whilst Artusi isn't quite so close to Peckham Rye Station as the other entries on our list, sitting a ten minute walk away on Bellenden Road, it's certainly worth stretching your legs for.
Address: 161 Bellenden Rd, London SE15 4DH, United Kingdom
Website: artusi.co.uk
---
Oi Spaghetti + Tiramisu
For those craving pasta even closer to Peckham Rye Station, Oi Spaghetti has got you covered (in red sauce). This intimate eatery specialises in homemade pasta dishes, prepared lovingly with fresh ingredients and traditional techniques – yep, there's no automated pasta rolling machine here.

Chef Francesco, the brains behind this compact space, hails from Italy and brings with him a passion for sharing the authentic flavours of his homeland with London diners, all from a space that is perhaps best described as a hut on an industrial estate.
It's a tight menu in keeping with its surroundings, with just four or five pasta dishes on at any one time, plus a starter or two and a single dessert, tiramisu, with only nine portions available daily.
Of those pastas, we're particularly enamoured with the 'Red One'; essentially a puttanesca, with plenty of kick and piquancy from Kalamata olives, capers and red chilli both fresh and dried. It arrives adorned with a graceful covering of DOP parmesan and drizzle of Toscanian olive oil, and satisfies just about every food craving you could be suffering from in a single bite.
Finish with an order of that famous Italian sweet pick-me-up (if it's not sold out), and head back to Peckham Rye Station satiated and satisfied.
A word of warning; book your table in advance as this cosy eatery is actually teeny tiny shed that only has a handful of tables.
Address: Copeland Industrial Park, 133 Copeland Rd, London SE15 3SN, United Kingdom
Website: oispaghetti.co.uk
---
M. Manze
M. Manze, a renowned pie and mash shop, has been serving Londoners with its delicious traditional British meals since 1902. The history of this iconic establishment is deeply rooted in the culinary culture of London, particularly in the eastern docklands area where it first gained popularity during the Victorian era. Pie and mash, originally a working-class food, was designed to be easily transportable and protected from the dirt and grime of historic London by its pastry crust.
The legacy of M. Manze began with Michele Manze, an Italian immigrant who opened his first pie and mash shop on Southwark's Union Street in 1844. His business was inspired by the travelling piemen who sold their pies throughout London. Over the years, the Manze family expanded their business, opening several shops across the city. Today, the fourth generation of the Manze family, Emma Harrington, her father Rick Poole, and her husband Tom Harrington, continue to run the family-owned business.
Located at 105 Peckham High Street just a 5 minute walk north of the station, M. Manze's Peckham shop is the second oldest surviving branch after the Tower Bridge shop. It first opened its doors in 1927 and has since become a beloved institution in the community. However, the shop faced a significant challenge in 1985 when it was burnt down during the riots in the area.
A long legal battle ensued, and unfortunately, Lionel Manze, Michele's son who took over the business after his father's death in 1932, did not live long enough to see the outcome. Despite these hardships, M. Manze persevered and continues to thrive in Peckham.
The signature dish of M. Manze is, of course, their famous pie and mash. The pie consists of a minced-beef filling, which historically contained leftover scraps of meat and vegetables, baked in a pastry crust. It is served with mashed potatoes and a thin green parsley sauce called liquor, which, despite its name, contains no alcohol. This hearty meal has been a staple of London's culinary scene for generations and remains a favourite among locals and visitors alike.
M. Manze is not only known for its delicious pie and mash but also for its warm and welcoming atmosphere. The staff at the Peckham shop are friendly and greet customers with a smile, making it a go-to place for those seeking a taste of traditional London grub. In addition to their signature dish, M. Manze also offers other handcrafted traditional English dishes, such as stewed eels, which are available for delivery throughout the UK.
Read: The best restaurants in London Bridge and Borough
Address: 105 Peckham High St, London SE15 5RS, United Kingdom
Website: manze.co.uk
---
Miss Tapas
Stools and bar seating, with a chalkboard menu and an unfussy, leisurely vibe… It's a recipe for a brilliant place to see off an evening in Peckham, make no mistake.
Indeed, the emphasis at Miss Tapas is very much on good wine, ingredients-led small Andalusian plates and lively chatter, and we wouldn't have it any other way.
A convivial vibe and delicious food to match, Miss Tapas does the simple things right, and with the restaurant so close to Peckham Rye Station, there really is no reason not to.
The brainchild of Seville native Blanca Rowe Tejera and co-owned by local restaurateur Frank Yeung, who also has a hand in Mr. Bao (more of him later), Miss Tapas has been delighting patrons with its delicious and traditional Southern Spanish dishes since its inception back in 2014.
Interestingly, the history of Miss Tapas is rooted in the community of Peckham. While renovating the restaurant, the team discovered two miniature lion heads on the original frontage, which they have lovingly restored. This attention to detail and commitment to preserving the history of the building is a testament to the restaurant's dedication to its locality.
That said, there's no Spanish 'take' on pie 'n' mash here. Instead, it's a proudly regional menu that traverses Andalusia via the Canary and Balearic Islands, with slicks of sobrasada adorning rounds of baguette, the fried chicken here served alongside the Canarian classic dip mojo picón, and anchovies and manchego on toast all highlights.
In summer, look out for the house gazpacho on the specials board; it's a treat. Pair these tasty morsels with a sherry or two from the restaurant's growing collection, and you've got yourself an enjoyable night indeed.
Address: 46 Choumert Rd, London SE15 4SE, United Kingdom
Website: misstapas.com
---
Coal Rooms
Perhaps the closest restaurant to Peckham Rye Station (and certainly one of the best), Coal Rooms Coal Rooms is a stylish restaurant housed inside the beautifully restored Grade II listed building directly next door to the station, offering a unique blend of modern British and smokehouse fare.
The restaurant is the work of Richard Robinson and Cemal Ezel, co-founders of local favourites Old Spike Roastery, Spike + Earl, Aside, and coffee-based charity Change Please. In fact, Coal Rooms initially opened its doors in August 2017 as a collaboration with the company behind the Old Spike Roastery.
It's gone from strength to strength since. Inspired by the likes of Fergus Henderson, the restaurant has developed a once unique though now ubiquitous cooking style that focuses on using wood fire, smoke, and "nose to tail" cookery to reduce food waste and showcase the best of British produce.
The restaurant's open kitchen features a large robata grill and a clay oven smoker, allowing guests seated at the counter to witness the theatrical cooking process. Dinner and a show? Count us in!
Coal Rooms has a rotating selection of craft beers from local breweries, ensuring that you'll always find something new and exciting to accompany that show.
The restaurant is particularly famous for its Sunday roasts, which is, to our mind, one of the very best roast dinners in South London.
Address: 11a Station Wy, London SE15 4RX, United Kingdom
Website: coalroomspeckham.com
---
Ganapati
Ganapati is a South Indian gem tucked away just off Bellenden Road, offering a taste of Kerala cuisine as imagined by head chef and owner Claire Fisher, who has spent years perfecting her recipes, resulting in dishes that transport diners straight to the sun-soaked shores of Southern India.
Open since 2004, long before Peckham shapeshifted into its current form, the restaurant's inception can be traced back to Claire Fisher's life-changing trip to India in 1992. Enamoured by the rich flavours and vibrant culture, Claire embarked on a journey to master the art of South Indian cooking, which eventually led her to Holly Grove, and Ganapati.
The Thali here, a traditional Indian platter with a selection of curry, rice, raita, mung bean salad, pickles and poppadoms, offers a true taste of Kerala's diverse culinary landscape, and is just fantastic. It's a bargain, too, at £12.50 for the full spread, and is one of the best budget lunches in the immediate area. Come get it while it's hot!
Address: 38 Holly Grove, London SE15 5DF, United Kingdom
Website: ganapatirestaurant.com
---
Peckham Bazaar
National newspaper recognition has not dented the idiosyncrasies of this great 'pan-Balkan' Peckham institution, where head chef and owner John Gionleka, originally from Albania, brings his wealth of experience and passion for regional cuisine to create dishes that are both comforting and innovative..
With its celebration of the South Eastern Mediterranean, it's no surprise that fish is done superbly here, with a grilled octopus, white taramasalata (none of that neon-pink stuff here), and caper dressing a standout dish on our last visit, showcasing the chef's skill in combining bold flavours and textures. It's intriguing, exciting and both familiar and thrilling, which is pretty much all you want from a meal out.
The wine list here is a celebration of sometimes lesser-known grape varieties from the Balkans and Eastern Europe, and features unique and diverse options, ranging from the Simcic Opoka Ribolla, an orange wine from Slovenia, to Greek reds and other regional favourites. Spirit enthusiasts can indulge in a Peckham Negroni with Otto's vermouth from Athens, which is excellent. Throw in a glass or two, and you've got yourself one of the best meals in Peckham.
Address: 119 Consort Rd, London SE15 3RU, United Kingdom
Website: peckhambazaar.com
---
The Begging Bowl
Located on Peckham's premier foodie strip Bellenden Road, the Begging Bowl uses Thai street food to form gorgeous small plates of zest and fire. The building is beautiful and airy, adding to the buzz this place generates even on a weeknight.
Chef-owner Jane Alty has trained in some of the best kitchens in London. Originally from New Zealand, Jane has lived in London for two decades, working alongside the city's best chefs in top-name restaurants such as Bibendum, Galvin at Windows, Racine and, most influentially, the Michelin-starred Bangkok restaurant Nahm.
On the menu, dishes boast real clarity and punch, with excellent sourcing evident in the precision of flavour. Don't miss out on deep fried whole sea bass, served under a tangle of shredded green mango and doused in a perky tamarind dressing. The jasmine rice, so fragrant and nourishing, is limitless. A real treat.
Address: 168 Bellenden Rd, London SE15 4BW, United Kingdom
Website: thebeggingbowl.co.uk
---
Mr. Bao
Mr. Bao has been delighting South Londoners with its famous fluffy buns and other Taiwanese staples since 2016.
Frank Yeung, the owner of Mr. Bao, is no stranger to Peckham's restaurant scene, as he co-owns Miss Tapas on Choumert Road and has previously run a small chain of Mexican restaurants called Poncho 8 with his friend Nick Birkett, who is co-owner here. The duo fell in love with baos during their trips to New York and Asia, which inspired them to bring these instagrammable bites back to Peckham. We're so glad they did.
The star of the show at Mr. Bao is undoubtedly one of its signature dishes, the Bao Diddley, a fried chicken bao given a real kick of flavour by kimchi and wasabi mayo. The tapioca flour used here is the masterstroke, making their chicken extra crispy, the fermented bean curd nestled within the buns packing an umami punch. It's pretty much the definition of 'crowd-pleaser'. For the vegetarians in the gang, the teriyaki shiitake mushroom bao is just as satisfying.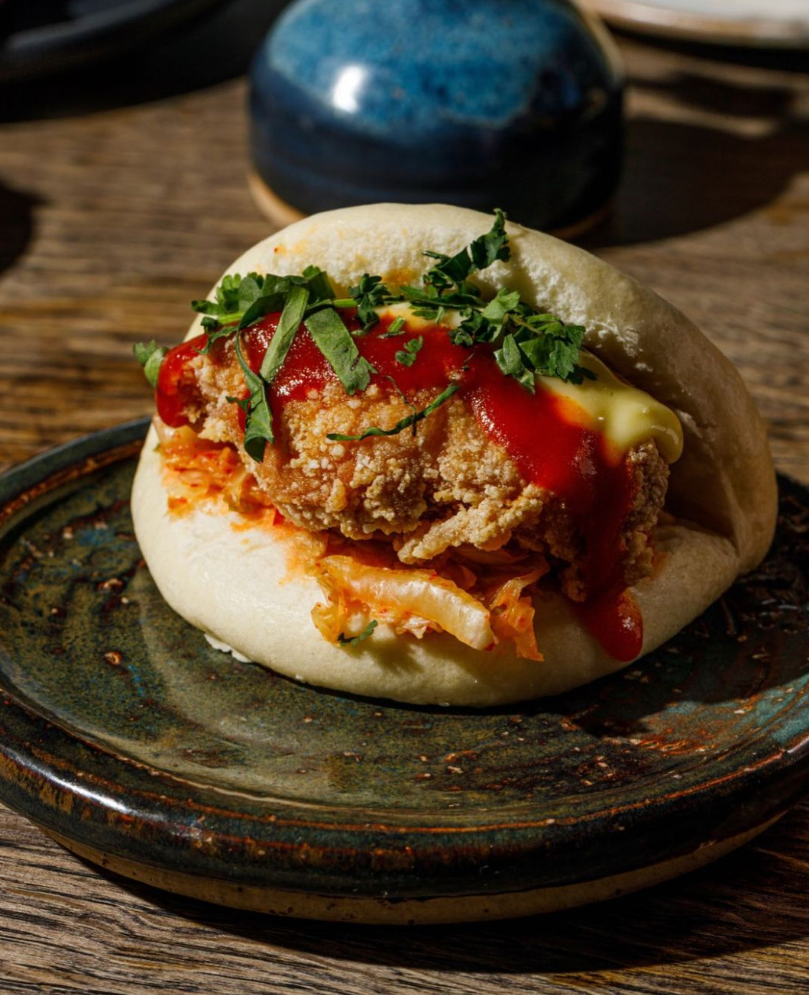 If you have a penchant for dessert, then their squidgy, sweet, salty and savoury miso cookie sandwich will make you smile – think two freshly baked chocolate chip cookies sandwiched together with miso caramel and marshmallow fluff. We're grinning just thinking about it.
The restaurant also boasts an enjoyable selection of drinks, including their house Daddy Bao Yuzu Pale Ale, Mr. Bao Plum Wine Negroni, and a keen roll call of sake. Aahhhh.
And with that, we're in need of a well-earned lie down…
Address: 293-295 Rye Ln, London SE15 4UA, United Kingdom
Website: mrbao.co.uk