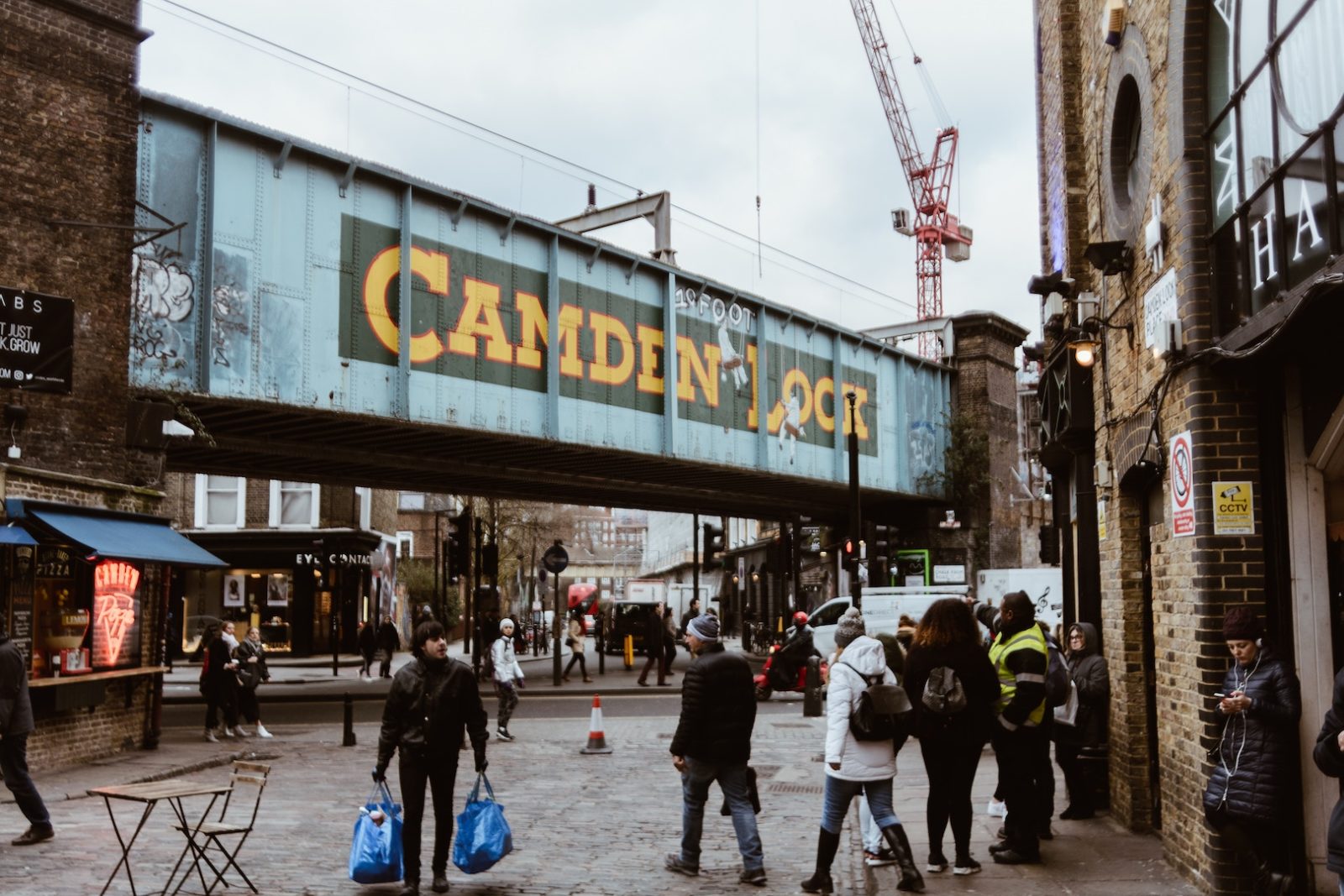 If you live outside of the capital, then London chic can be a confusing thing. While the stereotyping might have you believe that everyone rocks a handlebar moustache and cape, and skateboards to their favourite bubble tea purveyor, in reality, parts of the capital are still the epitome of cool and individuality. Each borough seems to have its own style and swagger just waiting to be explored, and with cheap anytime tickets allowing you to easily get around the city, there really is no better time to get amongst it than now. With this in mind, here are 4 IDEAL London neighbourhoods that will bring out your inner cool.
CAMDEN
Once home to punks and mods, Camden has long been the choice for alternative and creative people to call home. Weird, wonderful, eclectic and eccentric, Camden Town is a great night out, with its live music and bohemian vibe attracting esoteric tastes and textures from all across town and beyond. Lovely stuff. Home to world famous music venues like The Roundhouse and Koko (now temporarily closed for refurbishment), a big name show is guaranteed pretty much every night of the week here. The six Camden markets are perhaps the biggest attraction here, and are a great way to while away a weekend browsing vintage items and eating glorious street food.
BRIXTON
Brixton, forever evolving and shapeshifting but always proud and staying true to its roots, is one of London's most famous districts. The vibe is boisterous and welcoming from morning to night, and the options for things to do, watch and eat, grow more plentiful as each day passes. Brixton Village, the indoor market just a short walk from the station, is the focal point of much of the culinary fare, and crowds flock here every night of the week to experience the buzz and bites. Particularly good restaurants in the area include Nanban, Kricket and Salon.

Pop, Brixton | ©Ted and Jen/Flickr
Brixton also boasts a couple of the city's best venues, attracting musicians and artists from across the spectrum of popular music. The O2 Academy is one of the country's leading (and one of its largest non arena) venues, with everyone from Madonna to the Smiths having graced its stage. Just down the road, Electric Brixton caters to more urban tastes, with the biggest grime, hip hop and d'n'b names playing here regularly. The Ritzy Cinema and Cafe is another hugely cherished venue, a grade two listed building and one of England's oldest cinemas. For those up for carousing late into the night, Brixton institution the Prince of Wales is the place to be.
SHOREDITCH & HOXTON
Shoreditch needs little in the way of introduction. Before you can even say 'Shhhh' you'll have heard an exhaustive, exhausting roll call of cliche and misconception. Of folk so tattooed they're more ink than blood. Of nitro brewed, supercharged, butter infused coffee at supercharged prices which you can only enjoy in a shed or something. Of culturally appropriated food served off a penny farthing. Anyway, it's all bollocks. The only sweeping statement we can make about this magical corner of London town is that it's still a bloody exciting place to be, even if it's no longer a secret.
The food scene is unequivocally London's best, with Lyle's, Brat, Clove Club and Smoking Goat all slinging their food not far from the high street. There's also amazing covered markets in the form of Dinerama and Brick Lane within, and Spitalfields right on the doorstep. Then, there's the quirky nightlife, with hipster hotspots XOYO and Nightjar just two of a plethora of speakeasies and basement boozers. You'll never want to leave.
PECKHAM
Once associated with Del Boy, Rodney and having the cheapest property on the Monopoly board, Peckham is now home to perhaps the hippest, most forward thinking scene in all of London. That's some turnaround and we can't get enough of it. People come here to eat and drink, make no mistake, and two of the best places for the latter are the Bussey Building and Frank's Cafe.
Frank's is pitched atop a car park with stunning views of the City; perfect for a few sundowners before boarding the Bussey, a former cricket bat factory which is now an all-encompassing arts venue replete with exhibitions, live music and the opportunity to get down. The food scene here is one of London's most exciting, too, so much so that we've written more about it here. Check it out.
Also pivotal to the pride of Peckham is its groundbreaking music, with famous sons from the area including Giggs and Fat White Family. The aforementioned Bussey as well as Peckham Festival (held annually in September) are just two places to catch local, up and coming artists.