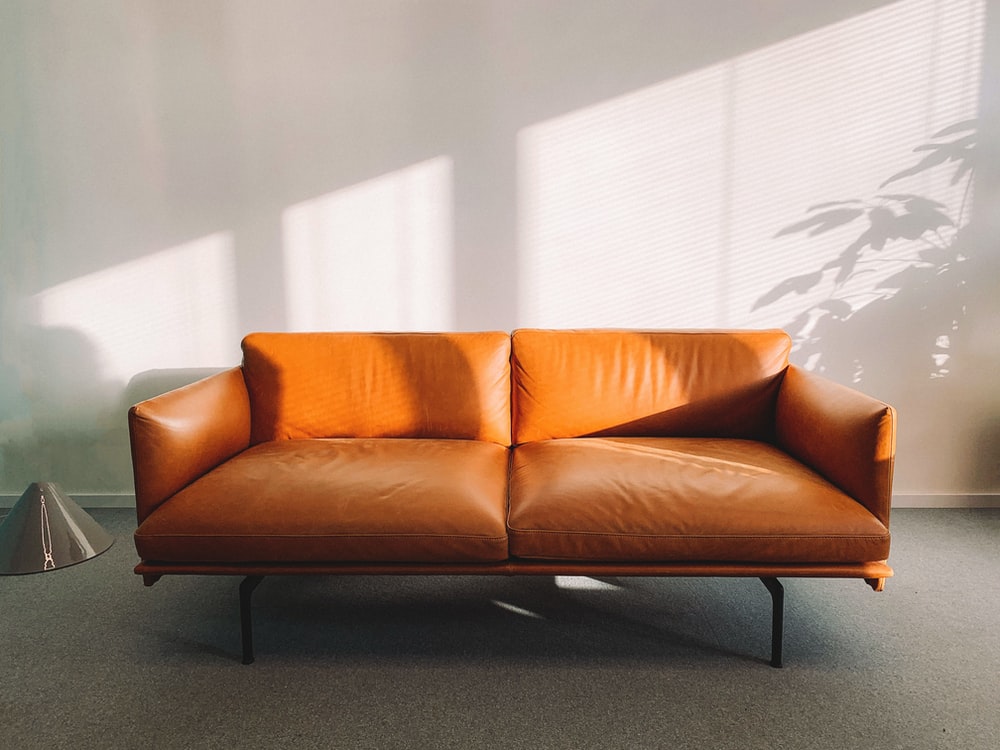 Ideal for the country's vintage lovers looking to channel an old school aesthetic.
Retro interior design can mean different things to different people. Broadly speaking, it covers various styles from the 1950s onwards, but really, such a term is relative. As the saying goes 'old school is in the eyes of the beholder'. Perhaps that's not quite right, but you get what we mean, right?
It's in the sitting room (a retro term in itself, perhaps) that we're focusing our attention today, as this is the part of the house which most benefits from that cosy comfort of the past. On the IDEAL sofa, we may have binge-watched the whole series of Mad Men to bring you this article.
With that in mind, if you're looking for retro-inspired design ideas, you've come to the right place. So, fix yourself an old-fashioned, perhaps light a cigar, and read these 4 interior design ideas for a retro-inspired living room, IDEAL for the country's vintage lovers looking to channel an old school aesthetic.
IT'S ALL ABOUT THE SEATING
Since you spend most of your time sitting in your sitting room (the clue's in the title, hey?), you'll need some carefully curated pieces here to really capture that retro vibe.
Let's start with the classic British Chesterfield sofas and Chesterfield Armchairs which bless retro living rooms the world over; the scene of many deals done, trysts begun and chief execs sleeping off their hangovers, we'd wager. In all seriousness, they're a fantastic focal point for any room channelling that vintage aesthetic. And the best thing? Since Chesterfield sofas are covered in leather, any spillages from that whisky on the rocks you've been sipping can be easily wiped away.
If you're not a fan of Chesterfields, consider an American vintage club chair, perhaps in burgundy. That, or a mid Century daybed in a burnt orange tweed fabric; it wouldn't be a retro living room without a healthy dose of burnt orange somewhere, now would it?
We're also huge fans of telephone benches – ideal for adding some vintage flair to your sitting room. Also known as gossip benches, these are small benches or chairs with a table attached to the side, where people used to place their phones in the days of cords. Though such a device is now redundant, its associated furniture is still very much in fashion.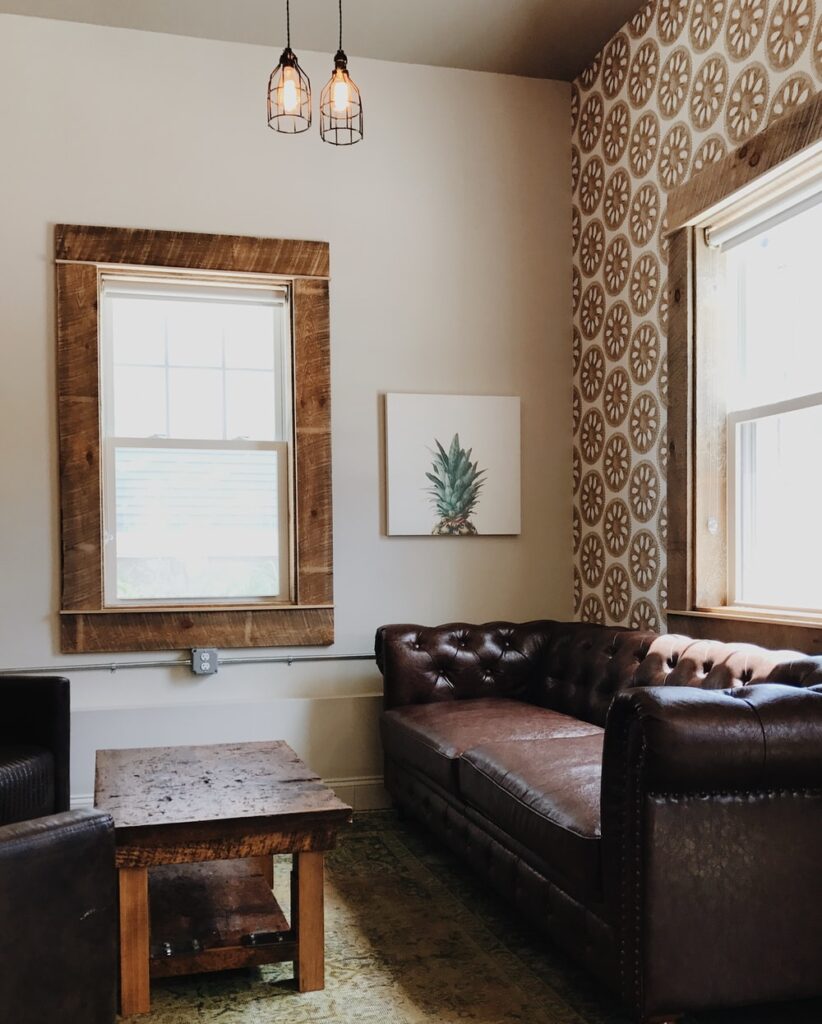 SOMEWHERE TO PUT YOUR OLD FASHIONED
No retro-inspired living room would be complete without a mid-century sideboard or a modernist console for those louche, languid vibes they seem to evoke. Add some crystal glasses, a whisky decanter and the sound of clinking ice cubes and you have yourself that old school aesthetic so perfectly suited to retro, laid back living.
Of course, on the sideboard you need your retro record player or better still, a gramophone; how else are you going to sing along to "Zou Bisou Bisou'' while you drink your old fashioned?
Go a step further and create a proper at-home bar, complete with red bar stools and dark wood panelling. Add a soda stream – a retro item making a comeback – so you can make your own carbonated cocktails and look pretty cool doing so.
THE ACCESSORIES
A vintage, retro-inspired sitting room is only as good as its accessories, we think. Sure, you can evoke a certain sense of old school with sofas and music, but it's the small touches and finer details which help create a cohesive whole.
First, let's think about what's under your feet. For your retro-inspired living room floor, it just has to be adorned with a shag carpet; groovy, baby. And don't forget to add some foliage. We think a cheese plant has that sense of the old school aesthetic about it, evocative of a certain, unbridled yet stylish era we're coveting here. For lighting, it has to be an Anglepoise or Brass Banker lamp, which would stand so succinctly on that console you've just introduced.
For more inspiration on the smaller flourishes, check out the collection of retro items from Vintage Furniture UK.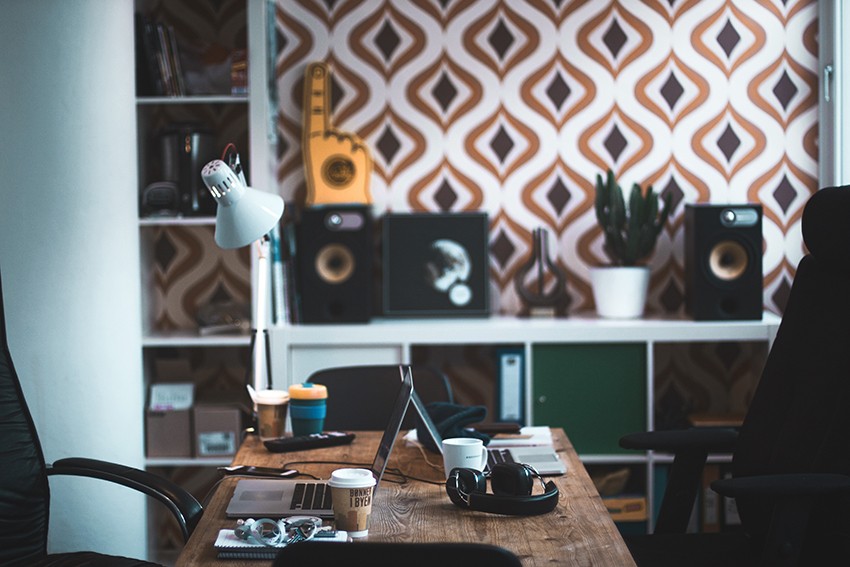 GROOVY COLOURS & PATTERNS
Going retro doesn't necessarily mean you have to go overboard with the crazy colours and even crazier patterns. But, if you're after a vintage theme then it wouldn't be right not to channel the retro colour palette, which favours mustard, burnt orange and burgundy in particular.
A splash of Seventies patterned wallpaper, showing geometric prints or something funky and floral – the bolder the better – ideal. If you're going all out and never want to return to the modern era, consider a faux wood wallpaper ceiling. Perhaps throw in some psychedelic patterned cushions and you're done!