Krabi, a province on the west coast of Southern Thailand, is characterised by idyllic islands, crystal clear waters perfect for snorkelling, golden sands and of course, plenty of seafood.
Aside from its outstanding natural beauty, Krabi has some superb tourist attractions, including the Ao Luk mangroves, Klong Thom hot springs and Tiger Cave Temple (Wat Tham Sua). With so much to see and do, and sublime streetfood on every corner, all that's left is for you to find a great place to call home. We're here to help; here are 5 IDEAL family friendly places to stay in Krabi, Thailand.
KO PHI PHI DON
Of all the islands belonging to Krabi, Ko Phi Phi Don is perhaps the most spectacular. The Don, indeed. It's the largest of the famous Phi Phi cluster of six islands, and as such, is probably the one best suited for children as there are plenty of amenities and child-friendly activities here. It's only accessible by boat (from Krabi's Klong Jilad Pier to Phi Phi's Tonsai Pier) but the ride itself is as scenic as it comes, and an enjoyable way to spend a couple of hours.
The location is famous for its turquoise waters and verdant natural landscapes. The long stretches of serene beach have several elegant hotels and guesthouses nearby, as well as restaurants that serve plenty of local delicacies. The whole island is pedestrianised, making it extremely family friendly. A great choice for a relaxing few days, that's for sure.
Just be warned that some parts of the Phi Phi Leh island are closed due to overcrowding. Check with locals before you make the journey for the most up-to-date information.
AO NANG BEACH
Back to mainland Krabi, and to Ao Nang beach. This lovely stretch of sand is just 20 minutes from Krabi town and will only set you back around 100 baht (£2.50ish) by taxi. Here, you'll find gorgeous accommodation for family, as well as places perfect for couples or even those travelling solo. The beach and surrounding Ao Nang resort town are excellent places for relaxation and unwinding. From there, you can catch long-tail boats if you want to visit the neighbouring islands and do a spot of snorkelling; the turquoise waters just offshore are perfect for that.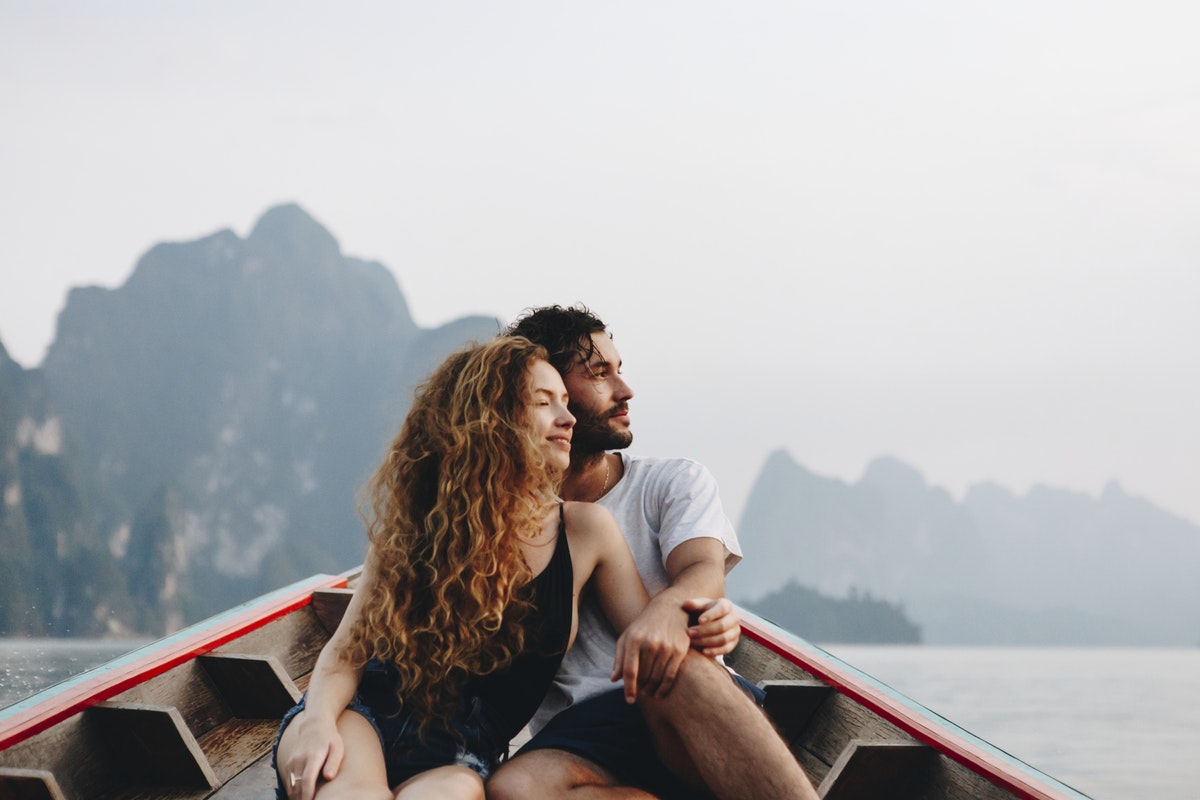 KRABI TOWN
If you'd like to be among the action a little more, then Krabi town has a buzz which belies its laid back look. Though it's the first place tourists visit before heading off to different attractions or nearby islands, it's worth spending a few nights here in its own right. Check out Wat Kaew Korawaram, a huge temple in the downtown area, to experience ancient and modern Thailand juxtaposed, and the two fresh markets which open every day. The mountainous backdrop brings visual intrigue, and this is where the Krabi region's finest food options are found.
Restaurant Frog & Catfish is beloved of locals and expats alike for their spicy Thai salads and dishes making use of the Adaman sea's bounty. If it's street food you're after, Krabi Walking Street, open on Friday evenings, sees a whole host of small stalls open up for business, slinging fresh as you like, spicy as you like Thai dishes to the crowds. Delicious.
TONSAI BAY
Tonsai is something of a hidden gem. A bay on the mainland (not to be mistaken with Tonsai beach, on Phi Phi island) which sits around half an hour southwest of Krabi Town, the vibe here is laid back and leisurely. Apart from the tranquil, unspoilt beaches, most people who stay in Tonsai are here for rock climbing and hiking. For a more family friendly approach, there are a handful of resorts providing excellent services. From there you can catch a boat, or even walk (it's only 40 minutes) to popular Railay beach……
RAILAY
Railay is one of the most exciting locations to stay in Krabi, and attracts thousands of visitors each year, there for picture perfect beaches set against the backdrop of dense jungle. Perhaps the best beach – subjective, of course – is Phra Nang Cave Beach, and because of this, it does get a little crowded. For something more peaceful, take an island hopping tour from one of the many long tail boats moored along the shore. And if your family are fans of wildlife watching, you don't have to venture far inland to catch a sight of the area's most famous resident; the wild monkeys which love to lounge around Railay Beach.
If you're continuing your adventures in Southern Thailand, then Phuket, particularly the Old Town, should be on your list. It's just a couple of hours from Krabi (by boat, coach or taxi) and in our humble opinion, this is where some of the finest food in the whole country is found. And that's saying something. Check out our tips for the 10 IDEAL things to eat in Phuket Old Town to really get your tummy rumbling!