Affectionately dubbed the Pearl of the Adriatic sea, Split is Croatia's second largest city and an incredibly unique one at that. Indeed, no other city can say that it was built inside a Roman palace, but that's not where the intrigue to this great city ends. Indeed, its easy access to both the Adriatic islands and the Apennine peninsula leave it in a truly enviable geographical position. It also leaves visitors with so much choice for their itinerary, that it can be hard to narrow things down. Fear not, we're here to help, with these; our 5 IDEAL travel tips for your holiday in Split, Croatia.
GET LOST IN THE OLD CITY 
The first thing you should do on your trip to Split is visit the old town, squeezed within the walls of the Diocletian's palace and a Unesco World Heritage site dating back to A.D 295. That is some serious history right there. So, while just wandering around the narrow alleyways and watching the locals go about their business is certainly enough to satisfy a day, within the old Roman complex there are some sites that just have to be seen. 
At Split's heart is The Cathedral of St Domnius, one of the oldest places of worship in Europe. This complex church is filled with murals, carved altars and most importantly, the mausoleum of Emperor Diocletian. Be sure to climb the adjoining Romanesque style bell tower for excellent views of the city and to hunt out the Temple of Jupiter, which has a headless black granite sphinx from Egypt guarding it. 
The main city square, Narodni Trg (the People's Square), which sits next to the palace, is an impressive expanse of white marble carving dotted with busy cafes. When you're done looking around the palace, pull up a chair at one of the many cafes and settle into a spot of people watching. If you decide to stay on until dark, the passageways and corridors of the Roman Palace are crammed full of bars and restaurants, some behind unmarked doors, others tucked into a secret nook or cranny, earning itself a reputation as being Croatia's finest bar crawl. It's certainly its most historic.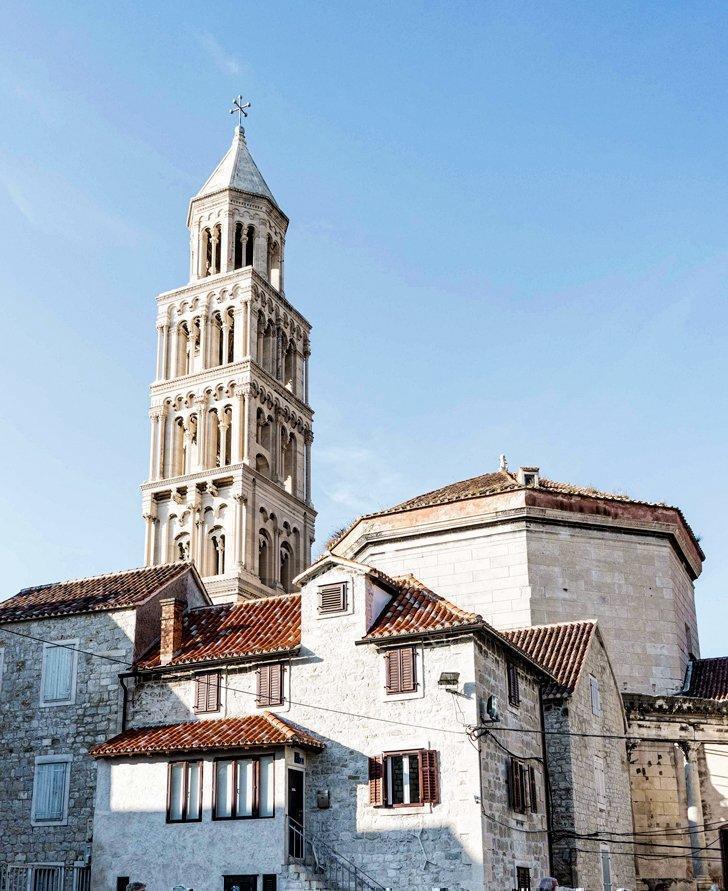 STROLL DOWN SPLIT RIVA 
This promenade which lies on the south side of the Diocletian palace is perfect for a morning coffee or sunset stroll. Lined with palm trees and benches, cafes and restaurants, and looking out over the peaceful turquoise waters of the bay, Split Riva is ideal for something slow-paced to help you get settled into the day. However, bear in mind that the majority of the food on the promenade is pretty overpriced – best to stick to drinks, we think, and to watch the boats bob in the harbour. 
If you're here at sunset – a truly beautiful time of day in Split, as the rays hit the bay just so – then order a carafe of wine and settle in. Croatian wine is beginning to garner a great reputation worldwide, and there are around 300 geographically defined wine regions in Croatia. Lovely stuff. When choosing somewhere to stay in Split we'd recommend finding somewhere a little away from the promenade as, like the food here, accommodation can get overpriced close to the Riva.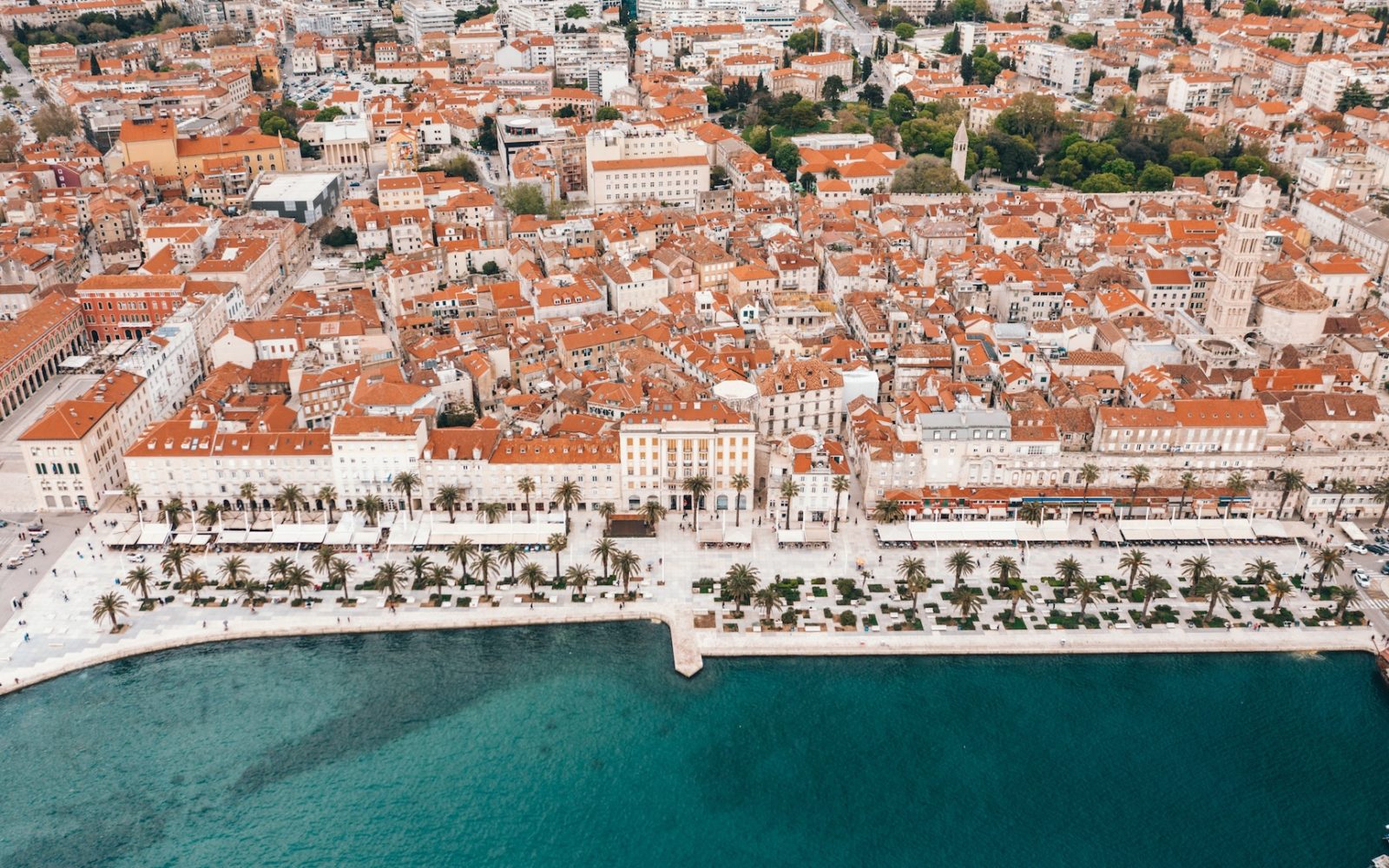 SWIM AT BACVICE
If you visit in the summer, Spilt can get hot and sticky. Best, then, to cool off at one of its famed beaches. Bacvice is the closest beach to the heart of the old town and perhaps the best swimming spot in all of Split. While its shallow waters get pretty busy on hot, humid days, that also means it's a place full of life, youth and spirit. Here you'll see people playing Picigin, a traditional ball game that was born in Split. It's played in shallow water and while we're not well versed in the complex rules, the aim is to stop the ball from touching the water, and you'll find people doing so with acrobatic flair. 
After your swim (and your round of picigin, if you dare) you may well have worked up an appetite. Fortunately, this part of town is famed for its street vendors selling sweet corn and irresistible Croatian style doughnuts named Fritule, which are tiny, deep fried goodies flavoured with generous slugs of Grappa.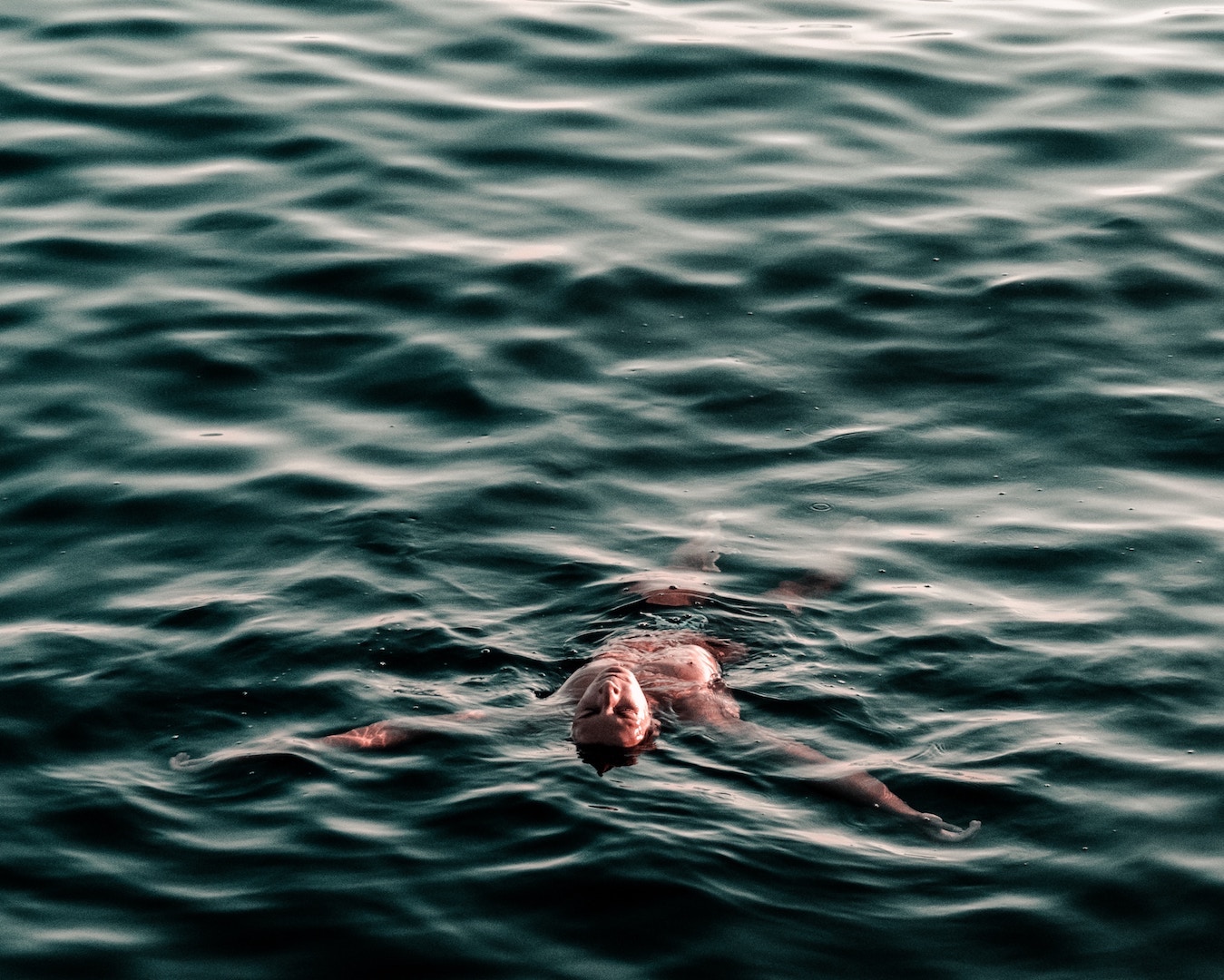 CLIMB MARJAN HILL
If the busy city centre and throbbing crowds of Bacvice become too much, head towards Marjan Forest Park which overlooks the city on high. Affectionately referred to as the 'lungs of the city', this is where locals come to walk, run, jog and ride bikes, with the shaded trails that pass through the park's pine forests providing welcome relief from everything both up above and down below.  
The views from this nature reserve over the city and Split's surrounding islands are simply breathtaking. You'll also find a first-century Jewish cemetery here (the third oldest in Europe), as well as cave dwellings that were once home to Christian hermits and several medieval chapels. You just have to contend with the 314 steep steps first; no wonder the Splicani are such a healthy looking bunch!
DIET LIKE YOU'RE DIOCLETIAN  
Given its geographical location, the cuisine here is greatly influenced by other Medittaranenan countries, including the use of neighbouring Italian and Hungarian ingredients and cooking techniques, as well as taking cues from Turkey due to their occupation of Croatia in the 16th and 17th centuries. This rich and diverse array of influences makes for a fascinating, unique cuisine.
With the Adriatic coastline as its larder, Croatia is particularly renowned for its seafood dishes. Yep, the ocean plays a starring role in Split cuisine and here you'll find platters of grilled or fried seafood piled high in nearly every restaurant; the calamari and lightly floured and fried whitebait in this part of the world is arguably the best you'll find. While you could easily eat this everyday, there are a few dishes you should particularly seek out…
A must try is skampi na buzaru which translates as 'shrimp stew'. This coastal speciality sees scampi (huge langoustine, usually) cooked in a suave sauce of tomatoes, garlic, wine and a special spice mix, then thickened with breadcrumbs. In many local taverns (konoba) you'll find buzaru dishes served with pura – polenta. Another specialty you can't miss in split is 'Crni Rizot', a squid risotto made jet black and funky via its ink. And keep your eye out for Dalmatian Brodetto, a fish stew with an assortment of treats from the sea like dent fish, sea bass, and conger eel. Locals will tell you that the best fish for this stew scorpionfish, but that's up for you to conclude. For something simple, you can't go wrong with a plate of baked octopus, usually served with potatoes, in this part of the world.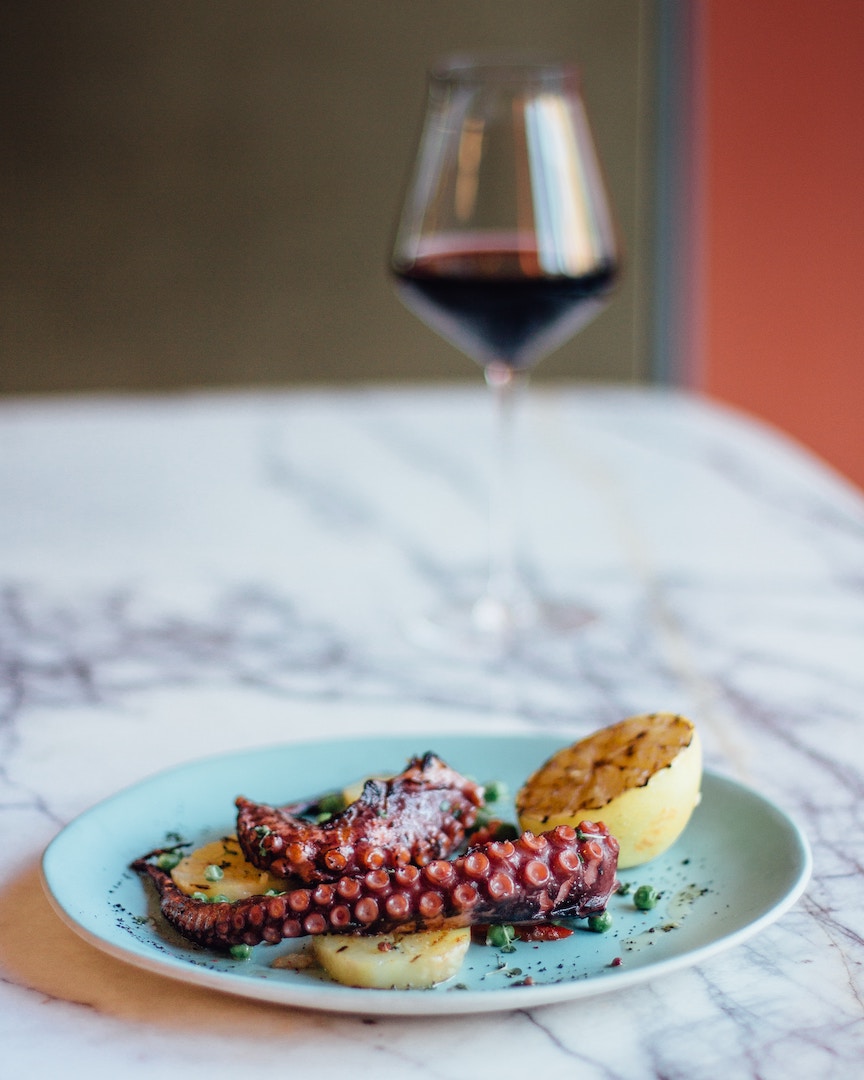 If you need a change from fish, a plate of Pasticada (stewed beef) will see you right. The dish dates back to the Ancient Greek and Roman cuisine, and is defined by its complex sweet and sour sauce, made so by an intricate balance of sweet fruit, red wine and balsamic vinegar. Come hungry, and you'll be richly rewarded!