Here's a question; would you go vegan, for lent, for $1 million? It's a no brainer, right? We ask because the Pope was recently made this offer, with the milly going to a charity of his choice. And guess what? He didn't do it! Apparently, the supreme pontiff just loves his Argentinian beef too much. Talk about not setting an example. Personally, we'd have bitten their hands off, but then, that would mean we forfeited the prize, right?
Joking aside, if you are taking the chance to enjoy a healthy, nutritious diet of fresh veg, fruit and grains over the coming 40 days of lent, then we wouldn't blame you for using it as an excuse to sample some of the best vegan fare on the continent. With that in mind, and with the help of London Stansted Airport, here are 5 IDEAL vegan destinations in Europe for lent.
ROME, ITALY
In a city renowned for pasta and indulgently creamy gelato, Rome seems an unusual destination for jetsetters on the search for vegan friendly cuisine. However, as more and more travellers are deciding to ditch the meat and dairy options, Rome comes to the rescue with dishes rich in fresh olive oil, seasonal tomatoes and vegetables. Visitors to the city won't be left short on the famous Italian indulgence here, as plenty of meat and dairy alternatives exist in the city.
Centrally located Restaurant Grezzo specialises in the art of raw patisserie and vegan friendly chocolates – perfect to indulge in with a cup of fresh Italian coffee.
Explore Rome's vegan restaurant scene for yourself with flights from London Stansted starting at £34.
ATHENS, GREECE
'Veganism' may not be a term frequently thrown around the tavernas of Athens but much of Greek cuisine is traditionally meat and dairy free. Tourists to the sun soaked Greek city can indulge in vegan friendly options including dolmades (stuffed vine leaves), spanakopita (spinach filled pastry) and gemita (stuffed tomatoes or peppers). Mama Tierra is perhaps the most popular veggie restaurant in the whole country, and is definitely worth a place on your dinnertime itinerary.
Indulge in Greece's vegan offering with flights from London Stansted starting at £61.
TEL AVIV, ISRAEL
As a country, Israel has a reputation of being highly accommodating to vegan travellers, with Tel Aviv alone having 28 dedicated vegan restaurants. Visitors to the Israeli city will be warmed by the abundant meat and dairy free options, including hummus, falafel and lentils. Lovely stuff. Tel Aviv's vegan offerings aren't restricted to highly nutritious plant based diets though, as Israel is one of the first countries in the world to host vegan versions of many well known and loved brands. Pizza company Dominoes, for instance, chose Israel as the first country to try out the vegan versions of their well loved pizza classics.
Delve into Israeli vegan cuisine with flights from London Stansted starting at £123.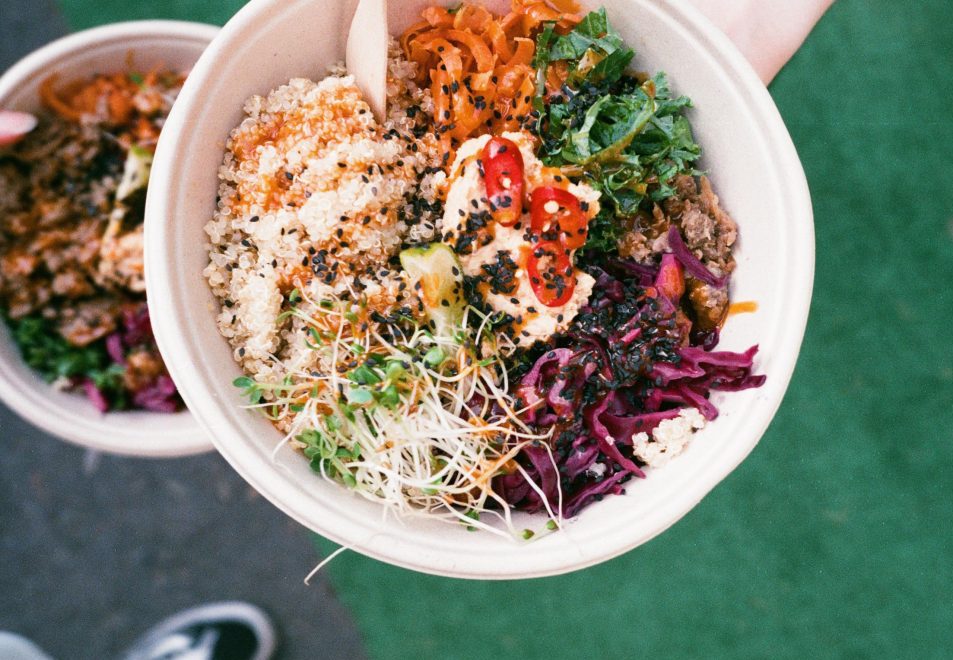 BERLIN, GERMANY
Despite generously giving the world the 'meat vending machine' and being known for Bratwurst sausage, Germany is fast becoming one of the most vegan friendly countries in Europe. The capital Berlin has a staggering 65 vegan restaurants within a 5 mile radius and those that don't have purely vegan menu still generally offer plenty of scope for diners to steer clear of the meat and dairy. What's more, the city is home to the 'Vegan avenue', an area of Berlin exclusively dedicated to veganism. Here you can shop for vegan friendly shoes and clothes, and stop at cafes along the avenue for a coffee and slice of dairy free cake.
Eat your way around the German capital with flights from London Stansted starting at £20.
AMSTERDAM
While traditional Dutch cuisine is centered around hearty dishes of meat and potatoes, the vegan scene in Holland's capital is making a name for itself, too. Amsterdam has a thriving nightlife and if you're craving something at the heavier end of the vegan food spectrum after enjoying an even heavier night out, The Vegan Junk Food Bar is just the ticket. Offering a satisfying menu of totally plant-based comfort food , it's a great way to end (or punctuate) a night in the city, since the downtown location closes at 1am. Another favourite is vegan food shop and café Vegabond, right next to the canal.