Summer is nearly here and with the prospect of better weather and longer evenings it's the ideal time to embark on a walking holiday. Whether you decide to go on an epic trekking adventure from Lands End to John O'Groats, taking you through the beautiful British countryside and onto the serene views of the Scottish Highlands, or explore the rugged coastal paths of Cornwall, this is one of the best seasons to do it. 
Indeed, a walking holiday in the UK is the ultimate staycation. It's the perfect opportunity to experience our little island in all its glory, from its sheep-speckled pastures to blooming lavender fields and woods full of wildlife. Moreover, according to the Association of Independent Tour Operators (AITO), walking is the third most popular type of holiday, just behind city breaks and culture tours. With this in mind here are 5 IDEAL tips for a walking holiday in the UK.
WEAR THE RIGHT STUFF & DON'T FORGET THE WATERPROOFS
Wearing the right clothes for your walk will either make it a stroll in the park or like trailing through through the fiery pits of hell. The most important thing of all is your walking boots as the right pair is the key to a comfy walk. Always buy your boots from a specialist outdoor retailer and be prepared to invest in a quality pair. Indeed, the worst thing on a walking holiday is that unbearable rubbing pain and those terrible blisters that you're likely to get if your brand new walking boots turn out to be rubbish. Oh and remember to break your boots in before your trek otherwise those blisters will be increased tenfold. 
When it comes to clothes forget the jeans and go for lightweight materials – something in breathable wick fabric is best. Cottons are a no-no as they tend to retain moisture, so unless you want a sweat sesh they're best avoided. And above all, don't forget your waterproofs – remember you're walking in the UK, renowned for it's unpredictable weather.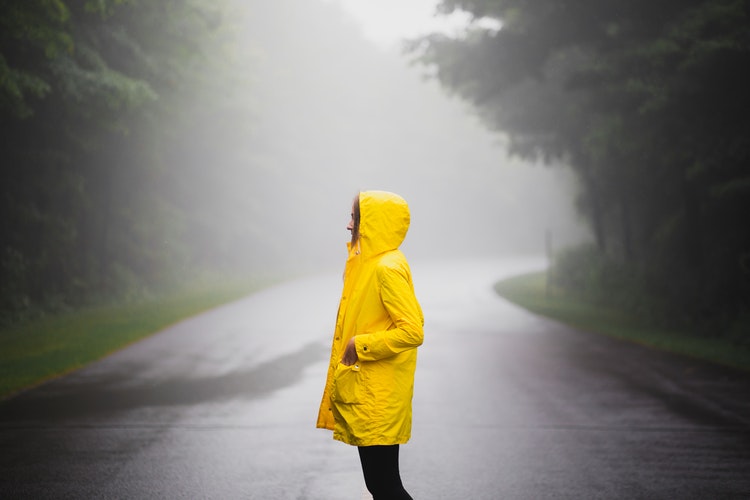 BRING THE ESSENTIALS ONLY
The last thing you want is to be weighed down with a bag full of unnecessary items, giving you an aching back and making your walk even harder. Only bring the essentials. But what are these necessary items we hear you ask?
Well for starters anything that will protect you from the, dare we say sunny weather – think hat, sunscreen and sunglasses. And while you may not think that walking is the most strenuous of outdoor pursuit, accidents are likely to happen. You're guaranteed to get blisters no matter how hard the soles of your feet, therefore plasters, blister cream and blister patches are definite essentials.
Other mishaps likely to happen are grazed knees, stinging yourself of nettles, being bitten by insects and scratching yourself on the blackberry bushes, thus antiseptic and sting relief cream are both necessary. And if you suffer from hay fever, don't forget the antihistamines – it's a good idea to get the non-drowsy kind, that is unless your intentionally planning to go hill rolling. 
Other essentials of course include plenty of water and water purifying tablets are a good idea too, just in case you run out of the stuff and come across a suspicious looking stream. Also, pack some electrolyte rehydration tablets or powder as with all the physical activity and sweating from your walk, your body may dehydrate making you susceptible to sunstroke. But with a few of these in your arsenal, you can help to replace the salts lost from your body.
BUY A WALKING STICK
Everyone knows that walking sticks are a ramblers best friend and for good reason. According to research, you'll save a whole load of strain by using one, particularly on your knees. Scientists at the Universities of Massachusetts and Wisconsin and at Steadman-Hawkins Sports Medicine Foundation found that by using a walking stick, you're more likely to get fewer injuries and it will provide relief for ailing knees and joints. Furthermore, by reducing the workload (as essentially you'll have three legs) you're less likely to feel fatigued, making your walk easier. We think that the telescopic kind are the best as they fold up and can be easily packed away when not being used.
BE PREPARED FOR COUNTRYSIDE TRANSPORT
Yes we know you're on a walking holiday, however you're going to be using public transport at some point on your journey. As such, one thing you must prepare yourself for is how awful rural transport is. Indeed, country buses take the meaning of life in the slow lane to another level. You can't just turn up to a bus stop, expecting the next one to come in a matter of minutes. Some rural towns are served by only one bus a day.
Bear in mind that the lack of public transport is worse for people living in rural areas. As this report by the Guardian highlights; cuts to countryside buses put jobs, education and healthcare out of rural-dwellers reach. So try not to complain to the locals too much.  Before you set off, remember to write down the times of the bus if you're planning on taking one. Also, bring some sort of entertainment for when it inevitably turns up late – perhaps a lightweight book on plant and birds species in the UK so you can identify them on your walk?
BE PREPARED FOR THE ROUTE
You'll likely be your own guide on your walking adventure. Instead of going in blindsighted which may lead to getting lost, prepare yourself for the route. By this we mean read about the trail beforehand so you know what to expect. Take rough notes to give you a understanding of the route, landscape marks and features to look out for. Also, bring an up-to-date map (emphasis on up-to-date) as relying on your phone or GPS to guide you is a rookies mistake – you're unlikely to get signal in most rural areas.