Young foodies in love; we all have a few in our friendship group. You know, the ones who plan their whole holiday around a single backstreet eatery. The ones who know all the best new restaurant openings and have deemed them old news before you've even had the chance to go. The ones with a pasta machine, proper knives and a well-stocked pantry. Yep, the couple who cooks and eats together, stays together. And if food plays a part in the popping of the question, then love's longevity is even likelier. With that in mind, here are 5 IDEAL ways to propose to a foodie.
CAKES & CONJUGALITY
Before you put a bun in the oven, it's best to bend the knee, we think. Cakes take an integral role in the wedding process, being there for the big day and symbolic of a promise for long-lasting union, so if your partner is a lover of baking, why not let a cake do the talking at this stage too? You could cook up a batch of cupcakes, each with a letter on top spelling out those magical words, "Will you marry me?". Or, add one extra special decoration to the icing in the form of a marquise diamond ring? We wouldn't recommend hiding the ring inside the cake, though; a choking hazard is known to be a pretty massive mood kill. Perhaps your other half isn't the biggest fan of cake (you sure you want to propose?) and this is where a donut proposal comes in, instead. Present your loved one with a tray of donuts (allegorical in shape, of course) and in the centre of their favourite flavoured treat, sit the diamond ring.
A TOUR OF YOUR FAVOURITE FOOD SPOTS
A couple obsessed with food will likely have formed some of their most cherished memories over a meal, and dined out, no doubt, with enthusiasm. Arranging a tour of some of your favourite spots, perhaps just a plate at each place, is an amazing way to celebrate the journey of your love. Schedule in a seat at the restaurant which saw your first meeting, conversation, kiss, declaration of love, and so on. If you're into something on the stilton end of the cheesy spectrum, then there are a few ways you can pop the question in a romantic restaurant. If your partner is guaranteed to order dessert, you could ask the chef to write out the big question in a sauce on the side. Or, you could go full cliche and hide the engagement ring in the pud' — just make sure they find it with a spoon before it reaches their lips. Personally, we'd probably only pull off a public proposal like this if there was steely confidence that their answer was affirmative.
DESIGN & COOK YOUR OWN TASTING MENU
Alternatively, if you fancy yourself a dab hand in the kitchen, you could cook a tasting menu of restaurant dishes which have a special significance to you as a couple. Perhaps your eyes first met over a crowded tapas bar? Kick off, then, with calamari. Maybe you've whispered sweet nothings in Amalfi; then lemon tart closes the show. You get the picture, we're sure. Just don't get so caught up in the cooking that you forget about that question you're planning on popping.
FORTUNE COOKIE FUN
For foodies who would rather watch a movie on the sofa than get dressy and go to a restaurant, a Chinese takeaway could be the path to the ultimate proposal. Wait, hear us out. Firstly, the element of surprise is strong here; no one is expecting such a life-defining question to be framed within the context of chicken chow mein. Secondly, the real secret to this idea's success lies in a ubiquitous element of the Chinese takeaway experience; the fortune cookie. Craft your own, with the message inside, and go down in history as the most unromantic, yet hugely imaginative proposal ever.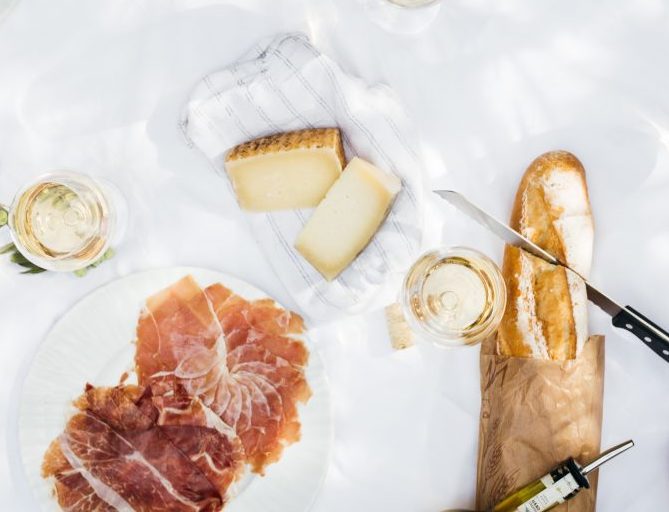 I PROPOSE A PICNIC
Is your foodie partner more of the outdoorsy type? Do they get a little heavy breathed over dulse foraging and nasturtium leaves? If so, a romantic picnic for two could be the ultimate proposal story. Start, perhaps, with your favourite walk, one with some special meaning for you both. Pack a picnic blanket, a selection of your favourite snacks and bottle of presumptive champagne, and the rest writes itself.