Firstly, that title. We hear ya. Life shouldn't be viewed through that prism of perfection; manicured, edited, and photoshopped into oblivion. Hotfooting halfway across the world just to see it through a lens…well, the irony isn't lost on us. Holidays are meant to be about getting away from it all, right? Putting the screens down, seeing a different way of life through the lens of reality, and learning to look up again. Right? RIGHT? 
Well, if you can't beat 'em, join 'em we suppose. And if you are out there looking for that next big shot, you might as well do it somewhere with so much natural wonder that it doesn't require endless filters and fiddling to have it looking 'just so'. We've got just the place; untapped, unexplored and unbridled in its beauty. So, whether you're travelling solo or taking an Ecuador tour, don't miss out on these; our 5 incredible places in Ecuador IDEAL for your Instagram.
MOMPICHE
This 3.5 mile-long (6km) beach located in Ecuador's Esmeraldas province is a surfer's paradise, make no mistake. It's a wildlife watcher's dream ticket, too; the surrounding area is covered in tropical wilderness (there are howling monkeys in the forest nearby) and during whale season you'll witness humpbacks migrating south, if you're lucky.
The town of Mompiche itself offers a few basic hostels and restaurants and is essentially still a rundown fishing town. Expect to eat lots of fresh fish and ceviche, and if you want to explore a nearby area, visit the island of Portete. Plenty to keep the camera clicking, then.
QUILOTOA
Moving inland, Quilotoa is particularly popular because of the Quilotoa Crater, a water-filled caldera formed after the eruption of a volcano (of which there are plenty in Ecuador!). If you head there on a weekend, it might feel like a regular tourist destination, but on other days you'll likely be one of only a few people hiking into and around the crater. Quilotoa makes for incredible panoramic images and, who are we kidding here, selfies.  
Another popular activity in the area is the Quilotoa Loop, a multi-day trek that requires no gear and takes you through local villages. Quilotoa Lagoon is located 66 kilometers south of the city of Latacunga, and its name comes from two Quechua words, "Quiru" which means tooth and "toa" means queen, due to the shape of the lagoon. Time to capture those contours and get those likes, we think.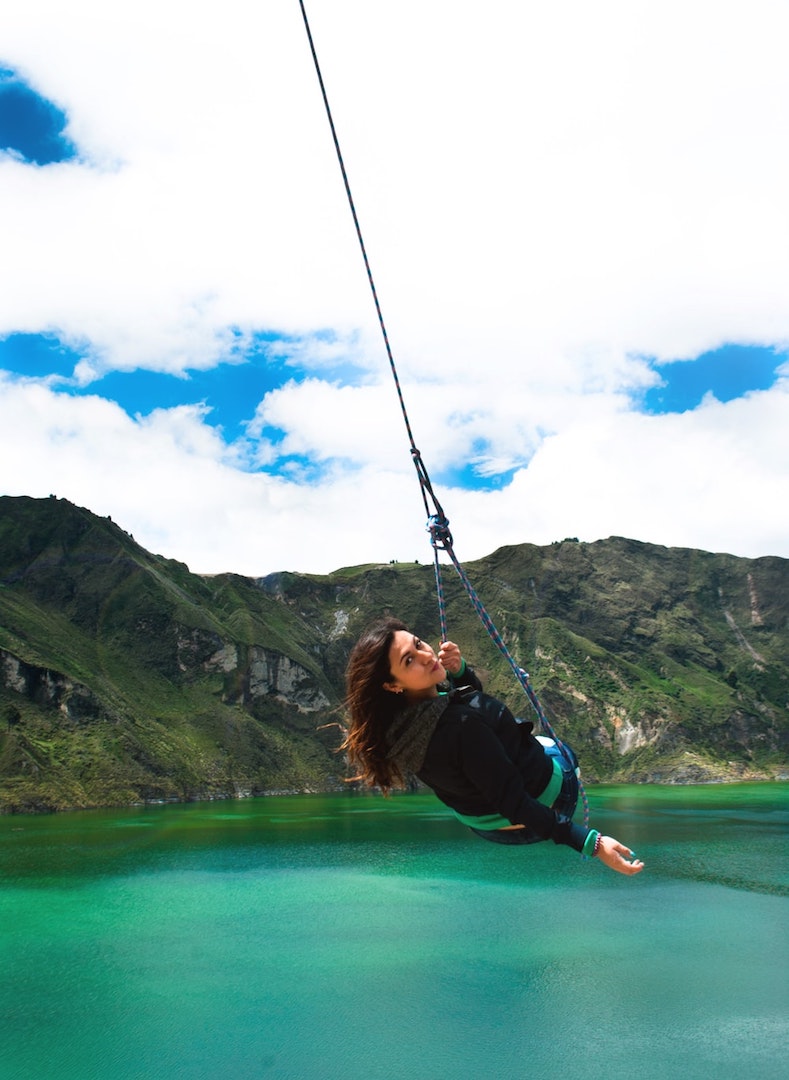 COTOPAXI VOLCANO
Located within Cotopaxi National Park, Cotopaxi Volcano is an incredible snow-capped, active (yep, active) volcano you'd be crazy to miss while in Ecuador. Once the clouds clear and you catch a glimpse of this 5,897 meters (19,000 feet) giant, you'll realize why. The park covers a vast area and after visiting the high-altitude refuge and Limpiopungo Lagoon, head to the northwest of the park where you'll find ruins and open territory, inhabited by wild horses, bulls and even the massive Andean Condor.
Feeling hardcore? We are. If you're in good condition, acclimatized to the altitude and enjoy hiking, you can summit this mighty volcano. Just a few years ago, when Cotopaxi re-activated, authorities prohibited climbing to the summit, but since then the volcano's activity has reduced and climbers regularly reach the summit. If you have the time and stamina, go for it; we'll see you up there!
BAÑOS
Looking for options better suited for a group of travellers? If you're traveling with your family or friends in numbers, then head over to Baños, the 'adventure capital' of Ecuador. Here, you'll have the opportunity to explore Baños's lush, mountainous surroundings by bike, raft or, if you prefer, zipline. That's right, you can zipline across the enormous gorge that runs along the Río Pastaza. And that's a thrill ride should be captured in motion and on film, right? You can also go on half and full day white water river rafting trips and visit awe-inspiring waterfalls along la Ruta de Cascadas. Best of all, Baños is really easy to get to; from Quito to Baños, it only takes about three hours. 
MONTAÑITA
Known for its great waves, crazy parties, and vibrant nightlife, Montañita beach is also a great option for catching a beautiful sunset on the Pacific Coast. If you're with friends, head to Montañita, a popular beach and party town. Travelers young and old (but mainly young, to be honest) head to this destination almost all year round to catch the best waves, eat delicious Ecuadorian seafood and lounge on the beach, drinking local beers and making new compadres.
And if this sounds a little too raucous but you'd still like a bit of atmosphere combined with your downtime, check out Olón, the next beach town over. Picture perfect, make no mistake.