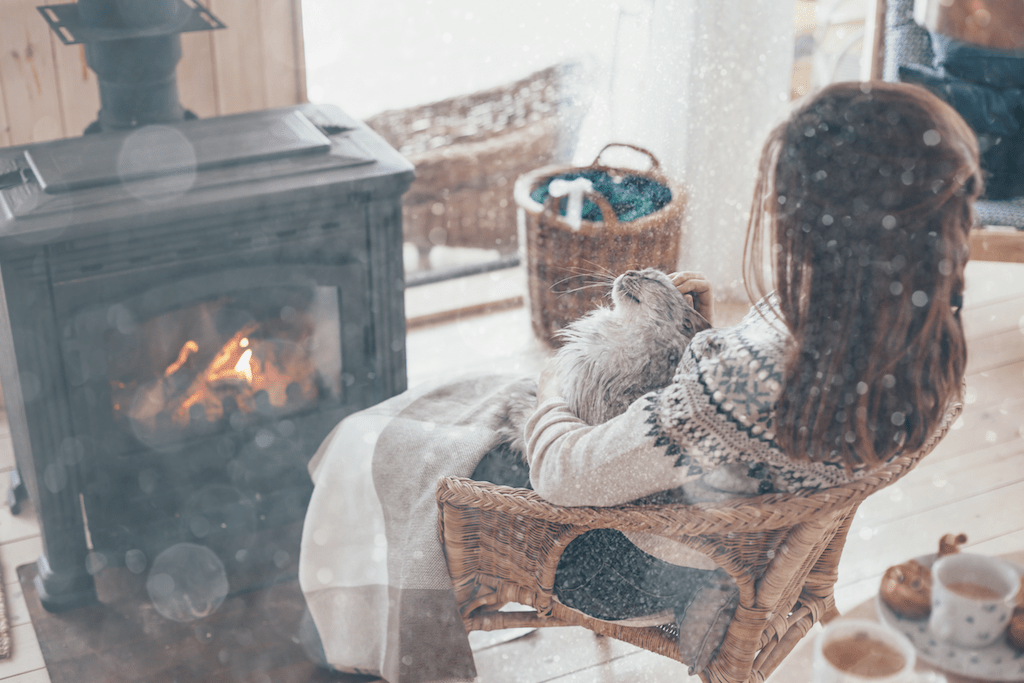 Christmas is just around the corner. Not only has the tree gone up, but it's already dropped half of its needles. Not only are in the mince pies in the cupboard, but there's also only a couple left. Not only is the festive port in the drinks cabinet; it's now only a thimble or two high.
Hey, we could go on like this forever, but there are more pressing issues at hand. Because with a select few members of the family potentially coming over for Christmas (responsibly, of course), it's essential that the house is ready to receive them. With that in mind, here are 5 mid-winter maintenance checks to make in the run-up to Christmas.
CHECK YOUR FIREPLACE
It's been a mild late Autumn and early Winter, but Christmas calls for an open fire, for a festive focal point and sense of flickering, crackling wonder. Before you light it up, it's important to check your fireplace is primed and ready to spark into life.
Firstly, it's time to make some checks externally. Remove tree limbs from near or above your chimney. Check the condition of the chimney cap and remove debris or bird nest, if present. Check whether or not the roof flashing is compact against the chimney, the mortar and bricks in the chimney are fine, the chimney crown is bevelled, and you can see the flue liner above the crown.
Inside, make sure that the flue damper is fine. There should be no cracked bricks or mortar in the firebox or hearth and no combustible material in the flue. If you have a gas fireplace, check the gas logs, igniter, burner holes, and glass door for latch problems or cracks.
CHECK THE HEATING SYSTEM
In the bleak mid-winter, heat brings reassurance and comfort. So, get your central heating system checked and the boiler checked or changed, too, if so required. In such cases, the experts at Moatside, who provide plumbing and heating in Northampton, recommend that you ensure your boiler technician is ''listed of the Gas Safety Registered, and an OFTEC approved installation, meaning (the) quality work…is safe, to industry standard, and designed to last.''
If you're looking to get those comfort levels dialled up significantly, consider getting underfloor heating to walk on a warm floor throughout the winter season. 
GET THE ROOF CHECKED
A leaky roof is the last thing you want when you're settling in for a period of domestic hibernation. Call a roof inspection service to check for potential issues before they occur; this is one occasion when prevention is certainly preferable to cure. These experts will be well versed in recognising the signs of incoming damage, which include rust spots and cracked caulk on the flashing, broken or missing shingles, and worn or cracked rubber boots around the vent pipes.
CLEAN THE GUTTERS AND DOWNSPOUTS
Clogged gutters and downspouts can hamper the foundation of your home and cause a build up of ice dams on the roof, which, trust us, is not what you want for Christmas. If ignored for a long time, repairing these small issues can suddenly get really costly. So, make sure you regularly clean your gutters of leaves, twigs and other fallen debris to prevent such a build up. Tighten the gutter hangers as well as downspout brackets if you're keen to go that extra mile.
BRING OUT THE WINTER DÉCOR
Winter is the ultimate time to bring texture and warmth to the home. Not only because of that inevitable drop in temperature, but also as indoor aesthetics, and the comfort they bring, start to take on greater importance during the shorter days and longer nights. Introduce velvet cushion covers, thick, fluffy throws and flickering candles to create a warm Winter ambience.
Cover your concrete, tile, or hardwood floor with thick carpets or rugs if you don't have an underfloor heating system, too.
THE BOTTOM LINE
Though Winter and Christmas provide cheer and a certain sense of magic in spades, the dropping temperature, chilly breezes, and frost and snowfall do tend to invite their fair share of trouble into the home, too. Fortunately, with a little foresight, planning and nous, you can avoid any seasonal household issues and enjoy a lovely festive season!