Ideal for creating a calming and tranquil space this spring.
The past year has been one of gloom and doom. If you haven't spent the start of 2021 decorating your home to lift the spirits and beckon in the positive vibes, then might we suggest you start?
Indeed, with spring knocking at the door and summer just around the corner (hey, we're trying to be optimistic here) now is the perfect time to give your living room a refresh. And what could be more refreshing than styling your living room all in white?
Some people believe that white interiors equate to boring or the much feared 'minimalist'. However, we're here to hit that misconception on the head. For us, a well-appointed white room is akin to a little slice of heaven in an otherwise crazy world; calm, considered and composed, the beauty of a white interior lies in its simplicity, giving it an airy sense of grandeur we just love to luxuriate in.
If you're the same, then you've come to the right place; here are 5 ways to dress a white living room, IDEAL for creating a calming and tranquil space this spring.
WHITE & WOOD CANVAS
If you're looking to go the full hog when it comes to decorating your living room, then let's talk walls and floor, the canvas, if you will, for your white room.
Painting your room white will make it feel open, spacious and clean. There are lots of variations of white paint which can vastly change the look of your room (honestly), from cream to chalk, jasmine and even ivory bone – it can get pretty confusing.
Considering it's the plainest of colours, it's also a risky business to get right; choose too white and your room will end up looking sterile and cold. If you don't want to feel like you're living in a hospital corridor and instead are eager to evoke a relaxing ambience, the experts at Dulux recommend adding a little bit of calm green, such as sage, into your white palette.
If you want to break up the white, then consider shiplap walls to add visual interest to your living room. This wall type can add a special sense of style and texture while perfectly blending with the rest of your white interior. Or, create a feature shiplap interior wall to serve as a focal point in an otherwise monochrome space. A panelled white wall also adds visual intrigue and breaks up a plain white wall, too.
The wonderful thing about white walls is that they go with most floor types. Here at IDEAL, we're fond of wooden flooring which can blend seamlessly into a whole range of home design styles. Dark wooden flooring can create an intimate feel to a room and, as a backdrop, upholstered white furniture really shines through against this floor type. A warm, honey-toned wood floor, perhaps a pale parquet, for instance, can look effortlessly stylish in a white room and be a design feature in its own right.
When choosing your wooden flooring, be sure to consider the natural light of the room, too; if a room has lots of windows and natural light, you may need to don sunglasses to enter the room because of the glare of a lighter finish alongside those white walls. Proceed with caution.
A WIDE, WHITE STATEMENT SOFA
A white sofa, we hear you gasp? You must be mad! Well, you'd be right, but not because of our choice in furniture colour.
In fact, there's nothing quite like a crisp, clean looking white sofa, set against a monochrome backdrop. Here at IDEAL, we're fans of a cloud sofa – they are literally like resting on a cloud (without the falling to earth bit), since the huge cushions contribute to the cloud like cosiness of the piece.
Ok, we're going to be completely honest with you, a white couch isn't for everyone. Type 'White sofa' into Google and questions like 'Is it a bad idea to get a white couch?', 'How do you get white furniture white again?' and 'is white furniture a good idea?' will appear. There are stories all over the internet about the ugly truth of owning a white couch. But we say; don't fear the dirt – that's what slipcovers and bleach is for. Perhaps just lay off the turmeric lattes when you're sitting on yours.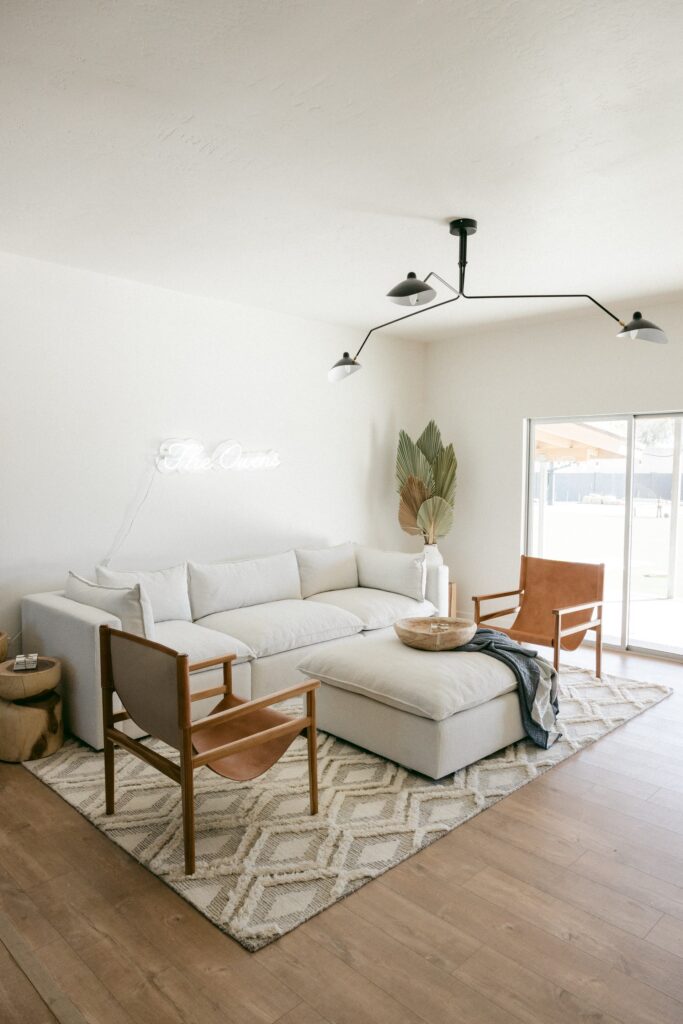 A STATEMENT ARMCHAIR
Decided against a white sofa? We understand. Instead, consider a white statement armchair positioned in a prominent part of the room – a power chair, as we like to call it – instead.
The problem when it comes to choosing a statement chair is the sheer choice of styles. Well, ask any furniture aficionado to name a piece that they consider to be iconic, and we wouldn't be surprised if a classic wingback chair was the first item to leave their lips.
It's easy to see why; wingback chairs have a distinctive and elegant look and vast appeal, and they are undoubtedly comfortable as well. However, if you're looking for something a little more modern and stylish, consider a more contemporary accent chair.
Occasionally an all-white decor may sometimes seem too monochrome, so consider a statement armchair which is a combination of white and wooden elements.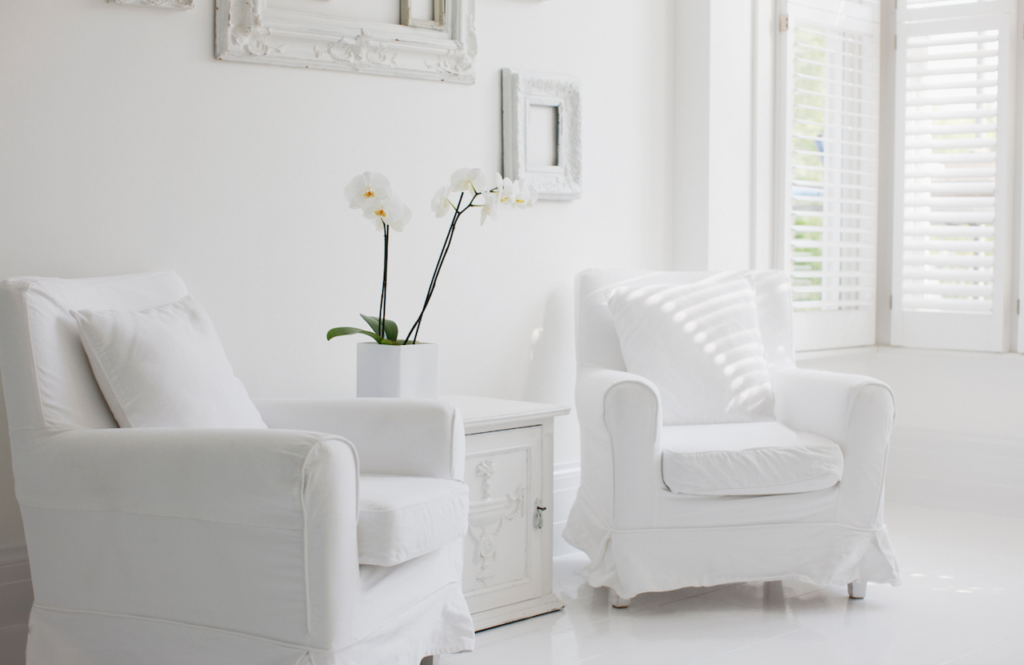 A MINIMALISTIC SIDEBOARD
Since white represents purity, it is only right to keep your living room as decluttered and clean as possible. Enter the sideboard.
The storage potential of a sideboard is ideal for an all-white living room. There are many classic and contemporary designs to choose from to suit your unique tastes and to complement your existing decor, however, a good one should have an abundance of roomy drawers, adjustable shelves and ample cupboard space.
You can keep knick-knacks, games, books, glassware (anything you like) out of sight allowing you to maintain a clean, crisp look in the room as a whole. We think a wooden credenza is ideal here – as we showcased earlier, white and wood is a winning combination.
ADD LIFE WITH ACCESSORIES & PLANTS
To avoid that stark, clinical aesthetic, you're going to need accessories. Harnessing the power of diverse textures will help here. Soft furnishings, in particular, will add depth to your white living room; think intricate macrame wall hangings, soft woolen throws and knitted cushions. A heavy pile white rug will look gorgeous against a wooden floor, too.
What's more, accessories made from rattan work so well in a white room and can add a tropical vibe to your home; think woven mirror frames, floor lamps, lampshades and lanterns made from the naturally growing, wicker weaved vine. Or, if you're keen to channel cold weather climates, instead, then how about going for a Scandinavain vibe with a sprinkle of boho chic thrown in for good measure?
Ideal for creating a tranquil white space, the serenity that the green of houseplants brings to your home can be soothing and rejuvenating in equal measure in the relative drab of Britain and against that starker backdrop you've cultivated. Lovely stuff!
THE BOTTOM LINE
Quite the opposite of bland and boring, a white living room can be a breath of fresh air. Its calming, minimalist vibe can actually be inspiring, not to mention striking and soothing, all at once.
An all-white living room is timeless choice for creating a calming backdrop to your every day life, and we could all do with a little bit of that right now.