Who do you trust when it comes to restaurant recommendations? Maybe you put your faith in the Michelin Guide? Perhaps it's the World's 50 Best Restaurants which dictates your diet on holiday. Not us. Though it might seem an odd rule to follow, we place our trust in foodie comedy The Trip.
And with the news that comedians Steve Coogan and Rob Brydon are set to tour Greece in the next series, we're already thinking about our next holiday there, and all the amazing food the country has to offer. So, whether you're touring the traditional tavernas of the country or you're exploring the modern, haute cuisine of Athens on a luxury Greek holiday, a little guidance goes a long way. With that in mind, here are 6 IDEAL foodie tips for your next trip to Greece.
UNDERSTAND THE DIFFERENT TYPES OF EATERY…
First things first, you need to get your head around the different types of eatery popular in Greece so you know what you're getting yourself into before booking a table. Each offer a very different experience, so it's wise to get familiar with each as a separate entity before settling on an eating itinerary. Here's a rundown of the most common places:
Tavernas – A simple, small establishment often connected to a family home that serves up home-style dishes like moussaka and souvlaki baked in an oven called a magirefta. They also offer grilled foods to order and offer an affordable chance to try traditional Greek food in all its abundant, generous glory.
Estiatorio – Similar to a taverna, estiatória offer a variety of Greek dishes in a more formal, upmarket setting than the former.
Bakalotaverna – At the other end of the formality spectrum, a Bakalotaerna doubles up as a convenience store and should the owners possess skills at the stove, a couple of home cooked dishes will be sold here too.
Psarotaverna – A taverna specialising in fish, which is hugely popular on the Greek islands, particularly when grilled.
Psistaria – A taverna which specialises in grilled meats. 
Mezedopoleía –  Meze restaurants offer a very popular style of eating where small plates of mezes (tapas-style portions of food) are shared in a relaxed and convivial atmosphere. 
Ouzeri: An ouzeri serves up drinks like ouzo and tsipouro and serves some small plates to wash them down with. 
Girádiko: This is the go fast food, consisting of roast meat served in some pita bread topped with tzatziki sauce. 
…AND MENU
Greeks eat late, typically between 8 and 10 pm, and many tavernas and restaurants aren't open before 7pm. When it comes to the menu, it's common to begin your meal with a selection of traditional mezedes like taramasalata (smoked cod's roe dip) or souvlakia (grilled meat and veg on a small skewer). The main course is often a fish or a baked dish like moussaka and most restaurants also offer a house pikilía – a set assortment of mezedes. Krasomezédhes which roughly translates as 'wine meze' are, you guessed it, a platter of mezedes that go well with wine. Following a similar refrain, ouzomezédhes are mezedes that complement ouzo. Are you still with us?   
REGIONAL AND ISLAND SPECIFIC SPECIALITIES
One of the most rewarding aspects of travelling through Greece is discovering the thrilling diversity of food on offer, with each place specialising in a different plate, utterly unique to (and inspired by) their surrounds. Indeed, each region and even each island has its own local larder and culinary specialties. Though the terroir may be similar, the taste is not. And that means a journey of culinary discovery awaits. This also means that you'd be wise to research the speciality dishes of wherever you're going so you can confidently pick it out on any menu. 
Crete, the largest island in the Aegean sea, is home to some fine, in-house produced cheese; graviera, anthotiro and xigalo to name but a few. The island of Sifnos, where legendary Greek chef Nicholaos Tselementes hailed from, calls the splendid lamb and red wine stew Mastela its own. And everyone's dream destination Santorini boasts a variety of cherry tomato only grown on the island. Some of the best dishes found here harness this local ingredient's great power; tomatokeftedes, a kind of tomato fritter, and the island's very own tomato paste, which is mixed with olive oil, capers and basil and served alongside freshly baked bread, to name but two. Heaven.
MUST-TRY DISHES 
If you don't have time to island hop and delve deep into regional detail, then there are a handful of must-try dishes which encompass the country as a whole. Try getting your tongue (actually, you do want to do that, they're delicious) round this; kolokythokeftedes, a kind of courgette croquette, is originally from Crete, but found everywhere, served with a side of feta, lemon and mint, and as good as they sound.
Also look out for dolmadakia, which is a vine leaf stuffed with minced lamb and rice; the perfect snack before the feasting begins. We won't stop there. You also can't miss choriatiki (Greek salad, but worlds apart from the one you rustle up for your lunchbox), which arrives undressed. The table staples of red wine vinegar, olive oil, salt and pepper, allow you to personalise. And if it's comfort food you're after, avgolemono is a chicken soup which could warm the coldest soul.
Don't forget dessert, something Greeks are truly, madly, and deeply in love with. Look beyond the ubiquitous, undeniably delicious baklava, and cast your covetous gazes at bougatsa, which deploys crispy filo pastry in a similar style, but within the layers lurks spiced custard. Or, try halva, a dense and crumbly sweet treat made from tahini. They do a mean cake too; our favourite is portokalopita which features orange and cinnamon, and since it's based on yoghurt, is super moist and moreish.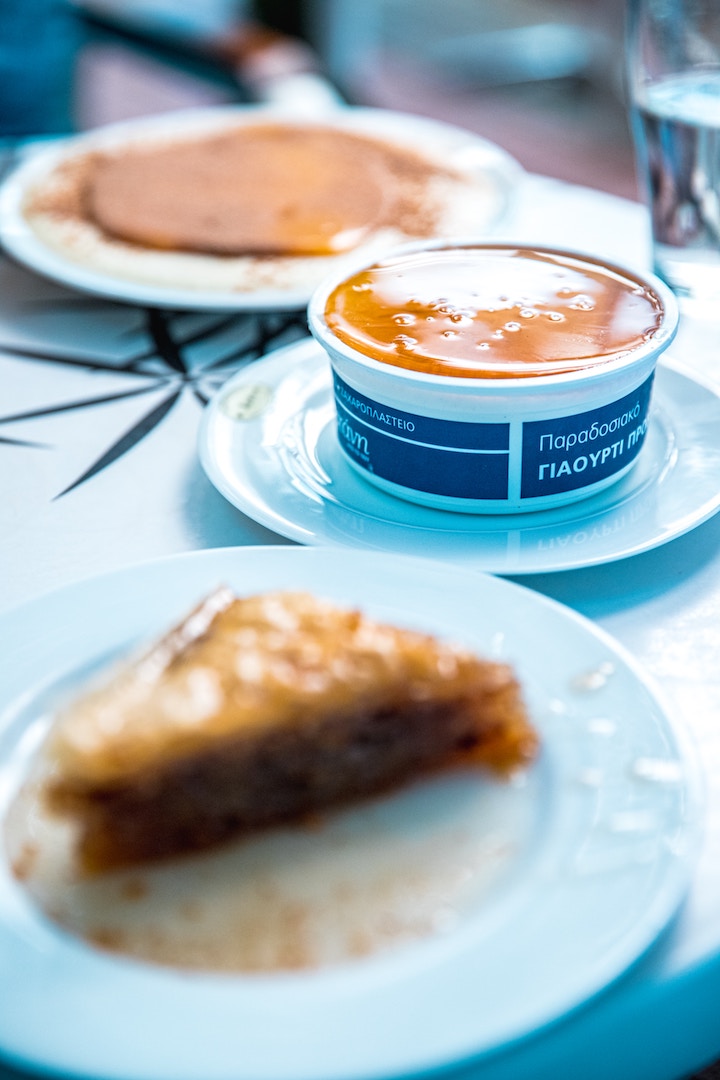 UNCORKING THE BEST 
If you didn't know, in the ancient world Greece was one of the most formidable producers of wine. Indeed, winemaking in Crete dates back over 3,600 years, all the way back to the Minoans. 
Today, due to the various island's dry and volcanic landscape and mineral-rich soil, there are indigenous grape varieties aplenty. Which of course lends itself to rare wines. We'd recommend first sampling the famous Assyrtiko dry white wine of Santorini, which contains volcanic mineral notes and the intoxicating aroma of citrus fruit.
The assyrtiko grape also grows abundantly and undisturbed in much of east Crete and is found in the award-winning Lyrarakis, which is acidic and redolent of sour apple. If you're courting red, then mainland Greece's Thessaly, at the base of Mount Olympus, offers a fantastic, drinkable pinot noir, Domaine Zafeirakis 2015. And who can turn down finishing a meal with a sweet Muscat from the semi-mountainous island of Samos. The Vin Doux blend is classic and clean, and the traditional choice here.
EXPLORE GREECE'S VARIETY OF LIQUORS 
Ouzo, rakomelo (essentially raki), tsipouro, masticha, kitron; try saying those quickly after you've had a few. But have a few you shall; the Greeks are big fans of their traditional liquors and the different varieties are definitely worth exploring while you're out here. Liquor making is a very Greek tradition and once, every family had a homemade liquor, the flavour specific to each house and host (and bathtub, perhaps).
Today, the dry, anise-flavoured Ouzo, considered the national drink of Greece, is perhaps the most well known. We warn against doing shots of it, unless you enjoy a blinding headache the next day. Instead, the best way to drink it is with a couple of ice cubes, which turns the clear liquor into an opaque, milky white, accompanied by a few plates of mezedes. To truly enjoy this drink local style, head to those ouzeries we mentioned earlier; places dedicated solely to pairing ouzo with the appropriate food. In the summer months, one of the most popular mezedes here is cured octopus, which you'll see drying in the sun outside tavernas everywhere.
We're particularly fond of Kitron, made from citron leaves from the island of Naxos. It comes in a few varieties, the yellow version is less sweet and has the most oomph. Now we'll drink to that; Ya Mas! And if you're after something that won't give you a hangover, Greece has a fantastic coffee culture too.
If you're looking to narrow down your Greek odyssey, then consider these next; our 6 IDEAL things to do in Mykonos, Greece.