There are two types of people in this world; those who seek the security of a road trip on four wheels, safely enclosed in a steel box. And then, those who prefer to feel the wind in their hair and a song of freedom in their heart whilst traversing those same roads on a steel horse.
From our rather biased description, you can probably guess that we fall into the latter camp. Well, not fall; that would be rather painful…
We digress. While driving a motorbike is often associated with risk, there's no doubt that a holiday aboard one offers some pretty great benefits. Unlike most other types of vehicle, motorbikes allow you to interact with the environment in ways you've never done before, breathing in the unique and changing terroir of your trip. With a motorbike tour, you can truly say that it's as much about the journey as the destination.
On a more practical level, motorbikes are smaller and have more flexibility in terms of where they can go and how they can manoeuvre on the roads, bypassing traffic jams and squeezing into the tightest of parking spaces; result!
From a financial perspective, owning a motorbike is significantly cheaper than driving a car. Motorbikes are typically more affordable to buy outright and have fewer operating costs, including (perhaps surprisingly) lower insurance, tax and petrol prices.
Being a motorcyclist also opens up new opportunities to meet new people by joining a local motorcycle club and venturing on regular trips together. Ultimately, driving a motorbike can be a liberating and exciting experience every time you take to the roads.
But which roads to take, we hear you ask? Well, here's a start; check out these 6 of the world's best motorbike holiday tours.
SAFETY FIRST
Whilst we wouldn't want to put you off your road trip before you'd even revved up the engine, you're roughly four times more likely to die in a motorbike crash than one involving a car. The danger is most certainly there on two wheels, make no mistake, and it's best to take every precaution necessary to protect both you and your motorbike on your trip.
The guys at Motorbike Accident Claims, who aim to promote safer driving and ensure motorcyclists receive the compensation and support they need following an accident, suggest a few measures to help keep safe when on a motorbike tour:
Keep well hydrated. As the guys at News Medical report, ''Studies have shown that cognitive function declines at mild water loss of around 2% body water loss…these include poorer concentration, increased reaction times, short-term memory issues, and negative mood changes''.
Plan your ride to avoid the busiest times on the road. Doing so will also help you avoid times when the sun is at its highest, leading to glare and visibility problems.
Wear a protective helmet, motorcycle boots, heavy denim, textile or leather trousers, a heavy denim, textile or leather jacket, motorcycle gloves and a visor on your helmet or goggles.
Ride in convoy.
Obey the rules of the road.
Now we've dispensed with the fine print, let's put that key in the ignition…
CAPE TOWN, SOUTH AFRICA
We'll start our motorbike tour here, in overwhelmingly beautiful South Africa.
Tourists have long flocked to South Africa because of the nation's stunning landscape, gorgeous beaches and world-class cuisine, and it's regarded as one of the world's top destinations for whale watching, safari adventures, and most importantly, once-in-a-lifetime drives.
The legislative capital itself, Cape Town, is bursting with iconic landmarks including Table Mountain and Robben Island. There are several motorbike tours that you can look at in Cape Town, all of which will guarantee beautiful views no matter where you turn.
THE ALPS, FRANCE
The Alps is a chain of mountains that stretch around 750 miles, making it one of Europe's biggest mountain ranges, with the peak of the Alps being the snowy terrain of Mont Blanc in France.
Because of the mountain's extensive range, the surrounding roads are hugely popular touring destinations for motorcycle adventurers. On such a tour, you'll see stunning sights of mountains and valleys of different shapes and colours, from snowy landscapes to lush greenery.
CEUTA TO MARRAKESH LOOP, MOROCCO
The North African country of Morocco is a cultural hotspot where tourists can expect to be welcomed with warm hospitality. You're guaranteed to encounter delicious food, traditional shopping markets and outstanding architecture here, and what better way to enjoy all of this than on two wheels?
Morocco is a vibrant and colourful country with lots of rocky and sandy terrain, including parts of the Sahara Desert. The Ceuta to Marrakesh loop, which covers about 1,600 miles, should be on the list of every motorcyclist who loves an adventure. This tour promises ancient sites, desert culture and a diverse landscape. Sign us up!
Read: 5 IDEAL travel tips for Marrakech first-timers
THE YORKSHIRE DALES & NORTH YORK MOORS
We had to include at least one tour on terra firma. Indeed, you don't have to venture outside of England to enjoy breathtaking scenery and stunning backdrops to your motorbike drive.
Yorkshire is one of the best regions in the country to see the UK's magnificent scenery up close and personal. More specifically, the Yorkshire Dales & North York Moors are two excellent national parks for a motorbike tour. Starting in Kirkby Lonsdale and ending the picturesque town of Skipton (voted the happiest place to live in the UK in 2017), check out a detailed itinerary of a fabulous two-day bike tour of the Dales here.
Read: 5 ideal towns to visit in Yorkshire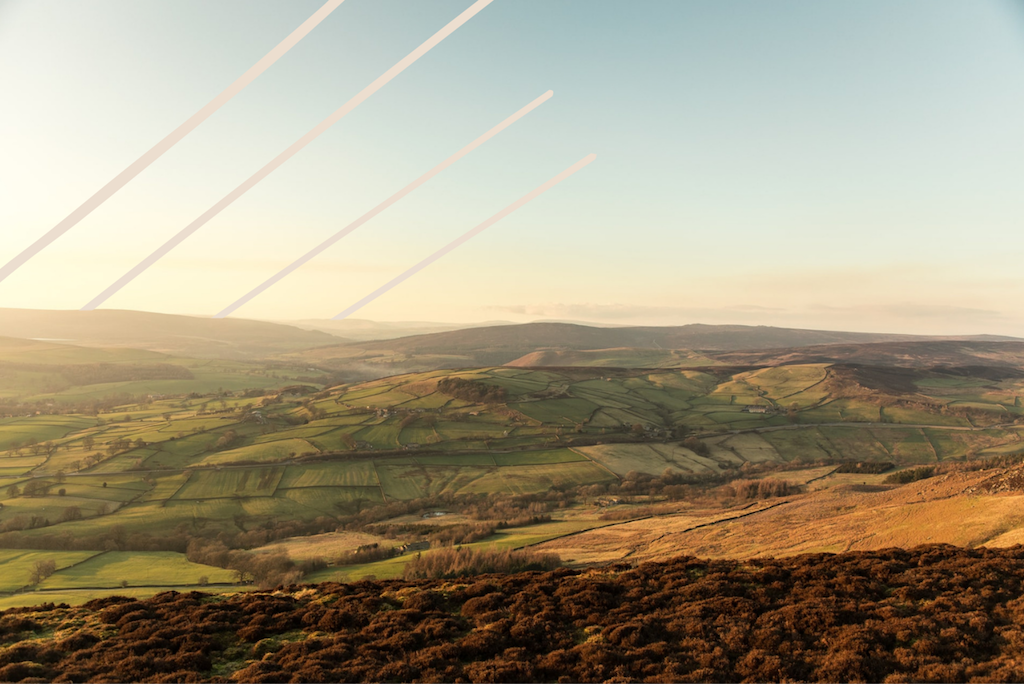 ROUTE 66, USA
Route 66 is perhaps the most famous road in the entire world. Spanning over 2,400 miles, this highway in the United States extends all the way from California to Chicago, connecting eight states (Illinois, Missouri, Kansas, Oklahoma, Texas, New Mexico, Arizona and California) and three time zones. Interestingly, the road was designed in 1926 with the aim of becoming the first trans-continental, year-round highway. We think it's safe to say they succeeded.
With so many destinations, this is one of the most diverse (and longest!) motorbike tours that you can go on. f you're planning on driving this route be sure to set aside the time to stop in Palm Springs, The Grand Canyon and of course, Las Vegas – just be sure not to spend all your petrol money!
THE OLD MILITARY ROAD, SCOTLAND
The Old Military Road (A93), which cuts a swathe through the Cairngorms National Park, is widely regarded as the U.K's best road for driving and motorbike riding, taking you through the heart of the Scottish Highlands and past sights like Balmoral Castle, through the Cairnwell Pass and Glenshee ski region, and always with endless peaks and troughs on the horizon.
This route is filled with twisting hairpins, rollercoaster-like ups and downs and steep gradients, plus the views are pretty good, too. There is a wide variety of different wildlife in the Highlands so keep your eyes peeled for deer, snow rabbits and grouse, to name but a few. Taking on this road on a motorbike is one of the most liberating things you can do!
Now you've got those pins in your map, check out these 6 essential tips for a motorbike road trip in the UK. We'll see you on the open road!