Catering is a challenging and demanding job, and is only set to get more complex as the post-COVID rules are readjusted and refined going forward. Sure, catering at its most basic simply involves the cooking of food, but a truly skilled catering company will incorporate drinks, impeccable service, and atmosphere into their offering. We know which we'd prefer.
When discussing corporate catering services, and particularly in the current climate where safety and hygiene are paramount, there are several boxes which a company must tick to meet the high standards required of them. A corporate gathering has different needs to a regular party, and it is necessary for a caterer to be familiar with the corporate culture and the divergent needs of the clientele and their guests to truly make the event sing. With that in mind, here are 6 questions to ask when finding the IDEAL caterer for your corporate event.
WHAT NEW HEALTH & SAFETY MEASURES ARE YOU IMPLEMENTING?
We're all feeling our way into the new normal, and this is particularly true for the hospitality sector, which is having to learn on its feet about what works and what doesn't in real time. Though patience is required here, the safety of you and your corporate clients should be the ultimate priority in these turbulent times. So, above all else, you should be asking any potential companies about their new health and safety measures in light of the COVID crisis. 
The corporate catering experts Select Catering Services suggest that now, more than ever, it's vital to "uphold high standards of personal hygiene, with employees trained and encouraged to wash or sanitise their hands effectively, hand sanitising stations (being) available at multiple premises, and mandatory wearing of masks, gloves and hair caps for all food packers and kitchen personnel'', as well as "compulsory screening of all visitors and employees''. Ask your potential catering company whether they're implementing similarly stringent measures as a matter of priority.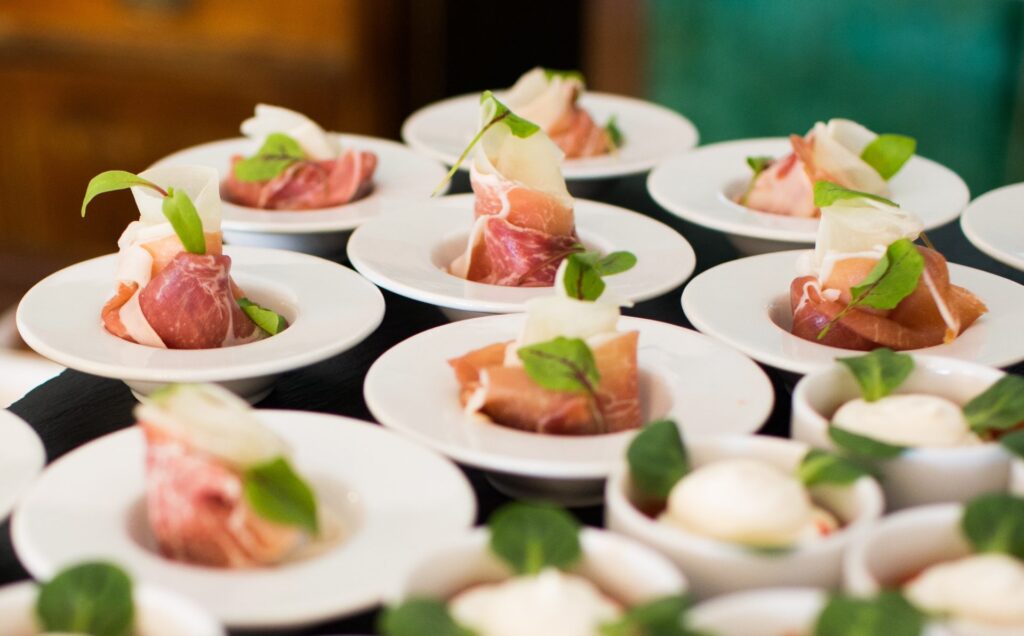 DO YOU GIVE TASTERS?
The food that is served at any corporate gathering or meeting is typically light, flavoursome and should have that little magic touch which gets clients talking. That is because the goal is to refresh and titillate, rather than induce a food coma not at all conducive to networking.
It is necessary for caterers to ensure special attention is given when providing food or refreshments for a corporate event, as clumsy, heavy fare will likely leave your guests unimpressed, potentially even damaging future working relationships by giving a poor impression of your attention to detail. So, when scouting corporate catering companies, do insist on a trial run of tasters to ensure the quality of food meets your exacting standards.
ARE DRINKS OFFERED?
Whilst the goal at a corporate event is certainly not to get blottoed and embarrass yourself (just us then?), a few liquid refreshments will likely be expected. That said, in recent years an increased focus has fallen on non-alcoholic drinks, and personally, we think a serving of thoughtful, fresh drinks which don't contain booze is a statement of seriousness and intent which will likely impress clients. So, consider asking your potential corporate catering company if they're able to accommodate a menu of mocktails and fruit juices. If they're flexible and adaptable in their approach to the finer details, it speaks volumes about their offering as a whole.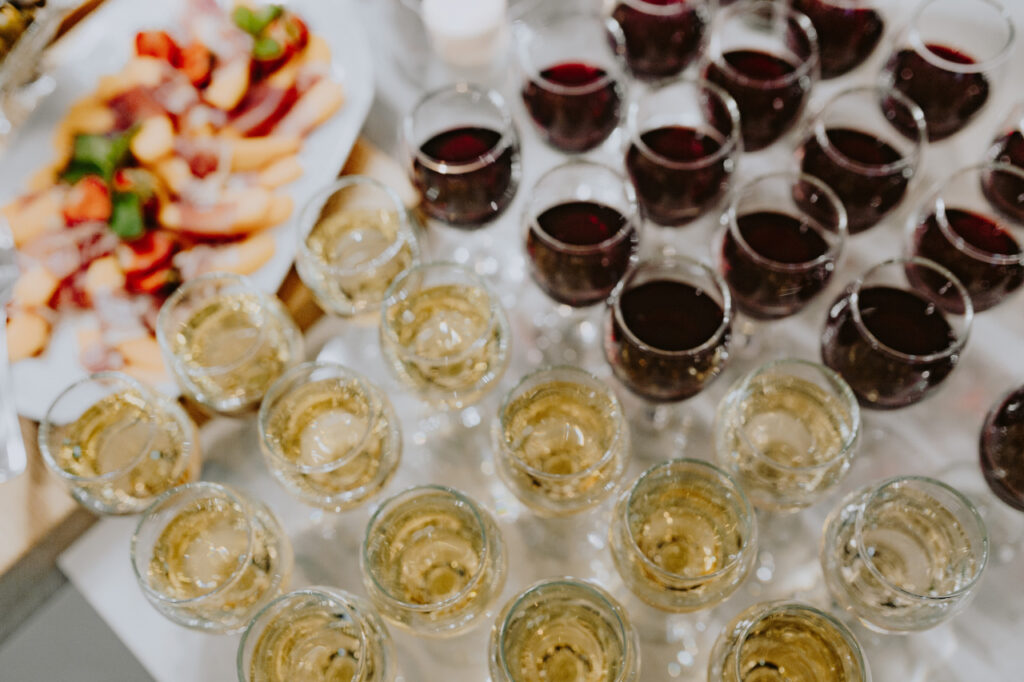 DOES THE COMPANY PRIORITISE SERVICE?
Service by a caterer for a corporate event needs to be professional and sophisticated, and must strike a fine balance between being unintrusive but also highly receptive to your guest's needs. Ideally, the company should conduct themselves elegantly, and provide you with a manual of sorts on their service ethos. Tightness and professionalism should be a given, but it's fair to expect your chosen company to go above and beyond the basics. By asking if service is prioritised, you'll find the very best corporate catering company around.
DO THEY HAVE PREVIOUS EXPERIENCE IN CORPORATE EVENTS?
When catering for a corporate event, the setup should be professional. Presentation matters to clients, who will be judging the event as a reflection of your company culture. This means tables with the proper uniform décor, thoughtfully selected crockery, and an overall, carefully curated atmosphere with an eye for fine detail, should be obligatory. And this sense of the correct 'pitch' of an event only comes with experience. Ask any corporate catering company you're considering for a resume of their previous work to gauge how accomplished they are in the field.
ARE REVIEWS AVAILABLE ONLINE?
When it comes to catering a corporate event or party, finding the right caterer is essential. And of course, comparisons are required before you make your decision. Don't be hasty here; any self respecting corporate catering company will have reviews of their work available on a variety of online platforms, so be scrupulous in seeking reviews from trusted sources to best inform your decision.