Every bride imagines how they'll look on their wedding day – most of us before we've even found 'the one'! From the style of your dress to the height of your heels, you've probably had a clear idea of what you'll wear for longer than you'd like to admit. But with your big day on the horizon, and wedding planning in motion, it's time to start turning those ideas into reality.
One aspect of your look that you've perhaps overlooked is your veil. So, to help you choose the 'cherry on top' of your bridal outfit (not an actual cherry, mind, that would look weird), here are 6 tips on how to choose the IDEAL wedding veil.
LOVE THE LENGTH 
Whether you want to make a statement in a floor-sweeping veil or keep things more modest with one that sits delicately on your shoulders, the length of this essential piece is an important decision to make. Consider your dress when choosing, and work out which length will best compliment the overall style of your outfit.
For minimal, modern dresses, shorter veils are usually better suited – think anything from thigh length and up. For traditional gowns, floor-length veils are the typical choice and suit the more formal dress. You can even take things up a notch with a floor-sweeping chapel or cathedral length look.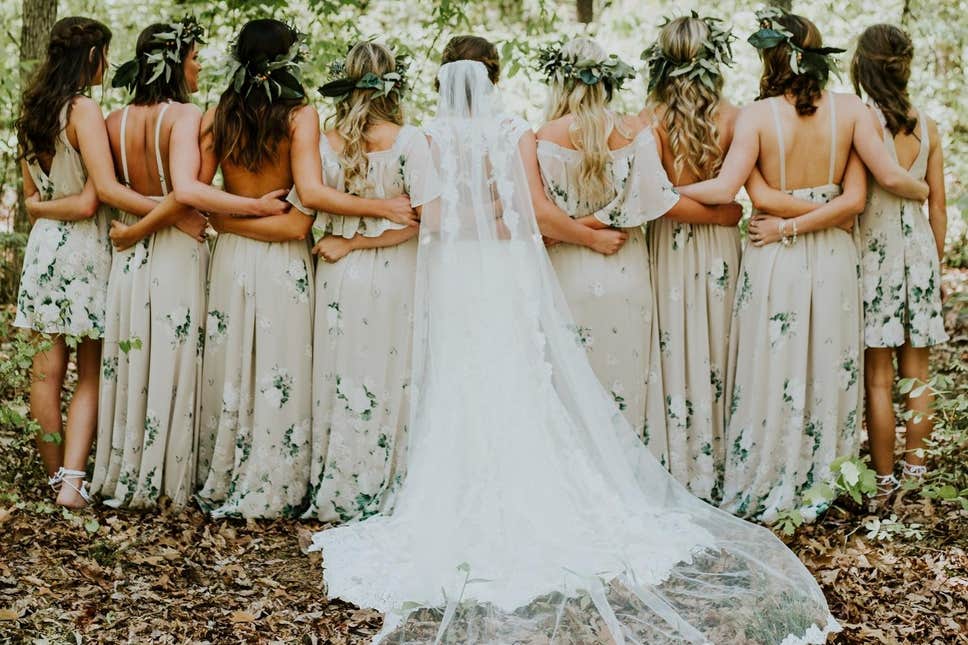 DON'T FORGET THE WIDTH
You might not think it, but the width of your veil can make a big difference to your whole look. Narrower veils usually fall behind the dress, making them ideal for showing off bridal gowns with intricate straps or front detailing. 
A wider veil will fall completely over the arms and shoulders and usually works best with a strapless dress, otherwise the look can be a little much. Want something in the middle? Then go for it; this is your big day, after all. A medium width veil will give you the best of both worlds, covering your arms but still letting your dress take centre stage.
HOW MANY TIERS?
Nope, we're not referring to the cake here. If you're doing things traditionally, a veil can be created with up to three tiers. A one-tiered veil is a more modern choice; simple, sophisticated, and undeniably chic, it's probably the most popular choice out there. If you're going for a more formal look, a multiple tiered veil will usually cover the face, ready for your partner to lift it off once you've made your way down the aisle. For couples who love traditional ceremonies, this is the conventional choice.
CONSIDER THE COLOUR 
If you thought the colour choice of your veil would be easy, think again. Not only are there a multitude of shades of white to pick from, but there are also more modern shades out there, ranging from blush to grey-blue, giving you a whole lot of options. Consider whether you want to match your dress or create a contrasting look. If you're going with the latter, your best bet is to try on different colours whilst wearing your gown to see what works for you.
You can also pick to have a regular, matte finish, or a crystal finish which adds a touch of shimmer to your veil. Decisions, decisions!
THE DEVIL'S IN THE DETAIL 
This is the really fun part – adding the unique details to your veil that will truly make it your own. As such, it's time to get creative. From adding an intricately embroidered trim to creating a pattern on the tulle of the veil itself, there's so much you can do to bring your veil to life and pull together your outfit.
When deciding on the details, it's a great idea to have your whole outfit in mind – from your dress to your jewellery and even the flowers you'll be carrying. You could match details from your other pieces to create a flow to your bridal outfit and make sure everything works perfectly together. On the flipside, you could leave the detailing out completely and opt for a chic, minimal look with a layer of tulle – it's a stylish option that may be simple but is certain to stand out. 
GET OUT THERE 
Once you've worked out a rough idea of what you want – or, maybe you know exactly what you're on the hunt for – it's time to get out there and start searching. If you can, bring your dress along when trying on your veils; it'll give you a much better idea of how they'll work together. If you can't, ask for fabric samples from veils you like to bring home and compare to your dress.
The author of this great piece, Sarah Bates, is the founder of Britten Weddings, wedding accessory suppliers specialising in hand crafted wedding veils, hair accessories, bridal jewellery and more.