Just how to turn a rental flat into a home? Rather than being an existential essay question which might get you into Oxford university, this is a very real problem posed by many tenants, exacerbated by the fact landlords are notoriously rigid when it comes to decorating.
Everyone who has rented a flat or home at least once in their lives knows that decorating a rented property is surprisingly restrictive. This usually means you aren't allowed to change wall paint, add wallpaper, nails or screws, remove the carpet, or just about anything that would allow you to show off your creative side.
But in most cases, whether you are limited when it comes to the decoration of a rented flat or a tight budget that doesn't allow you to make any massive and drastic changes, you are left to work with a space that doesn't showcase your personality at all.
Indeed, it seems that the factors which contribute to that sense of domestic bliss are notoriously difficult to define. Of course, family play an integral part, as do housemates, whether human or furry.
But it's also important to consider the huge impact that decor and design have on your ability to feel a connection a rental space. With that in mind, from balcony planters to spice displays, here's how to make your rental flat feel like a home in 7 steps.
Superficial Edits
Living in rented accommodation can sometimes feel a bit stifling when it comes to introducing your own creativity and style. Repainting and redecorating are often disallowed by the landlord or else extremely limited in scope. This doesn't mean you can't bring your own taste into your home in other ways, superficially and without leaving a mark.
Whether it be via trendy rugs, throws, cushions, curtains or an upholstered piece of furniture, fabrics can add texture, personality and colour to your living space, and all at a fraction of the price of a full-scale shake up. And best of all, they won't invalidate your deposit. Don't be afraid to mix up patterns and deploy varying textures together and in tandem – the trick here is continuity in the different designs, and synergy in the application of fabrics.
Another easy way to personalise your space is to swap out your kitchen hardware. Simply add some new kitchen cupboard handles and knobs. Just be sure to keep the old hardware somewhere safe. Lighting can completely transform a space, so swap out those basic mount fixtures for something that's more to your style.
And, in the event that anything does go wrong during any DIY endeavours, any good landlord will be covered with landlord insurance for accidental damage.
Peel & Stick Tiles & Wallpaper
Rental homes are usually all the same – beige and boring with IKEA identikit furniture. Luckily, there is a way to add some colour to your new home and get your deposit back.
Renter-friendly peel and stick wallpaper is the ideal way to add a personal touch to both your walls and furniture. From bold geometrics and elegant floral patterns to fun animal prints, removable wallpaper can really make your rental home feel like you own it. Moreover, as long as your remove it gently, it shouldn't damage the paint underneath and won't leave any residue behind, meaning you'll get that deposit back.
When it comes to wallpaper trends, year on year, nature inspired prints seem to top the lists. We love anything flowery; think elegant Far Eastern florals, such as cherry Japanese blossoms, Chinoiserie garden murals and Vietnamese lotus flower designs. We're also drawn to anything lemon inspired, particularly prints that draw inspiration from the lemons in 'Fruit', one of William Morris's most loved wallpapers.
Here at IDEAL, we're fans of jazzing up tables and wardrobes with self-adhesive stick-on mosaic tiles, too – simply peel and stick and voila. You can also add them to walls, just be sure to buy ones that won't damage the wallpaper.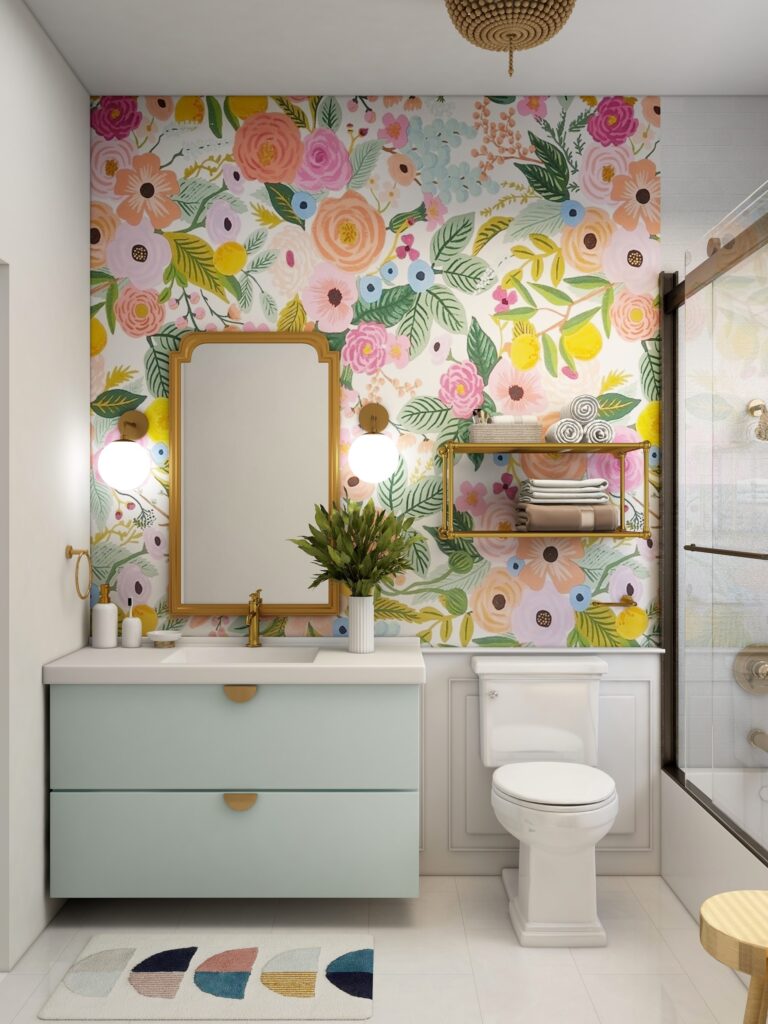 Flowers & Plants Galore
As the rental experts at RentHero tell us, when it comes to brightening up your interiors and bringing some added personality to your rental house, a little greenery can add that final flourish to your place and make things feel decidedly more homely.
Indeed, houseplants are perfect for transforming any room from a dull, boring space into an area that boasts style, life and energy. Whilst plants are perfect for elevating the overall look of a room, they also bring many additional advantages that many of us aren't aware of, such as refreshing up the air and lifting our mood.
Plus, if your rented flat has access to a small terrace or balcony, you can place a few plants there, as well. You can choose from various models of balcony pots to match your style, add some fairy lights, and you have got yourself a peaceful corner in your rented – and now much cosier – home.
Add Artwork
Don't ever underestimate the power of art. You can find artwork in every little shop or during your travels that would look amazing in your flat and can enhance the entire aesthetic in an instant. So, if you feel like your entire space requires something to have a stronger personality, this is the way to accomplish this.
Whether you add painted artwork, a drawing made by a friend, photographs with your loved ones, postcards or various decorative objects, it is up to you and your preferences. But one thing is for sure – this little detail can have a major impact and are, in fact, rather powerful. This way, you can turn any austere aesthetic into a lively and cosy place.
Read: How to frame, hang and display your artwork
Upcycle Furniture
Since you're renting, it's unlikely that you want to spend a fortune on furniture. You never know if the piece you buy will fit or look good in your next home.
Luckily, there are many inexpensive ways in which you can find excellent furniture in good condition or which needs just a few adjustments. From vintage shops to online marketplaces, there are plenty of pleasures to unearth a few gems. Chances are you know the saying "one man's trash is another man's treasure" perfectly well, right?
If you feel creative and want to make the flat match your personality perfectly, you can even paint the pieces of furniture you find. With so many YouTube tutorials and articles on DIY projects, there is no denying you can find some support. You can even ask a friend and turn this activity into something entertaining you do together – and this surely will be a memory you will both cherish forever.
Keep Things Tidy & Uncluttered
It's a tip which requires no investment, stylistic creativity or imagination. And that is; keep things clean, simple and straightforward in your rental home. Clutter is the enemy of a clear aesthetic, and whilst we're not suggesting a 'minimalist' vibe (too much like an Airbnb bedroom), by always being tidy and neat, your domestic space's style will be apparent and pertinent to all.
Of course, this commitment to tidiness will be useful when you do decide to move on, too. As you'll know, a state of disrepair or uncleanliness means the landlord may take money out of your deposit to pay for repairs and cleaners.
When you live in a rented flat, it is highly likely there isn't plenty of storage space. But this doesn't mean you cannot adapt and adjust. Lack of storage can lead to clutter, which you certainly want to avoid as it can create an overwhelming feeling in your home. For this reason, you can get creative with the storage spaces in your rented home. You could get a couple of vintage suitcases that not only look stunning but can serve as a unique side table. So, let those creative juices flow to turn your rental flat into a home.
Highlight Your Hobbies & Travel Expreinces
The great thing about niche, esoteric hobbies is that the equipment which you've accumulated over the years, rather than being a storage burden, can bring real character to your house. So, don't be afraid to showcase them in your décor. For example, if you're a musician, hang your guitar on the wall to create an interesting focal point that will grab people's attention. If you're a movie lover, frame posters of your favourite flicks, which you can hang in your bathroom or bedroom (landlord permitting, of course).
Following on from that theme, you can use the power of functional items, particularly in the kitchen, to highlight your travels and the places you've been which you feel have defined you.
Some of the items which best complement both those aspects live in the kitchen, and include a pestle and mortar from South East Asia, ideal for grinding spices and pounding curry pastes in the most authentic (see: delicious) way possible, a tagine from Morocco, or a pasta maker from Italy. All show off your inquisitive, well travelled side, as well as having an ornamental quality.
Go further by expressing your personality through displays of your travel experiences. For example, you could turn your bookcase into a display of your vacation souvenirs, travel photographs, postcards, travel guides, and keepsakes.