Back in the not so distant days of before the UK's cost-of-living-crisis truly bit, one of life's great pleasures involved a spontaneous hop on a cheap flight somewhere on the continent, to settle into the rhythms of a foreign yet familiar city for the weekend. Paris for the Pompidou, Brussels for truffles, and Berlin for Berghain, if only we could get in…
Belts are a little tighter now, sure, but that shouldn't mean an impulsive weekend city break of local food, heritage and culture is completely off the cards; we're just going to have to rethink how we do things a little.
On terra firma, Scotland boasts some of the most forward-thinking, exciting destinations out, and it's here that we're heading for our next long weekend. If you have the same idea and are looking for inspiration on tailor-made city breaks to suit any taste, then read on; here are 7 of the best city breaks in Scotland for 2024, IDEAL for a weekend away in the Land of the Brave.
Ideal For Foodies: Leigh, Edinburgh
We're starting out in Leith, the vibrant, creative soul of Edinburgh and the capital's port district. When the sunshine (cheers Chief) hits the water just so, there's no more magical place in Scotland. Indeed, in 2019, Time Out named Leith as one of the world's 'coolest neighbourhoods to visit right now', and we couldn't agree more. Fours years on and it's still going strong.
One of the main factors contributing to Edinburgh's city break credential's is Leith's food scene, which boasts two Michelin starred restaurants, cute cafes, some cracking bistros and gastropubs, and an excellent farmer's market or two to boot.
The Kitchin, headed up by the irrepressible celebrity chef Tom Kitchn, has been celebrating Scottish produce with their precise 'Nature to Plate' cooking for 17 glorious years. Interestingly, only the first year was spent without a Michelin star, the famous red book acknowledging the Kitchin's exemplary cooking soon after the restaurant opened. If you're to choose one blowout meal, make it here.
Restaurant Michael Wishart is Leith's other Michelin starred restaurant and is equally as special. Here the cooking pairs classical French technique with Scotland's natural bounty and the results are top class. The lunch menu offer here is an absolute steal; on Wednesdays, Thursdays and Fridays, you can enjoy three courses for £52.50. Bargain!
For something a little less refined but still totally delicious, The Little Chartroom, a compact neighbourhood bistro whose plates pack huge flavour. Though the menu is tight, with just three or so items for each course, you'd be crazy to miss anything they're cooking from the sea; the restaurant has a wicked way with fish.
Leith also boasts some amazing organic producers selling some of Scotland's world-famous, prestigious ingredients. Should you have a kitchen in your accommodation, or simply for souvenir's sake, do make sure you visit George Bower butchers, I. J. Mellis Cheesemongers, Welch Fishmongers and the Campervan Brewery, in particular, and pick up some goodies!
There are also two regular foodie markets, Stockbridge Market and Leith Market, held every Saturday between 10am and 5pm, right on the water's edge next to the Kitchin. Make the most out of your short break by staying in a hotel near the one of the markets.
Phew, are you full yet?
Ideal For Museums & Art Galleries: Glasgow's West End
We're heading to Scotland's second city next. If you're into art and history, then you should join us.
Glasgow, an hour's drive west from Edinburgh, is full of art galleries and museums, and is one of Europe's most exciting destinations for culture. In fact, just a couple of years ago, Glasgow was named culture capital of the UK by the European Commission.
It's in the city's West End where you'll find the highest concentration of cultural hotspots. First on your itinerary should the Kelvingrove Art Gallery and Museum and its adjacent park, which you could easily fill a whole day seeing (the park is gorgeous for relaxing in).
Outside of London, the Kelvingrove is the UK's most visited museum, and is free to enter, with the art gallery housing paintings from Monet and Rembrandt amongst others. The connecting park is worth your time, equally. With tennis courts, a bowling green, skatepark and bandstand, it's a favourite focal point of those wanting to kick back on a sunny day.
Just a half mile's walk from Kelvingrove and towards the River Clyde is the Riverside Museum of Transport and Travel. Here, at Glasgow Harbour, you'll find a striking, hyper modern building housing a collection of cars, trams and bikes and other more esoteric transport items, all made in Scotland. There's also a fantastically detailed recreation of a 1890s Glasgow city street, 'Kelvin Street', which you can wander down, putting the vintage transport options in context and giving you a glimpse into 19th century Scottish city life.
Outside the museum, check out The Tall Ship, a restored sailing ship docked in the harbour which you can board to enjoy exhibitions documenting Glasgows' rich maritime history.
The West End also boasts the University of Glasgow, one of the world's oldest, and all open to the public. Inside you'll not only find stunning architecture, including the majestic cloisters, which will have you feeling like you're arriving at Hogwarts, but also the Hunterian Museum and Art Gallery.
This is Scotland's oldest museum (the superlatives keep coming!) and it houses a hugely diverse collection, with a focus on Zoology and the animal kingdom especially. The adjoining art gallery is most famous for its Mackintosh and Whistler collections, and contains works of art from a wide variety of prestigious painters.
And if you're keen to continue feeding your fascination with nature, Glasgow Botanic Gardens is just a ten minute walk away. Expect weary legs and an educated mind after such a wholesome, active day.
Ideal For Design Buffs: Dundee
The only UNESCO City of Design in the UK, Dundee is arguably the country's most forward thinking and creative, with a hugely prestigious history and focus on the future, equally. A city whose innovations and discoveries led directly to the aspirin, Grand Theft Auto and the Beano and Dandy comics? Count us in! If design is your thing, too, then Dundee is the perfect city break for you.
Your first stop should, without doubt, be V&A Dundee, Scotland's first design museum and only the second V&A Museum in the world, following London. That's not to say it's a carbon copy of the original; Dundee's version is much more focused on Scottish design and innovation in particular, and is well worth a visit to get acquainted with a visionary element of the country's history.
Next, a word on the city's most famous (now over 80 year old) residents. In City Square, you'll find Bash Street and statues of characters from The Beano and the Dandy. Follow up this meet and greet with the comic book stars with a trip to McManus Art Gallery and Museum, which has eight galleries devoted to the history of design and Dundee, as well as art from all over the world.
For something a little different, Mill's Observatory, a sandstone dome on the outskirts of the city, is home to an enormously powerful telescope and regularly hosts events in its planetarium.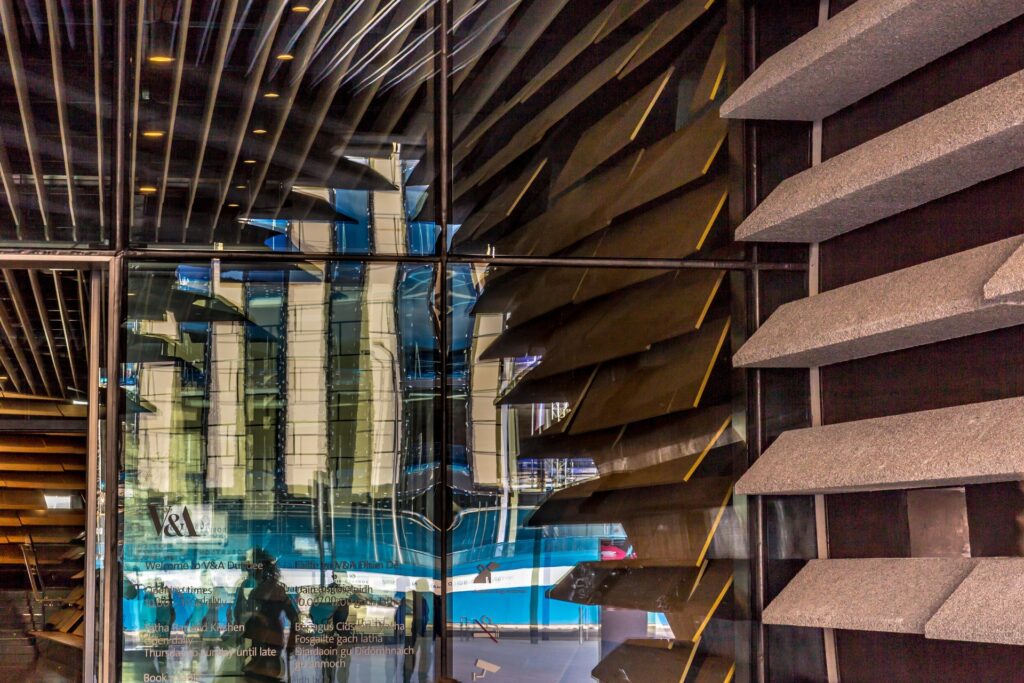 Ideal For Floral Fanatics: Aberdeen
Aberdeen is a city of great juxtaposition, famed both for its ubiquitous granite architecture and citywide kaleidoscope of floral arrangements. We're visiting to focus on the latter this time; here, there are a rumoured 11 million daffodils, 2.5 million roses and 3 million crocuses in the city, all on show in Aberdeen's gorgeous 45 parks and gardens.
Those are some serious numbers, and the city has won numerous awards for its dedication to flora, most recently the Royal Horticultural Society's 2019 Growing Communities award. In 2020, Aberdeen is a finalist in the Britain In Bloom competition.
Whatever time of year you plan to visit Aberdeen, city breakers should head to the 44 acres of Duthie Park, on the banks of the River Dee, where you'll find a huge display of giant cacti in the park's very own Winter Gardens. Or, consider Hazlehead Park, on the outskirts of Aberdeen and a lot more wild, with 180 hectares woodlands and paths, as well as some spectacular rose gardens. In the Old Aberdeen area of the city, Seaton Park is one of the city's most well maintained. That, or you could just follow your nose; the aroma of flowers in the city is heavenly!
Ideal For Whisky Lovers: Speyside
For whisky aficionados, there's no better place than Speyside. Known as the whisky capital of the world and boasting the famous Speyside Malt Whisky Trail, this area (yes, we know we said 'city' breaks, but we're exercising a little poetic licence here) is home to about half of all the distilleries in Scotland.
Although it is not officially a city, the region is a perfect city-esque break for those who want to escape the urban hustle and bustle and immerse themselves in the ancient traditions of whisky making.
Start your Speyside journey at Macallan Distillery, which offers a comprehensive tour and tasting experience. Visit the fascinating Aberlour Distillery, known for its rich and complex single malts, or immerse yourself in the history at Glenfiddich, the world's best-selling single malt whisky.
Speyside is not just about whisky, though. The area is also known for its beautiful landscapes, with plenty of opportunities for walking, cycling, fishing, and wildlife watching.
Ideal For History Enthusiasts: Stirling
Steeped in history and nestled amongst stunning scenery, Stirling is often called the 'Gateway to the Highlands.' This small city is packed with historical treasures that would satisfy even the most dedicated history buffs.
Begin your exploration at Stirling Castle, one of Scotland's most historically important sites. With a history dating back at least a thousand years, it has been a center of power and symbol of national pride. Don't miss the magnificently preserved Great Hall and the Royal Palace with its colourful Renaissance facades.
Next, visit the National Wallace Monument, a towering stone testament to Sir William Wallace, a 13th-century Scottish hero. Reach the top of the monument, and you'll be rewarded with panoramic views over the city. Complete your historical city break with a walk through the old town, where you can admire well-preserved medieval and Renaissance buildings and visit the Old Town Jail.
Ideal For Nature Lovers: Inverness
Situated in the Scottish Highlands, Inverness offers a great city break for nature enthusiasts. The city itself is charming, with its castle overlooking the River Ness and plenty of culture to soak up.
However, it's the surrounding areas that truly shine for nature lovers. Just a few miles from the city, you'll find the legendary Loch Ness, where you can take a boat tour and try to spot the elusive Nessie.
Further afield lie the Cairngorms National Park, perfect for hiking, mountain biking, and bird watching, and the Moray Firth, where you can spot dolphins from the shore or by a boat trip. Back in Inverness, finish your day by enjoying locally-sourced seafood, another emblem of Scotland's natural bounty. And on that rather poetic note, we're off to actually enjoy our holiday in the Land of the Brave!