Ideal for having fun with loved ones when restrictions are eased.
This just in; the government's latest 'road map' out of lockdown is due, and rumour has it that socialising with friends and family, safely and securely, is likely to be prioritised. In fact, according to various leaks, loved ones – whether that's two households or a 'rule of six' situation will become clear in the coming days – will be allowed to meet in each other's gardens at the end of March. We can't wait.
With all necessary caveats about taking proper precautions, keeping your distance, and washing your hands and surfaces in place, here are 8 unique ideas for socialising in your garden, IDEAL for having fun with loved ones when restrictions are eased.
HOTDOGS & CHAMPAGNE
Sure you could just have a BBQ, but why not make it a little more special and unique? We've got all summer to have the usual burgers and beers, don't you think? For now, this is a celebratory, unique occasion, welcoming friends or family over after months apart. As such, it's imperative that you go that extra mile…
We're looking to a Vienna's Würstelstände (that's sausage stand) for inspiration on this one. Yep, if you haven't considered the combination before, that's champagne and sausages, and they pair just beautifully.
Käsekrainer (cheese filled hot dogs affectionately referred to as 'Kranky') served with dark rye bread, gherkins and dollops of both mustard and ketchup are perhaps the most popular choice on the streets of Vienna, and translate beautifully to a crisp, spring evening in the UK. Currywurst is equally ubiquitous, or a more elegant frankfurter topped with crispy shallots and loads of mustard might just satisfy your desires?
A side of potato salad with plenty of mayonnaise is obligatory. Then, all you have to worry about is the champagne, although in all honesty, serving cava or prosecco is just as appropriate.
Sounds like a fantastic evening to us!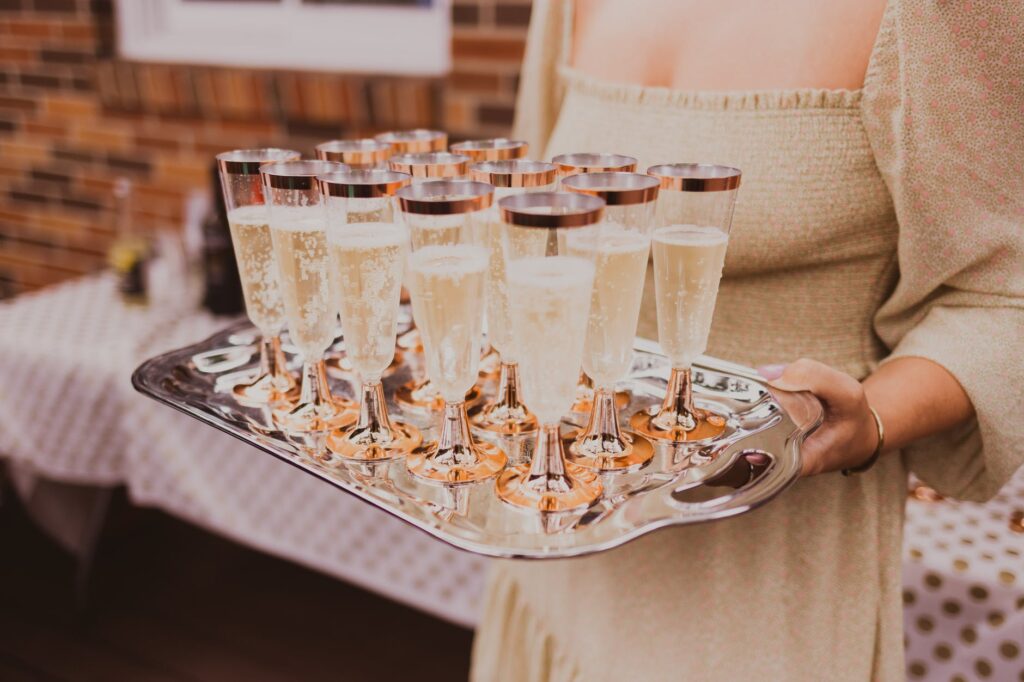 HAVE A SHISHA NIGHT
Bring the vibes of the famous Cairo bazaar Khan el-Khalili to your garden, complete with all the escapist vibes that come with it by hosting your very own shisha night. Traditionally, hookah lounges are spaces designed with comfort in mind, with well appointed, softly furnished seating and snacks to hand.
Generally speaking, alcohol isn't served. Instead, elaborate, delicious tea is the traditional drink of the hookah lounge, with mint and jasmine the most popular choices. Serve some up on arrival to get the party started.
Though the hookah pipe is usually shared communally, you'll have to invest in a separate hookah for guests to avoid cross-contamination. Don't worry, they're surprisingly affordable; you can find a solid, durable pipe starting at around £50. Alternatively, you can buy disposable mouthpieces to ensure hygiene is respected.
The sweet aroma is the defining feature of any hookah lounge, and you can find fruity flavours like Al Fakher Shisha Flavour to really replicate that shisha bar experience. It's common for fruit to be served alongside the pipe, to complement but not overwhelm these flavours. Avoid spicy and greasy foods at all costs, which will be jarring both flavourwise and texturally, against the delicate smoke.
When it comes to seating, create the rightt ambiance with low, comfy seating. Then, all you have to do is find an appropriate soundtrack; check out this awesome Spotify Hookah Lounge playlist for inspiration!
PIZZA IN A WOOD FIRED OVEN
For foodies who love bringing friends and family together, then a wood fired oven in your garden is exactly what you need for that focal point which any great evening spent socialising outdoors needs. Yep, a pizza oven, whether it's one you've built yourself or one of the many great ones currently on the market, makes a fun addition to your outdoor space and serves as a hub for entertaining, too
Though this bit of kit is perfect for throwing a pizza party, don't let the al fresco cooking stop there; fish, meat, veggies and even some baked desserts all taste amazing in a wood fired oven!
For some top advice from the experts (at IDEAL), check out these beginner's tips on making the best homemade pizza.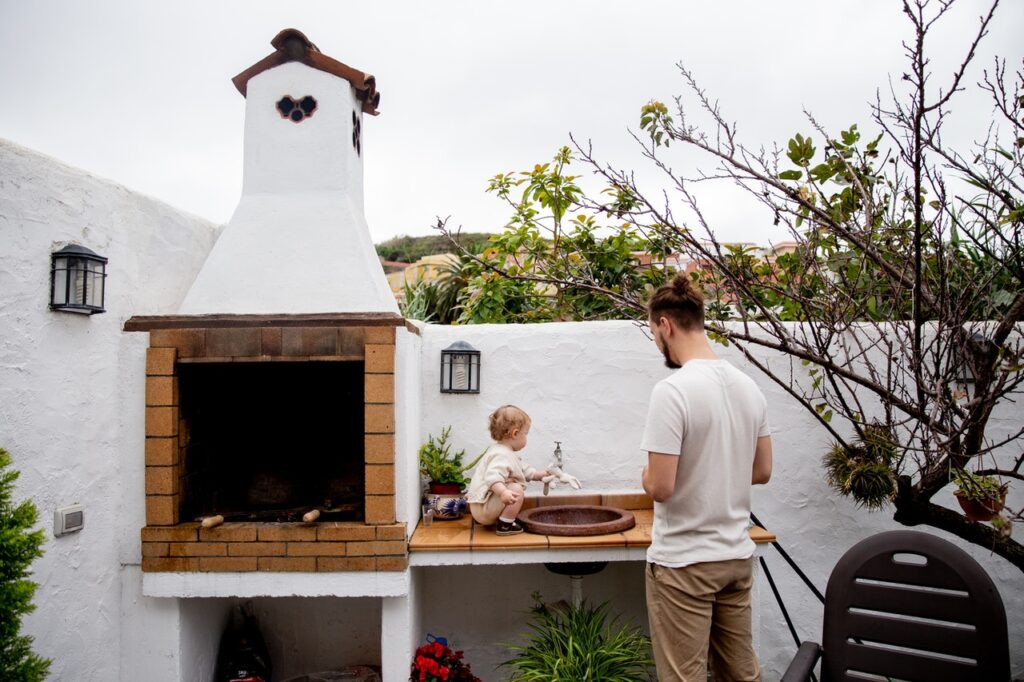 CREATE A HOME BEER GARDEN
It looks like we might have to wait until May for pubs for reopen. So, why not bring the pub vibes into your backyard and create your own beer garden for welcoming friends and family over?
To create the right atmosphere for your very own beer garden, it's all about the props. Start by naming your garden pub and creating some signage. Next, dig out your Christmas lights and string up them around the garden; nothing beats that twinkle, right? Otherwise, you're just kinda huddled round, drinking in the dark…and where's the fun in that?
Don't have pint glasses? Firstly, we commend you for having not stolen them from your local. But not having pint glasses at home shouldn't stop you from hosting your own beer garden; simply serve your drinks in jam jars instead, like a trendy East London hangout would.
And finally, the most important part of all; the beer. There are several excellent beer keg dispensers currently on the market, helping you create that pulled pint feeling from home. At the budget end of the spectrum, the Pinter At Home costs just £75, whilst the Fizzics DraftPour clocks in at £149. Or, if you're looking to spend a little more, then the Philips Perfect Draft is a smart investment, costing £399 and being compatible with over 40 different beers.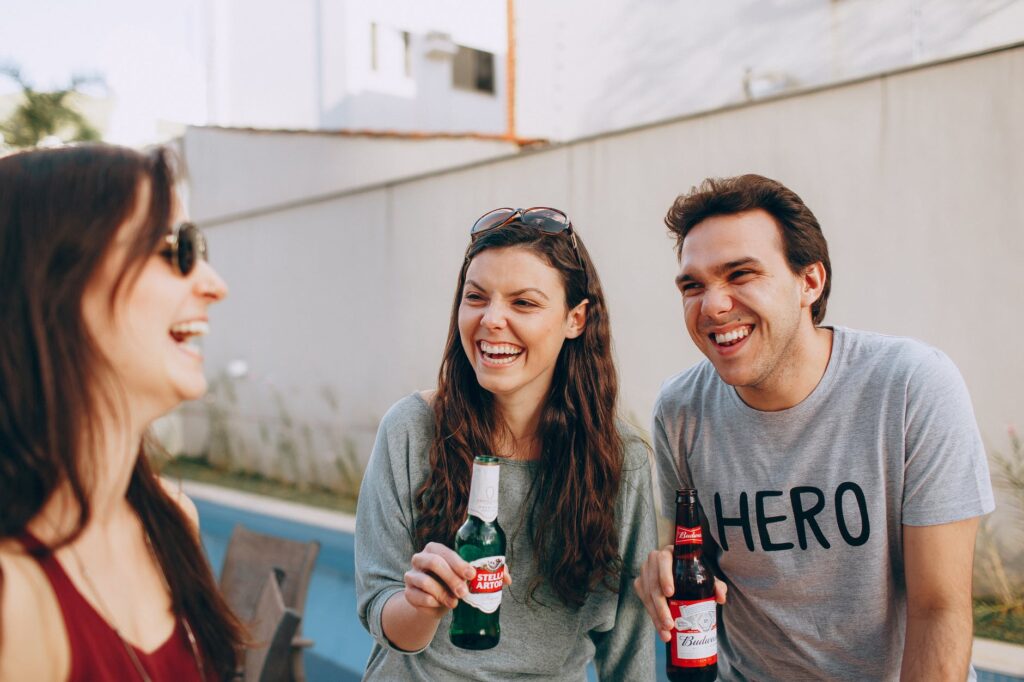 FIREPIT, STARGAZING & MARSHMALLOWS
There's just something about gathering around a fire, staring into it enigmatically and contemplating life's bigger questions. To entice friends over to do the same, and share in some existential soul searching, why not invest (or build your own) firepit?
Ideal for backyard entertaining, a firepit can take the look of your outdoor space up a notch and will instantly transform your space into an all-year-rounder. Because, let's face it, the final days of March aren't exactly warm, are they?
When it comes to food, there's plenty of things you and your guests can cook on a stick. Think frankfurters, kebabs, shrimp, corn on the cob and even fresh bread, for starters. For pudding, roasted pineapples are gorgeous, and don't forget the marshmallows!
And once the fun around the fire is done, why not indulge in a spot of stargazing to finish the night in style? Consider setting up a telescope next to your fire pit – you never know, you may just find the answer to those existential questions you've been pondering.
TAP INTO TAPAS
We're looking south to our Spanish amigos for inspiration here. Tapas is one of the most convivial food experiences in the world and is ideal for the outdoor setting. It's all about the shared experience here, and what livelier, more interactive and exciting eating experience is there than tapas? The most iconic tapas dishes can, more often than not, be made in advance; ideal for hosts who want to enjoy their party rather than spend all evening at the stoves.
Pair your tapas with some Spanish Cava and bring out the Sangria later on, if you're keen to keep the party going. When creating a soiree around these shareable small plates (separate plates for each household or guest, of course) why not go the extra mile and invest in a couple of oak barrels and bar stools, which really create the right ambience. Don't forget the music – we think a playlist of Spanish guitar is ideal!
THROW A PINTXOS PARTY
If creating lots of tapas dishes seems like a lot of work, then look to another cornerstone of Spanish culture from the Basque country for inspiration.
Coming from the Spanish verb 'pinchar' which means 'to pierce', pintxos come with a cocktail stick skewering delicious toppings like Spanish tortilla, stuffed olives, or yellow fin tuna and anchovy, with a slice of bread beneath. Cava is obligatory, here, and helps things along beautifully.
These bite-size punches of flavour can be created beforehand, which means less time in the kitchen and more time with your guests in the garden. Please note that a ham and pineapple hedgehog is not pintxo; just sayin'.
OUTDOOR CINEMA
If you're craving inspiration for your next gathering, then an outdoor cinema could be just the ticket. Rest assured; it's actually surprisingly easy to create your very own cinematic experience outdoors.
First, you'll need a projector. There are tons of affordable ones out there; the APEMAN Portable Mini Projector 4500 at £79.99 on Amazon is often touted as one of the best budget projectors you can buy on a budget, and will give you a decent picture outdoors. For a screen, a white bed sheet pegged on the washing line with some will suffice; that DIY aesthetic is very on trend, don't you think?
And when it comes to snacks, while bags of popcorn are, of course, fine, we all know that popcorn tastes best when it's just been freshly popped. Enter the domestic Popcorn Machine; yours for just £15.
THE BOTTOM LINE
If the latest news is to be believed, you have a month to prepare for a party which takes the best elements of public socialising that we've all missed, and brings them into the domestic space. All it takes is a little time and creativity, and, of course, compliance with the latest rules, and you can enjoy a wonderful time with family and friends once again!
If you're playing the long game, then check out our article on how to host the ultimate summer soiree.