Preparing for a skiing holiday to Alpe d'Huez requires careful planning as this French Alps location is not your average ski destination. Indeed, Alpe d'Huez boasts impressive ski slopes, optimal sunshine, and consistent snowfall, making it a prime skiing location that's popular with those shaky on their skis and those confident tearing down a black run alike. 
Regardless of your skiing proficiency, this guide will provide imperative insights into the mountain's terrain, local cuisine, and après-ski activities. This comprehensive review of Alpe d'Huez is designed to ensure that your ski trip is both enjoyable and memorable.
Understand The Ski Season
Alpe d'Huez's ski season typically starts in early December and runs until late April. The resort boasts 300 days of sunshine a year and is known as the 'Island in the Sun', offering skiers excellent weather conditions across the season.
Typically, mornings are considered the best time for skiing. Snow conditions tend to be optimal from about 9:00 AM until noon.
During this time, the snow has had a chance to recover from the previous day's skiing and the overnight temperatures usually help to keep it in a good, skiable condition. As the day progresses and the sun's rays get stronger, the snow can become slushy, particularly in the spring season.
It's always recommended to check the daily weather and snow reports for the most accurate conditions on the mountain. Check out the live snow forecast from ski info from Piste Pro to ensure you're hitting the slopes at the ideal time.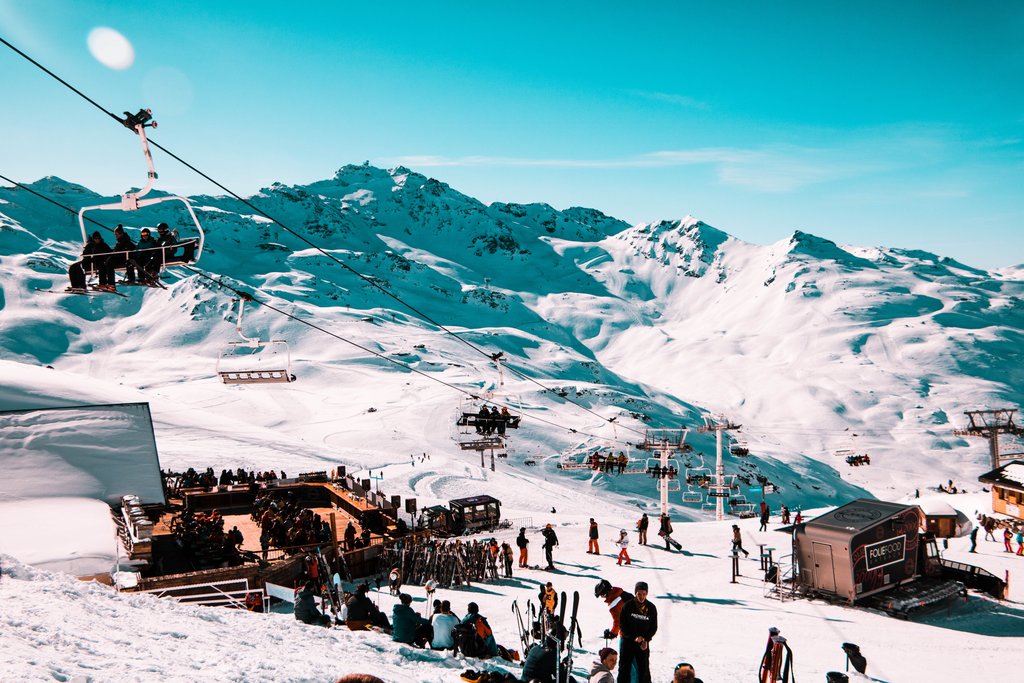 Best Time To Visit
Alpe d'Huez has a reputation for having good snow conditions from early December to late April, thanks to its high-altitude slopes and sophisticated snow-making capabilities. However, the best time to visit for skiing typically depends on what you're looking for in a ski holiday.
If you're eager to experience ample snowfall, the period from late January to March usually offers the most reliable snow conditions. For those who prefer milder weather and longer daylight hours for skiing, visiting from mid-March to April is ideal. The resort is also less crowded during these periods.
For those who love the bustling holiday season, Christmas and New Year periods are festive and popular, though it can get quite crowded. Similarly, the February half-term holiday sees an influx of families, so it's an exciting time to visit if you don't mind the crowds.
That said, if you're seeking skiing right now, then do yourself a favour and check out this guide on the European ski resorts that are open for summer skiing.
Acclimatise
Alpe d'Huez, situated at an altitude of 1860m, requires a period of acclimatisation. Take it easy for the first few days to adjust to the altitude. Staying well-hydrated is crucial as the air is much drier at higher altitudes which can lead to dehydration. Drinking plenty of water and minimising intake of diuretics like alcohol and coffee (yep, we know the pre and apres ski somewhat demands it!) can help prevent this.
Skiing Lessons
Hiring a ski instructor is recommended, especially for beginners. Alpe d'Huez features several high-quality ski schools, such as ESF Alpe d'Huez and Ski Cool, which offer group and private lessons. For adults, 6 half day lessons will set you back around €200.
Best Runs For Beginners
Alpe d'Huez is a beginner-friendly resort, that's for certain. The area around the village of Villard Reculas is perfect for beginners with a number of easy green runs. Both Eclose and Bergers also offer clusters of green runs ideal for those starting their skiing journey. Here are a few popular beginner's runs in Alpe d'Huez:
Les Jeux: This is a convenient green run located just above the resort. It's an excellent choice for beginners or families skiing together to start with as it's quite wide and gentle.
Signal: This run offers stunning views and is wider than the average green run, making it easier for new skiers to navigate.
Grand Tronçon: Technically a blue run, it's a long and sweeping run so beginners looking to challenge themselves a bit should consider this one.
Eclose: This aforementioned green run is perfect for beginners and located near the resort. It's a quiet, peaceful area which makes for a relaxed skiing experience.
Rif Nel: A blue run, it's another good challenge for beginners ready to increase their skill level. It's a long and spacious run located on the other side of the mountain, offering a different view from the resort's main area.
Intermediate Skiers
For intermediate skiers, Alpe d'Huez offers an impressive range of terrain and long, sweeping blue and red runs. Here are a few that are often recommended:
DMC: This is a long blue run, which is accessed by the DMC gondola. The run itself provides stunning views and a good level of challenge for intermediate skiers.
Tunnel: This run is a famous black that morphs into a red as you get further down the mountain, providing an exciting challenge for intermediates.
La Sarenne: Known as the longest black run in Europe, it's more a test of endurance than steepness. After the initial steep section, it eases off and becomes akin to a blue run for the second half of the descent.
Villard Reculas: This is a beautiful red run leading down to the village of Villard Reculas, offering stunning panoramic views.
Chamois: This blue run begins at the top of the Pic Blanc and ends at the bottom of Les Rousses. It's a great opportunity for intermediates to practise their skills on a longer descent.
L'Alpette: This is a blue run in the Vaujany sector of the resort that is often less crowded, providing a good intermediate challenge with terrific views.
Expert Skiers
Alpe d'Huez is also noted for its challenging terrain that expert skiers can enjoy. Here are some runs that are frequently recommended:
La Sarenne: Although not the steepest black run, it is the longest in the world and will test your endurance. The top part of the run can be quite challenging and steep, a real thrill for expert skiers.
Tunnel: This is an iconic black run that starts with a steep, mogul-filled slope. After that, it becomes less steep but still offers a good challenge for expert skiers.
Le Pic Blanc: This black run is one of the steepest in the resort, providing a thrill for advanced skiers. It's exposed and often icy, so proper equipment and preparation are essential.
La Fare: While technically a red run, it's considered appropriate for advanced skiers due to the variety of terrain and the length of the run. The terrain varies from wide open spaces to narrow and steep sections.
The Couloirs: For those seeking an off-piste experience, the couloirs located under Pic Blanc provide varying degrees of challenge and are best tackled with a guide.
La Combe Charbonniere: This off-piste route starts from Pic Blanc and leads down to Oz en Oisans. It's a steep and challenging route that should only be attempted by experienced skiers.
Equipment Rental
While Alpe d'Huez has plenty of high-quality ski rental shops, it's recommended to reserve your equipment in advance, particularly during peak periods. Popular rental shops include Ski Set and Alpe Sports Loisirs.
Apres Ski
You've come this far and you've earnt it, so don't miss the vibrant après ski scene in Alpe d'Huez. Check out popular spots like Smithy's Tavern and Igloo for live music, great drinks, and a boisterous atmosphere, the former of which features on our round-up of our favourite apres-ski bars in France. Cheers!
The Bottom Line
Remember, skiing holidays are not just about racing down the slopes but also enjoying the beautiful snow-laden landscapes, indulging in good food, and relaxing in the comfort of your chalet. Alpe d'Huez offers all of this and more, making it one of the top ski destinations in the world. Whether you're a beginner, an accomplished pro, or somewhere in between, Alpe d'Huez promises an unforgettable skiing experience.