We've all heard the Ralph Waldo Emerson line about it not being about the destination but the journey, whatever 'it' may mean. Sure, we may have even trotted out the quote, in an attempt to convince a friend to join you on a road trip, or your wife to head to the fridge to grab you a beer. 
But when we're talking about walking holidays, where the very purpose is to roam and ramble, the beautiful backdrops setting the perfect scene for conversation and contemplation, then that old saying might be more than just a tedious motivational poster.
Indeed, there is arguably no better way to explore the picturesque sceneries, charming hamlets, and unique cultures of Europe than embarking on a walking holiday. Rambling across the continent's historic trails not only gives you a chance to commune with nature, but it also offers an opportunity to immerse yourself in the cultural backdrop of these ancient lands. Today, we're lacing up our walking boots and hitting the trails; here are 9 of Europe's best walking holidays.
The Amalfi Coast, Italy
The iconic Amalfi Coast needs little in the way of an introduction, but introduce it we shall; a UNESCO World Heritage site, the coastline offers walkers stunning Mediterranean vistas, vibrant coastal villages, terraced vineyards and ancient ruins. The precipitous coastal footpaths might be a challenge, but the spellbinding panoramas over the Tyrrhenian Sea are eminently rewarding.
Perhaps the most iconic of these is along the enticingly named Path of the Gods. Carved into the cliffs and clocking in at roughly 7km, this is a great way to take in some views of the picturesque scenes below, as well as the limestone mountains above and micro-vineyards sculpted into the hillside. Most walkers start in Bomerano, a small village with a few amenities and shops.
Read: 7 IDEAL pit stops along the Amalfi Coast, Italy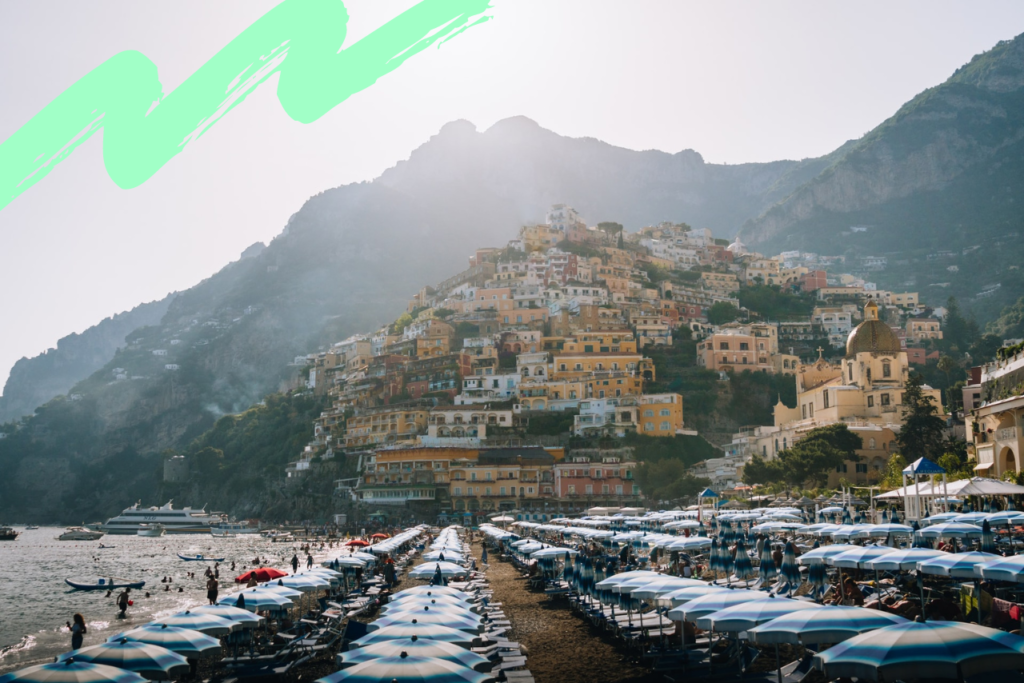 The Camino de Santiago, Spain
No list of Europe's best walking holidays would be complete without the Camino de Santiago, also known as The Way of Saint James. This spiritual journey traverses through several routes, all with the goal of ending at the Cathedral of Santiago de Compostela, in Spain's Galicia region.
Some of the most popular routes include:
Camino Frances (French Way): This is the most popular route of the Camino de Santiago. It stretches about 780 kilometres and usually starts in the French town of Saint-Jean-Pied-de-Port, crosses the Pyrenees and most of Northern Spain, and ends in Santiago de Compostela.
Camino Portugues (Portuguese Way): The second most popular route starts in Lisbon or Porto in Portugal and goes up to Santiago, covering a distance of about 610 kilometres from Lisbon or 227 kilometres from Porto.
Camino del Norte (Northern Way): This route runs along the northern coast of Spain, starting at the Basque city of Irun and ending in Santiago. It is around 825 kilometres long.
Camino Primitivo (Original Way): Believed to be the first pilgrimage route to Santiago, it starts from the city of Oviedo in Asturias and is approximately 320 kilometres long.
Via de la Plata (Silver Way): Starting in the southern Spanish city of Seville, this is one of the longest routes to Santiago de Compostela, with a typical length of about 1000 kilometres.
Camino Ingles (English Way): This route begins in the northern seaports of Ferrol or A Coruna, the path of English and Irish pilgrims who arrived by boat in the Middle Ages, covering 119 kilometres and 75 kilometres respectively.
Camino Finisterre-Muxia (Way to the End of the World): Although it's not a traditional route to Santiago, but rather an extension from Santiago, this route has gained popularity. It continues to the 'End of the Earth' at Cape Finisterre, and then on to Muxia.
If you're concerned about the expense of finding places to stay along this most famous of walking holidays (the Camino Frances, for instance, takes over a month to complete), then fear not; many of the places to stay are humble, sure, but owing to their history in accommodating pilgrims, only cost a couple of Euros to bed down in.
Known as 'albergues', they are essentially hostels for pilgrims and are either privately owned or run by the local municipality or religious institutions. Albergues offer dormitory-style sleeping arrangements, shared bathrooms, and sometimes a communal kitchen. They operate on a first-come, first-serve basis and pilgrims must present their 'Camino Passport' to stay.
Alternatively, there are plenty of 'pensiones' and 'hostals' on route. These are similar to small hotels and provide private rooms. They are a step up from albergues in terms of privacy and amenities, and often include breakfast. You'll pay a modest €20 or so for the privilege.
The Pennine Way, UK
Regarded as one of Britain's most iconic long-distance trails, The Pennine Way stretches from Edale in the Peak District to the Scottish borders. This 268-mile trek incorporates a blend of moorland serenity, steep mountainous terrain and expansive vistas that are quintessentially English.
Though The Pennine Way can take around three weeks to complete, many choose to shorten the walk and just tackle a section of it. Here's a wonderful walk that focuses only on the beautiful Yorkshire Dales section of the walk, and takes a leisurely few days to complete:
Day 1: Starting point – Hawes
Start at the charming town of Hawes. Take a walk around the town, enjoy the local cheese from the Wensleydale Creamery, and prepare for your walk.
Day 2: Hawes to Horton-in-Ribblesdale, 14 miles
Walk through the Yorkshire Dales National Park, crossing the River Ribble via a historic bridge at Ribblehead, with the impressive Ribblehead Viaduct as a backdrop.
Day 3: Horton-in-Ribblesdale to Malham, 15 miles
Enjoy the views as you walk along the Pennine Way towards Malham. You'll pass the beautiful Malham Tarn on your way, a unique lake in the middle of moorland.
Day 4: Malham to Gargrave, 6.5 miles
Pass by the natural wonder that is Malham Cove, a curved limestone cliff, and wander through the pastures until you reach Gargrave, where you can finish your condensed Pennine Way adventure.
The Tour du Mont Blanc, France, Italy & Switzerland
The Tour du Mont Blanc is one of the most spectacular multi-country trips in Europe. This 170-kilometre route circumnavigates the Mont Blanc massif, traversing through varying landscapes including towering snow-tipped peaks, verdant valleys and delightful Alpine villages.
When embarking on the Tour du Mont Blanc, spanning France, Italy, and Switzerland, it's often best to start from the French town of Les Houches, just outside of Chamonix. The full circuit typically takes 10-11 days to complete, with daily walking times ranging from 4 to 9 hours.
In terms of pacing, tackling the route in a counter-clockwise direction affords more gradual ascents and provides stunning views each day. It's also important to remember to stay hydrated and take regular breaks, especially when traversing strenuous mountain passes. It's highly recommended to secure refuge or hut accommodations in advance due to their limited capacity. Carrying a map and a compass is essential, as they can aid navigation when trails may be less visible.
Lastly, one should always prepare for varying weather conditions. Sudden storms can appear, even in mid-summer. Despite the physical challenge, the experience of soaking in the breathtaking vistas, spotting wildlife, and crossing the borders of three countries on foot is incredibly rewarding.
The Alta Via 1, Italy
We've all heard of La Dolce Vita, but what about The Alta Via?
That's a terrible segue, we accept, but The Alta Via 1 is so much better than that. In fact, this hike in the Italian Dolomites is a rambling tour de force. Starting from Lake Braies to Belluno, the route runs through the striking terrain of the Dolomites, showcasing the mountain range's dramatic cliffs, wildflower meadows, and World War I historical sites.
Rota Vicentina, Portugal
The Rota Vicentina is a beautiful network of walking trails spanning over 400km along the most unspoilt coastline of Portugal. This captivating long-distance trail combines the Historical Way and the Fishermen's Trail, and passes through peaceful rural areas, dramatic coastal cliffs, and tiny fishing villages, offering an incredibly diverse and immersive walking experience.
If the two weeks that Rota Vicentina takes to complete feels a little challenging, then consider breaking up the walk into two disparate parts; the Historical Way climbs through hills, offering rural and forested sections, while the Fishermen's Trail clings to the cliffs by the coast. The latter is more challenging, with sandy trails and no escape from the sun or wind, but it offers stunning sea views.
Either way, do be aware that although the route can be walked year-round, spring (April-June) and autumn (September-October) are ideal seasons to do so, offering the best weather, blooming flora, and fewer crowds. The blazing summer can be too hot for comfort.
Kungsleden, Sweden
Kungsleden or 'The King's Trail' is a dream for lovers of wide-open spaces and tranquil wilderness. This 435-kilometre trail from Abisko to Hemavan in northern Sweden majestically winds through some of Europe's most remote – and stunning – landscapes.
The ideal time to trek the Kungsleden trail in Sweden is between late June and early September, when weather conditions are milder, days are longer, and facilities are open. However, this period can be crowded, particularly August. For winter activities like skiing, the best months are between February and April when the Northern Lights can often be viewed. Preparation for varying weather is essential for either season.
West Highland Way, Scotland
Stretching 96 miles from Milngavie to Fort William, the West Highland Way is Scotland's premier long distance route. It offers an unparalleled walking experience, encompassing Loch Lomond, Rannoch Moor, Glencoe, and the foot of Ben Nevis.
If you prefer to tackle such glorious stretches of scenery on two wheels rather than two feet, then the West Highland Way is also considered one of Scotland's best cycling holidays.
Samaria Gorge, Greece
A finish on something altogether more manageable; Crete's Samaria Gorge, which is a haven for nature lovers. The 16-kilometre trail from the Omalos Plateau to Agia Roumeli on the Libyan Sea takes you through cypress and pine forests, abandoned villages and alongside the roaring river that cuts through this enormous gorge.
That said and despite its relative brevity, this trek certainly isn't easy, with rugged terrain and a long, arduous trail that can prove to be challenging even for seasoned trekkers. You'll be pleased to hear, then, that the walk ends at the delightful coastal village of Agia Roumeli, where you can take a refreshing dip in the Libyan Sea
The Bottom Line
Each of these trails offers a unique perspective on the European experience – breath-taking views, fascinating history, diverse flora and fauna, and opportunities to connect with local communities. And remember, the best walking holidays are, of course, not solely about the destination but also the journey. Take that with you.