Earlier this year, it was reported that Portugal was British traveller's sixth most popular tourist destination, with the pleasant year-round weather, delicious cuisine, and favourable visa conditions post-Brexit all playing a part in the country's continued popularity.
For families, in particular, Portugal represents an eminently comfortable, accessible, affordable and entertaining place to holiday, with English spoken fluently in the major tourist areas, public transport smoothly run, accommodation options varied and prices predictably reasonable. Lovely stuff.
But in such a tourism heavy-hitter, it can be hard to narrow down your itinerary, with the Portuguese paradox of choice a very real threat to an elegantly, effortlessly planned holiday. We're here to help with that; here are 5 of the best destinations in Portugal for young families with children.
IDEAL For The Foodie Family: Lisbon
Whether your gang are gastronomic globetrotters or are a little more timid in the way they approach their supper, Lisbon has something to satisfy stomachs of all shapes, sizes, appetites and ages.
For those who savour the slurping of a prawn's head juice, are conversant in the anatomy of an octopus, and are daring enough to extract the flesh from a goose barnacle in one decisive motion, then the famous Cevejaria Ramiro will keep the little ones entertained for as long as the restaurant permits you to sit at their communal tables.
If the smaller members of the family are a little more picky, then the Time Out Market has a wide array of lunch, dinner and snack options, both local and global, and enough theatre to delight the kids whilst they wait for their food.
And, of course, for those with a sweet tooth, Portugal boasts one of the world's most beloved desserts, pastel de nata (or Portuguese custard tart). In fact, pastel de nata was first conceived at the Jerónimos Monastery in Santa Maria de Belem, in the 18th century, with Belem just a 20 minute tram ride from central Lisbon. It's a beautiful place to spend a day with the family. Of course, a visit to the legendary Pastéis de Belém is compulsory.
Read: What To Eat In Lisbon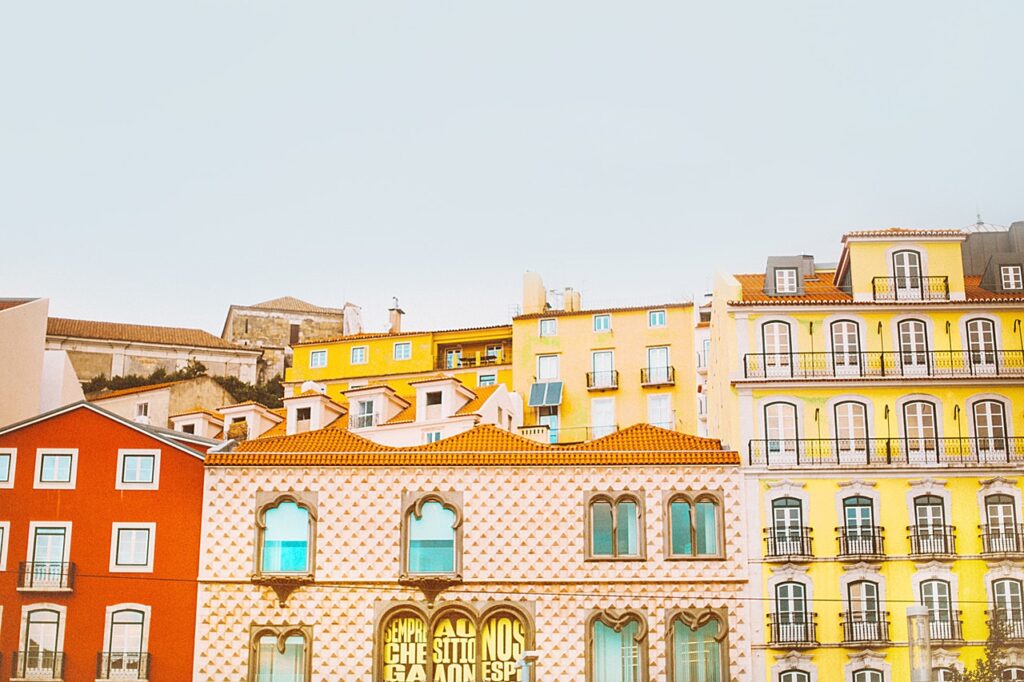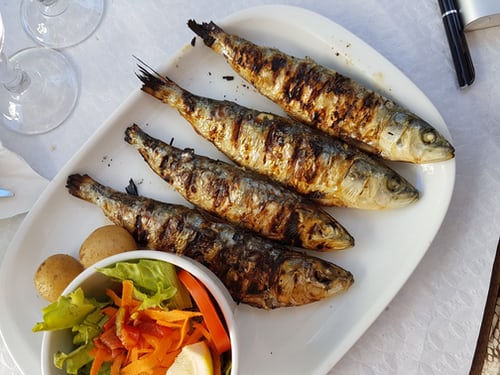 IDEAL For A Laid Back Beach Holiday: Praia Do Sul & Ericeira
Should you be keen to combine your trip to Lisbon with something a little more laid back (and with a beach, of course), then just an hour's drive from the Portuguese capital, you'll find the beach towns of Praia do Sul and Ericeira.
Sitting just a few minutes apart, the latter is a former quaint fishing village and seaside community, and is still very much untroubled by major tourism. It holds a quintessentially Portuguese, peaceful allure, and is excellent value for money if you're concerned about the cost of your family holiday mounting up.
Ericeira's closest beach, Praia do Sul, is a little more developed, with pristine coastline, gentle waves (there's even a small bathing pool made from rocks that's perfect for kids to paddle safely), and several resorts as well as properties to rent. Villas in Portugal tend to be affordable to rent, and with accommodation here much cheaper than Lisbon, you might want to base yourself in Ericeira and take day-trips to the capital when the mood takes you.
Once you've had your fill of beach time, there's also an intriguing museum here – Largo da Misericórdia – that contains the bones of a huge whale who washed up on Ericeira's shores.
IDEAL For Surfing: Sagres
Portugal's surfing scene should need little in the way of an introduction, and if the family are keen surfers (or if you fancy a thrilling spectacle from the shore), then Sagres, on the most southwesterly tip of Europe, Portugal and the Algarve region, is your best bet.
This historic town is the perfect, peaceful place for the family to base themselves when not on a board with the city's beloved cafe A Fonte serving up delicious pastries made fresh each morning. Sagre's old port is particularly striking, and the most powerful lighthouse in Europe is found here.
Owing to its position as Europe's most southwesterly point, looking out over the Atlantic, Sagres – and more specifically, its lighthouse – is often referred to as 'the end of the world'; and if that doesn't get the little ones' imaginations running wild, we don't know what will!
Anyway, back to the surfing. The coastline and waves of Sagres are a highly popular destination for surfers. Praia do Tonel, Praia da Mareta, Praia da Baleeira and Praia do Martinhal are wonderful beaches within walking distance of central Sagres with glorious sand, waves and several surf schools and even surf summer camps for the kids to learn the ropes (or should that be 'leashes'?). The Wavy Surf Camp, The Freeride Surf Center and the International Surf School are the three most highly regarded.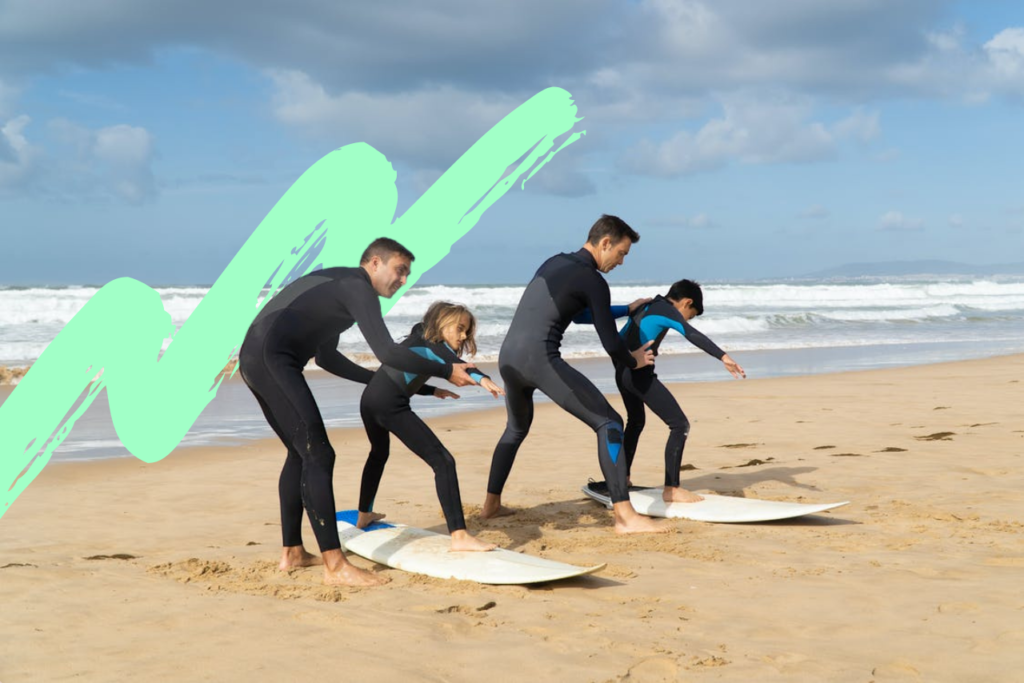 IDEAL For Inquisitive Young Explorers: Sintra
Perhaps your children get a little restless on the beach? If they prefer a more active holiday, then they're bound to enjoy Sintra, just 30km northwest of Lisbon.
Granted UNESCO World Heritage Site status, Sintra looks like it's come straight from a fairytale, with palaces, castles, towers and turrets all seemingly growing out of the side of a verdant, rolling mountain range.
Ideal for kids to run around and release some energy, Sintra is packed with incredible parks, with the Parque de Pena and Parque de Monserrate two of the most visited. The Castelo dos Mouros is sure to wow the little ones, too; these castle ruins sit at an altitude of almost 500 metres above sea level, and seemingly float above the surrounding forest.
But best of all, we'd argue, is the nearby Quinta da Regaleira, around 5km from Sintra. This mystical, magical villa and surrounding gardens is one of whimsy and adventure, with hidden tunnel, passageways, a spiral staircase and a waterfall all to discover here. What fun!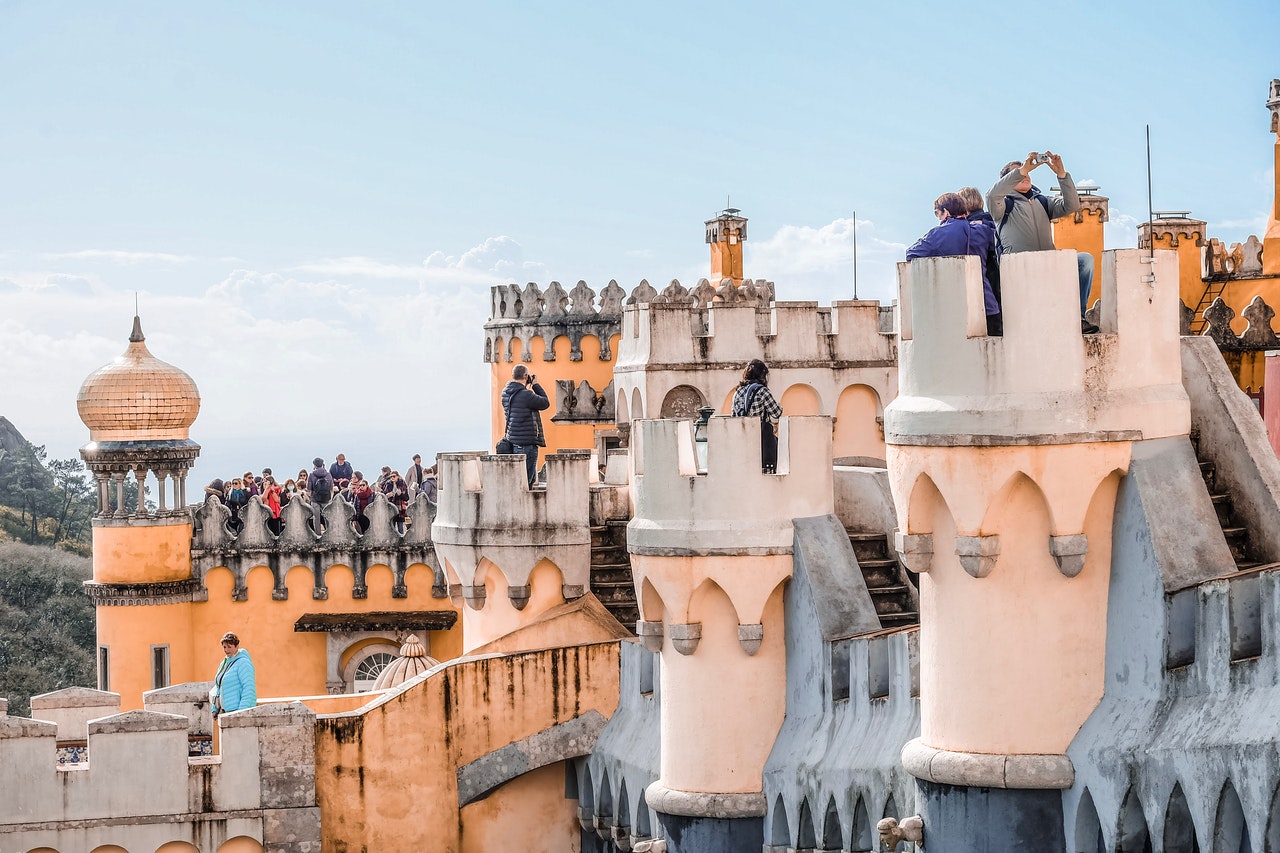 IDEAL For Parks, Gardens, Zoos & Aquariums: Porto
We're ending our family holiday to Portugal in the country's second city, Porto. With a tightly-knit, eminently walkable city centre, a gorgeous river, and plenty of parks and pastel de nata pit stops, the kids will just love spending time in the city the Portuguese call Invicta.
Porto boasts two zoos; the first, Zoo de Santo Inácio, is the biggest in Northern Portugal, with over 600 animals (including lions, cheetahs, giraffes and hippos), a vast expanse of green space and a commendable focus on conservation and education. On the outskirts of the city, you'll also find Zoo da Maia, which is home to a famous, rare white tiger, amongst other exciting residents.
If your kids prefer to admire animals of the aquatic disposition, then the SEA LIFE Porto is a modern, cutting edge aquarium with over 3000 creatures, all viewable through the vantage point of an underwater tunnel.
Let's put it this way; the kids aren't going to get bored in Porto!