Forget the sun, sea and sand. Abandon any hope of getting a tan. Pack your penknife, your walking boots, tent and torch… This summer is going to be defined not by reclining on the beach, but by hiking through the British countryside.
For some Brits, nothing beats getting properly acquainted with the great outdoors, inhaling the slurried scent of the countryside and feeling the fresh dirt slipping gently through the gaps between your fingers as you dig your knees into the earth (just us, then?). 
That said, though the UK might not feel like the most perilous place for an outward bounds adventure, it's not without its dangers. And most of those dangers rear their ugly head when hikers arrive unprepared or ill-informed. We're here to help with that; here are 5 essential safety tips for hiking holidays in the UK.
These Boots Were Made For Hiking
Are you heading off into the hills in a T-shirt, a pair of your trusty trainers, and some shorts that wouldn't look out of place on the video for Club Tropicana? 
Think again. This is a recipe for disaster. Or, at least, slipping over and ruining the remainder of your hike. Though you'll probably get away with those fetching pink shorts, you certainly need to invest in the correct footwear, namely walking boots, to protect your feet and ankles from any potential injuries.
Assuming you've a thick, comfortable pair of socks on, hiking boots should fit snugly, entirely, to ensure no rubbing or slipping, without feeling tight or restrictive. Don't take any chances with size, as blisters and swelling could ruin your trip. The different styles of tread, material and lace are dizzying in their variety, so it's best to defer to the experts on this one.
The same goes for clothing. Waterproofs are an absolute must, as is layering up to keep warm. There's nothing like being soaked through to dampen the spirits and willpower to walk on. For this reason, make sure you store your clothes in waterproof bags too.
Never, Ever Underestimate The Weather
Sounding like a jaunty little tune about Great Britain's inclement conditions, we should reiterate once again that you can never, ever trust the weather on these shores. Walking up the side of a mountain (or even, a particularly bothersome hill) is strenuous enough, but it can be a whole different story when you factor in the unpredictable nature of the British weather. The conditions can change rapidly and without warning, so you need to be prepared for all eventualities.
Make sure you have a map and a compass to hand at all times, and a fully charged phone in case of an emergency. It's also worth letting someone know your planned route before you set off. This might seem overkill to some of you, but trust us; it's the appropriate course of action.
Read: 5 essential items you'll need for wet weather hiking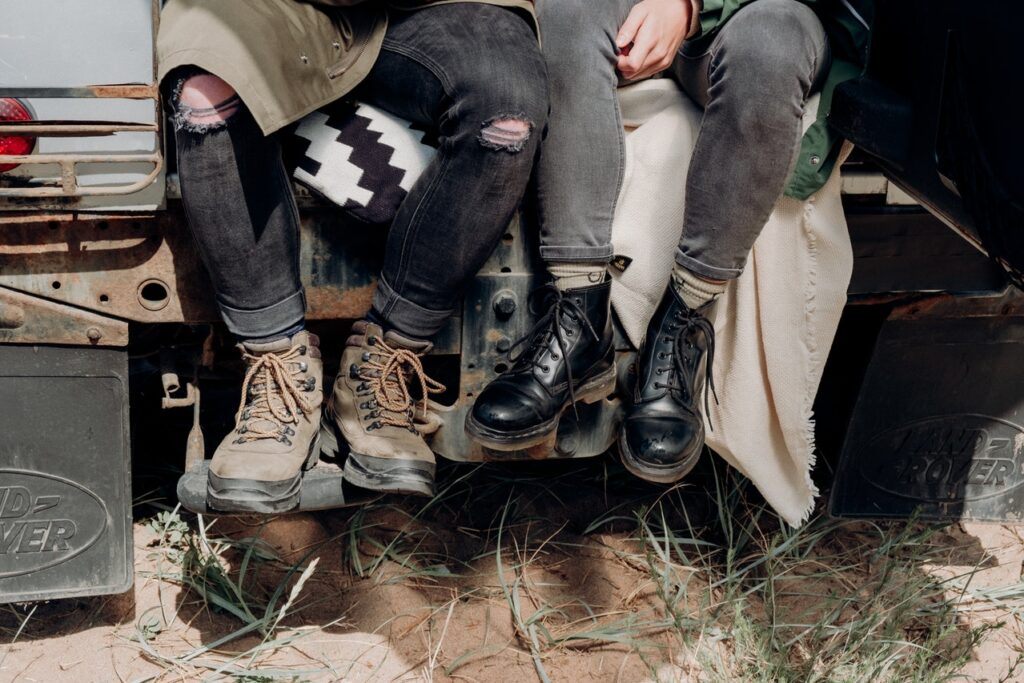 Don't Forget To Eat And Drink
That British weather we just can't stop mentioning (spoken like a true Brit) can deceive the senses, making you believe your face is protected from the sun and your hydration levels adequate when suddenly; you realise you're sunburnt, parched and just about to pass out.
If you're not staying sufficiently refreshed on your hike, the chances are you'll soon run out of energy, become dehydrated and suffer massively. You can store a water bottle in your backpack for as and when you need it, or some backpacks come with specially designed sections for water carriers.
Food matters, too, in terms of maintaining energy levels. Though you're not exactly going to bring a three-course meal along for the ride (hike, this is a hike), there are certain snacks and small bites specifically designed to keep hikers fuelled.
According to Eat Right at The Academy of Nutrition and Dietetics, ''non-perishable foods that are relatively lightweight and nutrient dense'' are best. These include:
Dried or freeze-dried fruit
Nuts and seeds
Shelf-stable beef jerky
And, of course, trail mix
Granola or cereal bars
Energy bars
Fresh fruit with peel
Yum yum.
It Pays To Train
Proper preparation isn't only about the items you bring or the routes you map out. It's also important, for both your safety and your enjoyment of the trip, to physically prepare for your hiking holiday.
Ensuring you're in good shape before your hiking trip is a must, as there are guaranteed to be moments of tough, unpredictable terrain which will require you to be fighting fit in order to tackle them. Building your stamina before your trip can make a huge difference and stop you falling short of what's required of you once you're on the trails. Cardiovascular fitness, leg (particularly calf) strength and a sturdy core are the areas you should pay particular attention to.
Take Your Time
One of the great things about hiking is that there's no need to rush. This is your time to relax and take in the stunning scenery around you. We're somewhat blessed in the UK, and while the weather is something that can never be counted on, the splendour of the countryside is. From country classics such as the Lake District to hidden gems like the Wirral and, specifically, Hilbre Island, the options are endless.
And in the spirit of taking your time, why not stay with us a while longer and check out our tips on the UK's best walking destinations to get inspired!