If you love to spend time in your garden, then you'll know that there is nothing worse than looking at all your hard work finally coming together only to turn around and see that your garden patio is looking forlorn and forgotten.
Let's face it; this is an area that can be easily left behind. Your garden takes up so much time and most prefer to work on the area that gives you the most dramatic aesthetic change – think bright flower arrangements, neatly-coiffed hedges and elaborate garden seating, to name but a few.
But if the rest of your garden is looking on point, it can be brought down by a shabby patio. Here are a few ideas on how to change that and make your patio look brand new.
Cleaning It
Your patio picks up so much dirt, wear and tear throughout the year. Seeing as it's subject to all of the elements and is likely the most used area of the garden as people stand and sit on it, your patio can quickly become the dirtiest and least attractive part of your garden. 
As such, you need to clean it regularly. The best way to clean patio slabs is with a pressure washer combined with a cleaner. The force of the wash should shove that dirt straight off and bring back that sparkling patio you bought all of those years ago.
At which point, you can start to show your patio some love…
Decking Flooring
For those looking for a wholesale change to the aesthetic of their patio, laying decking in its place is a viable optional. Doing so isn't as complicated as it may originally seem; there are various ways to build a low level deck over a concrete slab patio. Click here for a few suggestions on doing just that.
One of the key advantages of decking over concrete slab patios is that the former is much easier to keep clean than the latter. This will not only decorate your garden and make it look tidier but also it can warm up your outdoor space depending on the type of flooring that you are going to use. Wood is much warmer to the touch and the eyes than cold concrete, after all.
Add Curving To Your Patio
In their standard form, patio slabs tend to come as a square. This is common and many people leave their patios like this. However, a square or rectangle isn't your only option when it comes to the shade of your patio. You can also add borders and curves to your patio using pavers.
You, for example, could add a half-circle to create a fire pit or pond area or even use a paver to border a garden area at the side of your patio. It makes your garden space that little bit more unique and decorative, and opens up the space to the potential of zoning.
Read: Interesting zoning ideas for your garden
While you might think of a fire pit as being an expensive addition to your space, it's an investment if you're going to be spending a lot of time in the garden this year. What's more, they're not actually all that expensive, with mini pits selling for as little as £25. Aside from the functional provision of heat, they're also a great party focal point and conversation starter. Alternatively, you could simply dig a hole in the ground, line it with bricks or patio slabs, and voila!
Or, should you be a dab hand in the kitchen, why not install a pizza oven in your back garden, potentially deploying some of the same brick or slab used to make your patio. Doing so brings together the sociable elements of food and fire succinctly, whilst complementing your patio visually, too. Check out our tips on how to build your own pizza oven in your garden for more on that.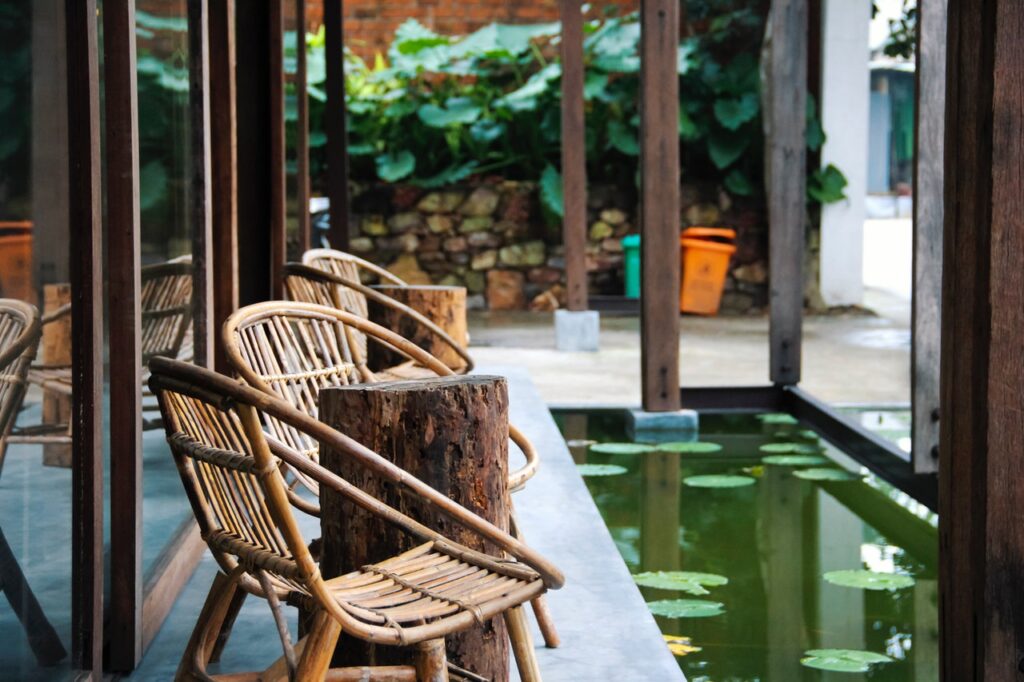 Visual Intrigue Surrounding Your Patio
Another great way to imbue your garden patio area with some character is to accessorise the surrounding area – think wind chimes and ornamental rain catchers, garden gnomes and avant-garde sculpture.
A cursory search through your local garden centre may reveal garden ornaments to suit your taste, with many perfectly suited to being hidden in flower beds or hung from your trees and shrubs that line your patio. You could, of course, add sculptural elements to the patio itself, if you have the space.
Create A Variety Of Seating Groups
It should go without saying that when sociability is concerned, seating should be the focus of every outdoor patio space.
However tempting it is to simply add as many seats as possible to accommodate family and friends, we recommend that you take a more considered approach. Instead, focus on creating a few different seating areas that serve to draw the focus to different areas of the garden, channelling the 'chill out zones' of Ibiza, perhaps.
To achieve this, the first thing you need to do is select a contact point. When it comes to outdoor spaces, the contact point is usually an outdoor dining table, water feature or that wood fired pizza oven we mentioned. That said, if you don't want to occupy that amount of square footage, use an outdoor rug to provide that focal point and balance the space.
Once you have your contact point in place, all you need to do is arrange the furniture around it so that each piece meets the central point. You also want to make sure that no furniture leaves anyone sitting with their back to the rest of the patio, which would run the rink of discouraging sociability.