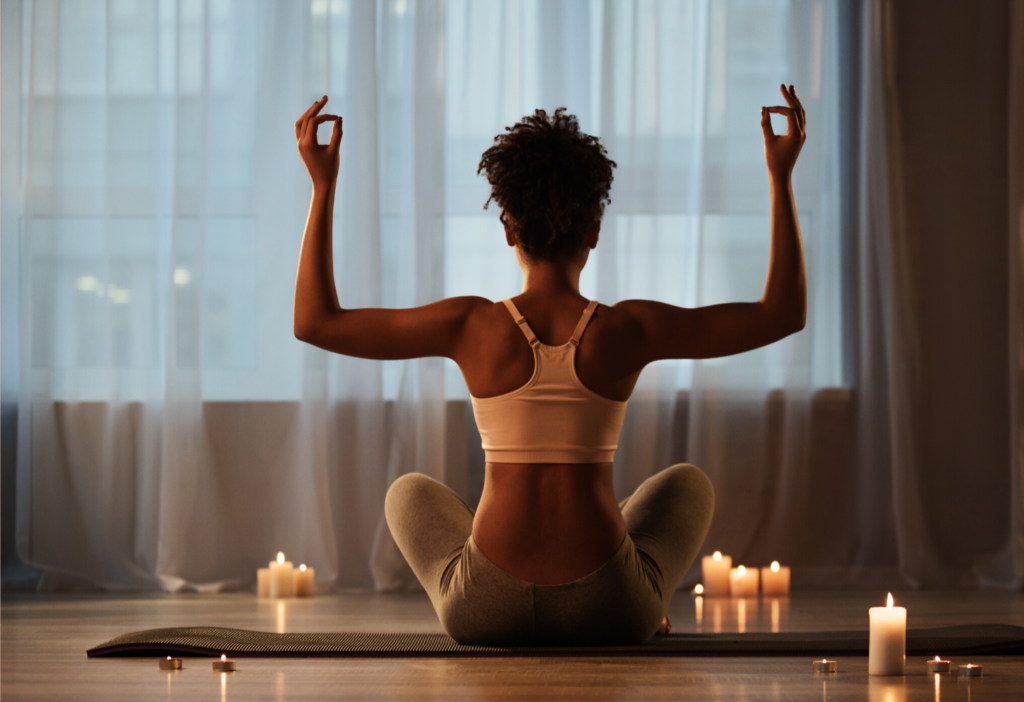 Ideal for those looking for a calmer, cooler, less distracted practice.
As the Coronavirus pandemic has committed many of us indoors, our perception of the four walls of home has shifted. Many have been reporting feeling claustrophobic and trapped in a space which was once soothing.
With COVID-19 related anxiety showing no sign of dissipating, for those who practice meditation, setting up a mindful practice space can be extremely useful in this strange and unpredictable time. 
With the right furnishings, lighting and scents, you can create a tranquil space in your home which you can come back to time and time again to re-centre your mind. We spoke to the experts at Shakti Himalaya, who offered this advice on how to create a home meditation space, IDEAL for those looking for a calmer, cooler, less distracted practice.
SO WHY MEDITATE?
Meditation offers incredible benefits such as increased emotional health, reduced stress, enhanced self-awareness and controlled anxiety. Though those positives are consistently backed up by scientific study, the misconception exists that meditation can be a tricky thing to get into. But with no equipment required or money splashed, this couldn't be further from the truth.
Because no matter where or how busy you are, your breathing will always be an available meditation technique for you. If you feel panicked or overwhelmed but don't have the time for an in-depth meditation with a guide, app and mat, then you can still meditate; try the 7-11 breathing exercise where you simply breathe in for 7 seconds and out for 11. This is a quick technique to help you relax and gain composure in a variety of situations.
FIND A SPACE
Before you can begin transforming your meditation area, you will need to find a space that is right for you (and your home). Whether this be your bedroom, a corner of your living room or a conservatory, make sure this space is away from any distractions that may disrupt your practice. A cluttered space can also clutter your mind, so ensure your chosen spot is clean and unfussed before you begin decorating.
CHOOSE SOOTHING COLOURS
One of the best ways to achieve a cosy, calm ambience in your meditation space is by choosing cool hues. Not only are shades such as lavender, soft grey, pale blue and deep greens known to promote relaxation, but it will also make your space seem more expansive so you don't feel overwhelmed in the room.
Jennifer Jarvis, senior designer at Helen Green Design, supports this; "swap out dark and heavy colours or materials for light and fresh ones to give your keyspaces a refresh when spending so much time at home. The change of season inside your home will help you bring the outdoors in which will benefit your mental health and well-being".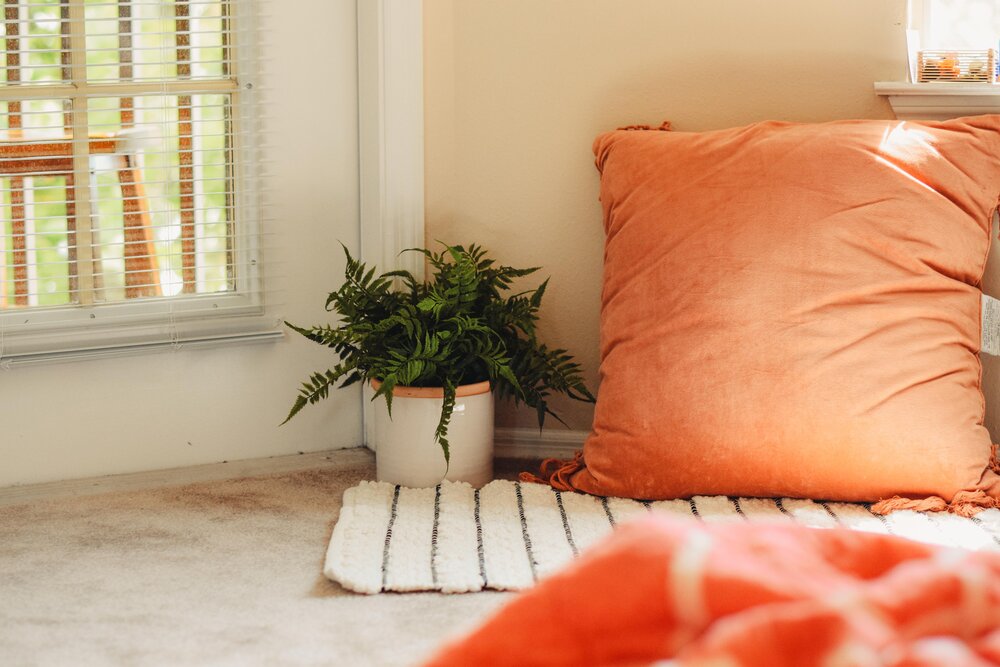 CREATE MOOD LIGHTING FOR RELAXATION
Research shows that poor lighting can contribute to poor concentration, low appetite and mood fluctuations – so getting the lighting right is the key to nurturing a more contemplative space. If you are indoors, we recommend dimming your lights before you meditate; though your eyes will be closed, you'll feel the starkness of bright light. Have it dim, and you won't. 
If you don't have dimmable lighting, turn your main lights off and use warm, fairy lights to create flattering mood lighting. If you have chosen the garden as your meditation area, James Ashfield, studio manager at Rigby&Rigby, advises; "install some solar-powered decorative lights to add a gentle ambience. These are complemented with some hidden uplights to accentuate the planting as the natural daylight levels fade".
APPEAL TO THE SENSES
A meditative space that looks, feels and smells good will be inviting and encourage feelings of relaxation and thoughtfulness. The ritual of lighting a scented candle before you meditate will not only cleanse the space, but it will help centre your mind and turn your attention inward before you begin, Adding a plant will also improve ambience, and connect you to the natural world before meditation. If you struggle to feel grounded during your practice, try stimulating the touch sense by using mala beads to assist your meditation.
THE BOTTOM LINE
Though the beauty of meditation is that it can be done anywhere, setting is important in creating the right tone and nurturing a sense of contemplation and peace. Dedicate a little time and energy to a devoted meditation space in your home and you'll encourage a greater sense of the present in your practice. And that's what it's all about, right?
Check out our tips on the best meditation and mindfulness apps for 2020 if you want to find out the best platforms providing guided sessions.