Sure, travelling is great, but have you ever set off on a journey free of any baggage? Now, there's a feeling.
Yep, there's something so burdensome, so ready to sap that feeling of unbridled freedom which you're seeking from your holiday, about having to pack your bags. And don't even get us started on having to carry them!
Instead, it's all about travelling light for us, with arms left free to embrace any experience (or person needing a hug) that comes our way. Of course, you'll still want to look the part while doing so, and with that in mind, here's 5 IDEAL tips on how to look stylish and keep comfy when travelling.
PACK YOUR STAPLE PIECES
Travel light, of course, but you're still going to need something to wear on your trip.
The trick here is to keep things streamlined and only bring your most trusted numbers with you. Prioritise items which go together to save on the little space you do have; packing staple pieces will enable you to change things up with each one of them and create different outfits. Versatility is the watchword here; select clothing items that you can easily mix and match.
For example, a plain white t-shirt is a versatile piece that you can wear casually with shorts or jeans. Turn it into semi-formal wear by throwing on a blazer. Or, simple yet smart sweatshirts, such as these from Kenzo Jumpers, can be worn in active, dressed down or more formal settings effortlessly. These types of clothes will help you achieve different looks without having to bring the kitchen sink.
SHOE SMARTS
We all know how much space shoes can take up in your luggage. And one of the common mistakes in packing is either packing too many shoes or packing the wrong ones. Do neither, and instead bring versatile trainers, boots, or sandals that can be worn comfortably during the journey itself, but are still stylish enough to be paired with various outfits. If you can narrow these attributes down into a single pair, that you wear to board the plane, coach or ferry, then you have nailed this whole packing thing.
Your reward? A flighty, quick footed sashay through the queues and crowds to your destination and a lighter, less cumbersome bag.
ACCESSORISE WITH RESTRAINT
You don't need plenty of accessories to make you look put together. In fact, the last thing you need is to be catching your satchel on some oversized earrings or fumbling with your passport because every single finger is adorned unnecessarily.
It's neither a good look nor particularly conducive to smooth travel. Instead, keep things classic and timeless. Wear your watch to travel, get a pair of simple, refined earrings in and perhaps a good scarf which you can pair with anything, and you're good to go. Being over accessorised runs the risk of you looking like you've been backpacking in Vang Vieng for the last few months, which is fine, but perhaps not the chic and stylish look we're going for.
GET A CHIC CARRY ON BAG
We said we love travelling light already, right? Well, we just love to be solely hand-luggage focused for our trips, and a chic carry on bag is the perfect way to keep things breezy and on trend, too. Choose one with plenty of pockets to help you be organised while travelling; there's nothing stylish about being in a fluster over lost documents, after all. A duffel bag or a fairly dainty backpack will be worth investing in here.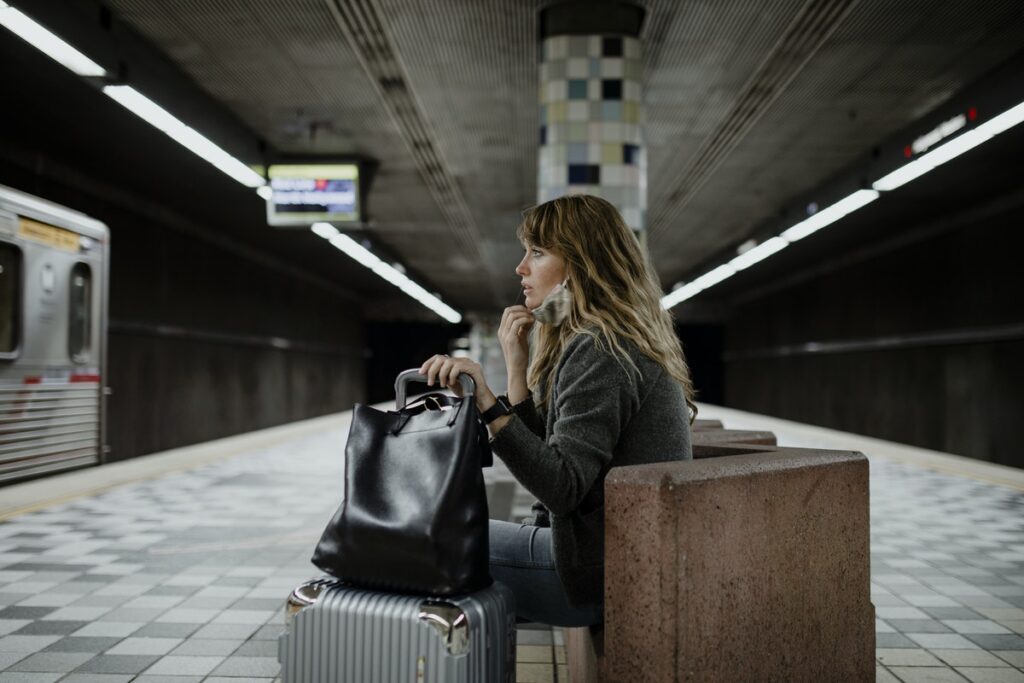 LAST MINUTE MEDITATION
If you're like us, and you like to take your packing right down to the wire (we admit that sometimes we're still finessing it on the way to the airport), then you'll know that this last minute approach does you no favours in terms of space saving or looking stylish.
Better in the long term, we think, to pack methodically and with time to spare, allowing plenty of time to squeeze in those vital extras and cut down on the unnecessaries. Determine what's essential and what's superfluous by considering the ratios (and what's more likely to get dirtier, quicker) and pack more tops than bottoms, more casuals than smarts and more dressed downs than dressed up.
If you're keen on making your journey even smoother, do check out our tips on the 5 IDEAL ways to make your airport experience more enjoyable.