Rejoice! We've made it through winter in one piece. That said, the cold months and time spent indoors – not to mention the distinct lack of inspiration felt during this extended period of downtime – might have left you with something of a lacklustre complexion.
As we head into spring, it's time to embrace a lightening of weather and mood and update your skincare routine in tandem, in preparation for the atmospheric changes and sunnier days to come.
Alongside all of this, we also have fresh factor to consider; the wearing of facemasks. Indeed, this pandemic has not only brought with it a shake-up to our daily lives but a shakeup to our skincare routines, too, with the guys at roccabox.co.uk warning us of the emergence of a totally new concept; 'maskne'.
Confused?
That's a combination of mask and acne, for those who hadn't worked it out yet, with the former contributing to the latter. We think.
They go on to explain; "As the name suggests, maskne is caused by wearing a mask, particularly for long periods of time. We all already have bacteria, natural oils, and dead skin cells on our face. But while usually our skin would have a chance to breathe, wearing a mask exacerbates this environment. As a result, the mask traps moisture from breathing and natural sweating, increasing the chances of acne developing. "Moreover, some masks are treated with chemicals which can aggravate the skin, or even a simple scented laundry powder can cause irritation to the face."
This phenomenon is further exacerbated by friction. Face masks made from rough fabrics can rub against your face, irritating and chafing the skin, potentially causing acne to worsen.
All in all, this sounds as though there are several competing elements all spelling bad news for your skin this spring unless you take proactive steps to protect it. If you're wondering what skincare habits and treatments you can introduce to your routine to get your skin ready for the the new season, you've stumbled on the right page. Here's how to transition your skincare routine from winter to spring.
DECLUTTER YOUR SKINCARE COLLECTION
First things first, it's time to spring clean your skincare collection. Skin expert Suzi Noble at Karidis Clinic recommends streamlining your products, emphasising a need for quality over quantity.
She says; "All beauty products have a shelf-life, so double check you're not using products that are past their prime. They aren't doing your skin any favours so don't let expired products compromise all the good effort you're putting into your routine."
There's no better time for a spring clean of your products than, well, spring, so take the time to incorporate these elements into your skincare routine and make a smooth transition from winter to the new season, as well as from indoor living to (potentially) a few more parties!
SAY GOODBYE TO YOUR HEAVIER WINTER PRODUCTS
Suzi also recommends saying goodbye to heavier winter products. "Spring weather is much less harsh on the skin than drying winter weather and the temperature changes from indoors to outdoors are less dramatic, so your skin will have less dryness than during the cold winter months".
Richer creams that are wonderful for winter skin can be too heavy for the spring, but you still want to replenish the skin's moisture levels after the cold and dry winter season. Instead of heavier creams, opt for a lighter serum or moisturiser to help balance the skin whilst keeping it hydrated.
Here at IDEAL, we're huge fans of Dr Hauschka Rose Day Cream in the winter months. The high oil and wax content of the product offers protection for the dry and sensitive skin that we're all prone to in the winter months. Come summer, we swap it out for Rose Day Cream Light which offers a lighter alternative.
Another product we're prone to using in the winter months is Weleda Skin Food – a real saviour of dry skin in the the coldest season. However, this undisputed hero of the beauty-sphere is perhaps too oily in the summer months; swap it out for their light version which combines organic sunflower oil with skin-calming extracts of pansy, chamomile and calendula.
DEALING WITH MASK FACE
You may find that because of the masks we're wearing, you may have to alter your hydrating routine. If applying moisturiser in the morning leaves your face feeling oily underneath your mask, then consider only applying it in the evening.
Using products containing hyaluronic acid is another good way to draw moisture into the skin and hydrate it from the inside out, without having to rely on thick and heavy formulas which will rub against your mask and accumulate within it. Not a good look or a good feel for your face, we should add.
If daytime is about preventing oil breakouts and any irritation as a result if your mask, then evening should be focus on restoration. When we sleep, the skin repairs itself. Take full advantage of this time and consider applying some vitamin C serum to your face which can help brighten the skin and reduce any inflammation while you sleep.
Since masks are set to become a mainstay, there are a few handbag heroes we recommend carrying around with you. Micellar water wipes are useful if you want to wipe your face clean before and after wearing your mask. Carrying around a little bottle of alcohol to spray on the inside of your mask to kill any bacteria that my come in contact with your cheeks, chin and mouth, is also a good idea.
Bear in mind that a side effect of sanitising your mask could be dry patches in the areas of your face that come into contact with it. Consider adding a hydrating serum to those areas with hyaluronic acid for any troublesome spots of try skin.
If you're suffering from maskne, the guys at Roccabox tell us that "One of the best ways to treat maskne is with Duac gel. Duac gel contains benzoyl peroxide and clindamycin, antibacterial and antibiotics respectively which help kill off harmful bacteria on the skin's surface and break down the top layer of skin".
SAY HELLO TO RETINOL
Suzi says "Prevention is always better than cure, so using a good SPF is the best place to start for anti-ageing needs, but it's also a good idea to integrate a retinol into your night time skincare routine to reverse any visible signs of ageing".
Retinol is a vitamin A derivative that stimulates collagen and is extremely effective in smoothing out skin texture and wrinkles. Whether you choose a cream, serum or oil formulation is a matter of personal preference and will depend on your skin type.
Retinols can cause a bit of irritation in the beginning, but you can combat this by only using it one or two nights a week to start with, and then building up from there.
DON'T SKIMP SPF
Sunlight can be good for us, sure, but UV radiation from the sun's rays is the main culprit for premature ageing and pigmentation issues. As the days get lighter and brighter, it's even more important to make sure you are using adequate protection on your skin.
Investing in an SPF of 30 or above, separate from your moisturiser and makeup, will not only protect you from harmful UVA and UVB rays, but will also help with anti-ageing and defending against the formation of dark spots.
There are plenty of SPF product options on the market, so you can choose the right one depending on your particular skin type and concerns. Heliocare's gel SPF products are a good all-round option for a light formula that leaves your skin looking and feeling healthy and soft. Just remember to reapply throughout the day to make sure your skin is always thoroughly protected, even on cloudier days.
Finally, remember that no one wants a mask tan, so ensure your applying it vigilantly to avoid one.
EXFOLIATE THE RIGHT WAY
When you're left with a dry complexion after the winter, exfoliating away the dead, flaky stuff is essential for revealing glowing, spring-ready skin.
Traditional exfoliating scrubs can be harsh on the skin and even cause micro-tears. Instead, Suzi recommends using a chemical exfoliant with AHAs for drier skin, or BHAs for oily or acne-prone skin.
These are acids that work by increasing cell turnover which can help with dryness, dark marks and breakouts. Don't be scared of the word acid, our skin is naturally acidic! The key is patience and consistency so avoid the temptation to over-exfoliate — a couple of times a week is enough. Always exfoliate at night and apply an SPF during the day, as exfoliation can make the skin more sensitive to the sun.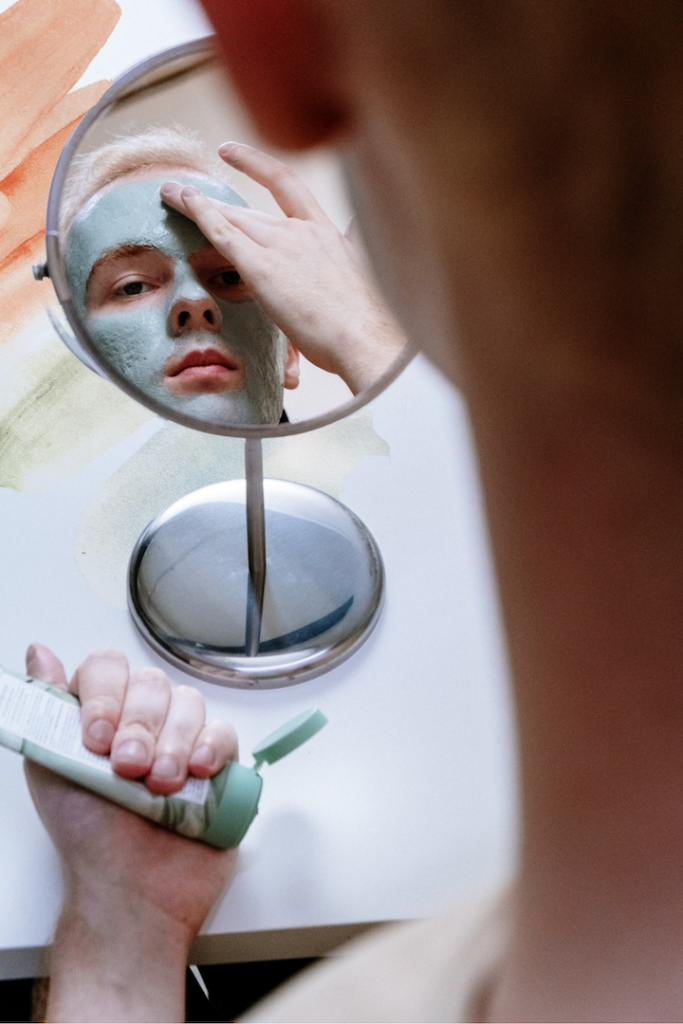 PERFECT TIME FOR A FACIAL
According to Suzi, "For a boost to really kickstart your spring skincare routine, treat yourself to a professional facial". Getting a facial is a great way to achieve an immediately hydrated complexion and a real feeling of being 'freshened-up' after spending the last few months shut indoors. "Karidis Clinic offers an exfoliating Hydrafacial that removes the face's outer layer of dead or damaged skin, and delivers concentrated skin-loving ingredients directly to the skin's surface, leaving you with bright, hydrated skin underneath".
Looking for more skincare tips? Check out our article on 5 everyday ways you might be damaging your skin, and the IDEAL ways to remedy them here.