Disembark at London's Liverpool Street Station and the bright and bustle of the big city can at first overwhelm. People jostle and shimmy, police vans congregate, and all the buses come at once, defying both attempts to cross the road casually and a certain London saying. It's bedlam out here, make no mistake.
Sure, you could retreat back into a station once known as the Dark Cathedral, taking refuge under its atrium vaulting, the golden arches of McDonalds or in a box of Krispy Kremes, but to do so would be to miss out on all the fantastic restaurants just a short stroll from Liverpool Street.
So, pull yourself together, engage your appetite, shoulders back and smash it; here's where to eat near Liverpool Street Station, our favourite restaurants in Bishopgate and Liverpool Street.
Three Uncles
The ideal place to enjoy traditional roast Cantonese meats over rice…
After that flustered introduction, who's going to firmly but fairly tell us to get a grip? Not one, not two, but three of our favourite uncles, that's who.
So, it's to Three Uncles we're heading first (leave the station, cross Bishopsgate, pass the Bull and Last on your left, and you're pretty much there) which celebrates traditional roast Cantonese meats over rice.
Just the ticket after a train journey, whether you've come from Cambridge or Tottenham Court Road, you'll see slabs of crispy pork and whole roast ducks hanging over the counter at this modest shop, making it hard not to order both. Fortunately, the 'any two meats over rice' (complete with iron-rich, steamed pak choi) offer is as generous as you like, and a steal in the City for just £11.75.
Grab a stool at one of the two outside tables and watch the world go by, or head back to Liverpool Street Station for your departing train; you'll be the envy of the whole carriage.
Address: 12 Devonshire Row, London EC2M 4RH
Website: threeuncles.co.uk
---
St. John Bread & Wine
Ideal for traditional British fare from one of the UK's most celebrated chefs...
Needing little in the way of introduction, Fergus Henderson's St. John Bread & Wine is arguably even better than the Smithfield mothership, with the stark, ascetic interiors, stark, ascetic plates, warm hospitality, and yes, plenty of offal, all present and correct here.
Whilst you won't always find the bone marrow and parsley salad on the menu at Bread and Wine (grilled sardines often stand in), there's plenty of nourishing, generous dishes to get very excited about. We're often found stalking Commercial Street, waiting for the doors to swing open at noon; a Bread & Wine kedgeree, a chilled glass of St. John Blanc, and a big ol' plateful of warm madelines… Could it be the best 'brunch' in all of London? We certainly think so.
Stay for lunch, for a dish of upmost simplicity; a whole roast quail with a little jelly, or grilled red mullet with a fennel salad. Upfront, straightforward, and all the more delicious for it.
And if you can't wait 'till midday, the restaurant's iconic bacon sarnie is available for takeaway only between 9am and 11am. Be prepared to queue.
Read: The best places for a bacon sandwich in London
Address: 94-96 Commercial St, London E1 6LZ
Website: stjohnrestaurant.com
---
Manteca
Ideal for Britalian food with a nose-to-tail ethos…
If you prefer your conversations to be conducted in hushed, reverent tones, you might be better off seeking shelter elsewhere. But if you're looking for one of the best restaurants close to Liverpool Street Station, however, you've found it here.
Because Manteca, the 'Britalian' restaurant from chefs Chris Leach and David Carter, is a brimming, boisterous affair, and impossibly hard to book since moving to its permanent location in Shoreditch last year.
Named by Time Out London as the second best restaurant in the city, and receiving a slew of fawning national reviews, the nose-to-tail small plates here are as satisfying as they come, the energy both in the dining room and on the plate totally irresistible.
Whilst the brown crab caico e pepe is arguably the restaurant's most talked about dish, it's the pig head fritti that truly had us cooing. Or should that be 'oinking'? Served alongside a burnt apple purée, Sunday lunch this ain't. Rather, it's a refined, deeply savoury bite, offset perfectly by the purée.
Equally fine when it's on the menu is the tortellini in brudo, the pasta parcels filled with a mortadella mixture that's both light and umami-heavy. The broth glistens, the tortellini bounces, and everything feels right with the world.
Speaking of Sunday lunches, incidentally, Manteca observes the lord's day in true Bolognese fashion, with a celebratory lasagna verde (here, using belted galloway beef and rarebreed saddleback pork), all finished in the restaurant's wood-fired oven. Only available on the Sabbath, it's a worthy match to a more traditional Sunday roast in the city.
Anyway, Manteca truly is a class act, and somewhere you'll want to return to again and again (and that's coming through a writer who has now made their way through the entire menu here!).
Address: 49-51 Curtain Rd, London EC2A 3PT
Website: mantecarestaurant.co.uk
---
Bar Douro City
Ideal for Portuguese small-plates specialists…
By some estimates, there are around 50'000 Portuguese nationals living in London, with the majority living in South Lambeth, the city's so-called 'Little Portugal', and, more specifically, Stockwell, which is home to the biggest concentration of Portuguese outside of the Motherland.
Unsurprisingly, then, that to eat great Portuguese food in London, it's wise to head into SW9. That said, north of the river, in the rather bromidic surrounds of Finsbury Avenue Square, some of the best Portuguese food we've ever had – Lisbon, London or anywhere – is being served at Bar Douro City.
In a dining room that might better be described as a particularly well-appointed corridor, with intricate blue-and-white azulejos-tiles lining one wall, and a bar and open kitchen on the other. From here, a procession of generous, gutsy Portuguese small plates are served with the kind of flourish that whisks you far away from the soulless City and to somewhere altogether more sincere. 
Start with the croquetes de alheira – circular croquettes filled with a sharp, spicy smoked sausage and topped with a dab of aioli that hit all the right notes with your first crisp glass of Super Bock, the only beer you need here. An exemplary bacalhau à brás pulls off that delicate balancing act that only the best versions do, of being both crunchy and creamy, its top end seasoning moreish rather than parching, as long as you've another Super Bock to hand.
From the larger 'land' based dishes, the secretos de porco preto alentejano (grilled black pig) is a highlight, the highly prized cut from around the pig's shoulder served blushing pink and beautifully marbled. The accompanying Montanheira salad features segments of orange that lift and cleanse. This has got to be one of the best dishes you'll eat close to Liverpool Street Station, and well worth delaying your train for.
Round things off, naturally, with a pastel de nata. Bar Douro's is served with a cinnamon ice cream which at first feels superfluous, but is so well made – smooth and rich rather than dusty – that you have to remove your purist hat and succumb.
Bar Douro is also one of the best places in London for large groups, its dining room able to accommodate 16 people with a sharing menu that clocks in at just £40. Woof.
Website: bardouro.co.uk
Address: Unit 3, 1 Finsbury Ave, London EC2M 2PF
---
Bubala
A darling place ideal for playful Middle Eastern sharing plates…
A Yiddish term of endearment akin to 'sweetheart', this vegetarian restaurant on the peripheries of Spitalfields takes inspiration from the cafe and casual dining scene in Tel Aviv. Put simply, Bubala is as charming as they come.
Whilst at lunch the menu is a la carte, at dinnertime it's a set menu only affair, which at £38 per person isn't necessarily cheap, until you see just how much you get for that figure; with over ten courses, this certainly isn't a meal for watching yours.
Whether you're here for lunch or dinner, the brown butter hummus is essential (and all present and correct on the Bubala Knows Best evening set). But the headlining act for us is the fennel with saffron caramel and rose harissa, whose impossibly heady top notes are smoothed and sedated by a piquant yet cooling yoghurt. Just superb.
Address: 65 Commercial St, London E1 6BD
Website: bubala.co.uk
---
Cinnamon Kitchen City
Ideal for cinnamon, spice and all food ridiculously nice…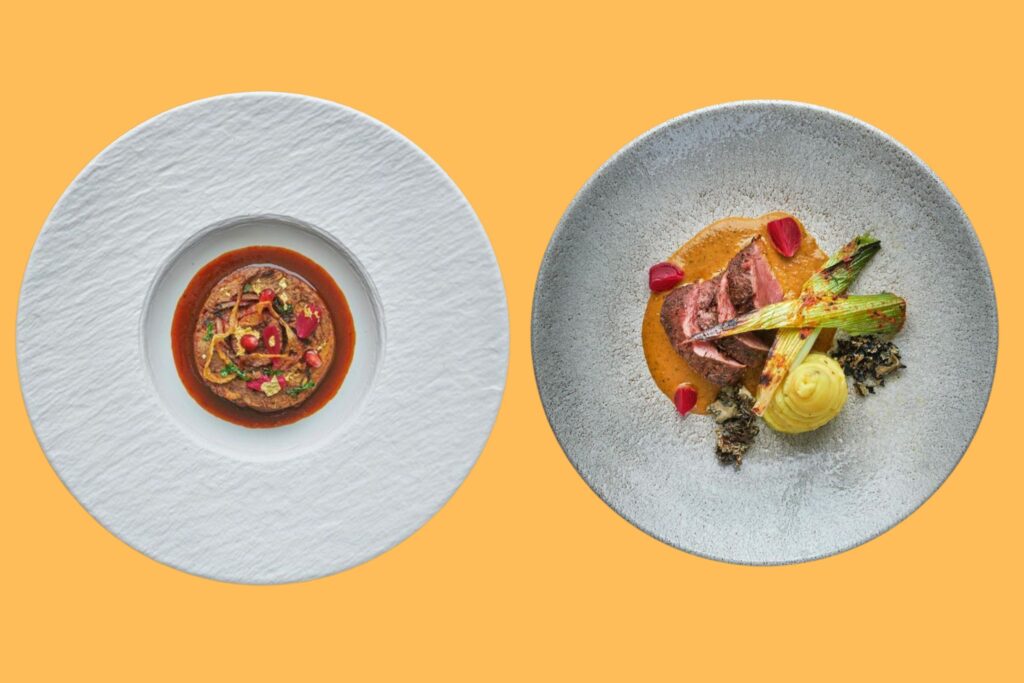 Fittingly located in the historic East India Company spice warehouse and just a two minute walk from Liverpool Street, Cinnamon Kitchen is the perfect spot to escape the hustle and bustle of the City.
With Chef Vivek Singh at the helm, the restaurant and all-weather covered terrace serves his signature modern Indian cuisine with the best of British ingredients for lunch and dinner. The restaurant also does one of London's spiciest dishes – the perfect way to dust yourself down after a long day, we think.
Address: 9 Devonshire Square, London EC2M 4YL
Website: cinnamon-kitchen.com
---
José Pizarro Broadgate Circle
Ideal for top tapas and terrific times…
Extremaduran chef and London legend José Pizarro's Broadgate Circle iteration of his string of beloved tapas bars is perhaps our favourite of the lot. In a bright and bustling room (or, even better if the weather allows, the open terrace), defined by swinging legs of jamón ibérico, the small plates come thick and fast, with an emphasis on the latter.
Yep, the pace here may feel a little frantic – perhaps due to the restaurant's location in the heart of London's business district and the pressing necessity for a speedy lunch – but there's no denying the quality of the food, with Pizarro's (not sure we're quite on first name terms yet) signature daily changing croquettes here as voluptuous and umami-laden as ever.
The mini-burgers, exclusive to this branch of the chef and restaurateur's empire, are exquisite, too. They've gone fully gordito here, with a gossamer-thin slice of acclaimed 5J presa jamón replacing bacon, and a generous wedge of gently melted manchego the cheese element. Of course, an almost-aggressive aioli has muscled in between the buns. It's great.
Perhaps best of all, though, is the restaurant's bottomless brunch, with freeflow cava, croquettes and a fair few slices of 5J presa thrown in for good measure. Ending late in typically Spanish style (can it be called brunch at 5pm? Who cares?), we'll catch you there next Saturday if you dare.
---
Eataly
The ideal shopping destination for Italian food lovers in London…
A fair amount of scepticism existed about the opening of the juggernaut Italian 'marketplace' Eataly just moments from Liverpool Street Station, and the first to land here in the UK.
Did we really need a sprawling food court and Italian deli in London, when affordable pasta joints were proliferating faster than the time it takes to boil some freshly rolled angel hair? Would the self-proclaimed premium ingredients appeal to a British market often more concerned with convenience than quality? Was a whopping 42'000 square feet of eating, shopping and learning strictly necessary?
Turns out we did and it was. With over 5'000 food products and 2'000 wines – the largest collection in London – all under one roof, including some seriously good charcuterie, cheeses, and sweet stuff (the cannoli here is ace), Eataly has thus far been a massive success.
It's also a great place to spend an afternoon, with samples, tastings and trials all available at the various retailers. Just make sure you bring a large bag and a larger credit limit; it's impossible to leave this place empty handed!
There's also decent pasta and pizza in Eataly's three dedicated restaurants, for those looking to take a load off for a while.
Address: 135 Bishopsgate, London EC2M 3YD
Website: eataly.co.uk
---
Xi'an Biang Biang Noodles
The ideal destination for some of the best hand-pulled noodles in the Captial…
If you prefer your noodz hand-pulled rather than pasta machine rolled, then over on Commercial Street you'll find one of the very best restaurants near Liverpool Street Station; Xi'an Biang Biang Noodles.
A sister restaurant to the much celebrated Xi'an Impression, one of our favourite places to eat in Highbury and Islington, the food is equally as good here. Visually akin to a canteen, all white walls and clinical lighting, and with straightforward service to match, the food is anything but impersonal; noodles have just the right amount of bite and spring, sauces (and subsequently, shirts) are slicked with chilli oil, and garlic lingers for days after dining here.
For those looking for somewhere to eat near Covent Garden, some good news; Xi'an Biang Biang Noodles will open their second branch here later in the year.
Address: 62 Commercial St, London E1 7AL
---
Spitalfields
Ideal for lots of choice under one roof…
Spitalfields Market has a slicker, smoother feel than some of the more cobbled together markets in the city, but that's not to its detriment at all. It's large, covered (great for sheltering from the ever present London rain) and has a great variety of the good stuff, both in stall and fully-realised- restaurant form.
Indeed, there are plenty of Spitalfields restaurants to choose from and the much renowned Galvin Brothers have two places here if parking your bottom and taking your time is more your thing. If snacking, shopping and switching cuisines does it for you, then Smokoloko, The Duck Truck and Ebby's are particular favourites.
Address: 56 Brushfield St, London E1 6AA
Website: spitalfields.co.uk
---
Shoryu Ramen Liverpool Street
Ideal for regional ramen that nourishes the soul…
Sure, Shoryu Ramen may be pretty ubiquitous by now, with the chain boasting 9 London outposts, as well as more across the UK, but that shouldn't detract from the quality of the milky thick, rich, heavily porcine tonkotsu broth that has become the restaurant's signature.
Founded by Tak Tokumine, a Fukuoka city native who might bleed bone broth if you cut him open with a Nakiri knife (weird image), the aim when opening Shoryu was simple; to bring the unique flavour of Fukuoka's Hakata tonkutsu ramen, hard to find outside of Japan's southern island of Kyushu, to London and beyond.
A noble aim indeed and one that has been embraced by ramen-loving Londoners. At the glass-fronted Liverpool Street branch, just seconds from the station, in a rather functional space, the usual lofty standards remain; the char siu barbecue pork is as tender as ever, the 12-hour broth is so enriched with pork fat it's become opaque, and the dappling of chilli oil across its surface brings a curious sort of respite.
It's bloody fantastic, though perhaps not one for your lunch break; your white shirt is sure to get splattered and your energy levels may well be tanked. Best save this glorious bowl for after work, we think.
Address: 33 Broadgate, London EC2M 2QS
Website: shoryuramen.com
---
KöD
Though we haven't had the chance to check out just-opened Danish steakhouse KöD yet, we've heard great things. Check back here soon for more on that!
Address: 9A Devonshire Square, London EC2M 4YN
Website: restaurantkod.co.uk
And whilst you're in the area, why not check out our tips on the best places to eat near Shoreditch High Street Station. Thank the god lord for TFL!