This year, are you whipping up a fancy three course meal for a loved one, nude aside from your 'kiss the cook' apron? Or, is Valentine's Day 2021 more a case of a pot noodle and a walk, and back in time for the Sunday afternoon footy?
However you choose to spend your Valentine's Day, one thing that is consistent for the whole country…this year, it's going to be spent at home. Whether you're enjoying the occasion as a cohabiting couple or you're doing things remotely with your lover via screens, a special bottle of wine can make the day a whole lot more memorable. 
With restaurant cellars in need of a clear out and premium wine purveyors looking to diversify, the choice and quality of wines available for delivery right now is better t han ever before. As such, we're spoilt for choice when it comes to wine pairings with your Valentine's Day meal.
To impress your date, we've considered some of the most popular Valentine's day meals, and have asked Lukasz Kolodziejczyk, Head of Fine Wine at Cult Wines, to offer his pairing suggestions. With that in mind, here are 7 expert wine pairings for the UK's favourite Valentine's Day dinners.
STEAK
We just love a celebratory steak, and it seems that the country agrees; BBC Good Food has steak as the UK's most popular Valentine's Day meal.
What to drink with steak depends on the cut of the steak and how it's cooked, but traditionally, steaks are paired with red wines, and for good reason. The right red wines have both tannins and higher alcohol levels that can help bring out the richness of the steak. Although we cannot have a restaurant-style cut of ribeye, we can sear it at home and pair it with Lukasz's suggestions:
"Just the mention of this dish makes me dream about a juicy medium-rare cut of ribeye at Hawksmoor. Although this sadly cannot happen this Valentine's Day, I do have two great suggestions for a home-cooked meal.
First, the Mondavi family's Napa Valley Continuum 2013 forms an excellent partner to steak. Its layered tannic structure binds with the meat's proteins, highlighting the wine's generous blackcurrant and cassis aromas that are seasoned with blackcurrant leaves and charcoal mineral flavours.
Another great option is Porseleinberg Syrah from Swartland region of South Africa. The vines here are grown on blueschist soils that brings a mineral intensity to the wine, which balances with the blueberry and red berry flavours and earthy, black pepper notes. I recommend decanting for an hour before your meal so that the wine's body and texture perfectly harmonises with your preferred cut."
Now you've got your wine sorted, you best make sure that you're cooking that steak just right. We're here to help with that, too; check out these 8 IDEAL steps to the perfect steak.
ASPARAGUS
Whilst not in season in Britain right now, asparagus is available year-round in UK supermarkets and is a popular choice as a side for that steak dinner.
The beloved speared vegetable isn't only delicious; it also has some rather romantic associations. Indeed, during the renaissance, it was forbidden to eat asparagus because it was considered a food with aphrodisiac properties. Nowadays, it is the perfect nutritious side dish for your extravagant Valentine's Day meal. Whether blanched, grilled, sautéed or even enjoyed raw, Lukasz provides his wine pairing suggestion:
"Asparagus calls to mind two contrasting but equally-wonderful world-class Sauvignon Blancs. If you have a Coravin system, why not have a glass of each? Loire Valley is home to Sancerre Le Chêne Marchand by Lucien Crochet. Grown on a mix of limestone and granite soils, this wine brings a mineral intensity with cut grass, passion fruit and fresh citrus that enhance the purity of asparagus. The zippy acidity perfectly refreshes your palate between bites of hollandaise sauce.
The second option would be Seifried Estate Aotea Sauvignon Blanc from the Nelson region of New Zealand. Grown on volcanic rock, this pure and zesty wine is bursting with pronounced nettle, grape juice and citrus flavours that will dance on your palate without overpowering the green, vegetal flavour of asparagus."
You thought we'd leave you hanging on how to cook it? Fear not; here are 5 IDEAL tips for cooking with asparagus.
OYSTERS
Speaking of food believed to have aphrodisiac properties, white wine, sparkling or still, is the classic pairing with oysters. According to CBS News, ''Oysters are extremely rich in zinc, which is essential for testosterone production and maintenance of healthy sperm. And even though women have much less testosterone than men, it also plays a key part in the female libido''.
Regardless of whether that claim holds validity, oysters are delicious and bring with them a real sense of occasion, perfect for a Valentine's Day spent indoors. The high acidity and naturally crisp style of white wine, sparkling of still, pairs perfectly with fresh seafood. As such, it's best to avoid avoid pairing our oysters with a wine that is heavily oaky or tannic. Lukasz provides his light sparkling wine suggestion which won't overwhelm the glorious ingredient:
"A classic aphrodisiac, this…deserves something extraordinary, and I can't imagine anything more suitable that the 2008 Comtes de Champagne by Taittinger. The 2008 vintage is deservedly regarded as exceptional. Its punchy pure citrus fruit alongside a mineral freshness forms a perfect marriage with the saline, seawater flavours in the oysters.  There may be many fish in the sea, but there is only one 2008 Comtes de Champagne!"
SEA BASS
If you're planning for a light dinner (leaving ''room for dessert'', and all that) then Sea Bass is the UK's favourite fish supper choice for Valentine's Day.
For delicate, fresh fish like Sea Bass, you need crisp, unoaked white wines. Due to its higher acidity, white wine is a better complement for fish, and a squeeze of lemon juice can really bring out the flavours of the seafood (and the wine), too. For Lukasz, matching fish with wine is a joy and he shares his top fine wine suggestion:
"Fine fish, deserve fine wine. And most agree the finest white wines are found in Burgundy. Based in Nuit St Georges, Domaine Tawse Chassagne Montrachet 1er Cru Abbaye de Morgeot from 2017 offers an intense and extremely fresh wine with grapefruit, green apple and vanilla flavours highlighted by mineral-lead acidity. This match will be ideal as any butter or lemony flavours in your sea bass dish will connect to the wine's citrus and light oaky vanilla notes."
Despite the inclement weather, consider firing up the coals for a Winter barbeque. A whole seabass works particularly well on the grill, we think. Check out our tips for grilling whole fish on the BBQ here, for more.
SPAGHETTI CARBONARA
Though serving up a Spaghetti Carbonara might feel like you're phoning in the Valentine's Day dinner somewhat, there's still an art to cooking this iconic dish from Rome.
Sure, it may be relatively easy to prepare, but you might have difficulty choosing which wine to pair with it. Lukasz's suggestions pair well with the complexity of the dish's flavours – the unctuous egg yolk, the fatty consistency of pork guanciale, the freshly ground pepper and powerful Pecorino Romano:
"There's nothing wrong with a bit of cheekiness on Valentine's Day so here I offer a bit of a rebellious suggestion. Unlike traditional Gavi di Gavi or Soave, I'd pair a carbonara dish with a wine from sunny Santorini, specifically Hatzidakis Cuvée No.15 from 2018. A rich and creamy pasta dish just loves a fresh, mineral wine that can match its intensity but is also light and capable of refreshing and cleansing your palate. Made from the Assyrtiko grape, this wine is nuanced and complex with a long and invigorating ending. Visiting Santorini is impossible now, so why visit through its unique wines."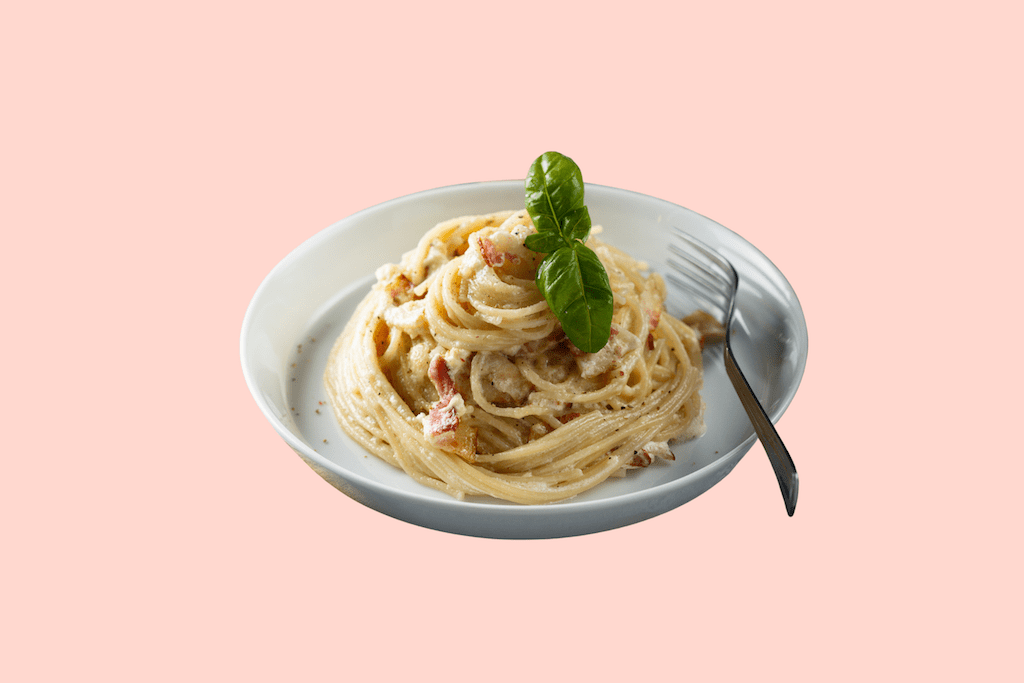 STRAWBERRIES
Strawberries. especially when covered in cream and chocolate, just scream romance. Historically, that romantic connection dates back to Ancient Rome where the fruit was associated with Venus, the goddess of love. Due to their bright red colour, strawberries have remained an enticing dessert option for Valentine's Day. Lukasz suggests pairing this sweet treat with a German classic:
"There are many fantastic sweet wines out there, but a Johann Josef Prüm, Graacher Himmelreich Kabinett 2018 forms an ultimate Valentine's Day treat.
Established in 1911 by Johann Josef Prüm, this producer brings a wealth of experience and excels with this off-dry style of Riesling from the Mosel region's heat-trapping blue and red schist soils. The result is a memorable wine of extreme purity, accurate and precise flavour with refreshingly sweet peaches, quinces and apricots that will make a beautiful pairing to the strawberries' natural sweetness. The wine's crisp mineral acidity will enhance the freshness of the cream."
CHOCOLATE
When we think of Valentine's Day, we think of chocolate. The two are simply inseparable – unless you manage to curdle your chocolate when cooking dessert, that is.
Whether it be a box of chocolates or a molten lava dessert, chocolate symbolises affection, luxury, passion and sensuality. Historically, a bride and groom would drink hot chocolate to celebrate but Lukasz recommends celebrating with a chocolate dessert and port instead:
"As Albert Einstein taught us 'Love is light, that enlightens those who give and receive it.' I strongly believe our quality of life is directly connected to the quality of the moments we share with our lover. And nothing captures a moment in time better than vintage Port paired with chocolate. No matter if you are born in the 1920s, the 2000s or anywhere in between, you can find a vintage from the birth year of your loved one. Port's dense and rich character resembles those found in chocolate, and its natural freshness helps to clean your palate. "
Make your V-day extra special this year with our 7 IDEAL tips on cooking the perfect Valentine's Day meal.