''Hove, actually''…
It's the rallying call of all those living to the west of Brighton's Angel of Peace Statue, where the boundary is symbolically drawn between the effervescent seaside town and its more urbane sibling, Hove.
As you wander west from the self-proclaimed 'London By The Sea', along the sometimes chaotic Western Road and cross borders into Hove, you'll notice a tangible change of pace. Things feel more gentle here, more refined, and as you land on Church Road, the start of Hove proper in many people's eyes, you'll also be met by a string of superb restaurants.
Though Brighton itself is rightly famed for its amazing restaurants, Hovians are equally blessed with some fantastic places to eat, with much of the finest dining to be found on this side of the unitary authority's border.
Today, we're taking a leisurely stroll along that main thoroughfare, Church Road and its adjoining streets, to explore Hove's best restaurants. Care to join us?
Cin Cin, Western Road
Ideal for flawless plates of pasta…
Though you can't walk for more than the length of a fettuccine in London without stumbling into a pasta bar, in Brighton & Hove you'll be much harder pressed to find a place slinging freshly rolled strands of the good stuff.
In fact, to our mind, Cin Cin are the premier pasta purveyors here, and a more than capable match for any of London's top pasta restaurants (in 2021, Cin Cin decided to test this theory, and their Fitzrovia branch opened to immediate national acclaim).
Though the restaurant's original location in Brighton's North Laines has now closed, the newer, larger branch on Western Road, just seconds before you reach Church Road, is just as delicious.
Here, a horseshoe counter and a handful of barstools overlook Cin Cin's open kitchen, where seasonal small plates, fresh pasta dishes, and a couple of grilled bits are lovingly prepared in full view of the diners. This is dinner and a show, Hove style, and if your dinner starts with an order of the restaurant's ever-changing, always-popular arancino (brown crab on our last visit), followed by a pasta dish from the special's board, you're sure to be calling for an encore.
Fortunately, Cin Cin's desserts are respondent to the seasons and always stellar – whether it's a festive panettone bread and butter pudding with marmalade ice cream or a summery Amalfi lemon tart, there's no chance you're leaving disappointed.
Then menu changes here often so you'll want to become a regular.
Website: cincin.co.uk
Address: 60 Western Rd, Hove BN3 1JD
Read: Where to eat Italian food in Brighton
---
Unithai, Church Road
Ideal for Thai food, just like Aunty would make…
But leave we shall, and onwards into what feels like Hove 'proper', Church Road.
One of the first places you'll come to is Unithai, an ordinary looking Thai supermarket out front, with something very special hiding in the back.
If you're looking to rustle up your own pad see ew or red curry with duck, then Unithai is one of the only places in town you'll find the requisite fresh green peppercorns, galangal, grachai, makrut lime and other esoteric ingredients needed for both dishes.
Alternatively, you could simply stroll through the shop, dish out your finest sawadee (ka/krap), and settle into one of their cosy tables of four nestled out back. Occupy yourself by listening to the soundtrack of kitchen clatter and the roar of the wok burner, and within minutes, you'll have a freshly prepared plate of Thai deliciousness, cooked with love. In fact, we consider Unithai to do some of the best noodles in Brighton.
Website: facebook.com/UnithaiOfficial
Address: 10 Church Rd, Hove BN3 2FL
---
Fatto a Mano, Church Road
Ideal for wood fired pizzas with that pillowy blistered crust…
Until recently, Britain's favourite seaside town (don't @me Blackpool) wasn't exactly blessed with fantastic pizza restaurants. With the popularity of fish'n'chips on the pebbles defining every dinner choice, the humble pizza was marginalised, pushed to the back of the fan ovens of Pizza Hut, Papa Johns et al.
Fatto a Mano changed all that.
Five years since the original Fatto a Mano opened on Brighton's London Road, several more outposts have followed suit, with one in the North Laines, one in Hove, and further operations opening in Croydon and Shoreditch.
As you've probably guessed, there's no need to head to London (or London Road) to get your pizza fix; we're simply crossing the road from Unithai and settling in for an afternoon in the sun on Fatto's beautiful terrace.
The pizzas here are as authentic as they come; wood fired quickly, so the cheese remains delicate rather than singed, the dough soft and pillowy but with a blistered crust and restrained, respectful toppings, true to the Italian tradition. The name translates as 'handmade' in Italian, and that's certainly the vibe here; everything is made from scratch and it shows.
It's great value, too, with most pizzas hovering around the £10 mark. With your neighbourhood pasta and Thai joints just seconds away, why would a hungry soul ever leave Hove?
Website: fattoamanopizza.com
Address: 65-67 Church Rd, Hove BN3 2BD
---
Slam Tacos at Bison Beer, Church Road
Ideal for curious and creative cross-cultural tacos…
Just yards away from Fatto a Mano is Bison Beer, one of Brighton and Hove's most popular brewery/bottle shops.
Whilst we'd certainly grab a seat regularly at Bison for the beer alone (mine's a See Side APA, barkeep), the Hove branch has something of an ace up its sleeve beyond the booze; the glorious food currently being served up from its 'Slam Tacos' residency, the brainchild of former 64 Degrees head chef Sam Lambert.
His tacos and drinking snacks are exactly what you want to eat a few pints in, with the umami levels turned up to eleven and proudly inauthentic taco toppings – think black pudding with burger sauce, or octopus goujons – just the right side of quirky.
We've previously brought on a food coma through overindulging on Slam's superb haggis and black pepper bites (sadly no longer on the menu – bring them back-o!) and one too many craft beers here, and if you're keen to do the same, you better be quick… Slam Tacos' residency at Bison Beer isn't going to be around forever.
Arrive with enthusiasm, and get stretchered out afterwards…
Website: www.bisonbeer.co.uk / slamtacos.com
Address: 57 Church Rd, Hove BN3 2BD
---
Wild Flor, Church Road
Ideal for confident European cooking and a lovely winelist…
If you've still got the legs, then savour the two minute walk from Bison Beer to Wild Flor, also on Hove's Church Road, to compose yourself and ready your appetite for another glorious feed.
Wild Flor is one of the most acclaimed recent additions to Brighton and Hove's thriving culinary scene. Settling into an evening with their confident, classic French cookery and superb wine list is one of Brighton's biggest treats; you'll always leave squiffy and extremely well-fed.
It's a price-fix affair with Michelin ambitions, which is no bad thing for a city somewhat in thrall to 'casual' dining. Lunches are £35 for three courses, whilst for dinner, the same trio costs £55. It's well worth it for the faultless, flavoursome cooking.
The current menu is a true celebration of spring; the pea and lavender veloute with sheep's milk is as fresh as you like, and the perfect warm-up for a main of salt-aged bavette steak, oyster, wild garlic and celeriac, a dish that bridges late winter and spring masterfully.
Though you can have just two courses for a tenner less, it would be criminal to miss out on the restaurant's pastry work, the section cooking with a breezy conviction and generosity more in tune with a Paris patisserie or the bouchons of Lyon than a Hove thoroughfare. Emblematic of this sensibility is a fine version of the classic Brillat-Savarin cheesecake, with extra sparkle added via ginger and rhubarb. Delicious.
Website: wildflor.com
Address: 42 Church Rd, Hove BN3 2FN
---
Shiraz, Church Road
Ideal for a meal at Hove's best Persian restaurant…
With that ginger and rhubarb still undulating on the palate and rasping on the throat, we're slipping a few doors down to Shiraz, arguably Brighton and Hove's best Persian restaurant.
You can smell the charcoal grill from Church Road, and those wafts of smoke are enough to entice even the weariest traveller inside. Or, a traveller who has already eaten five meals on their tour of Hove's best restaurants. Anyway…
You won't regret having a sixth meal at Shiraz. Skewers of marinated spring lamb chops, served on the bone, feel just right for this time of year, and taste just right, too, while naan that's blistered and burnished from the grill is just perfect for pulling through the restaurant's broad meze selection; the zeytoon parvardeh is particularly good.
Website: shirazpersianrestaurant.co.uk
Address: 28 Church Rd, Hove BN3 2FN
---
Fourth & Church, Church Road
Ideal for one the area's hippest, most happening spots for a drink and a bite…
Three minutes west along Church Road, towards fourth avenue and opposite Hove Town Hall, Fourth and Church is one the area's hippest, most happening spots for a drink and a bite.
Small plates, tapas, 'bites' – whatever you want to call them – are the order of the day here, with disparate global influences all coming together into a unified whole, promising dishes full of verve and intrigue and largely delivering on that promise.
The countertop seating and bottle-clad walls let you know that this is as much a bar as a restaurant, and in affirmatory fashion, the cocktails are fantastic. In fact, we'd go as far as to say that Fourth and Church's martini is the finest in the city.
Website: fourthandchurch.co.uk
Address: 84 Church Rd, Hove BN3 2EB
---
The Urchin, Belfast Street
Ideal for a seafood-centric menu in chilled surroundings…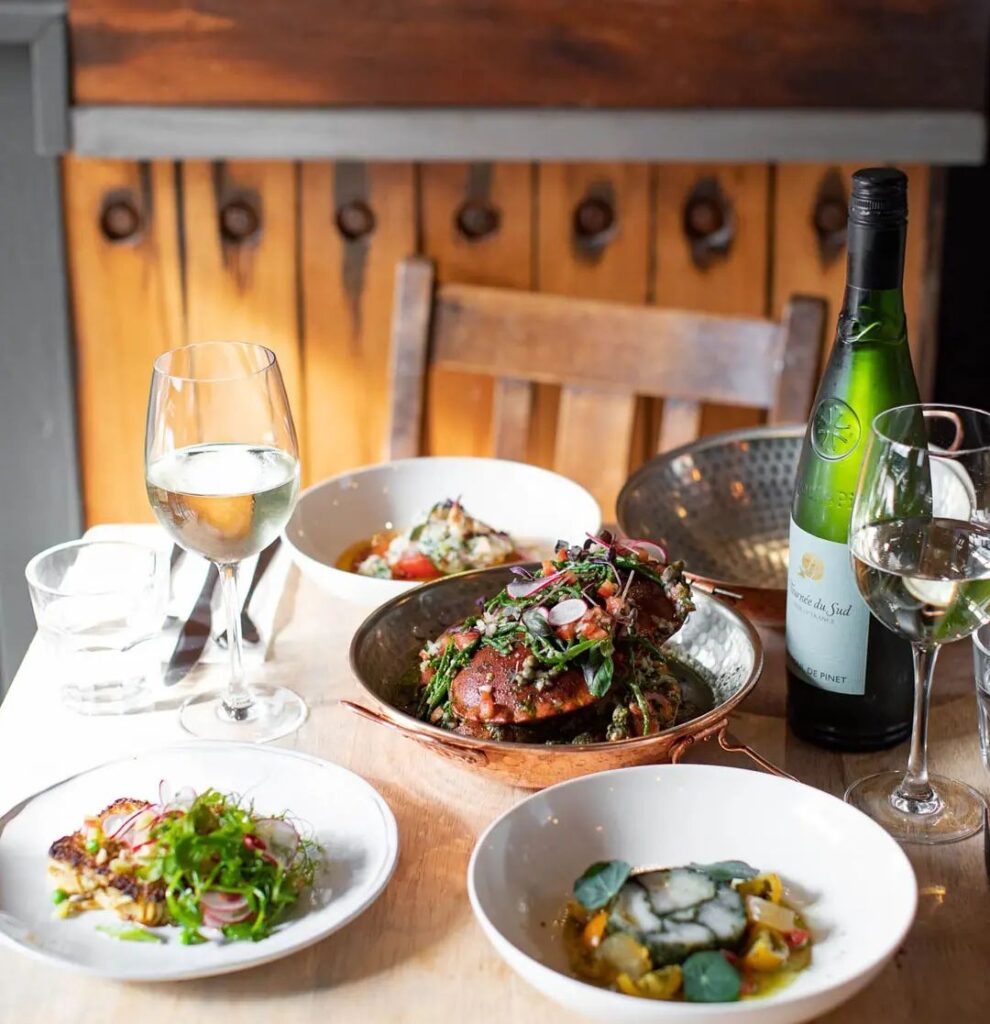 Housed in a residential area in a working class part of Hove just a few minute's walk off Church Road, The Urchin remains a proper pub in the sense that it still acts as the neighbourhood living room, just with a sterling focus on serving really interesting shellfish dishes thrown in for good measure.
There's two menus. One – an evergreen – with seaside town favourites like potted shrimp, oysters with pickled, brunoised shallot, and a quarter pint of cockles to please the locals. The other menu allows the chef's creativity and love for travel to shine, with flourishes from further East (not Brighton – much further east) introducing spikes of kimchi, XO sauce, and an incredible soft shell crab kyiv.
On our last visit, Malaysian prawns with lentils caused orange stains on the finger nails and purrs of appreciation on the lips, and clams in a clear dashi broth was clean and lively. Staying true to their pub (formally the Bell) origins, The Urchin have a microbrewery in the basement which results in their own beer 'Larrikin' on tap. If it doesn't tickle your fancy, there are around 120 other beers to choose from. An absolute gem and a great way to wind down our tour of the best restaurants in Hove.
Website: urchinpub.co.uk
Address: 15-17 Belfast St, Hove BN3 3YS
Read: 7 IDEAL seafood restaurants in Brighton & Hove
---
Nostos
Ideal for modern Greek Fare…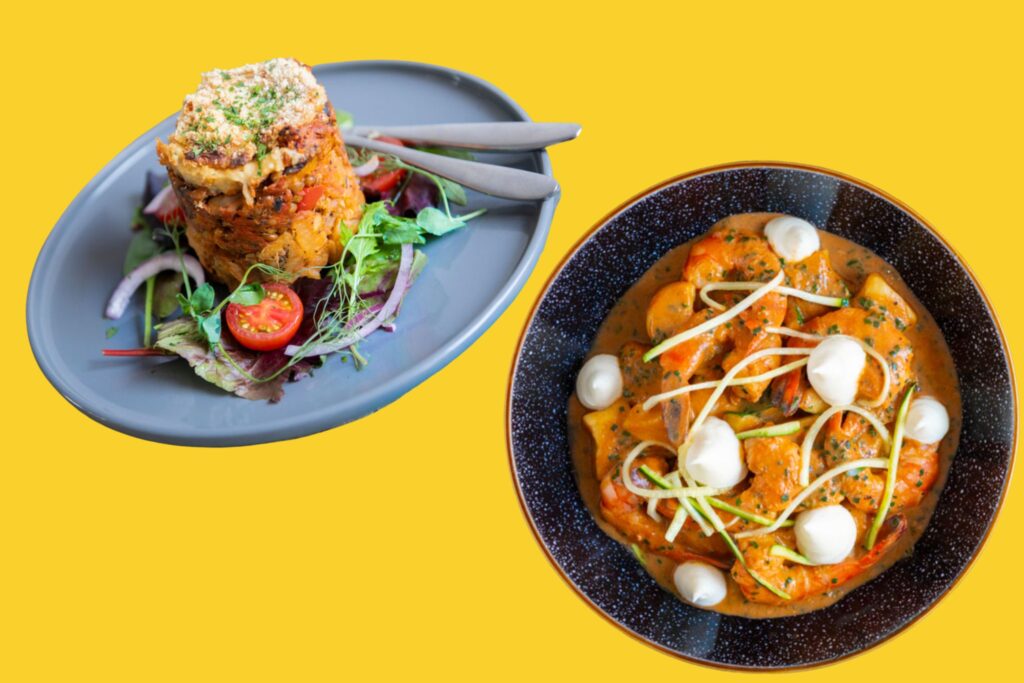 Western Road is, in some quarters at least, described as Brighton and Hove's Greektown, owing to its abundance of fantastic options for Greek food. Whilst we love the gyros over at Archipelagos Gyros and the larger spreads on offer at their sibling restaurant Archipelagos just a hundred yards or so down the road, our favourite place for Greek food in the city is without doubt Nostos, just round the corner on Holland Road.
Compared to other Greek places in the area, this one leans on the slightly upscale end of the spectrum. Whilst certainly not refining or redefining the Greek classics (as in, making them significantly less nice), there are gently modern flourishes to the dishes here, which are served in a pleasingly bright and airy dining room.
Yep, Nostos is more the cerulean blues and starched whites of Santorini than the candlelit intimacy of Greece's tavernas, and that seems to fit this corner of Hove just perfectly.
On the plate, things manage to be both generous but breezy. A case in point is the signature kleftiko, the lamb shank braised until tender and giving, and lent succour by a subtly seasoned sweet potato puree. The restaurant's moussaka is given similar lift by a light-as-you-like bechamel sauce that's souffled and spacious – whipped egg whites have certainly done their job here. Lovely stuff, indeed.
Website: nostos-hove.co.uk
Address: 63a Holland Rd, Brighton and Hove, Hove, BN3 1BA
---
The Ginger Pig, Hove Street
Ideal for traditional cooking that's big on flavour and low on frippery…
After such globetrotting feasting, we need a walk; a short one, at least. So, we're heading south from Belfast Street, across Church Road, towards the sea and into The Ginger Pig, one of the southeast's most acclaimed gastropubs.
The Ginger Pig is one of five eateries from the prolific, reliably brilliant restaurant group behind the Ginger Man, Ginger Fox, Ginger Dog (now sadly closed) and the Flint House, and if you've eaten at any of the group's places before, then you'll know that the Ginger way of cooking is big on flavour and low on frippery.
This ethos is perhaps most vividly realised at this expansive Hove pub, with Sunday roasts and a perfectly poured local pint a particular treat. We could spend a whole afternoon into evening here, and considering how much we've eaten on our tour of Hove's best restaurants, we think we'll spend the night here, too. Fortunately, the Ginger Pig has rooms.
Website: thegingerpigpub.com
Address: 3 Hove St, Hove BN3 2T
And that's that; care to join us back in Brighton for a bite? Go on, you know you want to…