Hey, we're all in the same boat, right? We all want to cook a little more. We're all doing our best to eat more healthily, sustainability, locally and seasonally. We're also trying to eat way less meat and fish, because the environmental impacts of mass consumption just can't be ignored, and our waistline is grateful for it, too.
That pesky time, though. The clock and convenience just seem to get in the way of our goals. But with a fridge full of, well, whatever you've got knocking about, and a little nous, we can reduce food waste, save time, and most importantly, whip up some seriously delicious dinners in just minutes.
Now many of us are facing fewer supermarket trips, self-isolation, and even lockdown, it's vital and responsible that we use what we've got in the house. Here's how; our 5 quick and easy midweek dinner ideas, IDEAL for using up leftover vegetables and avoiding waste during lockdown.
PENNE WITH ROASTED TOMATO ARRABBIATA
Tomatoes turning ropey certainly don't look all that appetising raw. But they can still be made into a delicious pasta sauce. Simply roast them in the oven with olive oil and salt over a high heat until the skins begin to blacken slightly. About five minutes before you anticipate the tomatoes reaching their peak, chuck a few cloves of skin-on garlic into the roasting tray, to soften and sweeten them.
Then, blitz everything in a food processor with a sliced long chilli or two ('arrabiata' does mean angry, after all, and as such calls for enthusiastic heat levels), adding a little more olive oil to create a smooth, emulsified sauce. Season with a little more salt as desired, and check for the ideal sweet/sour balance, which is always unpredictable with tomatoes. Adjust accordingly with sugar and vinegar.
This is delicious with penne, a few torn basil leaves and some freshly grated parmesan. Buon Appetito!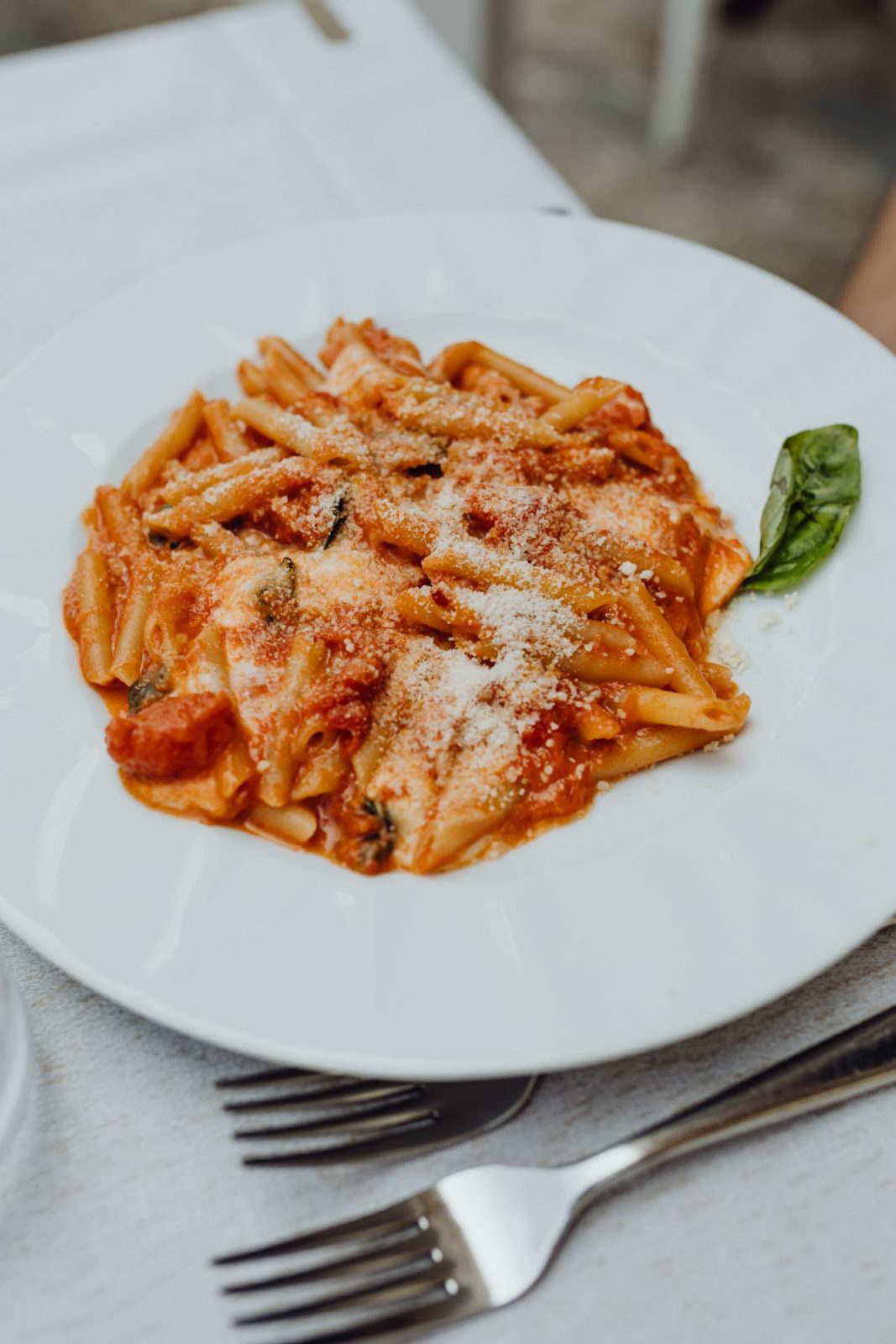 GRIDDLED COURGETTE, PEARL BARLEY & A PESTO OF LEFTOVER LEAVES
It's such a shame to see that bag of rocket, watercress, spinach – anything green and leafy basically – go to waste just because it's started to turn. Yet, it feels so wrong in a salad once the leaf has lost a little of its vitality.
The solution? A quick pesto of any salad leaves which are seemingly going south. Just blitz them up with olive oil, toasted pine nuts if you've some lying around, and grated parmesan. We like to season ours with lime zest and juice, but that's up to you.
To make a meal of it, this pesto can be spun through some spaghetti, but we particularly love it with pearl barley. Just simmer in a simple vegetable stock for around 45 minutes, drain it (reserving a little of liquid if it needs moistening) then mix your pesto and some chopped capers through that. At some stage during the simmering, slice some courgettes thinly and lengthways and griddle them until charred, and when everything's done, drape them over the pearl barley and pesto mix. Delicious.
VIETNAMESE RICE NOODLE SALAD WITH HERBS & CRUNCHY CABBAGE, CARROT & CUCUMBER
We've all got half a cabbage lurking at the back of the fridge's vegetable drawer, right? And it's probably sharing its bed with two-thirds of a cucumber and a carrot or two. We know it's not just us. Anyway, use them all up in a fresh and zingy Vietnamese style rice noodle salad.
Your local Chinese supermarket will likely sell a decent brand of dried rice noodles; look for 'banh pho' in medium thickness – we like the Three Ladies brand. Or use glass noodles for something lighter; that's the beauty of individual autonomy. Follow the instructions on the packet to cook them, but make sure you rinse and cool thoroughly afterwards. Shred your crunchy vegetables into matchsticks with a knife if you've got the dexterity, or using a box cheese grater otherwise.
Then, make a dressing using sliced bird's eye chillis (red, green or both…we like both), and equal parts lime juice, fish sauce – soy sauce for a vegan alternative, if that's your jam – and golden caster sugar. Taste and adjust accordingly. Mix everything together and add some torn mint and coriander, as well as some toasted peanuts or black sesame seeds. So fresh, so clean, so good.
If you want to bulk this out, add a poached, shredded chicken thigh to the mix.
EGG FRIED RICE WITH ALL YOUR LEFTOVER RICE & VEGETABLES
The good news is this; the finest fried rice benefits from the leftover rice being a day old (and a day cold), since the time spent in your fridge dries it out agreeably, allowing for less clumping in the pan or wok. This one really is a no brainer, then. What's more, you can use a selection of what's kicking about in your fridge, diced fairly finely. We particularly like courgette, carrot, cabbage, peas, sliced onion and sweetcorn to provide the body, with sliced spring onions and chillies added at the end.
Simply crush a skin-on clove or two of garlic under your palm, and add to a couple of tablespoons of cold oil in your wok. Bring up to a strong heat then remove the garlic before it browns. There you have it; perfumed oil perfect for coating all those grains. Make sure that oil's super hot and crack an egg or two into the wok. Allow it to set slightly then mix it around with a spatula so it resembles scrambled eggs.
Add your cooked rice and vegetables of your choosing to the wok and stir fry gently (you don't want the grains to break down, rather to each be coated individually with oil) until the rice is heated through thoroughly. This could take up to ten minutes.
Prepare a seasoning mix of soy and oyster sauce, white pepper and sugar (just a little, oyster sauce is already pretty sweet), taste to check the balance is right. Then, make a well or space where the wok's surface is exposed, and add your seasoning to the pan; allow it to caramelise slightly. Mix through the rice mix, add those spring onions and chillies, and serve.
If you're wanting to add meat, some diced Chinese 'Lap Cheong' sausage is IDEAL.

ROASTED ROOT VEGETABLE THAI CURRY
No one's capable of eating a whole butternut squash in one sitting, right? Not even a hungry family, we'd wager. There just always seems to be half a one sitting around in the fridge, awaiting instruction. We just love it as part of a Thai curry, which we've detailed over in this article, our 5 IDEAL ways to cook with butternut squash, so head over there to check it out, saving us some bother in the process. You could use other root vegetables in the same way of course.