Autumn?! Isn't a bit early for that talk? We're still washing off the sweat from the UK's hottest ever day, and as such, surviving summer is the priority here, rather than getting our gardens autumn ready. But, as any Brit will know, the seasons roll around quickly with an unpredictably all too predictable, so it's best to be prepared for any eventuality. Because before you know it, those leaves will be turning brown and the nights drawing in. With that in mind, here are 5 IDEAL ways to make the most out of your garden in autumn.
WARM IT UP 
While the most eco-friendly way to stay warm is to put on another jumper and layer up, if you want to make the most out of your garden in the autumn then turning to another source of heat is a viable, comfortable alternative. So, add some ambience with a chiminea or cultivate that campfire feeling with a firepit. If you want to heat your patio up with minimal fuss then consider an electric heater; whatever you do, avoid gas heaters – they are extremely wasteful in terms of both heat generated, the energy consumed and CO2 emissions. In short, if you make it warm, keep it green.
If you think of yourself as a bit of a DIYer, then why not consider making your own firepit? Simply choose the ideal spot in your garden, make a circle using landscaping stones and build it up from there. Once you've gotten the height you want, top with a grill or metal grate. Alternatively, create a square metal fire pit; find four pieces of evenly sized sheet metal, join your four corners with a weld and there you go.
CREATE A WINDSHIELD
With autumn comes the unwelcome introduction of blustery weather; leaves whipped into a leafy whirlwind, knickers blown off the line and into neighbour's gardens and the rest. As such, creating a sheltered area around your garden patio, terrace or balcony is a wise move. In doing you'll protect you and yours from cold winds, turning an otherwise unusable space into a cozy one. 
A garden windshield can extend outdoor living for a month or so in both autumn and spring, and acrylic sheets are the ideal material for such a windshield as it is 30 times stronger than glass (and safer, too) and also much lighter. Like glass, it not only ameliorates the wind, but it also allows you to retain a view of your garden as these plastic sheets are transparent.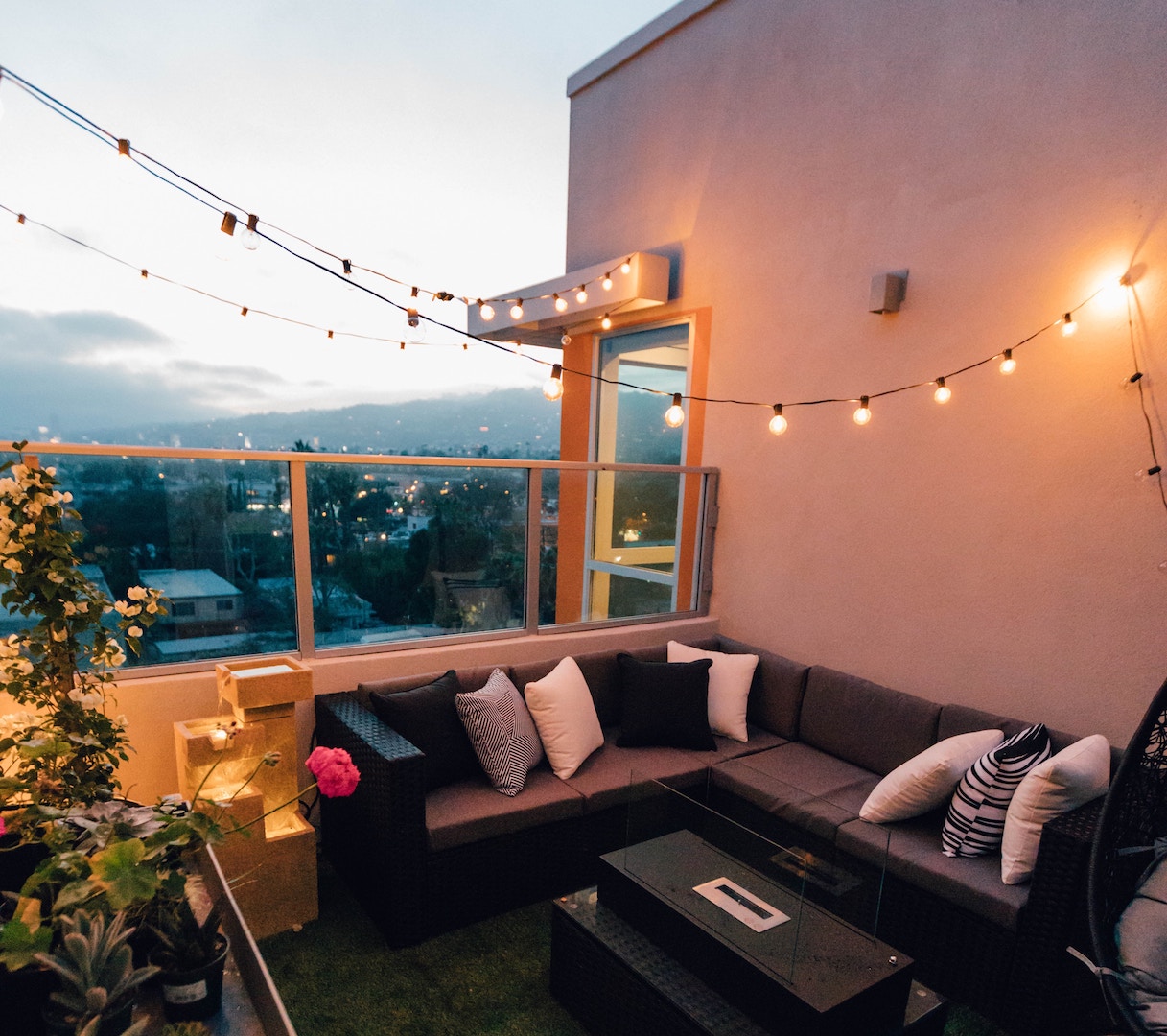 GET A HOT TUB & STRING SOME LIGHTS
Autumn is arguably one of the best times of year to enjoy a hot tub. When the air outside is cooler, climbing into a tub full of bubbling warm water is all the more enjoyable and satisfying. When you can see your warm breath meet the cold air, well, that's just magic isn't it? It's also a great way to get outside and enjoy some fresh air whilst still keeping the heat in, and gives you the opportunity to enjoy the darker, starlit nights of Autumn. String some whimsical fairy lights up for maximum effect, celebrating the drawing in of the night in style.
PLANT EVERGREENS & AUTUMNAL FLORAL FAVOURITES 
As plants slowly shut down for winter,  autumn sees deciduous trees and shrubs turn shades of crimson, russest, bronze and gold. While to some this is indicative of decay and demise, to others it can be, quite simply, beautiful. We fall into the latter camp. 
So, create a garden of beautiful autumnal shades, embracing the inevitable passing of time as best you can. Of course, you'll want to pick the right plants and shrubs; ones hardy enough to survive the dropping temperatures, that's for sure. Some of the best include aster, which flowers in late summer and is at its very best in autumn, and crocus, which comes into its own in October. To add a splash of colour to any border or pot, red and crimson dahlias which bloom from midsummer right through to the first frost are ideal.
When it comes to adding those autumnal colours to your garden, chrysanthemums, a perennial (and annual) favourite is an obvious choice. For something a little more exotic, osakazuki, a type of Japanese maple, is known for its truly brilliant orange-red colour. Fothergilla and spindle shrubs offer spectacular autumnal colours too. Last but not least, evergreens are also an clear choice, as they look good all year round.
GROW YOUR OWN FRUIT AND VEG
Finally, it's time to embrace one of the most magical components of the new season; the introduction of new, heartier ingredients. Indeed, with autumn comes the harvest – apples, pears, pumpkins, blackberries, butternut squash and cauliflowers are all at their best during this time. 
Embrace this by doing a bit of your own planting; there are plenty of cool season crops that thrive in autumn. For some quick growing vegetables that can be sown in late summer and ready to eat in autumn, try rocket, baby carrots, mustard greens and radishes. Other vegetables to plant in autumn for future enjoyment include broad beans, broccoli, lettuce, onions, peas, radishes, shallots, spinach, spring onions and every child's favourite, turnips. 
And though it requires a bit of foresight, remember to tend your garden well in autumn to keep the produce rocking through winter. As long as the ground isn't waterlogged, garlic can be planted from autumn right through to February. What's more, leafy crops like pak choi and watercress should germinate quickly at this time, giving you a steady supply of green veg for soups, stir-fries and winter salads right through until the first frosts.