Cmon, let's be honest. Who hasn't dreamt of staying in a real medieval castle, complete with fortified walls, drawbridges and tall round towers? Though castles were once positioned on high ground for defence purposes, today their elevated position makes for the perfect opportunity to enjoy a truly breathtaking panoramic view of the surrounding locations.
So, why not enjoy a unique holiday experience and stay overnight in a real fortress? With Halloween on the horizon and all things spooktacular in mind, we've teamed up with Holidu, a search engine for holiday homes, to bring you these; our 6 IDEAL haunted houses to stay in this Halloween. 
CASTELLO LEOPOLDO – TUSCANY, ITALY
This stunning 16th century castle oozes ancient charm and elegance, and can be found in the province of Livorno in Tuscany, Italy. The romantic-style building boasts the most perfect location for a panoramic view over the valley and, on clear days, you can also see the island of Elba. When the night falls, this location would make for a considerably haunting atmosphere: covering a span of 1500 m², Castello Leopoldo can comfortably accommodate 20 people for a thrilling murder mystery game weekend. Booking the entire castle will cost from £1,528 per night.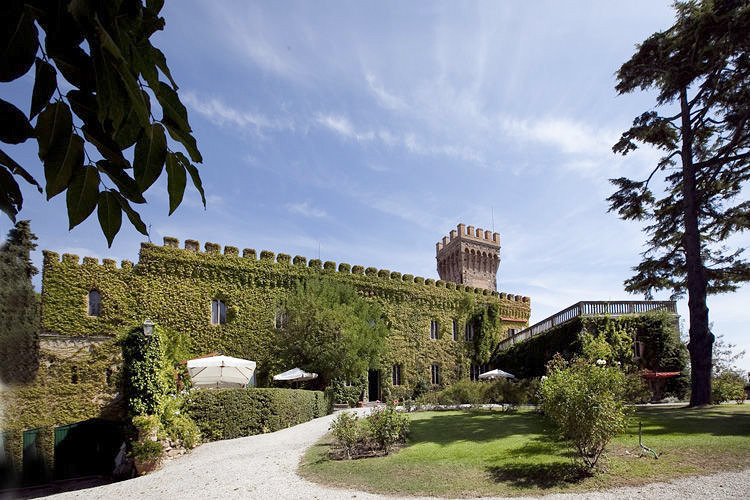 Halloween activity tip: If you have the stomach to learn about all things brutal and gruesome, a visit to the Torture Museum in San Gimignano is a must-do during the spookiest season of the year. Feast your eyes upon the most extensive exhibition of medieval torture weapons you'll ever witness in one place – beware, this museum is likely to leave you with nightmares for days on end. 
CHÂTEAU MARTINUS – SAINT-CAPRAIS-DE-LERM, FRANCE
The Château Martinus, located in the Aquitaine region of France, is a spectacular 1,000 m² castle that can accommodate up to 18 people and is the perfect setting for a Halloween party to be remembered. In the medieval dining room you can enjoy a midnight feast along the long wooden trestle-style table, overlooked by a roaring fireplace which heats the room. The interior design adds to the old-fashioned, gothic atmosphere with features such as stone walls and exposed beams found throughout the castle. The price for renting starts from £301 per night. 
Halloween activity tip: If you fancy a trip to Bordeaux then make sure to do it on the day on which the annual Zombie Walk is taking place. October 19th will see hundreds of the living dead take to the streets of the city in search of fresh human brains to devour! Make sure to dress to kill – the very best zombie looks will be rewarded.
MAZURES – LIÈGE, BELGIUM
This Game of Thrones style residence is part of a castle which overlooks the banks of the river Vesdre, located in Liège, Belgium. After a full renovation, the castle now houses a 100 m² holiday home in the left wing of the tower. As soon as you cross the medieval fantasy-style bridge and enter the home, you will find the modern living room and kitchen, as well as a spiral staircase which leads you upstairs to the two bedrooms. It can accommodate up to 4 people and the prices start at £81 per night.
Halloween activity tip: If staying in one medieval castle is not enough to quench your thirst for all things Halloweeny, drive 45 minutes to the stunning Château de Jehay where you can enjoy some spooky thrills at their night of the witches celebration. With face painting, free candyfloss and a thrilling storytelling walk through the park, this event is suitable for families who seek some horror this Halloween. For more information head to: walloniabelgiumtourism.co.uk
CASTLE SCHLOSS SAARFELS – SERRIG, GERMANY 
The next rental is a cosy two bedroom apartment located inside the amazing Castle Schloss Saarfels in Germany. The castle has views looking out to the Riesling vineyards as well as the river Saar. Having been completely renovated, the home has everything you need for a quaint weekend getaway. The location makes this property a perfect choice for people wanting to visit more than one country, with the borders to Luxembourg, France and Belgium all nearby. Prices start from £159 per night.
Halloween activity tip: Not one for the faint hearted, if you dare to dance with the devil then book tickets to 'Devil's Exorcist – The Spectacular Horror Experience in Trier'. A live performance of an exorcism taking place on a young girl, go prepared to feel truly horrified (and be warned that demon attacks into the audience are not a rare occurrence). Book your tickets here: veranstaltungen.meinestadt.de/trier
NUMBER 6 NARROW WATER CASTLE – COUNTY DOWN, NORTHERN IRELAND
This next gem of an apartment lies inside the majestic Narrow Water Castle in Northern Ireland. The original castle building dates back to the 1680s, having been newly renovated to include a luxury apartment which accommodates up to six people. Features such as the local granite exterior and interior exposed beams make this home the perfect choice for a late October weekend away in the Irish countryside. Renting out this unique apartment costs from £151 per night.
Halloween activity tip: A trip to the Downpatrick and County Down railway offers the spookiest steam train experience in Northern Ireland. The train ride will lead you to the wicked witch's haunted graveyard and then back to Merlin's cavern, with face painting for the children available before you board. 
CHÂTEAU ST. PHILIPPE – SAINT-PIERRE-D'ALBIGNY, FRANCE
Last but definitely not least on our list is this mysterious French château which dates back to 1032. Originally built by the Benedictine monks in 1032 as a priory, this home is rich with history that is guaranteed to leave you feeling the eerie presence of the people who once lived within the castle walls. Almost 1000 years later, the current owners have completely restored the castle and preserved its architectural integrity whilst immersing that with some modern charm. To stay here will cost from £1,687 a night.
Halloween activity tip: A mere 10 minute drive from the apartment lies yet another fascinating castle: Château de Miolans. The history of this medieval castle dates back to 1014, but its most notable usage was when it was made into a state run prison from 1564-1792.