So, you're penning your itinerary for that once-in-a-lifetime trip to Cuba? Old Havana is obviously your first port of call, with its jazz clubs, vintage cars and vibrant streets. Perhaps you're also planning a stop off in Varadero, the island's most famous beach resort? It's brash, bold, sometimes beautiful, and certainly worth a visit. 
But in our humble opinion, it's in the town of Trinidad that you'll find Cuba at its finest. A four-hour drive south-east from Havana, this is Cuba's best-preserved colonial town, with a gorgeous, cobblestone centre, fascinating and well-documented history, and diverse surrounding landscape, including the Escambray Mountains and Casilda Bay. In short, this is everything you want from a holiday. To keep that schedule of yours tight and concise, here are 6 IDEAL things to do in Trinidad, Cuba.
PALACIO CANTERO & TRINIDAD'S OTHER MUSEUMS
To fully appreciate the majesty of the old colonial centre of Trinidad, with the backdrop of lush jungle and even a little ocean in the distance, you should first ascend the tower of Palacio Cantero, Trinidad's best vantage point. Once you've taken in the town below, the palace itself has so much to offer; the neo-classical, brightly coloured facade mixes local and colonial styles elegantly, and within the mansion, you'll also find the Museo Municipal de Historia, which displays Cuban antiques and trinkets.
Trinidad is often described as a 'living museum', but in the town there are several other genuine museums to check out, too. The Palacio Brunet – another gorgeous colonial mansion – houses the Museo Romantico and more Cuban antiques, and the Museo de Arquitectura Colonial documents and displays some of the history behind Cuba's gorgeous, unique buildings. 
Finally, the Museo Nacional de la Lucha Contra Bandidos (National Museum of the Struggle Against Bandits) is worth your time for the name alone. Inside, you'll find military artefacts relating to the country's fight against counter-revolutionaries and a climb up their watchtower will grant gorgeous views of the mountains behind.
PLAZA MAYOR
As any visitor to a Latin American city will know, the central square is reliably and so often the beating heart of the place, and the focal point of activity, culinarily and culturally. Trinidad's Plaza Mayor is no exception. Lined with colourful Cuban buildings and shaded with palm trees, it's a gorgeous spot to hang out and sip coffee or, better still, rum. 
Most accommodation options in Trinidad (most likely a welcoming, convivial homestay arrangement) are located close to the square, so it's the ideal place to anchor your trip. Several buildings of note sit in the square, too, including the Museo de Arquitectura Colonial we mentioned earlier. Perhaps most importantly, though, is this one…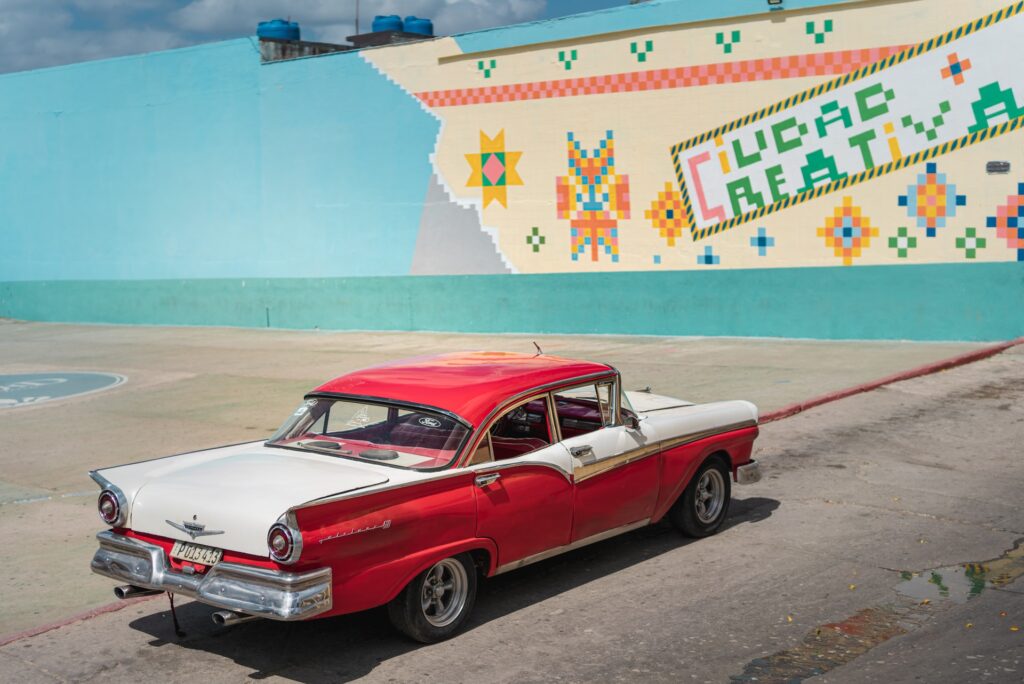 IGLESIA CATEDRAL DE LA SANTÍSIMA TRINIDAD
Just off Plaza Mayor and looming large over the main square and town as a whole is Cuba's largest church, Iglesia Catedral De La Santisima Trinidad (the Cathedral Church of the Holy Trinity). Built in the 19th century, the grand structure houses El Señor de la Vera Cruz (The Lord of the True Cross), a wooden sculpture of Christ with great meaning to the Cuba people. 
Interestingly, this sculpture was originally destined for shipping to Veracruz, in Mexico, but stormy weather prevented its ocean crossing three times. Church officials suspected divine intervention at play, and because of that and to this day, the sculpture remains in Trinidad. Because of the significance of this journey (or rather, lack of) the Lord of the True Cross is beloved of Cubans. 
EXPERIENCE TRINIDAD'S LIVE MUSIC SCENE
Cuba's, and in turn Trinidad's, live music scene is frankly thrilling, and while you're in town it's obligatory to catch a show or two. Not that there's any chance of missing one; next to the cathedral in Plaza Mayor, Casas de Musica is one of the country's premier live music and dancing spots. Open-air and largely centred around the Catedral's staircase, there's a salsa performance at around 10pm each evening, which often descends into a raucous affair pretty quickly.  
If your dancing shoes are still itching for more action afterwards, then Disco Ayala is the area's main night club. Just a ten-minute walk from Casas de Musica and housed in a cave, it doesn't get lively until late, but from around midnight onwards, expect large crowds and a sweaty dancefloor. That's your evening written, then. What fun!
TOPES DE COLLANTES
Trinidad's surrounding natural beauty is one of the reasons why a visit here is essential if you're in Cuba, and just 10 miles from the city is Topes de Collantes, part of the Escambray Mountains, and a nature reserve.
Here you'll find the cascading waterfalls Vegas Grande, El Rocio and more, which can be reached via an enjoyable hour's hike to its peak through lush vegetation and jungle where you'll see butterflies and birds native to Cuba fluttering across your path. 
Perhaps the highlight, though, is El Nicho park, which has a waterfall and several pools perfect for swimming.
PLAYA ANCON
Speaking of swimming, a trip to the Caribbean wouldn't feel complete without a jaunt to the beach. Playa Ancón is just a 15-minute drive (or ride in one of Cuba's iconic taxis for just a couple of pounds) south of Trinidad, and boasts pristine white sand and clear, shallow waters ideal for a dip. After enjoying a morning or afternoon here, you'll be well rested and refreshed for another evening's dancing back in Trinidad!
If you're keen to explore the food of Cuba next, check out our article on gastronomic Cuba and its 5 IDEAL must try dishes.