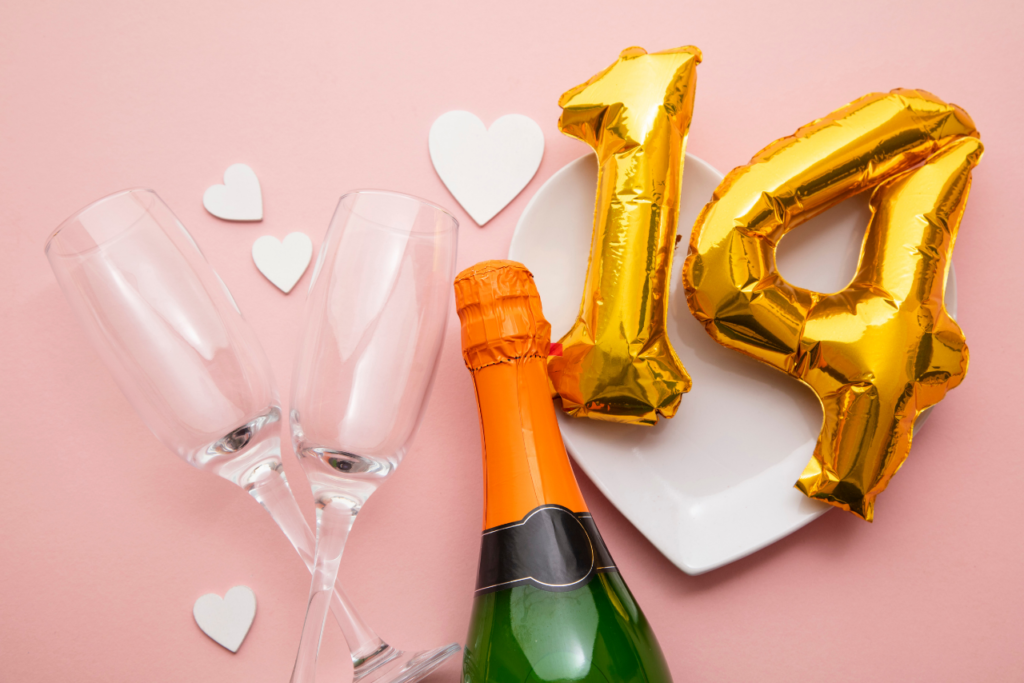 Because it's all about the in-speriences this Valentine's day.
Valentine's Day 2021 is just around the corner. With restaurants closed or restricted to takeaway due to the current lockdown, leading data and analytics company GlobalData anticipates an explosion of interest in romantic meal kits as people seek to create intimate, restaurant-quality dinners at home.
Throughout 2020, we saw a significant shift towards people keen to recreate out-of-home experiences within the domestic setting, and since UK consumers in 2021 are still unable to visit their favourite restaurants, we expect many will buy the next best thing – Valentine's Day meal kits to recreate at home.
The company said; "The changes in demand for more at-home experiential fare should be embraced by foodservice providers. The desire for novelty extends as much to meal kits and takeaways as it does cocktails; people like to engage with brands that make their at-home experience better, more exciting or funny'.
'Restaurants, pubs and bars still have a golden opportunity to capture at-home consumption share from supermarkets and other retailers by offering something the supermarkets cannot; in-speriences will be a solid investment until the end of lockdowns and likely beyond. Innovating at-home experiences will provide a much-needed boost to local pubs and restaurants, which will be vital for their survival in 2021."
To help make Valentine's Day a night to remember, we've teamed up with Rebecca Snowden, Interior Style Advisor at Furniture And Choice, and Dimitri Marqueteau, Front of House Manager at Michelin Starred restaurant Bohemia, to reveal these 6 ways to create the IDEAL restaurant experience at home this Valentine's Day.
ORDER IN
We've all seen those Come Dine With Me episodes where the guests are left twiddling their thumbs for an inordinate amount of time while the host gets increasingly flustered in the kitchen. It could happen to you…
Sure, you could cook. But if you're spending all your evening yelling at an unpredictable souffle, setting fire to your kitchen and leaving your partner to fan the smoke alarm, it's not exactly a fun experience for anyone.
To truly create an ideal restaurant experience at home (and avoid the washing up) why not order in from your favourite restaurant or get a takeaway? We've all been cooking an awful lot more than normal lately, and it could be a real treat to savour your partner's company instead of spending the day and evening cooking.
Valentine's Day is one of the busiest times of year for restaurants. Ordering in represents a wonderful way to show your support for a struggling industry. These are some of the best Valentine's Day meal kits out there from top UK restaurants; do check them out!
IT'S ALL ABOUT THE WINE PAIRINGS
Any restaurant worth their pink Himalayan salt will have a decent wine list. If you're going all-out with a gourmet meal – nibbles, starters, mains, desserts, cheeses and all – why not announce the arrival of each new course with a wine which will enhance its enjoyment?
A dry white, whether still or sparkling, for example, will pair well with a seafood starter, a deep, confident claret with red-meats or spicy mains, and Moscato, with its distinct fruitiness plus a touch of sweetness, is the ideal companion if a cheese board is rounding off your meal.
To impress your date, we've considered some of the most popular Valentine's day meals, and have asked Lukasz Kolodziejczyk, Head of Fine Wine at Cult Wines, to offer his pairing suggestions. Check out our 7 expert wine pairings for the UK's favourite Valentine's Day dinners to hear Lukasz' insights.
And should you be ordering in a takeaway, here's 5 IDEAL wine pairings for the UK's favourite takeaways, from fish and chips to Thai green curry.
GET YOUR PRE-DINNER DRINKS JUST RIGHT
To get you in the mood, Dimitri of Bohemia, advises: "Pre-dinner drinks are the perfect way to set the mood. For romantic meals, we always recommend starting with a Lanique Rose Fizz made with Lanique – Spirit of Rose, distilled from rose petals, topped up with Prosecco or Champagne. Valentine's is definitely the evening to drink better rather than more, so select wines you know you both like and push the boat out a bit price wise, to really feel a bit special."
Even if you're not great mixologists, you could try pre-mixed alcoholic cocktail brands, as well as home delivery from local bars, who facilitate experiences in the home, providing convenient emulations of the going-out experience and moments of excitement and indulgence. And that's what this year's Valentine's Day is all about, right?
GET THE AMBIANCE JUST RIGHT
Rebecca says: "Candles go hand-in-hand with romance thanks to the ambience they create when the lights are turned down low. Placing as many as is safe around the dining room and on the table itself will help create a lovely atmosphere."
Dimitri adds: "For a romantic evening, don't forget candles, but not a scented one as this could distract from the food. The light from candles rather than harsh light from modern bulbs will set the scene and bring warmth to the room."
We also think that music is so important when it comes to that restaurant experience at home. To go to all that effort curating the evening, only to stick The Simpsons on in the background would be sacrilege. Instead, some smooth, lowkey grooves set the tone perfectly for a night of good conversation and romance.
PAY ATTENTION TO THE LITTLE THINGS
Achieving a Michelin star involves placing painstaking attention on every last crease and crumb on the table, which means each tiny detail of the evening needs to be just right.
When it comes to setting your table, Dimitri advises: "White tablecloths are a must to create that special feeling and they must be creaseless. We achieve this by re-ironing them when laid on the table, it is the small attention to detail that will be noticed on special occasions. All cutlery should be hand polished and placed perfectly on the table."
Do the same if you're looking for that sense of sophistication which a fine-dining restaurant brings.
SETTING THE TABLE
Achieving an elegant dining table set-up needn't be complicated but it can make all the difference when it comes to creating a cosy, convivial and romantic atmosphere.
Rebecca advises: "When it comes to setting the table, keeping it simple is key for an elegant feel. Avoid clutter in the room and try not to overcrowd the table so you have plenty of space while dining. In particular, steer clear of any statement centrepieces, as these can easily get in the way of you both making eye contact, or perhaps holding hands across the table."
And if you're keen for more tips on table dressing, then here are 5 IDEAL steps for giving your dinner table the fine dining treatment.