The resort city of Palm Springs and its neighbouring eight cities which make up Greater Palm Springs has long been a playground for the rich and the famous. Housed in Southern California's Colorado Desert, its iconic modernist, mid-century architecture, palm tree-lined boulevards and surrounding Coachella Valley have an aesthetic all of their own. The area's 'chillosophy' is also legendary; this is somewhere so well suited to kicking back and letting go.
Though it's certainly not the only reason to visit California, the Palm Springs area is most famous now for the globally-renowned, hipster-friendly Coachella Valley Music & Arts Festival which takes place in April. But for visitors not keen on celebrating the world-famous marriage of music and dust, Greater Palm Springs is actually most vibrant and alive later in the year, between November and late March, when temperatures dip (slightly) and it welcomes second home-owning retirees, partygoers and celebs escaping LA, which is just a two hour drive away.
If you're visiting and looking for itinerary inspiration, then check out our 5 IDEAL things to do in Greater Palm Springs, California, for Fall 2020.
ESCAPE THE HEAT AT PALM SPRINGS ART MUSEUM
We've only just got here and we're already heading indoors! But when you appreciate the sweltering Palm Springs temperatures, you'll understand why. Any and every excuse to enjoy some shade, a breeze or even air conditioning, should be taken.
Inside the Palm Springs Art Museum, it's a cool and consistent 23°C, with a light and airy design perfect for those moments of desert respite. But that's not the only reason you should visit this fantastic collection of galleries (28, in fact) and sculpture gardens; inside houses collections from some of the world's most influential, highly regarded artists, including Picasso, Gormley and Warhol, to name but a few.
Head back outside when you've cooled off to the gorgeous Faye Sarkowsky Sculpture Garden, which incorporates native flora and fauna with modern sculpture by the likes of Fletcher Benton and Betty Gold.
On Thursdays between 4pm and 8pm, the museum is free to enter. Palm Springs Art Museum is temporarily closed due to the ongoing health crisis, but they intend to reopen in Fall.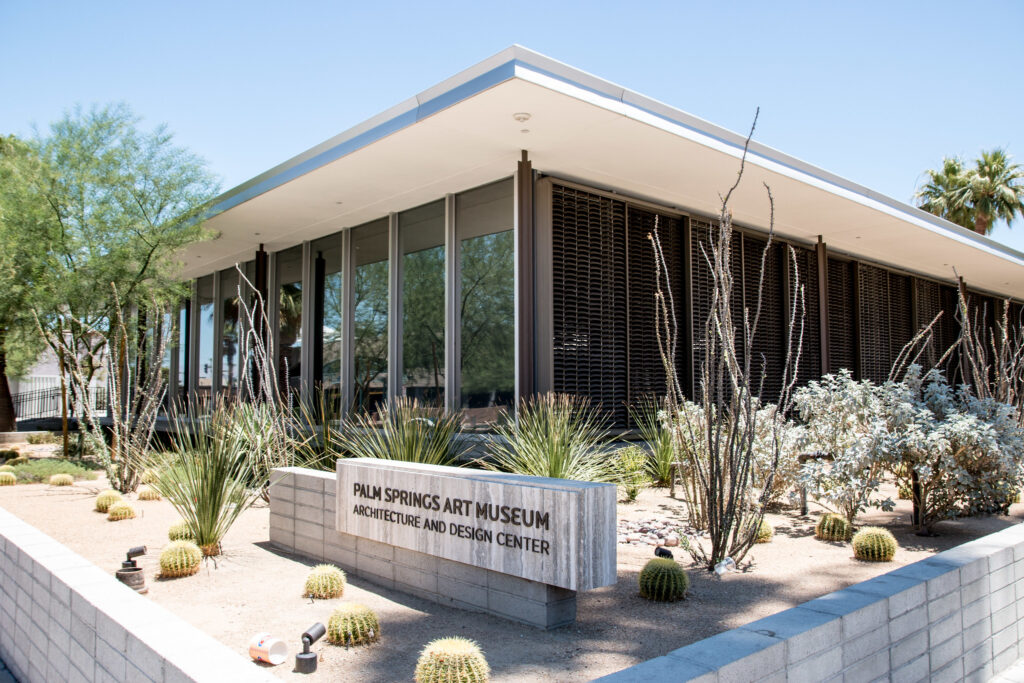 SEE THE DESERT ON HIGH ABOARD PALM SPRINGS AERIAL TRAMWAY
Though Palm Springs is the focal point, Greater Palm Springs is actually made up of nine cities in total; the aforementioned Palm Springs, along with Desert Hot Springs, Cathedral City, Rancho Mirage, Palm Desert, Indian Wells, La Quinta, Indio and Coachella. All are within an easy drive of each other, only taking half an hour from most northern Palm Springs to the most southern Coachella.
Anyway, to take in the whole awe-inspiring vastness of the area, the Palm Springs Aerial Tramway is a must. Taking you through the Chino Canyon, this is a breathtaking, hair raising journey which reaches an elevation of 8'516 feet (at the Mountain Station). Just imagine the views!
Check the Palm Springs Aerial Tramway official website for updates on their reopening plans.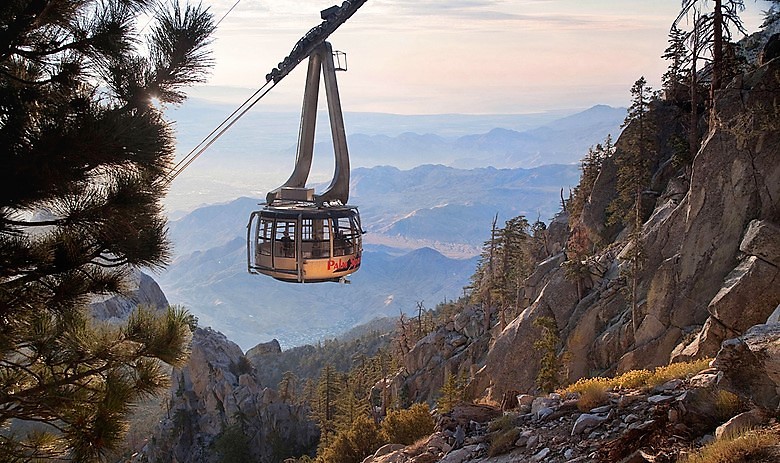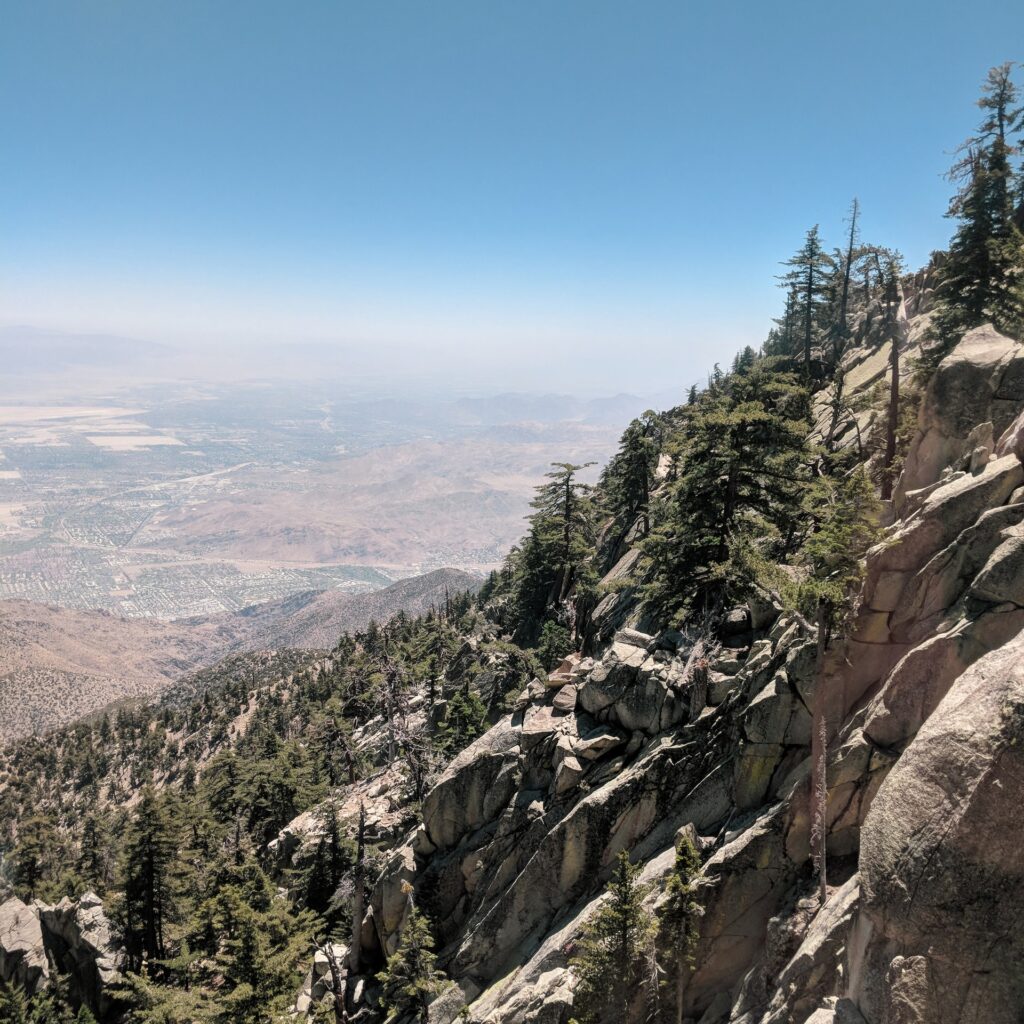 SEE NATURAL WONDER AT JOSHUA TREE NATIONAL PARK
A 40 mile drive from Palm Springs will take you to Joshua Tree National Park, which represents the point where the Colorado and Mojave deserts meet. It's this coming together of two distinct ecosystems which make the park so iconic in its stark beauty; well worth a visit to see the surreal image of the Joshua Trees (native to the Mojave) themselves against the backdrop of vast desert behind, the tree appearing to be praying to the sky above.
After a brief period of closure, The Joshua Tree National Park has now reopened to the public, with new safety measures in place.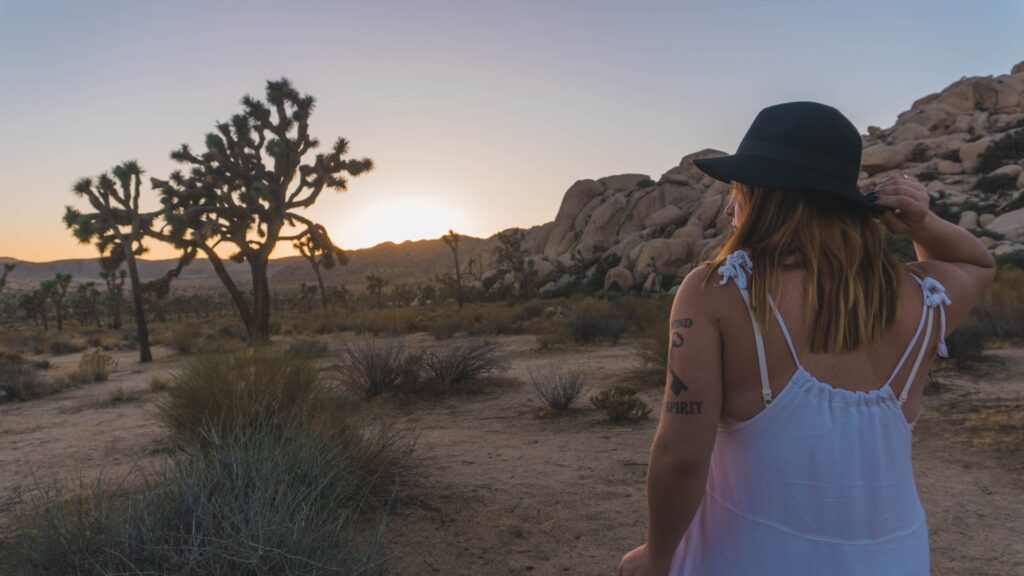 SIN & SINATRA IN CATHEDRAL CITY
Frank Sinatra loved Palm Springs, and it became his adopted home. As such, fans of Ol' Blue Eyes regularly make the pilgrimage to the desert to set their own on the place he was buried, which is found in the Desert Memorial Park Cemetry in Cathedral City. For those wishing to pay their respects, the park is open daily. Whilst previously the park was open 24 hours a day, new opening times have recently been announced; 7am to 5pm from Monday to Friday, and 7am to 12pm at the weekends.
The Cathedral City also boasts Greater Palm Springs' main Casino resort complex; Agua Caliente Casino Palm Springs. Though it opened in 2001, three years after his death, we're sure Frank Sinatra would've loved a few mimosas around the Blackjack tables here. It's particularly famous for its range of slots, of which there are currently nearly 1500 on the floor. Though the casino has now reopened with new precautionary and social distancing measures in place, if you'd prefer to try some demo mode slots before your trip to Palm Springs, try out Lucky Twins slot, which can be played for free with no financial commitment or personal details required. And remember when the fun stops stop.
SHOP YOUR HEART OUT IN EL PASEO SHOPPING DISTRICT
''The Rodeo Drive of the Desert''. With a title like that, we're sold. Great Palm Springs is certainly an affluent area which is boosted by a large influx of big spenders each winter season, and on El Paseo Shopping District, you'll find boutique and designer shops selling one of a kind pieces. In the heart of Palm Desert, this one mile strip incorporating around 200 businesses isn't only for clothes shopping; there's also several art galleries and some cracking restaurants, too.
But back to the shopping! The open air Gardens on El Paseo is perhaps the focal point for fashionistas, with stores from Tommy Bahamas, Trina Turk and more found here. Or, simply stroll the strip, where you'll find everything from Burberry to Gucci, Anthropologie and Ralph Lauren, rubbing shoulders with independent boutiques. Best keep that credit card somewhere easily accessible!
Most shops in El Paseo Shopping District have now reopened, with social distancing measures in place.