Built in 1630 and taking inspiration from the grand piazzas of Europe, Covent Garden was the first of its kind in London, and still retains that continental soul to this day.
There's both a frenetic and an alfresco vibe here, with tourists and Londoners alike drawn to the elegant, pedestrianised piazza in the pursuit of catching a show, perusing the shops, and, as we're assuming you're planning to do, eating in some of the area's fantastic restaurants.
Whether you're watching the operatics, acrobatics, amateur dramatics, or you're simply here for the shopping antics, here are the places to eat near Covent Garden.
The Barbary Next Door/The Barbary
Ideal for intoxicating Berber-style flavours…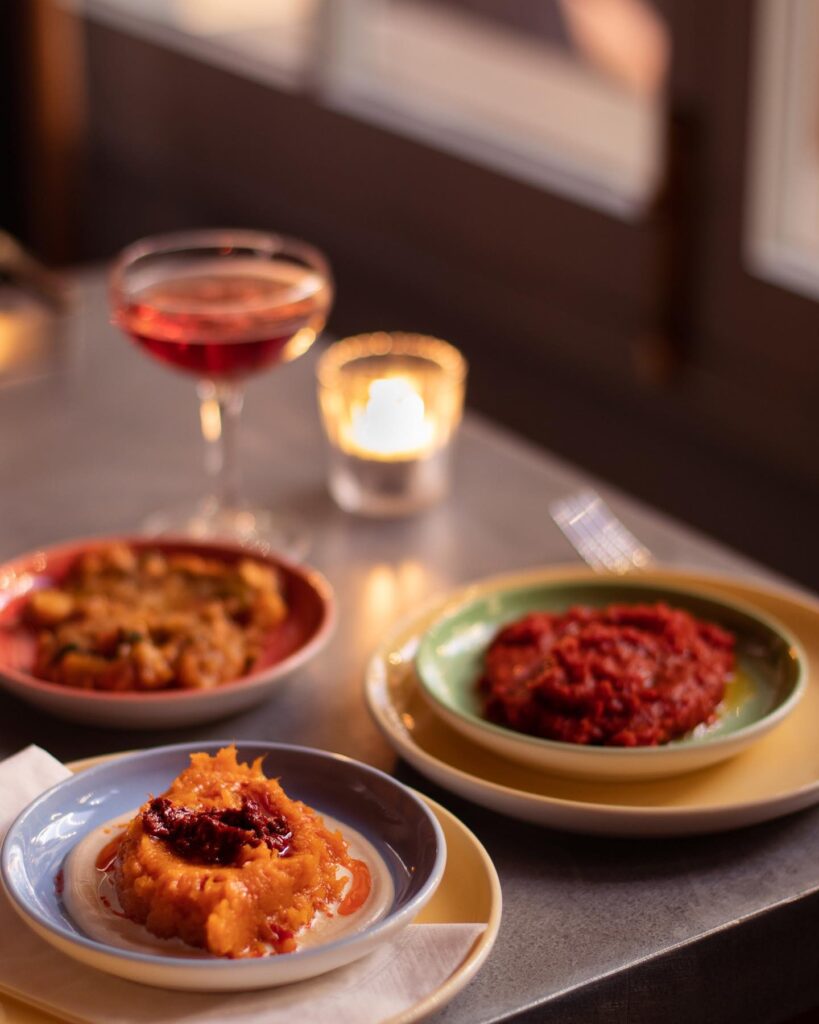 Tucked away in Neal's Yard, one of London's prettiest and most colourful streets, is one of London's most fabulous brunches.
At The Barbary Next Door, a cosy, candlelit spot (yep, even in the daytime) with just ten seats, you'll find a nourishing, soulful North African breakfast served from 9am, perfectly setting you up for a day of shopping and strolling.
The four cheese bourekas, brown egg, tomato and zhug is a thing of nourishing, piquant beauty, but if you're after something lighter, the restaurant's berries with tahini, greek yoghurt and date molasses is as velvety and satisfying as it comes.
Its raucous elder sibling The Barbary, which is just next door (duh) is a wonderful spot for lunch or dinner, too, boasting intoxicating Berber-style flavours, all served up around horseshoe-style seating. Expect a shot of two of their Lebanese style Arak to be offered, often on the house!
Website: thebarbarynextdoor.co.uk
Address: 16A Neal's Yard, London WC2H 9DP
---
Ikoyi
Ideal for modern spice-driven flavours…
We didn't think chef Jeremy Chan and co-owner Iré Hassan-Odukale could top the inaugural Ikoyi in St. James's Market, which sat just a mile west of their new home at 180 Strand, but…
…Actually, we did think they could top those lofty standards, owing to the relentless boundary pushing of the restless duo, perfectionism seemingly already reached but also just another insanely complex emulsion away.
At the new 180 Strand-housed Ikoyi, the space is larger and more sumptuous, all clean curves and tasteful mustard tones, the vibe gently refined; a little slicker, perhaps. Prices have increased in tandem. The tasting menu now is one of the most enthusiastically priced in London, at £300.
But what a procession of plates it is, of around 14 on our visit, with premium ingredients gracing just about every bite. Yep, that spice-based cuisine built around British hyper-seasonality remains. The iconic jollof rice with crab or lobster custard is still here, but leading up to the big, smoky reveal, luxury and innovation abounds; an aged lobster with one of Chan's famously vital sauces, this one an agrodolce of sorts, was particularly special. Another course of lobster claw, sweetbreads and pine nut was as opulent and awe-inspiring as it sounds.
Yep, this is a restaurant firing on all cylinders, but we wouldn't be at all surprised if Ikoyi somehow managed to find another gear; the sense of focus on improvement here feels totally implacable. In the best possible way of course…
Website: ikoyilondon.com
Address: 180 Strand, Temple, London WC2R 1EA
---
Read: Where to eat the spiciest food in London
---
Barrafina Drury Lane
Ideal for some of the finest fish-led tapas in London…
Speaking of counter-dining, perhaps London's most beloved bar seating set-up is found at the various outposts of acclaimed tapas group Barrafina.
Those looking for the best dining options in Covent Garden will be pleased to hear that this famous corner of London boasts not one but two Barrafinas. We're particularly enamoured with the Drury Lane iteration, which is compact, cosy and convivial, and leans a little more into the seafood side of the Spanish repertoire, often to glorious effect.
The specials are usually dictated by what's fresh from the sea, so keep an keen eye for the miniature, roaming chalkboard for details of what's good today; on our last visit, an enthusiastically brined piece of hake with punchy aioli and red peppers so caramelised they were collapsing was as good as it sounds.
Website: barrafina.co.uk
Address: 43 Drury Ln, London WC2B 5AJ
---
Volta Do Mar
Ideal for vibrant Portuguese dishes...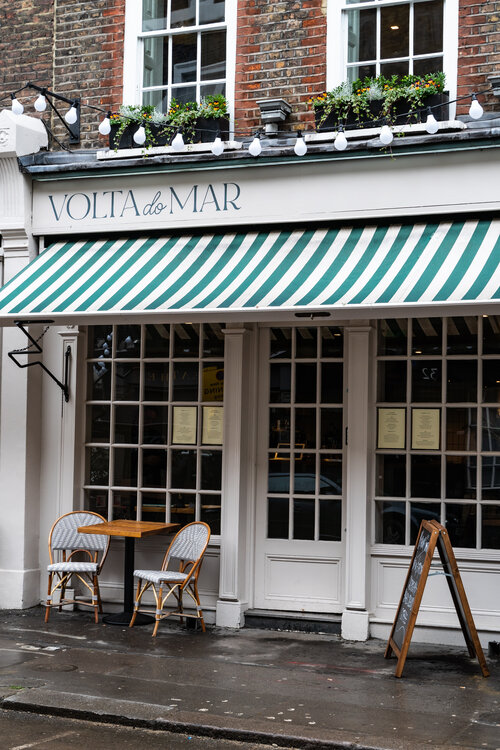 Perhaps our favourite place to eat in all of Covent Garden is Volta Do Mar on Tavistock Street. And the good news? This inventive Portuguese restaurant offers a cracking pre-theatre set menu, with four courses available for just £30 (up until 6:45pm), just in case you're keen to catch a show at the Royal Opera House just across the road afterwards.
Showcasing the regional cuisine of Portugal and drawing influence from the country's trading past with Brazil, Japan, Macau and more, the food here manages to be both exciting and familiar. Don't leave without trying the Macanese pork bafassa is all we're saying!
Website: voltadomar.co.uk
Address: 13 – 15 Tavistock St, London WC2E 7PS
---
Cafe Murano
Ideal for simple and honest Italian home-cooking…
The younger, more affordable sibling of Angela Hartnett's brilliant fine dining restaurant Murano, Café Murano offers fresh pasta, seasonal vegetables prepared with precision, immaculate shellfish, and the odd hearty af ragu, just as you'd expect from a chef this devoted to the food of Italy.
True to the soul of the place, the pedigree of the produce is the main draw, with the restaurant's plates arriving with little frippery or adornment. Instead, Cafe Murano strives for simple, honest food, cooked with respect and just a little refinement. It more than delivers.
Website: cafemurano.co.uk
Address: 36 Tavistock St, London WC2E 7PB
---
Read: 5 IDEAL places to eat great pasta in London
---
Frenchie
Ideal for no-nonsense yet refined French dining…
A self-styled 'modern French brasserie', Frenchie is the brainchild of Gregory Marchand, a chef who earned his stripes at Fifteen under the tutelage of Jamie Oliver, who gave him the now eponymous nickname that defines his expanding restaurant group.
This Covent Garden outpost, which opened its doors in 2016, is sister restaurant to the original Frenchie in Paris's second arrondissement, a restaurant that has been serving no nonsense yet refined French food since 2009, winning a Michelin star ten years after opening. Back in London, things are a little looser on the plate, effortlessly blending the elegance of Parisian dining with the electric energy of London.
Accordingly, the menu here is more globally influenced, whether that's in the makrut lime beurre blanc that adorns roasted potato gnocchi, or the vibrant, intercontinental seabream tartare swimming in reduced dashi stock, given succour and piquancy via confit tomatoes and green olives. Both dishes are a real joy.
Seeing as we're in the heart of Theatreland here, there's a fantastic early dinner deal, with three courses clocking in at just £34. It's such a good deal, in fact, that we've included Frenchie in our round-up of the best value pre-theatre menus in London's West End. Do check it out sometime.
Website: frenchiecoventgarden.com
Address: 16 Henrietta St, London WC2E 8QH
---
Dishoom
Ideal for Bombay-style comfort food…
Did you even dine in London if you didn't go to Dishoom? Well, if you're looking for great things to eat in the vicinity of Covent Garden, then rest assured; the very first outpost of the now ubiquitous purveyors of Bombay-style comfort food was here.
Come try a piece of (very modern) history at the always dependable restaurant, which, despite expansion, still largely manages to deliver the goods.
Ours is a bacon naan roll, of course, but on a hot day, we just can't resist finishing up with Dishoom's mango kulfi; just delicious.
Read: 5 of the best plates to pig out on a bacon butty in London
Website: dishoom.com
Address: 12 Upper St Martin's Ln, London WC2H 9FB
---
KERBS Seven Dials Market
Ideal for street food and creative cocktail concoctions…
Brought to Covent Garden by KERB, a group known for nurturing London's street food scene, Seven Dials is one of the most exciting eating destinations in London.
In the 19th Century, Seven Dials Market, then Thomas Neal's Warehouse, was used to store cucumbers and bananas. Now transformed into a foodcourt, to honour the past of the structure the market has been divided into two areas: Banana Warehouse and Cucumber Alley.
Banana Warehouse is billed as 'The Belly of the Beast' and has plenty of seating and communal tables. Here, you'll find a number of street food kitchens and counter-top cafes serving an impressive lineup of street food from around the world. There is also a downstairs bar creating creative cocktail concoctions made with spirits from the East London Liquor Co. Banana Warehouse is the ideal place to come and while away a rainy afternoon in central London, eating and drinking your way through to the night.
If you need a pitstop while shopping your way through Covent Garden and are feeling peckish, Cucumber Alley is the place to go. Inside are seven independent food traders, seven days a week selling some of the best snacks and desserts in the Big Smoke.
On our last visit, we tried some Shanghai mooncakes with salted duck egg yolk from Ong Ong Buns, as well as some delectable dumplings from Oshpaz made from a delicate dough and stuffed with juicy beef – let's just say we'll be going back. For both.
Website: sevendialsmarket.com
Address: 35 Earlham St, London WC2H 9LD
---
Homeslice Pizza
Ideal for 20″ wood fired pizzas, and the best part is you can have two different halves…
We're finishing up where we started, in Neal's Yard, in a neatly cyclical fashion reminiscent of the huge pizzas we're about to eat.
Not one for the pizza purists, this, but definitely a place for a sharin', tearin' good time, the pizzas here are huge 20-inch numbers, perfect for some group fun. Indeed, the name Homeslice in bro parlance means friend, and the buddying up concept lends itself to conviviality and good cheer.
Some of the topping combos are inventive, some downright weird; cauliflower cheese and harissa anyone? But, when they get things right, it's brilliant.
Website: homeslicepizza.co.uk
Address: 13 Neal's Yard, London WC2H 9DP
---
The Petersham
Ideal for Italian fare and a plot-to-plate dining experience…
Sitting slap bang in the middle of Covent Garden, The Petersham promises to soothe and replenish with its organic, produce-driven Italian menu and refined, quasi-spiritual surrounds.
Run by the Boglione Family, the restaurant's ethos is deeply rooted in the slow food movement, celebrating traditional methods of growing quality ingredients. It sources its organic and sustainably-grown produce from Haye Farm in Devon, ensuring the highest quality inputs for its dishes.
Rather than just another strapline, that commitment to sustainability is the real deal; the sister restaurant, Petersham Nurseries Café in Richmond, is one of only three in London to hold a Michelin Green Star. The other two, if you're asking? Mayfair's Apricity, and the trailblazing Silo over in Hackney Wick.
The menu at The Petersham is a testament to the beauty of seasonal food, featuring dishes that highlight the peak of British produce, complemented by speciality ingredients sourced from Italy. So, that's summer vegetables from the farm (courgette, squash, fennel and kohlrabi) served crudités style with the classic Piedmontese sauce bagna càuda, followed by a wild mushroom risotto that's a little sharp and funky via taleggio. Heaven.
The Petersham also offers a variety of dining experiences to suit different occasions. Its pre-theatre menu, served between 5pm and 6pm every Monday to Friday, is perfect for those seeking a sophisticated meal before a show. For a more leisurely experience, the restaurant's Afternoon Tea, available from Thursday to Sunday, offers a delightful twist on the classic British tradition.
The restaurant's interior is a reflection of the Boglione family's passion for contemporary art and understated grandeur. The walls are adorned with artworks from Francesco Boglione's personal collection, adding a touch of artistic flair to the dining experience. With sweeping windows, Genoese chandeliers, and a private terrace, it provides an opulent setting for any occasion, from intimate gatherings to large weddings. The Petersham is not just a restaurant; it's an experience.
Website: petershamnurseries.com
Address: 2 Floral St, London WC2E 9FB