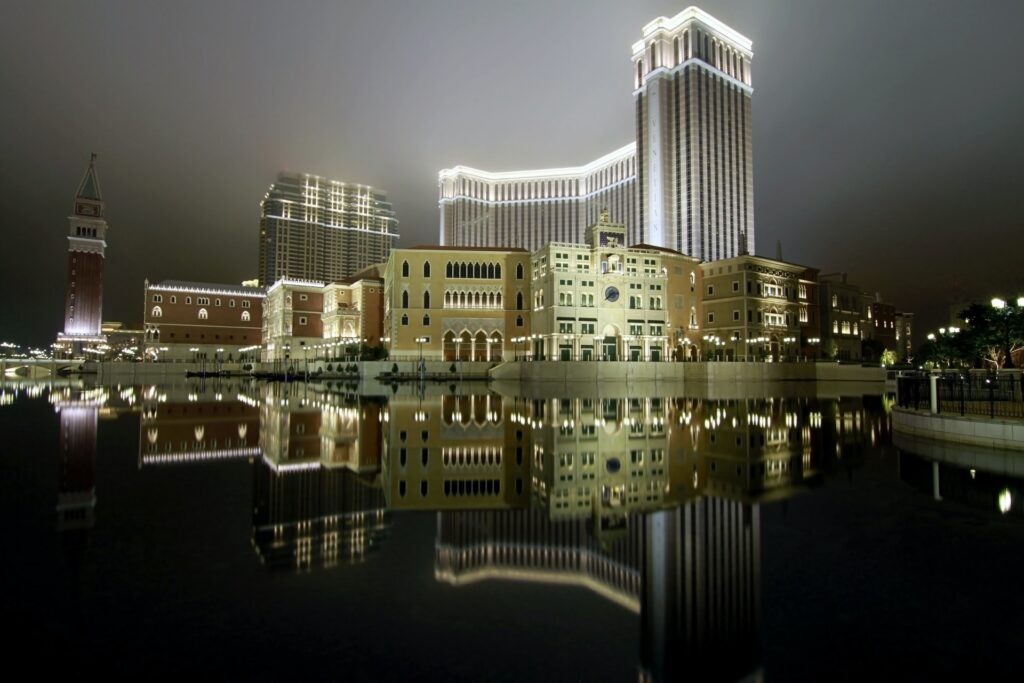 Great, grand, grotesque…call them what you want, but casinos play a role in many of the world's major urban centres. For those who view these gaming meccas as a gateway to good times rather than to hell, a casino holiday is a wonderful way to let the hair down, blow off some steam and hopefully not leave too much out of pocket at the end of it.
Of course, you could just stay home and play for free, no stakes needed and no risk involved, on sites like Unibet live casino, but if you're looking for a destination casino which breaks records, then head here; these 5 of the biggest casinos in the world for a bucketlist break.
WINSTAR WORLD CASINO, OKLAHOMA
Winstar is an immense casino built in a place you'd least expect it. Nope, it's not in Monaco, Vegas or Macau…
Indeed, who would have known that the largest casino on the planet would be located in the wild west?! To be specific, in Oklahoma. This beast of a casino covers roughly six hundred thousand square feet, and houses seven thousand gambling machines, more than 100 table games, and a bingo hall that has a seating capacity of 800.
Built in the 1990s, initially solely as that bingo hall we mentioned, it would now take you roughly a week see the whole casino. Should you not wish to spend that long at the tables, the city of Oklahoma boasts a famous zoo, the Myriad Botanical Gardens and perhaps most excitingly, the National Cowboy Museum. When in the Wild West, as they say.
THE VENETIAN, MACAU
Macau, China, is hugely famous as being one of the entertainment capitals of the world. It should come as no surprise, then, that several of their casinos rank in the world's top ten for size. 
The second largest is The Venetian, in Cotai, which is the 8th most expensive building in the world, costing a whopping $2.4 billion US dollars to build. Hold up, don't go searching what the most expensive is! We'll tell you here; it's the Abraj Al Bait in Saudi Arabia.
We're glad you're still with us…Totalling a colossal 546,000 square feet and stretching 39 storeys into the Chinese skyline, The Venetian comprises a full fifty square kilometres of casino, housing over 2000 slot machines and around five hundred game tables.
If you're peckish and looking to flee the opression of the tables and slots, then The Venetian has over twenty restaurants, including Michelin starred Indian fine dining establishment The Golden Peacock. Or, you could step out into Macau itself and explore its amazing, unique food culture on the streets!
MGM COTAI, MACAU
Macau actually boasts several more casinos in the top ten in terms of size, and we won't bore you by listing all of them. The MGM, though, deserves a special mention; this massive building has 100'000 square feet of gaming space and is considered one of the most iconic skyscrapers in the world. 
Also standing tall in Cotai and costing around three and a half billion US dollars to build, it's won several key international architectural awards, including Emporis' World's Best New Skyscraper last year and six awards at the Asia Property Awards in 2017.  
If you're here for the gaming, you can enjoy a casino that contains 1500 slot machines, around 200 game tables, art displays, and a mind-blowing 100 million dollar theatre.
Don't worry, Macau as a whole is about so much more than gambling and gaming. Check out our tips on the top things to do in Macau for more!
FOXWOODS RESORT CASINO, MASHANTUCKET, CONNECTICUT, USA
Surprinsingly, the second largest casino in the US (and seventh largest in the world) isn't in the spiritual home of gambling, either. Viva Las Vegas, this ain't. Instead, it's to Mashantucket in Connecticut we're heading. Foxwoods Resort is owned by the federally recognised American Indian tribe, the Mashantucket Pequot Tribal Nation, and the casino complex sits on reservation land.
In total, the casino covers 340'000 square feet, but the resort also offers several excellent restaurants and a golf course, for those wanting some fresh air and sunlight!
CASINO LISBOA, LISBON
We could stay on the stereotypical gambling destinations forever, but we're after something beyond betting from our bucketlist break, so it's to Casino Lisboa that we're heading last. The tenth biggest casino in the world and easily the largest in Europe, Casino Lisboa covers a not too shabby 165'000 square feet of the city's Theatre District, Parque Mayer. 
The casino boasts over 1'000 slot machines and 26 table games, but if you're keen to escape the action for something a little more laid back, then just a half hour bus ride on the 728 is Pink Street. Here, revellers drink on the streets 'till dawn, and some of Lisbon's best dining options are walking distance away. Aaah, that's better.