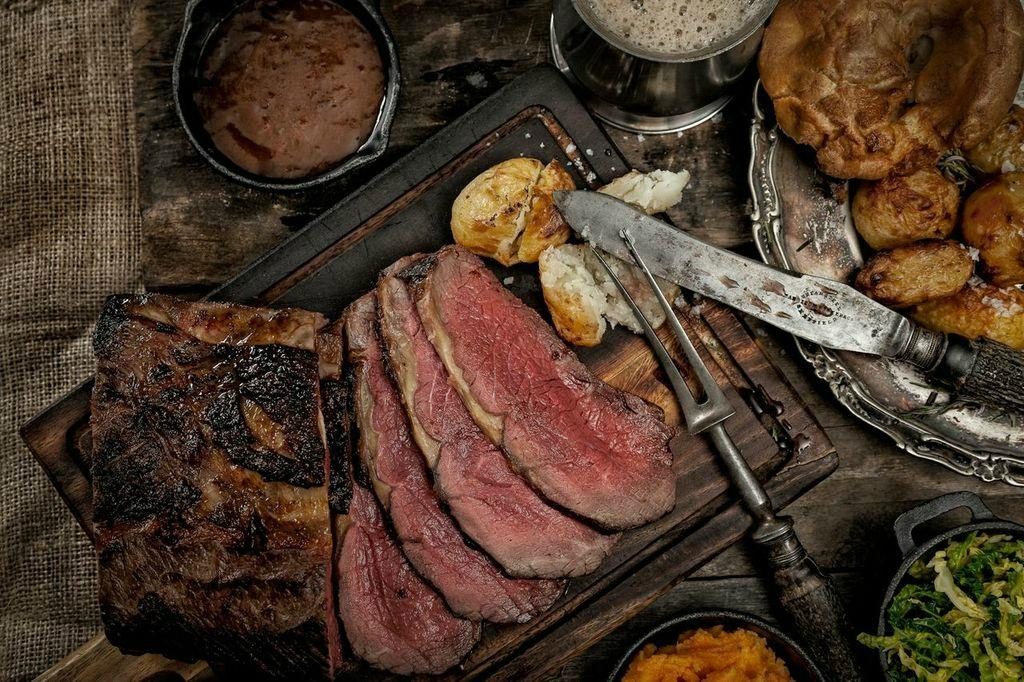 Writ large and with clarity on the wall of The Grill on The Market is "Solid & honest. Simply proper food".
With a summary of such brevity and precision, there seems little point in writing a full review. The restaurant themselves have managed it in 5 words and an ampersand. Without doubt, this place is all about the meat, the quality of the sourcing and cooking with respect the ingredients deserve. In many ways, no more need be said. However…
IDEA
A no nonsense approach to meat, and beef specifically, leads the press release to bill The Blackhouse as a 'homage to the beautiful bovine'. True to their prose, this is precisely where the restaurant shines. Beef is the front-page feature and cooked with eloquence.
LOCATION
Overlooking Smithfield meat traders, the market looms up outside the window, peering in (the pathetic fallacy is not lost on us) as a reminder of the origins of your dinner.  Interestingly, where the restaurant now sits was once the site of the original market butchery in the 10th century, and they don't let you forget it. 
ATMOSPHERE
Although the area felt fairly deserted at night – the market is early business and even the pubs open at 6am – the restaurant itself was heaving.
The place is buzzy. Seriously buzzy. When we arrive, at 8, it's full to the brim, and we're informed that it's just the same at lunchtime. They must be doing something right, and the validation of chatter and laughter indicates good times are ahead.
The clientele is mix of office workers, downing tools and pints after a long day, and the now obligatory, tattooed and bearded, hipsters. It wouldn't be East London without both.
Admirable in synergetic terms, the decor is also meaty. Seats of ox-blood red; thick wood tables like chopping blocks; chill cabinets showing off cuts of meat…they've really gone all out to proverbially whet the appetite through interior design.
A ubiquitous, lengthy zinc top bar and bare brick walls once again reminds us of our proximity to Shoreditch, though a pianist incongruously playing Leonard Cohen is a welcome change from Grimes and grime.
FOOD
Straight up we are asked if we'd like to "try the Big Boy". I briefly wonder if all the objectified, hanging meat is a euphemism and we've walked into somewhere far less salubrious than a restaurant.
On further enquiry it emerged that this is a 1kg steak. We pass on this, eager to try a greater variety of offerings. The Butchers Block selection is appealing, picked out from the chill cabinet at your discretion and cut off at table as a bit of theatre. Staying on menu, the aged Galician cow, notable for its deep, pungent taste, delivers everything it should.
Light starters seem a necessity in anticipation of the main event, with a crab & avocado salad clean and tasty, heightened by piques of fresh lime.  A beetroot and goat's cheese tart is excellent; a fail safe combination enhanced by delicate pastry. I briefly wonder if this starter would work with the headlining act.
For those not on a cattle crusade, the menu has fish and vegetarian options, which looked well-thought out. Desserts continue this theme, seeming far more than just an afterthought. Whilst difficult to shoehorn beef into the sweets section, there is still intrigue in the afters. A coconut Bakewell tart with salted caramel is a fine balancing act, opposing factions counteracting one another assertively but from a place of peace. A cheese board served with Eccles cake looked interesting and English – a definite for those who have not yet had their savoury sated.
DRINK
There is a capable wine list, reasonably priced from £19 to £75. In London, a bottle for 19 is superb value. We decide to honour the Galician beef (actually from England but Galician cattle) with a Bierzo wine (also from North West Spain). It elegantly complements the depth of the meat.
A varied cocktail list is also very welcome indeed – we recommend trying their Smokey Old Fashioned. A lack of craft beers is surprising – we couldn't imagine anything suiting the vibe more perfectly.
MUST TRY
Without doubt, the aged Galician cow will have us coming back for more – it took to the bull ring, went mano a mano with a regular steak and won, hooves down. An old trope oft milked, but this was truly melt in the mouth. Utterly exquisite.
WHY GO
Go with a group of (meat loving) friends after work  Although not sharing plates in the traditional sense, this is a great place for conviviality and good vibes and no-one is going to take down the Big Boy alone.  The food more than matches the atmosphere, and the drinks are both reasonable and of high quality. All in all, Blackhouse is a real winner in our book.
Website: blackhouse.uk.com
IDEAL dined at the restaurant as a guest