If it's time to get the good old gang back together again for shindig, after years of being locked down and apart, then why not consider a group holiday to Tenerife? Indeed, Tenerife is ideal for group getaways, with holiday lettings galore catering for group bookings dotted across the island, many for eminently reasonable prices. 
The Island Of Eternal Spring is also blessed with an excellent public transport system – with both buses and trams cheap and easy to use – meaning you don't have to worry about renting a car and having a designated driver for the trip. 
As you're probably well aware, the modus operandi for a group holiday weekend away is relatively similar wherever you go. Think generous spreads in restaurants and on the villa dining table, parties each evening and fun activities during the day to dust off that hangover ready for the next one. Free time to explore is also imperative; nobody relishes the thought of too much organised fun, after all.
With the scene set, let's explore this beautiful island together; here are 7 IDEAL tips for your group holiday in Tenerife.
Where To Book Your Group Villa
The south of the island is where you'll find most of the popular tourist resorts, including Costa Adeje, Playa de Las Americas and Los Cristianos. Playa de las Americas is particularly famed for its party atmosphere, if your group likes to get down.
The north of the island, which includes the capital Santa Cruz de Tenerife and La Laguna, is more traditional and Canarian in spirit – in other words, less touristy. Here, you'll find the beautiful Las Teresitas beach, which is idyllic, and ideal for a more laid back time away from the main party throngs. 
If the north sounds more like your kind of thing, the main resort is Puerto De La Cruz. Alternatively, on the island's north west, Los Gigantes also offers a more 'local', traditional experience.
The Best Restaurants For Group Bookings
Tenerife's restaurant scene is thriving, with every taste catered for, whether you prefer to dine in traditional Canarian restaurants known as guachinches, Michelin-starred temples of gastronomy, or a little of both!
Though many of the island's haute cuisine destination restaurants are fairly intimate, there are still plenty of great options for group bookings across Tenerife. In the capital, Santa Cruz de Tenerife, we love San Sebastián 57, which does modern Canarian food and has large tables for groups.
An hour's bus ride (or half hour's drive) outside of the capital, Bodega El Zacatín is a sprawling but humble guachinches famed for its grilled meats and local wines. It also has plenty of outdoor seating, with large tables for groups.
Speaking of grilled food, the premier dining spot for barbecued meat and fish in the south is Casa Fito, which sources its meat from the Basque country and grills its fish in the region's famous style, too. Sadly, the restaurant is currently closed, but once it opens again, Casa Fito is a great spot for a group booking.
Another revered grill restaurant, nestled in the country's north east and with plenty of space for groups, is Bodegón Campestre. Here, steak is a speciality, with carafes of superb local red wine a bargain. Be aware that the restaurant closes at 5pm every day except on Fridays and Saturdays, when it stays open late.
It should be said that the Canarians cherish a long and languid lunch, and it's very much the norm to see large groups of friends and family whiling away the hours around a restaurant dining table. Accordingly, the majority of the more informal eateries and guachinches in Tenerife will be happy to accommodate a larger group.
Dining In Your Tenerife Villa
Eating out every night can get expensive, especially if you're boozing. And with your villa likely to be a little away from the main urban centres, those taxis can mount up, too. So, why not do things a little differently and hire a private chef to whip up some local delicacies from the comfort of your group holiday rental? Sites like Dine Indulge offer a free Private Chef for as little as £24.99 per head, with customisable menus according to your preferences. Sounds like a blast to us!
When it comes to cooking for your group, first things first; head to your local market or supermarket and buy a bottle of mojo sauce to have with eggs in the morning. Pronounced "mo-ho", it comes in two basic varieties – green and red. This sauce is the Canary Islands' unofficial condiment, paired with just about everything. 
A Canarian cheese and wine lunch at the villa is an easy way to cater for a large group of people. It is rumoured that residents of the Canary Islands consume more cheese per person per year than other parts of Spain. And that's a country who truly loves their cheese. Fresco (fresh) goat cheese is most commonly eaten here.
Tenerife's markets are a great place to pick up local produce. The farmers' market in San Miguel de Abona is particularly famous for its local produce. Here you can buy local cheeses and wines, alongside charcuterie and freshly baked breads and pastries.
If you are in the north of Tenerife, Tacaronte's farmers' market is one of the largest in Tenerife and is great for picnic/lunch ingredients. The market is open on Saturdays and Sundays from 8am to 2pm. La Laguna Municipal Market, in San Cristóbal de La Laguna, is another great spot for ingredient shopping. We're getting hungry just thinking about it!
Private Wine Tour
Wine tasting is an activity that certainly benefits from the in-person, first-hand experience; the unique terroir, climate and topography of a destination bringing with it a sense of place that translates into intrigue on the palate.
Tenerife is famous for its wines. For a relatively small island, it packs a big punch, with five distinct wine regions, Valle de la Orotava, Ycoden-Daute-Isora, Abona, Tacoronte-Acentejo and Valle de Güímar, each with a unique terroir.
In the north of the island, the wines are tainted with the herbaceous taste of the volcanic soil, whilst in the sunny south, wines tend to be sweeter. In the east, the dry coastal climate lends itself to crisp, clean white wines, and on the opposite side of the island, new and old techniques are used to create truly unique wines.
Read: 4 of our top reasons to visit this idyllic Spanish island this summer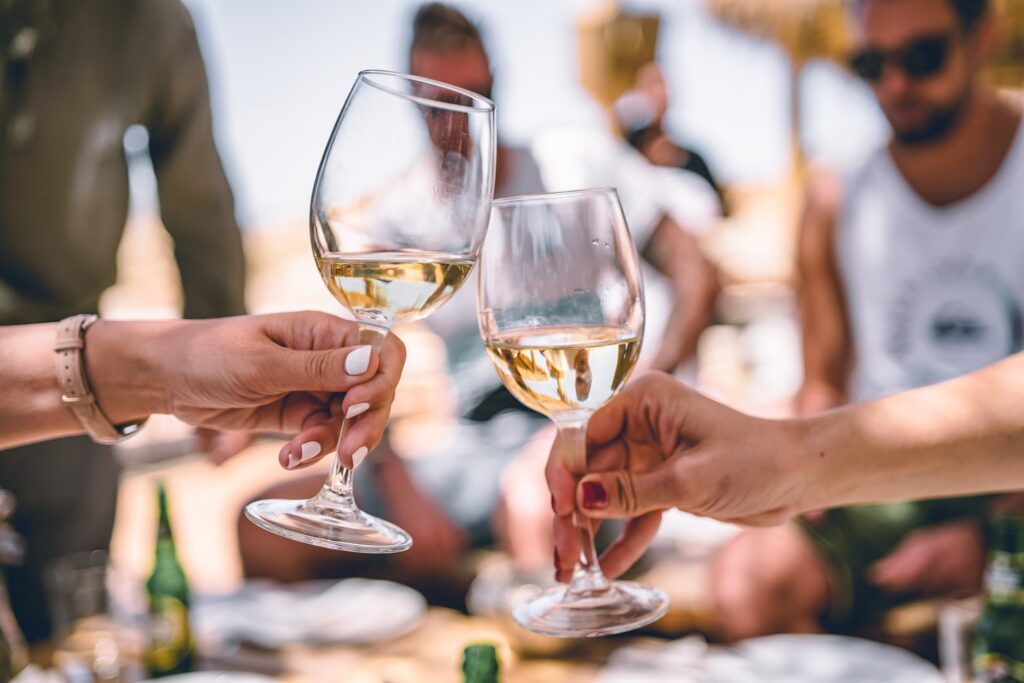 Visit During Carnaval De Santa Cruz
Let's face it, sometimes group holidays can lose focus. So, why not go with an event in mind, to draw together the vision of the trip into one cohesive whole?
The pre-lent festival of Carnaval de Santa Cruz, a riotous, colourful event perhaps only second to Rio's Carnaval in international repute, sees the streets of the city come alive with joie de vivre for the whole month of February. Hundreds of thousands of people flock to the islands during this time, so be sure to book your group villa early if this sounds like your squad's kind of vacay.
Charter A Boat
No matter what size your group, chartering a boat in Tenerife is a wonderful way to spend the day. Consider hiring a boat for the whole day so you can put down anchor at some of Tenerife's most famous sites, including Los Gigantes cliffs, Masca Bay and Barranco Seco.
Alternatively, charter a boat to go dolphin watching. The waters between Tenerife and La Gomera are home to one of the largest communities of these bottlenose dolphins in the world. Moreover, they live in these waters all year round so you're pretty much guaranteed to see them whenever your group trip is. 
Free Activities
The cost of group holidays can soon add up, make no mistake, but rest assured; Tenerife is also home to a vast array of free public parks and gardens, including the island's number one attraction, Teide National Park, which is also totally free to enter.
In Santa Cruz de Tenerife, the botanical gardens of Parque García Sanabria are also free to enter, and cover a massive ​​67'230 square metres. Aside from the exotic flora found here, there are also some incredible sculptures, many gifted by the 1st International Street Sculpture Exhibition, which was hosted in Tenerife in 1973. If you'd like a sprinkle of culture over your group holiday, this is the place to visit.
If that sounds like your sort of thing, then before you leave us, why not check out these 5 IDEAL outdoor activities to do in Tenerife? Buen Viaje!