We're living in topsy turvy times. Sure, on the one hand self isolation and lockdown has led to parents getting to spend so much more quality time with their kids. On the other, it's been incredibly trying to keep everyone (both adults and children!) entertained and tolerant during this time.
Indeed, even at the best of times, anyone with young children will know that clutter eventually takes over the house unless the children have a space to call their own. Don't succumb.
Because of this, many families dedicate a room as the playroom or activity area (if the kids are older). This provides an excellent space for kids and teens to be together and away from the adults; a win-win situation for all involved if ever there was one. With that in mind, here are 7 ideas for creating the IDEAL chill-out space for your kids.
INCLUDE COMFORTABLE SEATING
As anyone who's attended a decent afters will attest, chill out areas are only as good as the soft furnishings within them. 
Many parents turn to bean bags – seen here on comfysacks.com – when it comes to their seating needs. With a variety of colours, styles, textures and sizes to choose from, parents can create the ultimate space for their kids to kick back. 
Bean bags provide a great space to watch a movie, play a video game, hang out with friends, or read a book. What's more, their introduction to a room provides flexibility; they're a lot easier to move in and out of storage than a sofa, that's for sure!
HAVE PLENTY OF STORAGE
Speaking of the S word and depending on the size of the room, designating a storage area for toys and furniture is an excellent way to minimise the inevitable clutter of your chill out space.
For example, storage benches that serve as seating options should be considered if the room is on the smaller side. If space isn't an issue, then place a few cuter bins throughout the room to hold different sizes of toys when the children are done playing with them. Simples.
CHOOSE NEUTRAL PAINT COLORS
Just because a room is designated as a child's playroom does not mean it has to be overtly, overwhelmingly colourful. We've seen too many rooms ruined with lavish colourscapes, pictures of dinosaurs and clashing Powerpuffs pictures. Tone things down a little; you kids will thank you, too. 
Instead, choose neutral colors that can transition with your children's ever changing tastes easily. This will allow the parents to adjust the décor of the room instead of having to repaint the entire bloody space every year. Visit your local hardware store to pick out sample paint colours to help you visualise your space most succinctly.
ACCOMMODATING KIDS OF DIFFERENT AGES
Many families have kids in different age groups. This can create problems when designing your shared space. Luckily, with a bit of creativity, this issue can be overcome.
It's all about compartmentalising. You can easily designate a corner of the room to the smaller kids by including a little table with chairs or a colourful sofa that's low to the ground and easily clamberable. This will allow your smaller kids to have their items sprawled out near their table while letting the older ones to have their own separate space by the T.V and games console, for instance.
USE SHELVING UNITS AND BASKETS
Use shelving units to both create more space and as a way to decorate the room. Shelves can house books, toys, and other accessories that children use throughout the day. What's more, they also provide easy visibility when trying to locate bits'n'bobs, and offer the opportunity for an easy cleanup once kids are in the rhythm of putting things back after use.
Large and decorative baskets add to the look of the room as well as housing odds and ends when it comes to toys and game pieces. Baskets also make for easy cleanup, especially for smaller kids, making for great storage when it comes to stuffed animals and dolls.
USE WALL SPACE TO ADD FUN FEATURES TO THE ROOM
If your kids like to use chalk or play with magnets (hey, who doesn't?), then consider using some wall space to create an area for just that. Once in place and visually sectioned off, your child can colour and draw on that area of the wall with chalk. This saves a lot of room and money because you don't need to purchase a chalkboard to place in the room. And there's something a little thrilling about being allowed to draw on the walls, right?
You can do the same thing for magnets (obviously, you must buy the proper material for the magnets to adhere to). This keeps magnets contained in an area and keeps them off of kitchen appliances. To think, all those rude words will finally be moved off the refrigerator; heaven!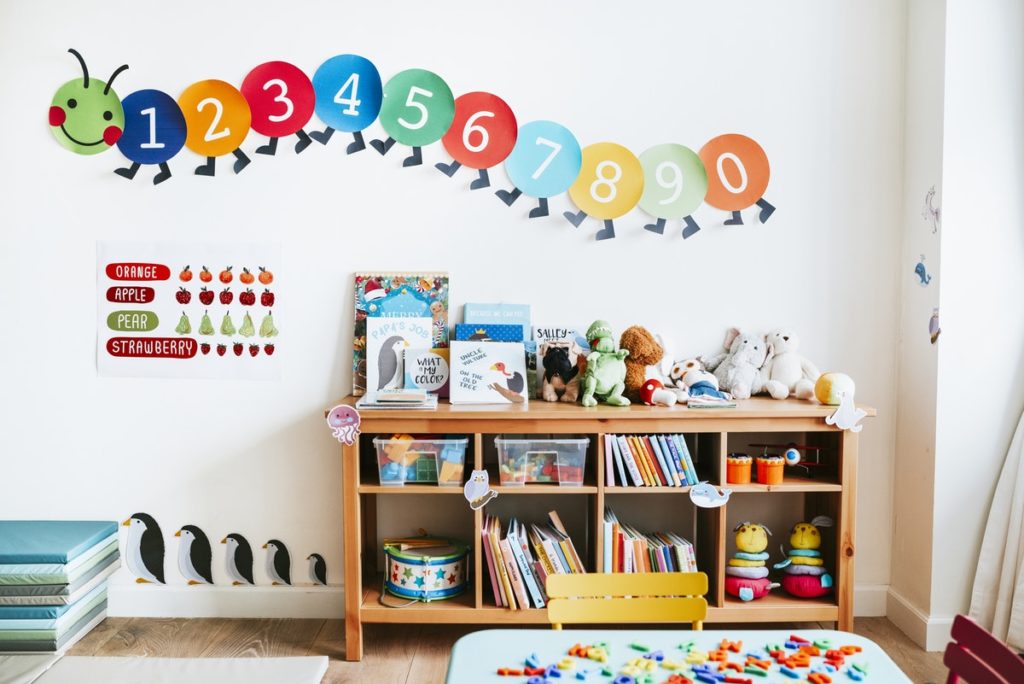 PROVIDE A FOCAL POINT
If your kids are around the same age, you can get away with making an area specifically for their age group. Indoor tents are popular for kids under the age of 10, giving a sense of 'a den' that all kids love so much. Visually, too, it can provide a welcome centrepiece to the room.
Colourful furniture can also be a focal point in any room. For example, a red sofa with fun pillows makes for a comfortable and relaxing look. A table with various colored chairs, a wall mural, curtains, an accent wall, and others can provide colour and fun to the room, too.
THE BOTTOM LINE
Creating a devoted kids' chill-out space at home can be done on any budget. All it takes is a little nous, some elbow grease and a lot of creativity. Good luck!
Check out tips on homeschooling, entertaining and staying sane with teenagers during a lockdown for more inspiration on getting through these testing months as a family in one harmonious piece!